Splash's ticketing solution makes it easy to create and sell tickets that maximize event revenue.
In this article, learn how to set up your payout method, create tickets, customize the registration experience, generate discount codes, and manage ticket orders post-sale.
| | |
| --- | --- |
| | This feature is available to Free, Basic, Pro, and Enterprise plans |
| | Roles available: Admin, Admin (Basic), Group Manager, Creative Specialist, Event Organizer, Integrations Specialist, and On-Site Specialist |
| | This feature is in General Availability |
On this page:
Create a ticketed event
To create a ticketed event:
Click New Event from your Events Dashboard.
Select Ticketed Event at the top of the create form.
Enter your event details.
Select a theme.
Next, you'll land in your Event Overview. The Event Overview includes two ticketing touchpoints: the Ticket Editor and the Ticket Purchase Form. The Ticket Editor is where you'll manage your tickets, discount codes, and payout. The Ticket Purchase Form is where you'll create your branded registration experience.
| | |
| --- | --- |
| | Note: If you don't see the option to create a ticketed event in the create flow or within your event settings, please reach out to your Customer Success Manager. |
If you haven't started collecting RSVPs, you can update your page to sell ticket using these steps:
Click Settings.
Scroll to Registration Type.
Select Sell Tickets.
Click Save.
| | |
| --- | --- |
| | Pro Tip: If you've only collected test RSVPs, use these steps to remove the RSVPs from your Guest List, then proceed with converting your event page. |
Next, set up your payout method in the Ticket Editor.
---
Set up your payout method
Splash offers ticket sales in USD only through Stripe.
Before you start selling tickets, you'll need to tell Splash where to send your payout.
To set up your payout method:
Click the Tickets tab or Ticket Editor touchpoint.
Click Payouts.
Click Select a Payout Method.
Splash issues payouts through the payment processor Stripe. Stripe allows you to issue payouts on your own schedule, giving you total control of your funds.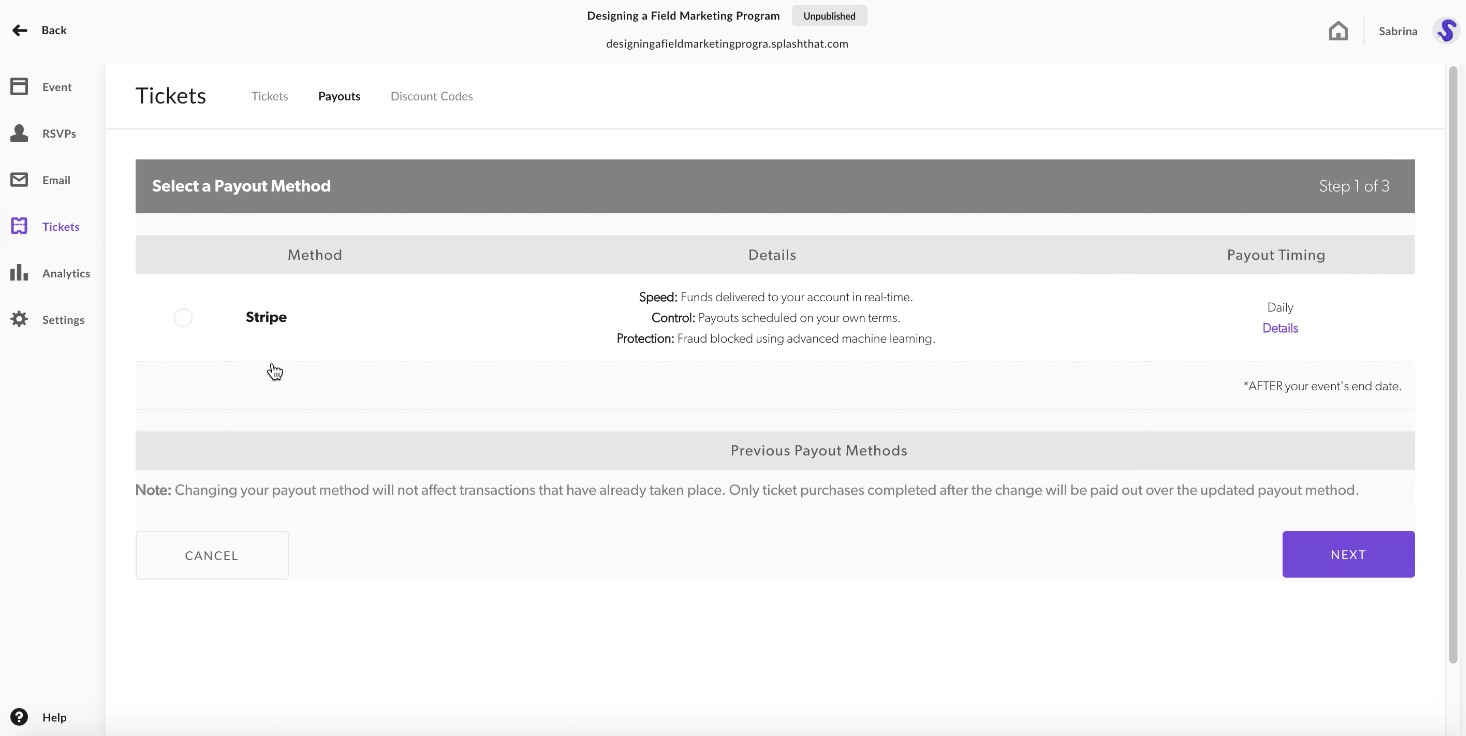 You'll be prompted to connect an existing Stripe account or create a new one. After your account is connected, you can start adding tickets.
| | |
| --- | --- |
| | Link: Learn more about managing your payout through Stripe. |
| | |
| --- | --- |
| | Warning: Stripe, Splash's primary payment processor, doesn't accept letters in their zip code submissions. Guests using cards from countries with letters in their postal codes will not be able to submit purchases. |
---
Create tickets
Splash allows you to create different ticket types to fit your event needs. Within each ticket you can customize your ticket details, add questions to your order form, and decide how to collect order form information.
To create a ticket:
Click the Tickets tab or the Ticket Editor touchpoint.
Click New Ticket Type.
Creating a ticket is consists of three sections:
Ticket Setup
Order Form Questions
Order Form Options
For additional ticket settings, click back into the Ticket Editor touchpoint. To the right of your tickets, you'll find settings to:
Sort order display
Limit one email per order
Add guest name to ticket
Once all tickets are created, move on to styling the purchase form.
---
Design the ticket purchase form
The ticket purchase form is where guests will choose which tickets to buy. Create an on-brand purchasing experience by customizing the font and colors within the form.
Click the Ticket Purchase Form touchpoint from your Event Overview to get started.Once the purchase form is designed, click Save. Next, move on to customizing your confirmation messaging.
---
Customize confirmations
Guests receive two types of confirmation messages after registering. The first is an on-page message that confirms registration is complete. The second is an email that includes the guest's ticket receipt and any additional event information you choose to include.
To edit your confirmation messages, click on the Confirmations touchpoint from the Event Overview. If editing a ticket, click the Customize Confirmation Message button at the bottom of the ticket form.
In the top left-corner of the touchpoint, you'll find a dropdown for the different types of confirmation messages that can be created:
Default
Multiple Tickets
Add Custom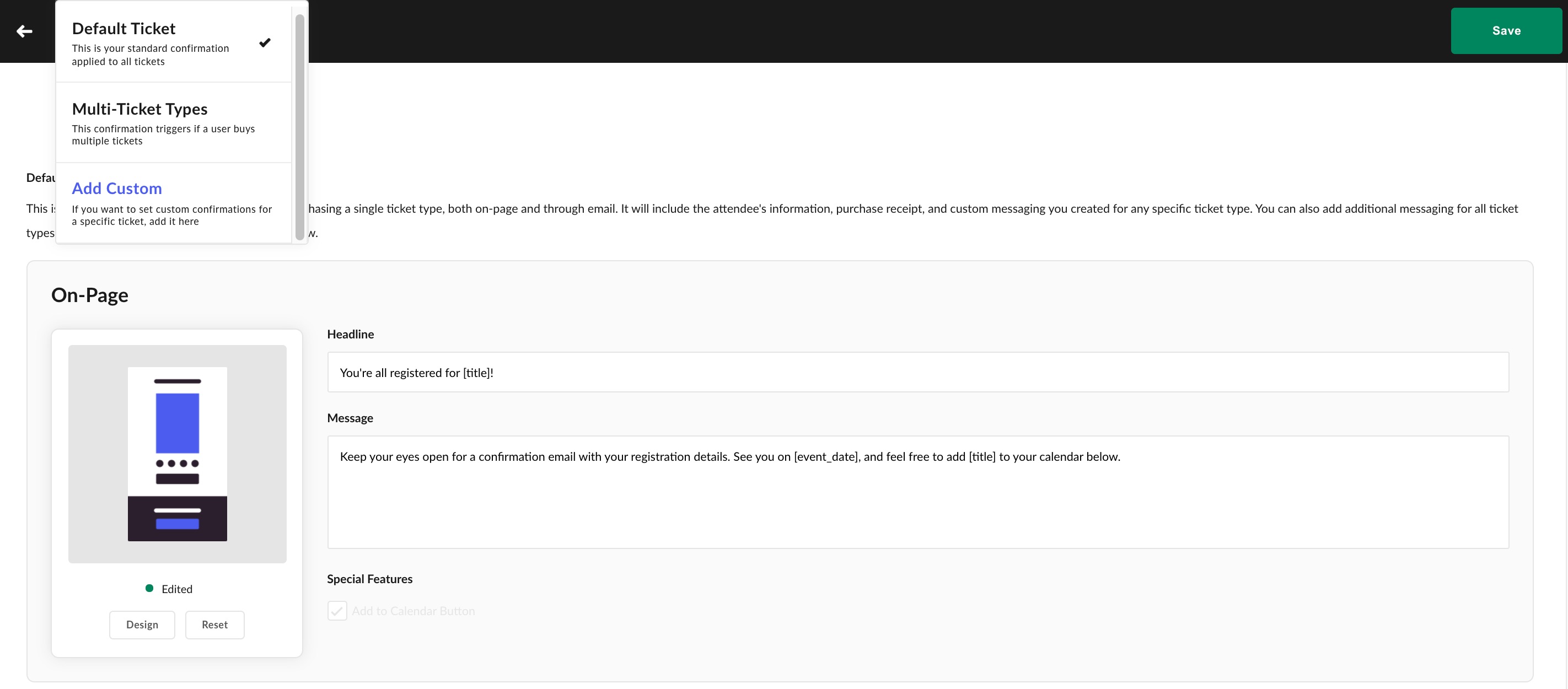 Click Design under each confirmation to edit the text, font, and colors for each message. An option to include calendar attachments in each confirmation message is available. For email confirmations specifically, there's also an option to include a PDF of the ticket.
---
Generate discount codes
Discount codes can be added one-by-one, generated en masse, or imported in bulk via a CSV file.
To create a new discount code:
Click the Tickets tab or Ticket Editor touchpoint.
Click Discount Codes.
Click New Discount Code.
On the next page, you'll find the following options:
Single Code
Multiple Codes
Import CSV
Additionally, you can select custom dates the discount code is available for as well as any specific tickets the code is limited to.
---
Confirm registration settings
Before you debut your event, you'll need to review your registration settings.
To get started:
Click Settings.
Open the Privacy tab.
Here, you can choose to keep your event public or make it a private or restricted event. Additionally, you can require your guests to enter a separate email address for each ticket purchased using the Ticket Limit Once per Email setting.
Next, click the Event Information tab.
Use one of the following registration statuses to automatically open or close ticket sales:
Keep RSVPs open indefinitely
Close RSVPs indefinitely
Close RSVPs automatically at event start
Close RSVPs 3 hours before the event
Close RSVPs 6 hours before the event
Close RSVPs 1 day before the event
Close RSVPs at capacity
| | |
| --- | --- |
| | Note: Ticket sales won't automatically close after an event ends. |
If you choose to keep RSVPs open indefinitely, you'll need to manually update your registration status post-event. Otherwise, ticket sales will remain open.
Lastly, publish your event so guests can access your event page and you can start selling.
---
Manage ticket orders
Each guest's ticket order along with your event's total ticket sales is housed within the RSVPs tab.
Your total ticket count and ticket sales will appear at the top of the page while each guest's individual ticket orders will be listed below.
Use the Add Attendee or Import Attendee options to add new ticket orders.
To view an order, hover over the guest and click the pencil icon that appears to edit.
On the next screen you'll see options to:
Resend ticket holder email
Resend receipt to purchaser
Resend entire order
Process refund
If a guest's ticket needs to be transferred, the ticket holder's name and email address can be updated here.