Purchasing Email Credits Follow
Splash's Email Sender enables you to send on-brand, personalized emails at every point of your event's lifecycle.
In this article, learn how to get started with Splash's Email Sender by purchasing email credits.
On this page:
What are email credits?
Email credits are required to send marketing emails through Splash's Email Sender. Transactional emails like Splash's automated confirmation emails, ticket receipts, and test emails do not require email credits.
An email credit equates to one email send to one recipient. So if you'd like to send an invitation email to 30 guests, you'll need 30 email credits.
Email credits are purchased on a per event basis and are not transferable across event pages. Email credits are also not eligible for refunds.
Email credit pricing
All paid Splash plans come with unlimited email credits across all events.
For free users, Splash offers the following email credit packages per event: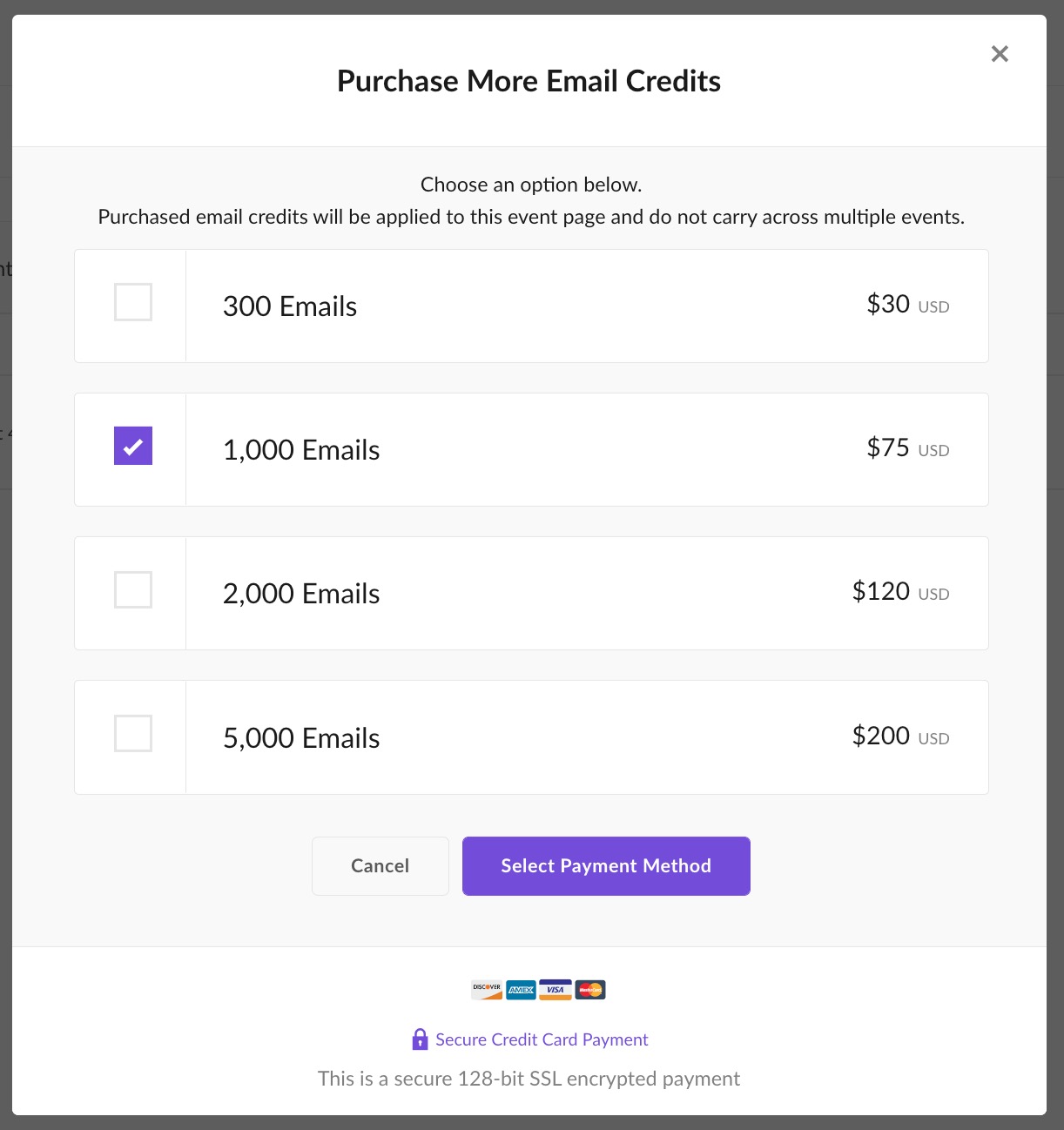 | | |
| --- | --- |
| | Note: If you created a free Splash account prior to September 2, 2021, then you'll receive 50 free email credits on every event you create. |
Purchasing email credits
To purchase email credits for an event:
Open your event.

Navigate to the

Email

tab.

Verify that you have access to send emails.

Click

Get More

in the upper-right corner.

Select your email credit package.

Click

Select Payment Method

.

Enter your payment details.

Click

Purchase Now

.
An email credit count will appear in the upper-right corner of the Emails tab. This count will update as you send emails. You can purchase more email credits at any time.
Email credit FAQs
Why do email credits cost money?
There is a cost for Splash every time an email is generated. Other notable email services, like Mailchimp and Paperless Post, also offer email credits at a cost.
If you require a large volume of emails across multiple events, check out Splash's paid plans.
What happens if I go over my email credit limit?
Splash will display a warning if you attempt to send an email to more recipients than you have credits for.
You can purchase more email credits at any time from the Email tab.
Can I transfer email credits to another event or get a refund if I didn't use them all?
No. Email credits are not eligible for refunds and cannot be transferred between events. Be sure to opt for a smaller batch if you don't think you'll use all of your email credits.