Create a Post-Event Strategy Follow
The key to keeping your event content evergreen, collecting event feedback, and generating hype around future events lies in an engaging post-event strategy. This article will walk you through how to keep the momentum alive even after your event's end date.
On this page:
Hosting on demand content
With our Virtual Event Page, you have a unique opportunity to create an on-demand experience for guests who weren't able to attend your event live.
Setting up the Virtual Event Page
| | |
| --- | --- |
| | Note: The steps below assume that you've just hosted an event using the Virtual Event Page and you're looking to reuse the same event page. Keep in mind that you also have the option to unpublish that page and start fresh with a new page that can host and gate any on-demand content. |
To make sure your Virtual Event Page is prepped for a post-event experience:
Use the Virtual Content element to embed a recording of your event.

Be sure to remove any existing embedded engagement tools if they are no longer relevant.

Use our Custom Button element to link to your next event, or any other resources.
We also recommend giving your Event Page touchpoint a few tweaks:
Targeting no shows
Now it's time to get the word out.
Inside the Email tab, prepare a "Sorry We Missed You" email, using one of our pre-made templates as a starting point. Be sure to include the Virtual Event Check-In element, which includes the [virtual_event_url] tag that guests will need to use to access your content.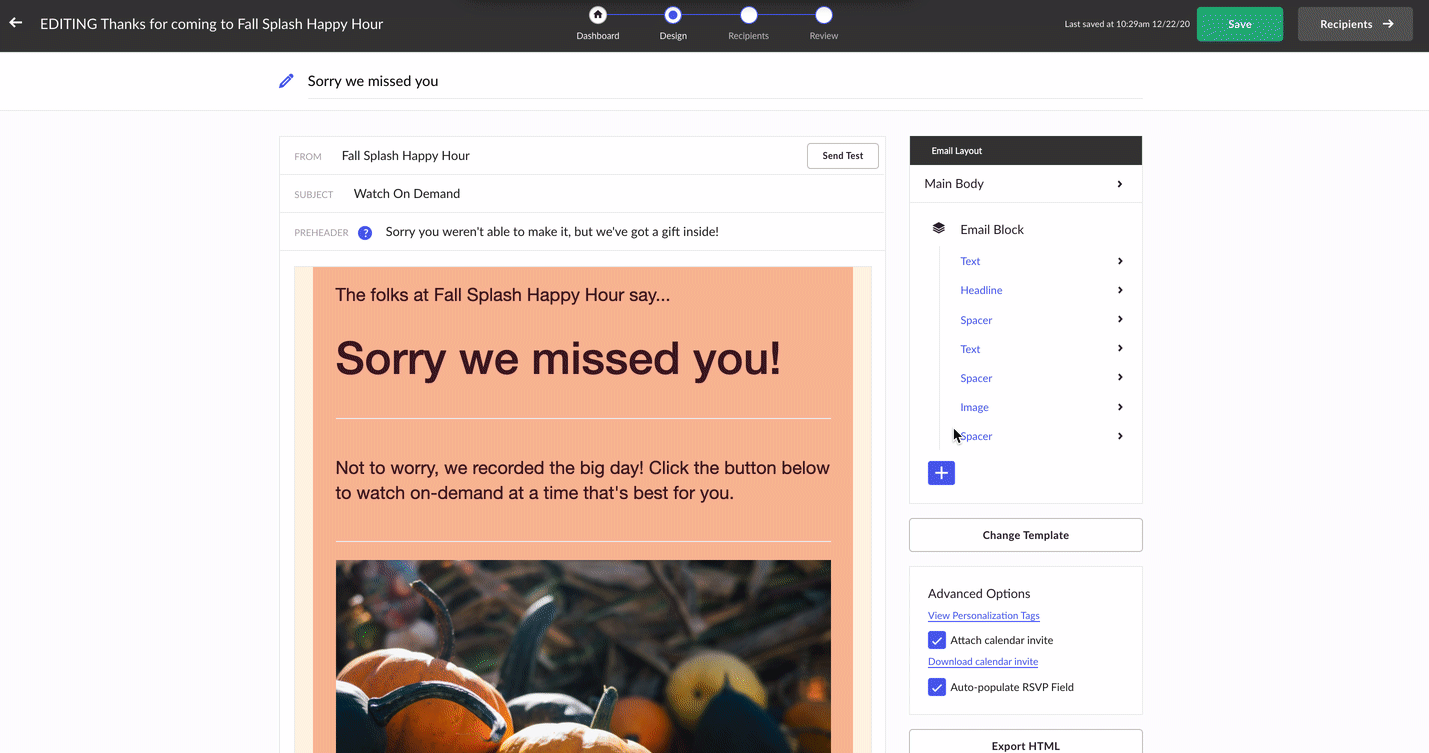 Once your email is ready, you can easily target all guests with a status of "Attending." This status signifies that a guest has registered to your event but never checked in. From the Recipients tab, use the Quick List dropdown and select Attending.
| | |
| --- | --- |
| | Pro Tip: If you created a new page for your on demand content, use our "Add guests from my events" feature to import all "Attending" guests from your original event. |
Now, these guests will be able to click the button in your email to access their unique Virtual Event URL, check in, and watch the content.
Keep in mind, your Virtual Event Page can still be accessed by any guests who attended live, so long as they check back in using their Virtual Event URL. You can also promote your page to any new guests, this time as a gated on-demand experience. So go forth and share!
Updating your event page
In addition to hosting and gating on demand content using the Virtual Event Page, you can also use the Event Page touchpoint to showcase content and create hype around future events.
Scheduling a post-event stage
Stages allow you to schedule different versions of your event page based on different times. Translation? You can create your post-event page as early in advance as you like and then set it to launch at your event's end time, or manually at your preference.
To get started with stages:
In the Event Page Touchpoint, hover over the Backups icon.
Click the Stages section.
Click the Add Stage button.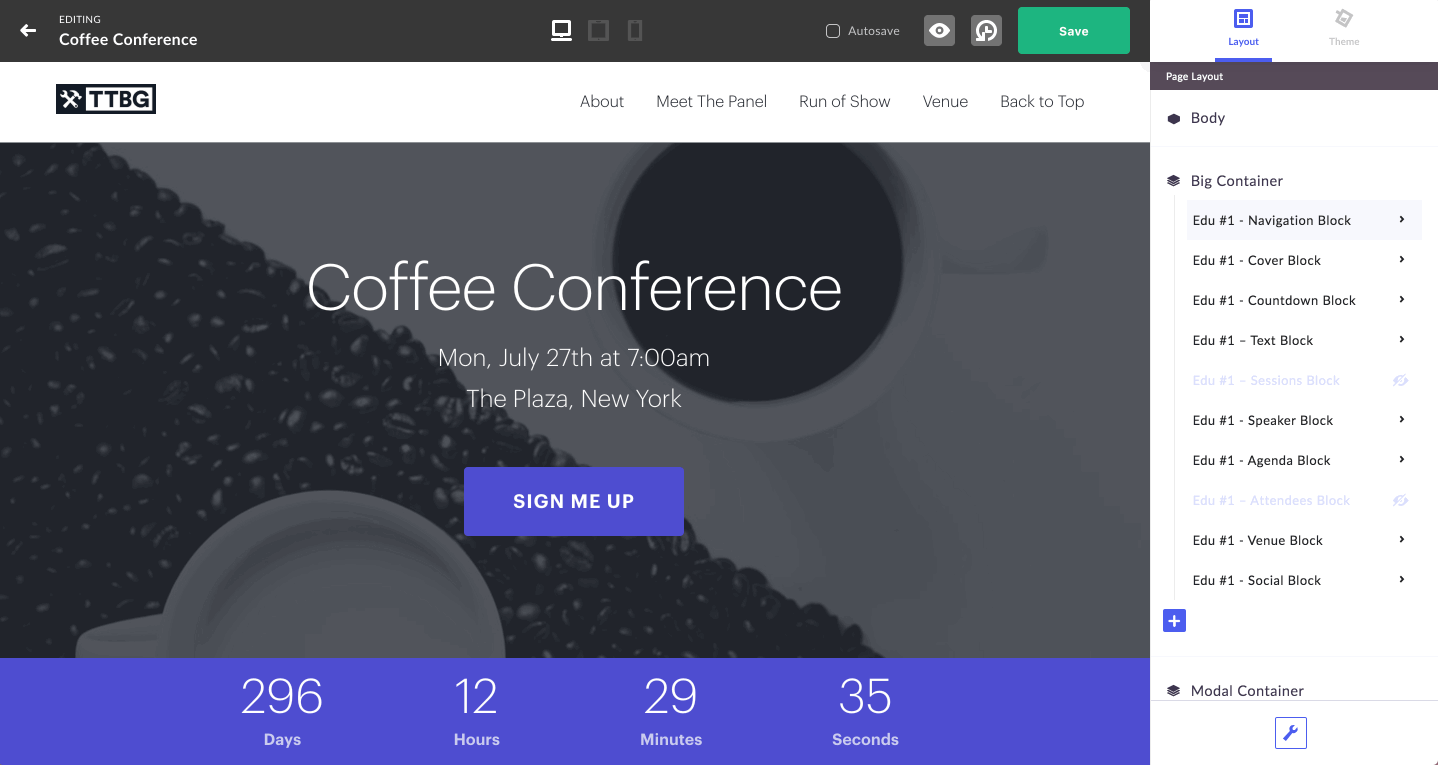 | | |
| --- | --- |
| | Pro Tip: If you edit text on a stage it will be changed on your live page and across all other stages and backups. As a workaround, clone the block or element that contains text you want to change and then hide the original one. |
Showcasing photos, videos, and guests
Transform your registration page with the help of our block and element adder. Here are some of our go-to tools for creating the ultimate event showcase:
Promoting upcoming events
Every post-event page can also be an opportunity to promote an upcoming event. Using our advanced design tools, add a button element that links to your next event. You can also consider using one of our favorite power moves: embedding an upcoming events hub. Let's explain!
In Splash a hub is a landing page that makes events of your choosing discoverable. If you host a number of events, consider creating a hub page that includes a calendar of events filtered to display upcoming events.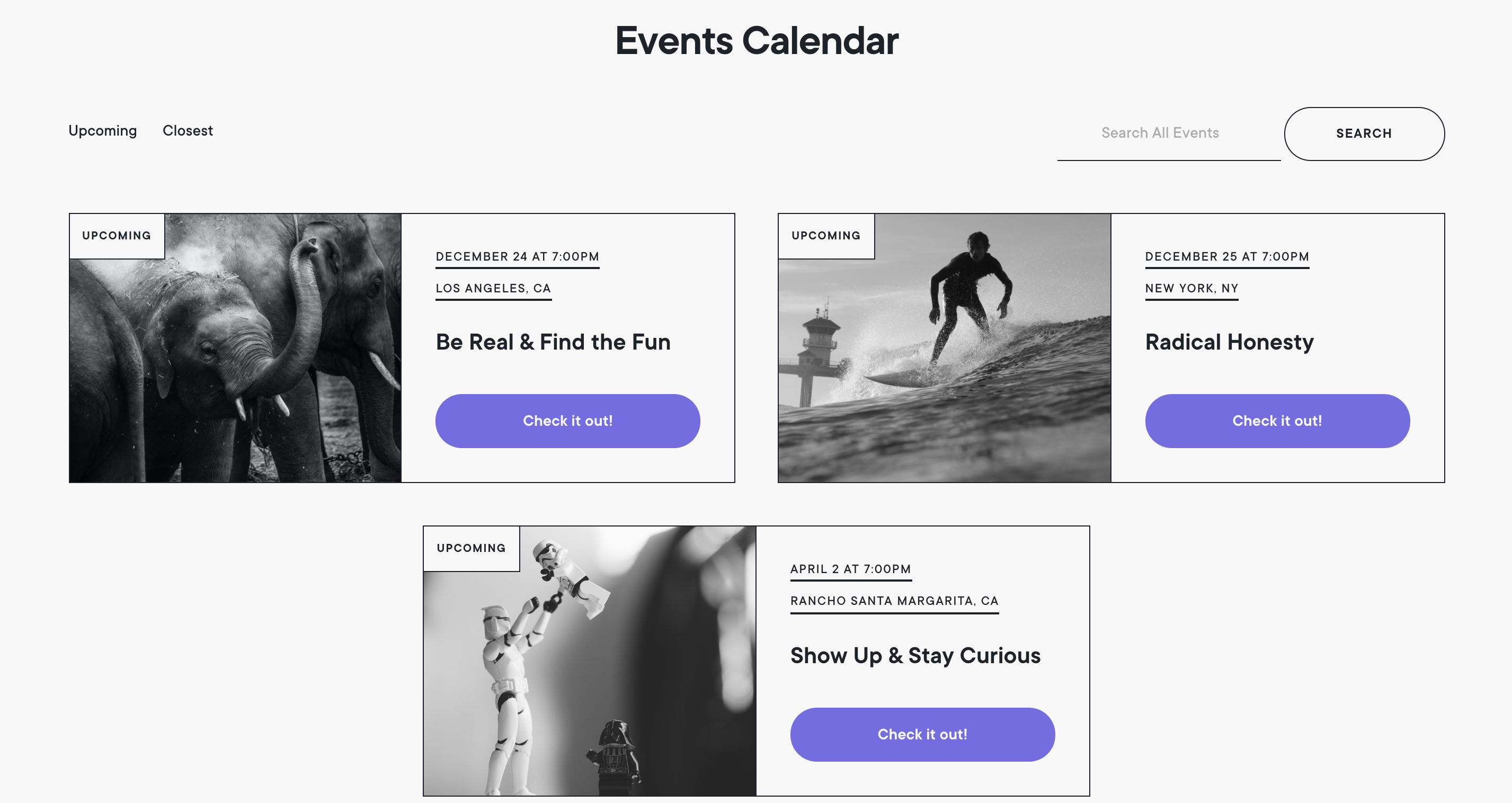 This hub can then be embedded on your post-event page to make showcasing your events easier, and more on-brand, than ever. This is a practice that can be used on nearly any event page to keep your community in the loop.
Sending surveys
Here at Splash, we treat every event as a learning experience...and one that can be measured. Using our smart form tech you can turn any page into a personalized, on-brand survey.
To keep your data clean, we recommend creating a brand new event page for your survey. To speed up the process, use our Survey Branded Theme—available in the event create flow under the Branded category.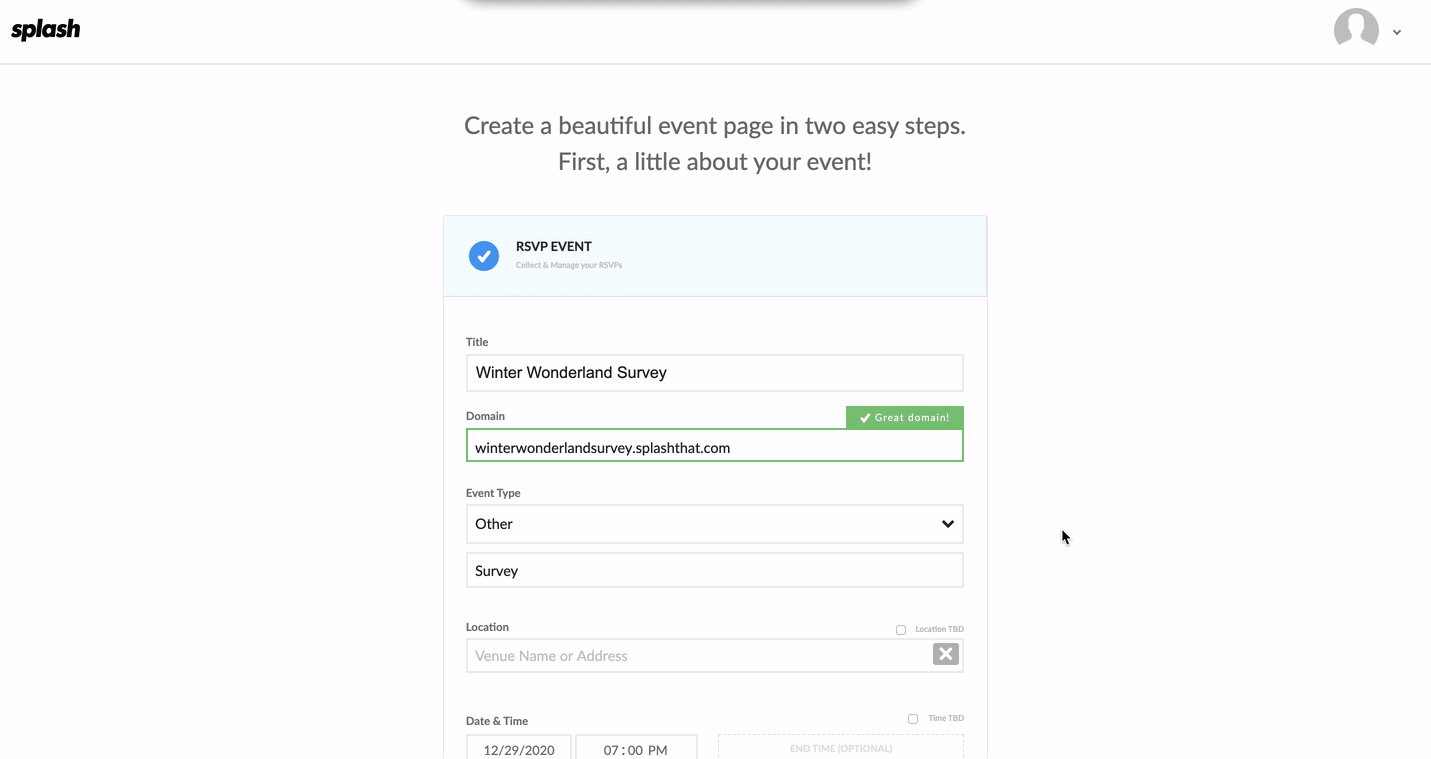 Once your page and survey form are ready, you can decide how you want to get the word out to guests to complete the survey.