Virtual Event URL Communication Follow
Running a virtual event has never been easier with the help of our Virtual Event Page. The content inside the Virtual Event Page is only available to registered guests through a private link known as the Virtual Event URL.
This article walks you through how to ensure each guest receives their own unique Virtual Event URL. Spoiler alert, there are many ways to make sure that your guests get into the (virtual) door.
Virtual Event URL overview
Splash automatically generates a Virtual Event URL for each guest after they register for the event or are manually added to the Guest List. The format of each URL is yourdomain/virtual?gz=uniqueguestnumber.

By default, the Virtual Event URL is unique to each guest. You can allow guests to share their Virtual Event URL in the settings of your event.
To turn on Virtual Event URL sharing:
Open Settings.
Click Allow attendees to share virtual event URLs.
Click Save.
When this setting is enabled, multiple guests will be able to use the same Virtual Event URL at the same time to view your virtual content. If the event is using Splash Studio, each guest will be required to enter their name and email after checking in to your event.

If URL sharing is disabled, they will not be required to enter additional information after checking in since the Virtual Event URL can only be used by one guest.
| | |
| --- | --- |
| | Warning: If more than one guest uses a Virtual Event URL when sharing is disabled, the most recent guest to join the event will remove anyone else using the URL from the event. After being removed, a guest must refresh their browser to check into the event again. |
Watch a video
| | |
| --- | --- |
| | Note: For security purposes, the unique guest number of the Virtual Event URL will be altered with a time stamp for guests whenever the guest list is updated, an email is sent with the virtual event tag, or a guest's status changes. Although the URL will change throughout the event, any version of the link will allow the guest to access the event and will remain unique to the guest. |
Communicating with Guests
As a host, you have many options available when it comes to sending guests their Virtual Event URL - either through Splash, or your own integrated provider.
Keep in mind that if you add the Virtual Event Page touchpoint but never click Save, the [virtual_event_url] tag will redirect your guests to the Event Page touchpoint. This is to protect you from sending guests to a Virtual Event Page that isn't quite ready for showtime.
Let's check them out:
Calendar attachment description
Many guests rely on their calendar invite for all the pertinent details on the big day of your event which is why it's crucial to make sure the [virtual_event_url] is included in the calendar attachment description, or the text that displays when a guest adds their event to their calendar from their on-page confirmation message, email confirmation, or email campaign with "Attach calendar invite" enabled.
Once you add the Virtual Event Page touchpoint to your event, we will automatically populate the [virtual_event_url] tag along with some default text into your calendar attachment description.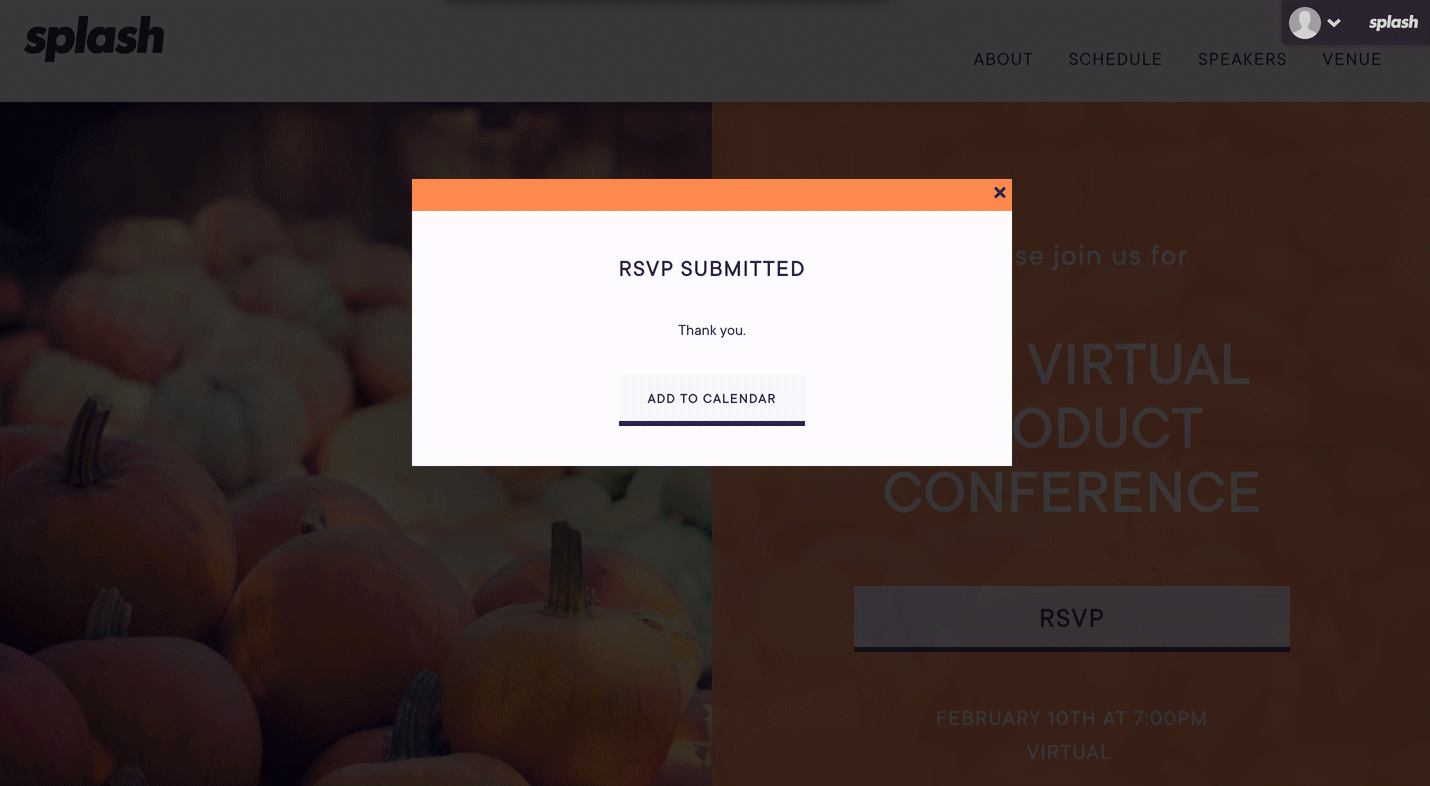 If your event page came with the Virtual Event Page already included (or you like to cross all your t's like we do) then it's always a good idea to hop into Event Settings > Site Metadata to make sure the URL is there.
Not seeing it? Chances are you made your event page before this update. Not to worry! Just add your own text -- with [virtual_event_url] included -- and you're good to go.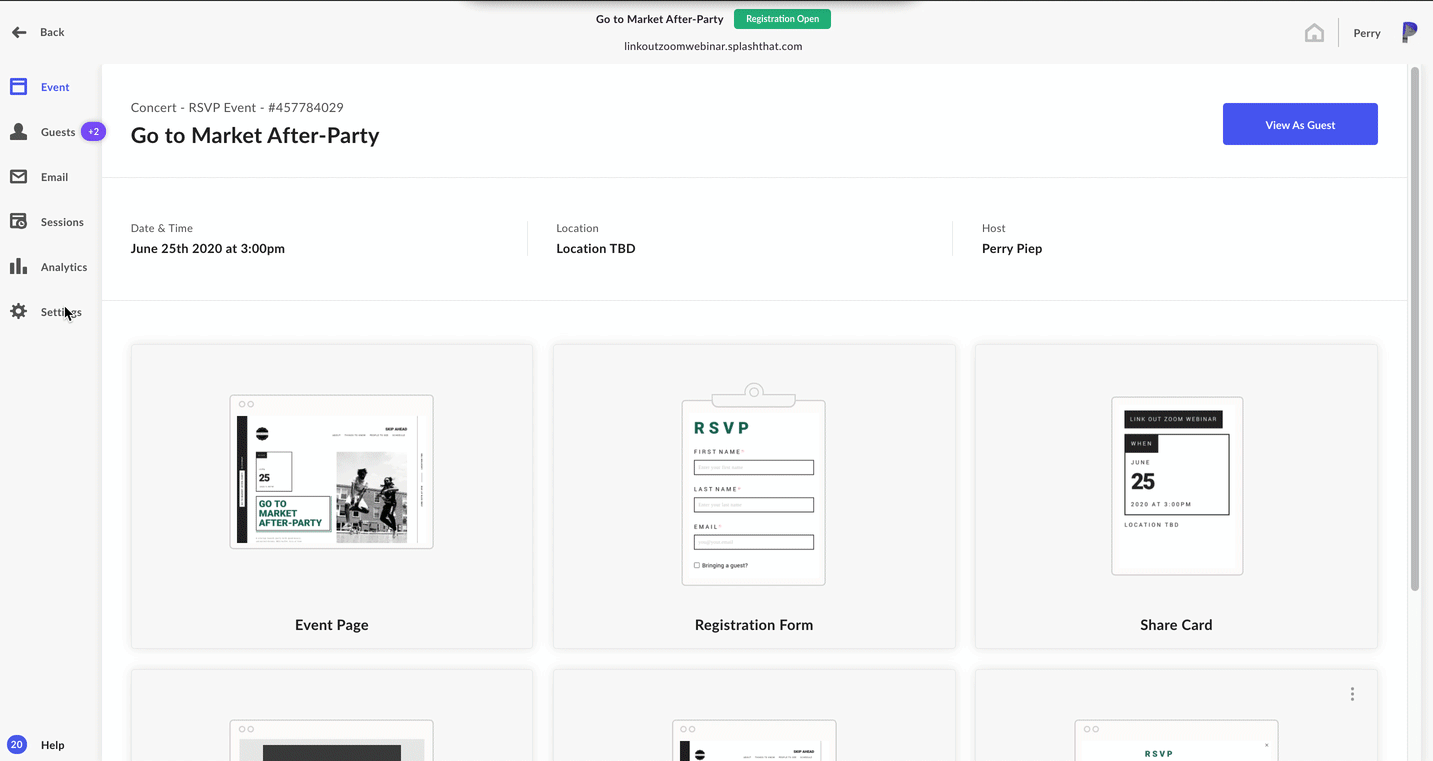 Calendar Attachment Limitations
The [virtual_event_url] tag will not populate when visitors of guests click on the calendar icon in the footer of your event page.
| | |
| --- | --- |
| | Warning: Keep in mind that not all calendar services allow for custom calendar descriptions, for example Microsoft Outlook. We would not recommend solely relying on the calendar attachment for communicating the Virtual Event URL, so keep reading! |
On-page confirmation text or button link
From your event's Confirmation touchpoint, click Design to customize the on-page confirmation. Here is where you can add a button, or edit an existing button's CTA, to link to the Virtual Event Page:
Alternatively, if your permissions don't allow you to add elements, you can also enter the below text in your on-page confirmation message:
Click <a href="%5Bvirtual_event_url%5D">here</a> to access the virtual event now!

Both methods will allow guests to immediately access their unique URL after registering. This is super helpful to guests registering the day-of an event, but also a great safety precaution for any guests experiencing email deliverability issues.
Email confirmation or reminder email
A personalization tag, [virtual_event_url] can be added to any email campaign and is used to auto-generate the guest's unique URL.
| | |
| --- | --- |
| | Note: What is a personalization tag? A personalization tag is a shortcut used to dynamically pull in information. If you frequent the Email Sender, chances are you've used one of our popular personalization tags like [first_name] to dynamically pull information from your Guest List into your email sends. |
Heads up: When testing personalisation tags in confirmation emails, be aware that any guest-specific tags added (including the virtual_event_url tag) will NOT populate on test emails. To properly test everything is correctly set up you'll need to send a real Email Campaign to an email that's been previously added to the Guest List. For more info refer to Help Center article Why are my dynamic tags not populating in emails?

We offer a Virtual Check-In element in our Email Sender that comes with the [virtual_event_url] tag included. When a guest clicks a button with the [virtual_event_url] tag, they will be brought to their unique link.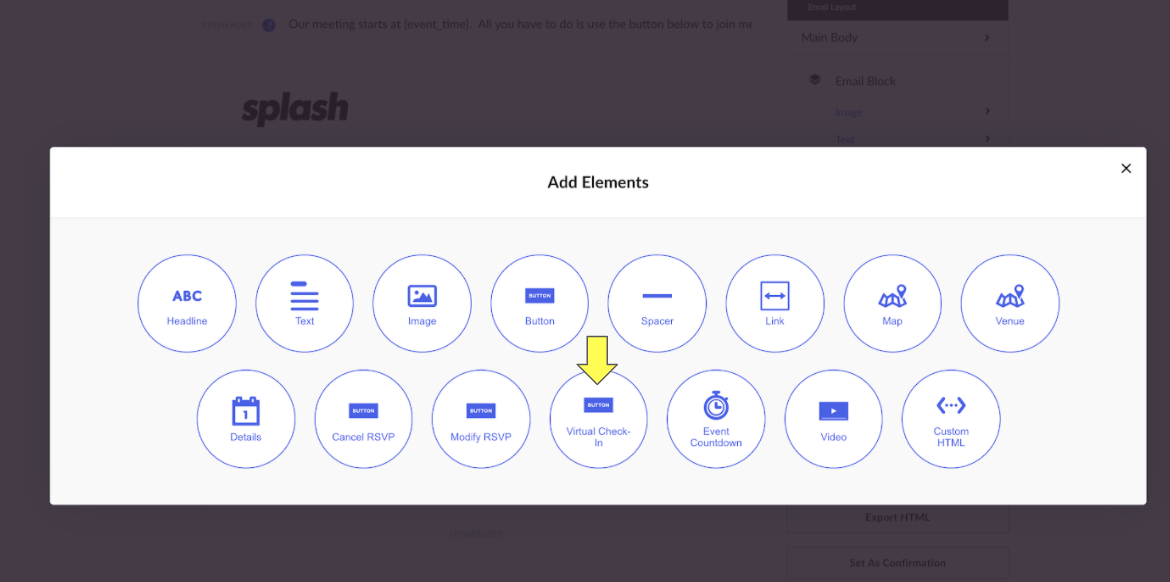 | | |
| --- | --- |
| | Pro Tip: Once you add the Virtual Event Page touchpoint to your event, you now have access to a special pre-made email template called Virtual Event Starting Soon complete with the Virtual Check-In element already included. This email can be scheduled in advance to your Attending quick list, which will automatically update based on registrants. |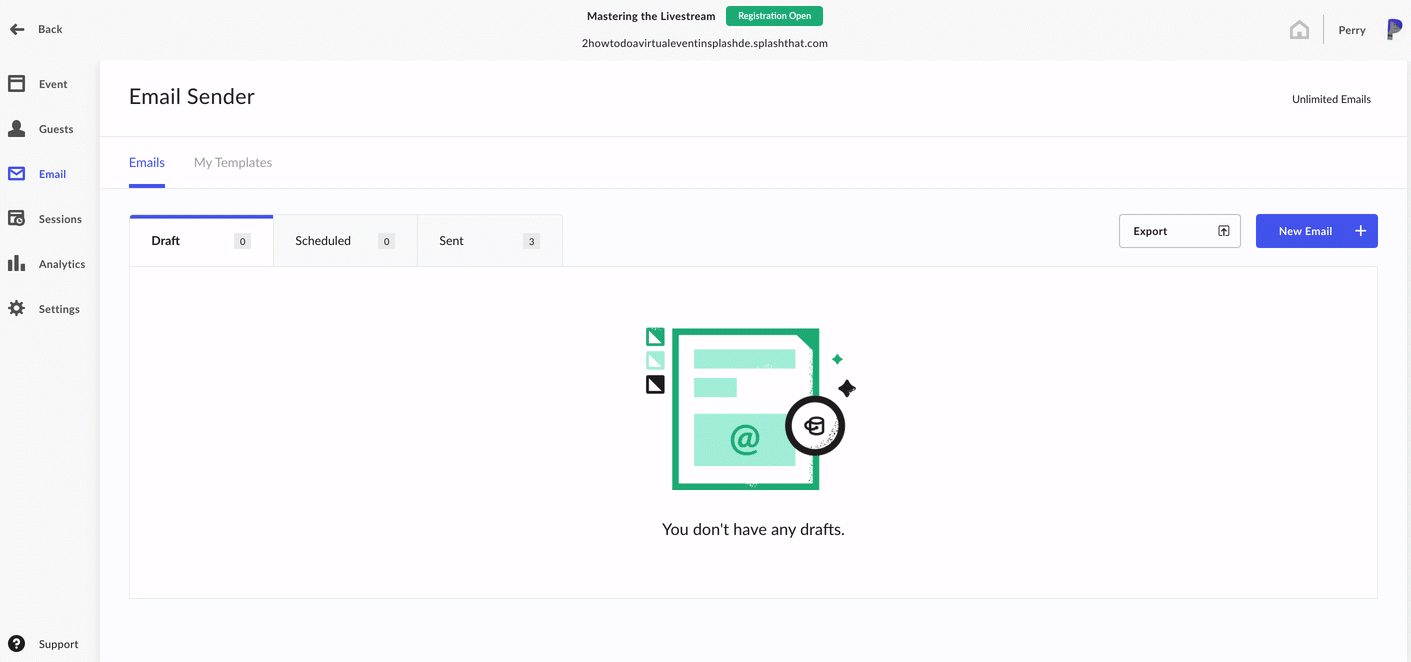 If the URL of the event is changed at any point after guest have registered for the event, a new email will need to be sent out with the personalization tag included in order to generate an updated Virtual Event URL.
Virtual Event URL column in the Guest List
| | |
| --- | --- |
| | Note: This is only available for RSVP events. |
In your RSVP Event's Guest List, add the "Virtual Event URL" column in order to copy and paste or export each guest's unique check-in link.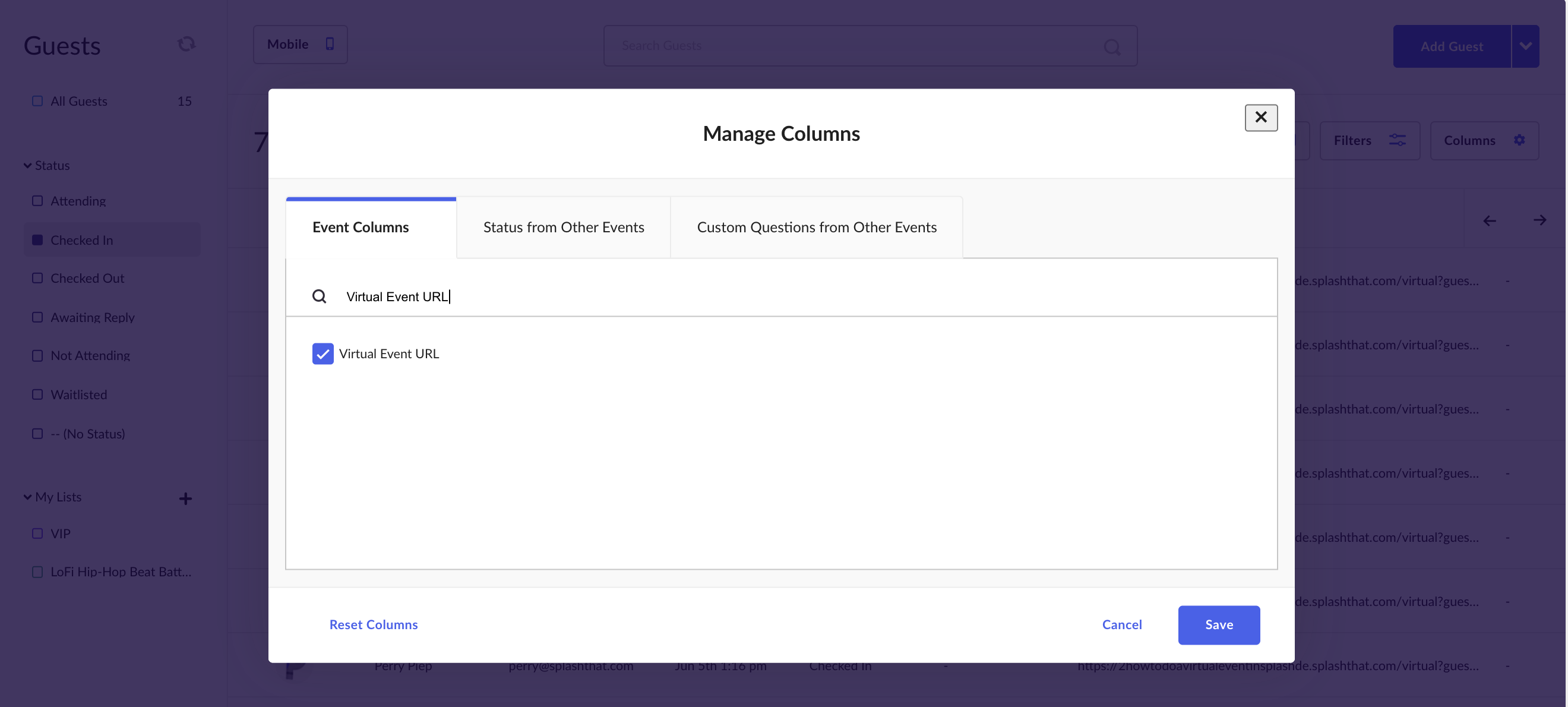 Email provider integrated through Splash
Check-in links can be included in emails sent outside of Splash by using one of our native integrations. The following integrations offer the ability to directly map each guest's Virtual Event URL to your preferred email system:
Greenhouse Candidates & Prospects (v2)
HTTP Request
HubSpot Contacts
Marketo (v2)
Each of these integrations includes a Virtual Event URL field mapping, which is synced to a remote field that you designate in your corresponding system. To map the Virtual Event URL field, select RSVP as the Splash Object within your integration's configuration settings and then assign the Splash Field as Virtual Event URL.

We recommend mapping the Virtual Event URL field if your event program hosts one event at a time. The Virtual Event URL field syncs to Leads or Contacts, which are shared across multiple programs or campaigns. This means if you're running multiple events at the same time, the Virtual Event URL field for a Lead or Contact will be replaced by their most recent RSVP.
| | |
| --- | --- |
| | Note: Splash may have different versions of the Virtual Event URL listed for guests than your integration due to the URL altering throughout the event lifecycle. All versions of the URL are valid and unique to each guest. Check out the note under the Virtual Event URL overview section of this article for more details. |
If you're not using Greenhouse, HubSpot, or Marketo to power your email sends, check out our HTTP Request guide on how to create a custom integration for your preferred platform.