How to Use the Brand Library Follow
Branding matters. It's the first impression a customer has with your company and the last. It's what makes maintaining brand consistency throughout every interaction, for every event, important to every event marketer.
Located in the top-level Library, you'll find a powerful feature that unlocks controlled branding at scale: the Brand Library.
On this page:
Brand Library overview
The Brand Library collects brand-approved logos, fonts, and colors, and then funnels them into every touchpoint throughout the event lifecycle.
To get started, your team needs to use one, or both, of the following:
Branded Themes

Form Library
Why? Because both Branded Themes and the Form Library use default styling that automatically pull in all assets uploaded to the Brand Library. This is what automates brand consistency across your team's event pages, registration forms, emails, share cards, confirmations, and even Sessions and Virtual Event Page touchpoints.
| | |
| --- | --- |
| | Note: You might be asking yourself, "What about my Custom Themes?" Any Custom Themes you have are unicorns, meaning they were designed uniquely for your team. They already feature your company's branding, so they won't inherit any logos, fonts, or colors uploaded to the Brand Library. |
Once you confirm your team has access to the above features, use the checklist below to make sure you have everything you need to create your Brand.
Brand requirements checklist
The Brand Library consists of a single Brand, which houses one set of assets. These assets are your company's logos, fonts, and colors. Here's what's required for each:
Logos:

Two logos (dark and light) with transparent backgrounds
Dark logos are typically used against light backgrounds while light logos are used against dark backgrounds.
Adding both a dark and light logo allows your team members to maintain brand integrity regardless of a page's color scheme. It also sets up any non-designers on your team with an immediate pop of contrast on their page without requiring any help from a designer.

| | |
| --- | --- |
| | Pro Tip: Use logos that are at least 500 px wide for optimal scaling. |
Fonts:
Brand fonts in one of the required file formats: ttf, otf, or woff
A maximum of five fonts can be uploaded to the Brand. Uploading additional font files, like svg or eot, are recommended, but not required.
As a best practice, we recommend uploading all five formats for optimizing performance across different browsers.
But there's a catch. There's always one isn't there? In this case there's four. And they're known as font styles. A font style is the type of copy that the font will be used for (e.g. event title, agenda descriptions, etc).
The different font styles are:
Headline




Used for the primary or large text, like event titles.





Subheadline




Used for the secondary or medium text, like block titles.





Body Copy




Used for the descriptive text on event pages, like event descriptions, speaker bios, and other copy that requires paragraph styling.





Button




Used for any buttons, like registration buttons or Add to Calendar buttons.
| | |
| --- | --- |
| | Note: Due to varying email restrictions, fonts uploaded to the Brand Library will apply to every touchpoint except the Email Sender. |
You can assign one font to all four styles or you can assign four different fonts to four different styles. No matter how you spin it, each style must be assigned a font.
Colors:
Color swatches in hex code color values
If your company only uses RGB color values, no worries. RGB values are automatically converted to hex upon input. Just make sure the values are entered in one of the following formats: rgb(0,0,0) or 000000.
Each color also features a percentage field that allows you to specify transparency.
As you might have guessed, colors also have styles that need to be assigned.
The different color styles are:
Dark Text/Backgrounds


Light Text/Backgrounds


Button


Button Hover
As with fonts, you can assign one color to all four styles or you can assign four different colors to each of the four styles. Keep this in mind for now since these won't be assigned until you actually create your brand. We'll walk through this in the next section.
Creating your brand
Once you have all your assets, your Brand is ready to be created.
Head to the

Library

from the top-level navigation within the Events Dashboard.





Open the

Brand

tab.





Click

Add Brand

.





Enter the name for the brand, then click

Add.
Take care in choosing your Brand name. It cannot be edited after the Brand is created.

Next, you'll be dropped into the Brand workspace. Here you'll find different sections to upload your fonts, colors, and logos to the left, and a real-time preview screen to the right. This allows you to see your branding in action and make any necessary changes before saving.
Click the + symbol in each section to upload the corresponding asset.
Under the Fonts and Colors section, use the dropdown menu to assign the designated styles mentioned in the Brand checklist. Remember - the same font or color can be applied to multiple styles, just as long as every style has an assigned font and color.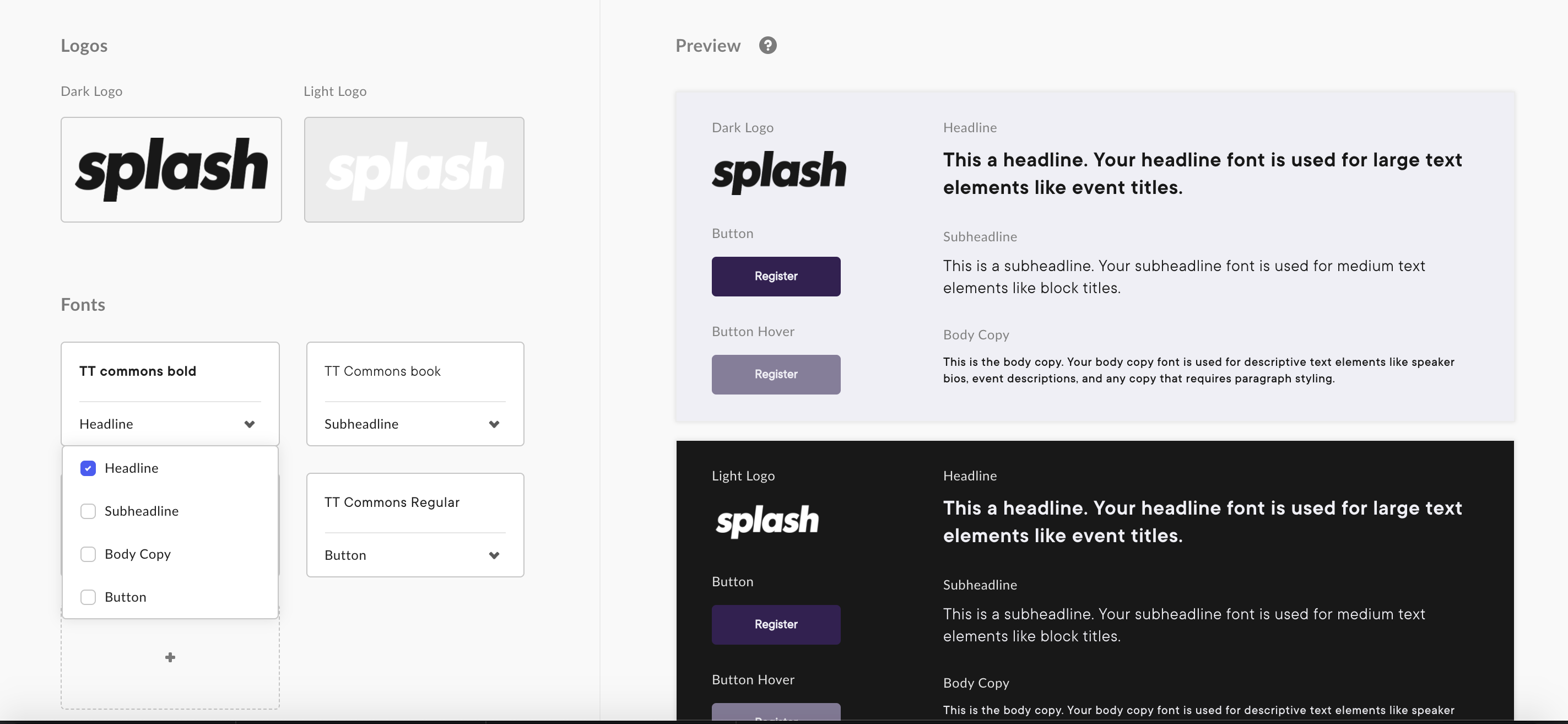 Clicking +Add New Font Set or + Add New Color Set will make a copy of the current set. Navigation buttons < > will appear when adding a new set, allowing you to preview each set.
| | |
| --- | --- |
| | Note: Up to 10 color sets and 10 font sets can be added to the Brand Library. |
The preview screen will update as each section of the Brand Library is completed. As a best practice, we always recommend saving your work as you go by hitting Save in the top right.
The Add to Theme Library button won't be available until all assets are assigned.
After every section is completed, the Add to Theme Library button will become available. Clicking this button automatically publishes the uploaded fonts, colors, and logos to any new event created from a Branded Theme, as well as any new forms created in the top-level Form Library. This step must be completed in order to create an event from a Branded Theme.
Once a Brand is saved or added to the Theme Library, a card will appear within the Brand Library with the uploaded assets along with the last time the Brand was edited.

Editing your brand
Assets can be replaced or removed at any time within the Brand. Hover over a logo, font, or color to reveal editing options.
The

icon will replace a logo, font or color, while the

icon will completely remove any asset. Click the

button to rearrange or delete different font and color sets.
Replacing or removing an asset will result in a notification letting you another asset will need to be assigned in its place. Refer back to the checklist requirements if you're unsure about which assignment is needed or refer to the preview screen to see where a font or color is missing. Any assets that are replaced can also be renamed during the upload process.
When all edits are complete, hit Update Brand in the top right. Any edits made will only apply to events created moving forward and won't retroactively apply to any of your event pages.
Creating an event with your brand
Once the Brand is added to your Theme Library, it will automatically apply to your Branded Themes.
Follow these steps to create an event with your Brand:
Click New Event from the Events Dashboard.

Enter your event details.

Select the Branded tab. You'll notice your Brand colors appear in the Theme selection process.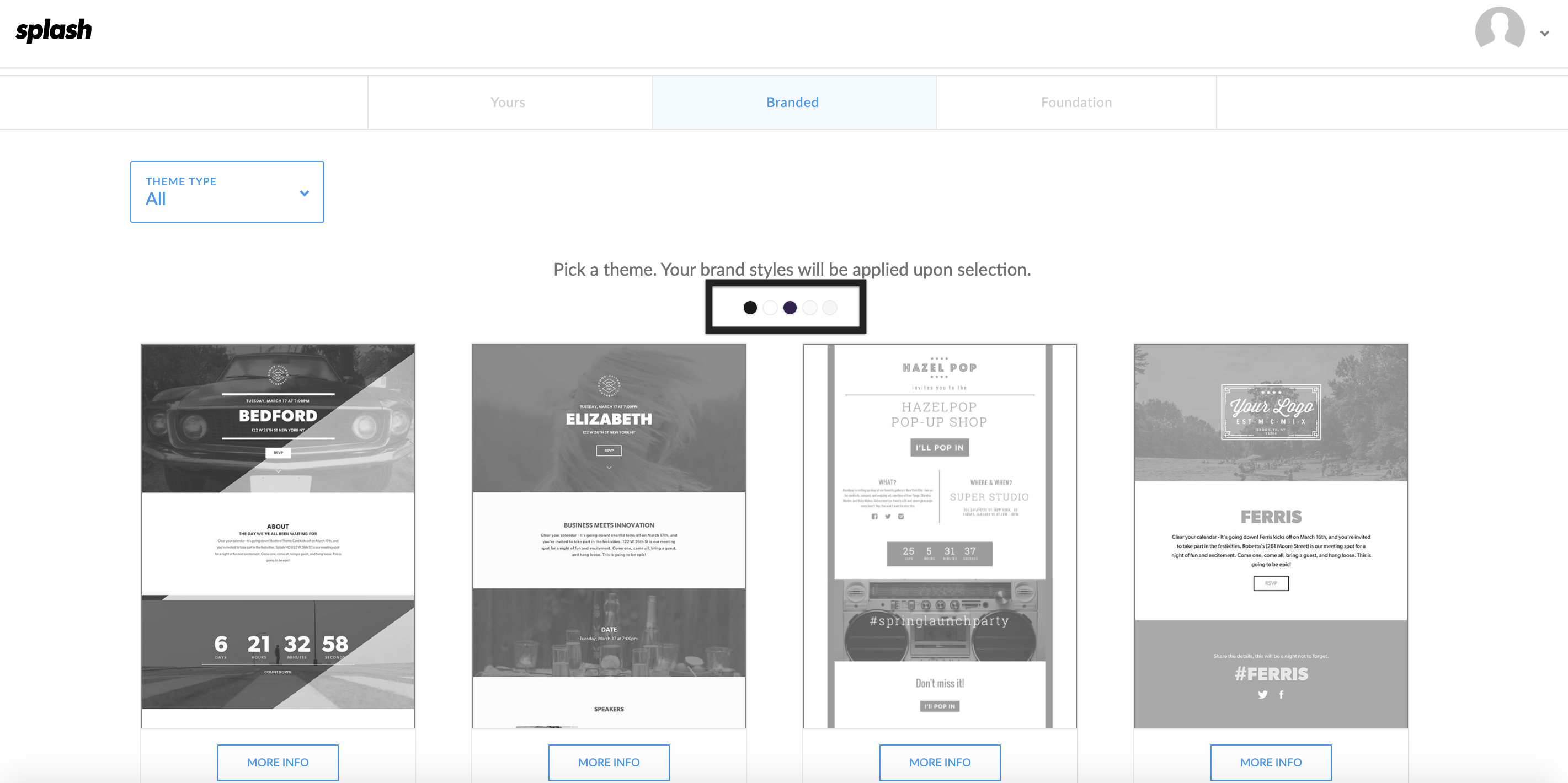 | | |
| --- | --- |
| | Note: If you haven't completed the step of adding your Brand to your Theme Library, the Branded tab won't appear within the Theme selection options. |
Your logos, colors, and fonts will automatically be applied to your event page upon creation.