Hosting an event using our Virtual Event Page Touchpoint? This is your go-to checklist to ensure your guests have the best experience possible. Let's dive in!
On this page:
Before you begin
Familiarize yourself with our Virtual Event Page Touchpoint by reading our guide or watching our quick host set-up video.
Finalize each virtual state
We automatically style each virtual state on your behalf with your event's colors, fonts, and logo. Click through the states in the upper left hand corner, and then check two big items off your list:
All designs are up to my brand standards - including page and font colors, logo size, and Contact the Organizer and Go to Event Page footers.
My embed code has been added to the Virtual Content element on the Livestream state.
Check out
our list of recommended and compatible video providers
here
.
Triple-check your confirmation messaging
Remember that guests are only able to access the Virtual Event Page Touchpoint through their unique check-in link. This link is generated for each guest through a personalization tag [virtual_event_url]. Your on-page and email confirmations are two great places to insert the tag and ensure your guests can get through the virtual door. Let's check them off our list:
I included the following snippet in my RSVP Yes on-page confirmation message to give guests immediate access to their unique check-in link.
Click <a href="%5Bvirtual_event_url%5D">here</a> to access the virtual event now!

I added the Virtual Check-In element to my RSVP Yes email confirmation template.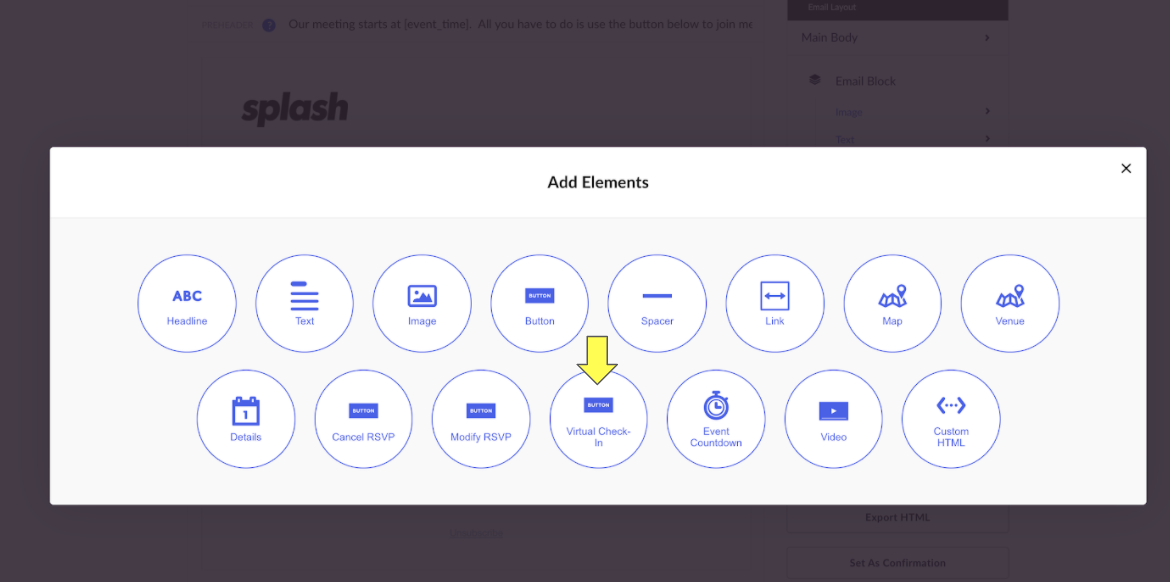 I checked off Attach Calendar Invite for my RSVP Yes email confirmation which automatically adds a guest's unique check-in link to their calendar message.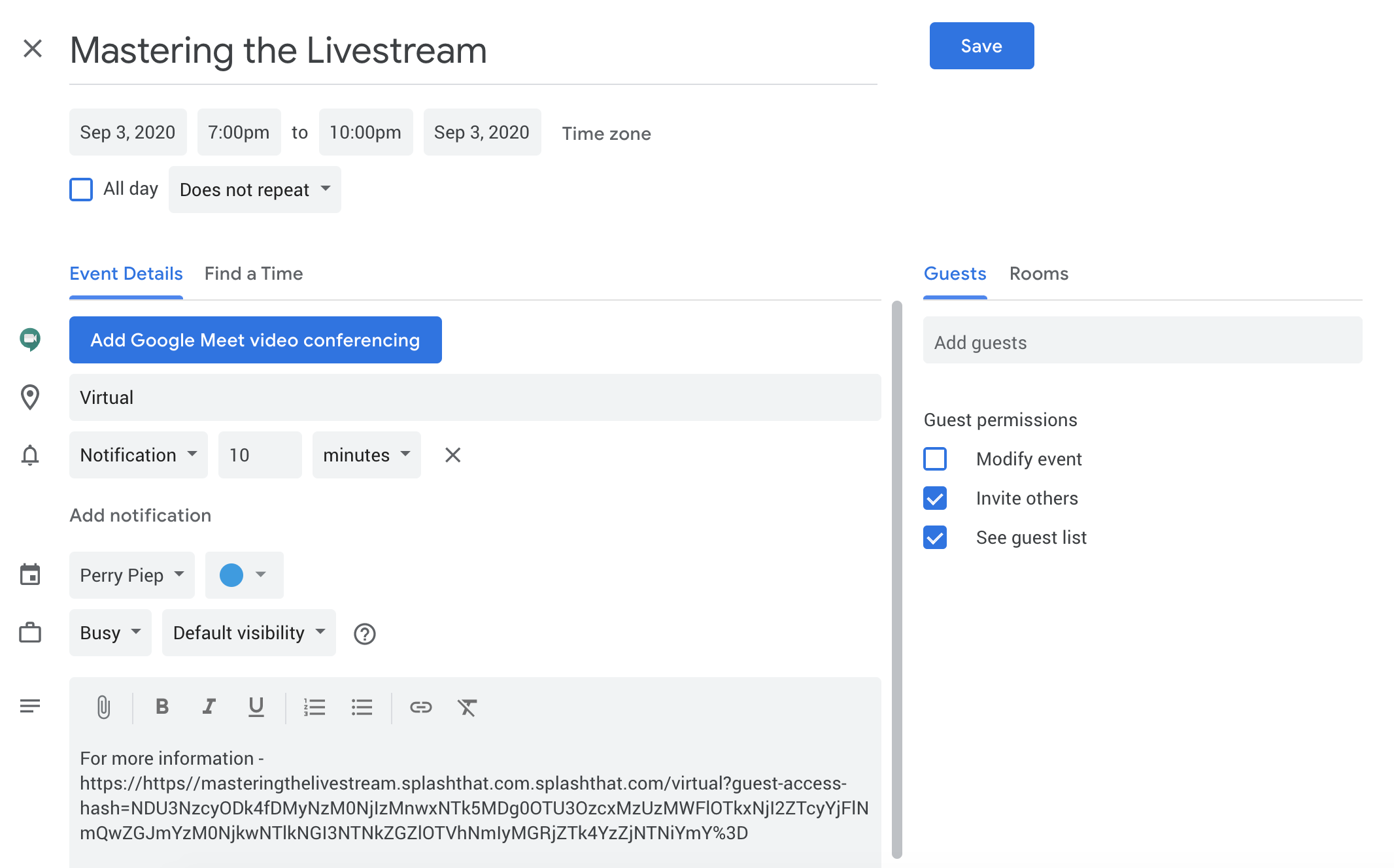 Schedule your email sequence
The key to participation in a successful virtual event is a sequence of timed reminder emails. Not only will these emails keep your event top of mind for guests, but they also help reinforce that access to the event is granted through a unique check-in link. The most important email is the one on the day of the event, let's check it off:
I scheduled my reminder email for 1 hour before the event begins to my Attending Quick List.
Pro tip: Once you add the Virtual Event Page Touchpoint to your event, you now have access to a special pre-made email template called Virtual Event Starting Soon complete with the Virtual Check-In element.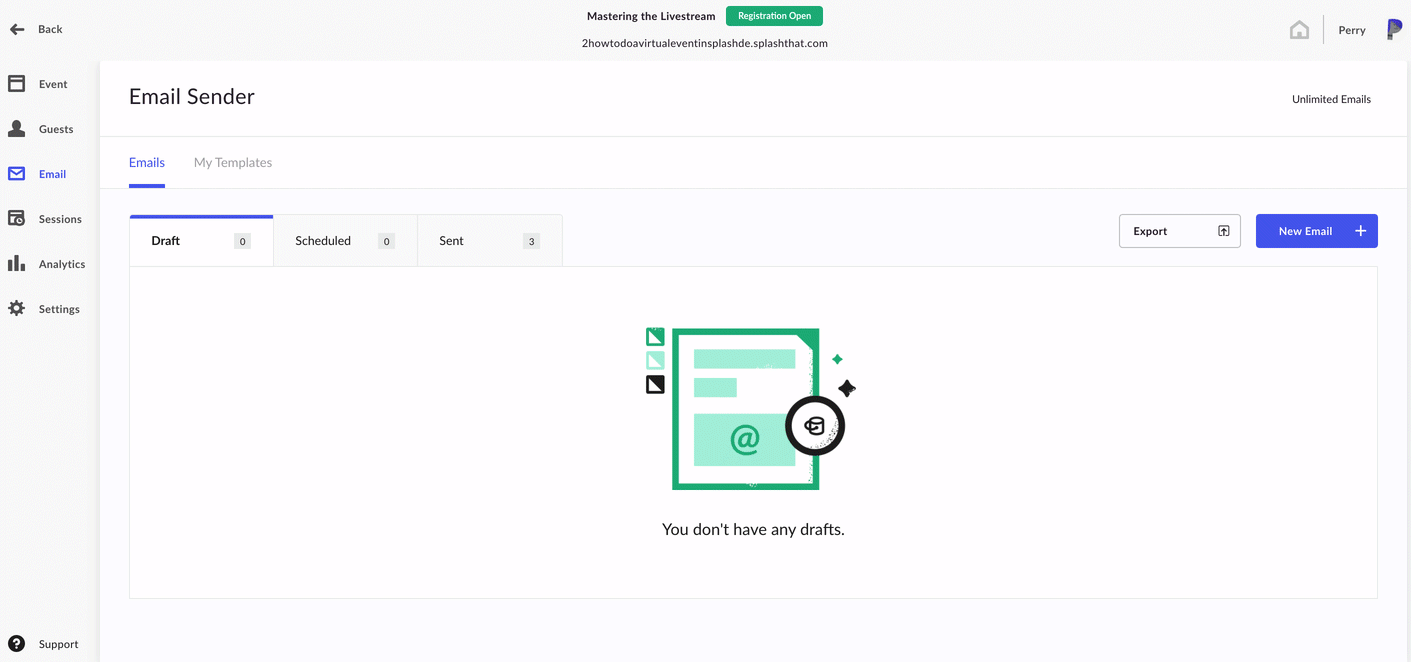 Develop a day-of backup plan
In the business of events, whether live or virtual, backup plans are a must. The two main scenarios to focus on are:
1. What happens if my video or chat provider is down? The Virtual Event Touchpoint relies on the stability of the streaming or chat service you're using. In the event that the service goes down, you can be prepared to email guests with updates.
I have a draft email template ready to be sent to my Attending and Checked In Quick Lists with sample copy for a situation where my provider is down.
2. What happens if guests are unable to check-in to the event? A guest's unique check-in link can only be used on one device and in one browser at a time. If a guest shares their link or has it open in an unknown browser and continues to see the Already Checked In state, make sure your team knows how to unblock the guest.
My team has been trained to manually mark a guest as Checked Out in the Guest List which will allow the guest to check back in to the event.