Using IP addresses to restrict access to Splash Follow
Security is an important aspect of keeping any online environment protected, including your company's Splash account. The Organization IPs tool is an in-product safeguard that provides this security while requiring minimal IT support.
The tool allows the ability to restrict web access to your company's Splash account based on a list of approved IP addresses. Think of the approved IP addresses as the security guards of Splash - if a team member's IP doesn't pass the security check, they can't get in.
Looking for the fine print
? We've got you. This restriction only applies to web logins made through
splashthat.com
. Logins on the Splash Host App for iOS or Android won't be restricted.
Set up is simple, but does require assistance from a Splash team member.
To get started, you'll need:
1. A Basic, Professional, or Enterprise team license
2. Access to the primary admin account for your organization
3. Access to the Organization IPs tool by submitting a request to our team
Once the Organization IP tool is enabled, you'll enter your team's approved IPs.
To get set up, follow these steps:
1. Log into your Splash account.
2. Open your Account Info page.
3. Click on the Organization IPs tab.
4. Enter the IP address for your team. Adding a description for the IP address is available, but not required.
5. Click the Add IP Address button.
6. Once all IPs have been entered, click the Save button.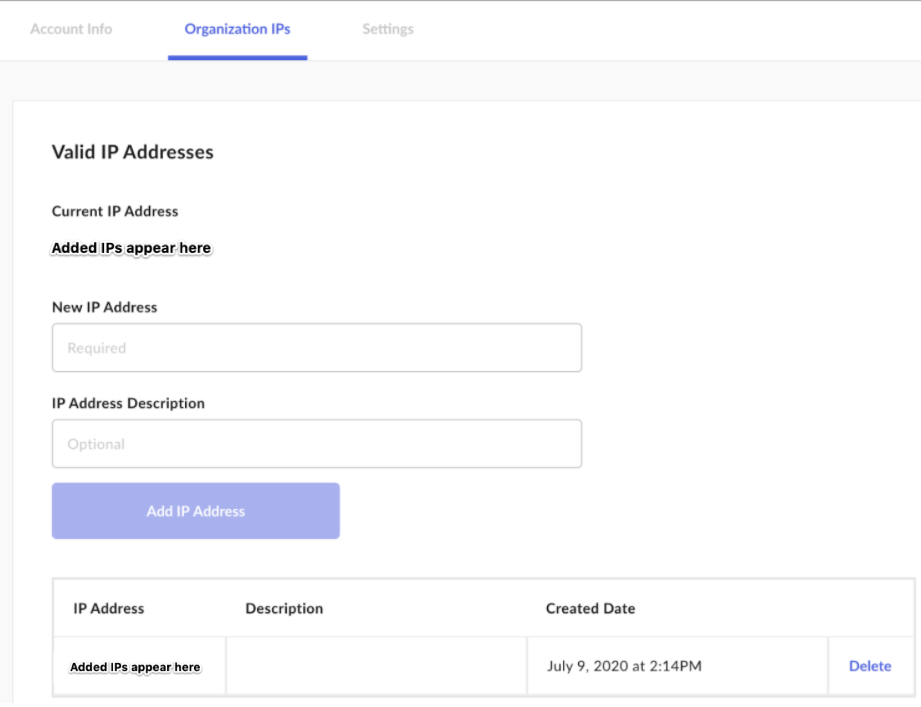 Keep in mind that using a VPN does change an IP address. We recommend consulting your IT team to ensure that all IPs are correctly listed.
The final step is to notify your team of the security update to prevent any confusion when trying to access Splash. Once IP validation is enabled for your organization, any team member who tries to log in with an invalid IP will receive an error message letting them know that the IP isn't accepted.