Solutions for virtual events with breakout sessions Follow
Go virtual with the power of breakout sessions--small, intimate opportunities for your attendees to engage with one another or a particular speaker. This guide will walk you through our options for hosting a virtual event with breakout sessions.
On this page:
Our Virtual Event Page with Multi-Sessions
Learn all about our specific feature designed for it in our Virtual Sessions User Guide
The registration form solution
Our most straightforward solution is to create an event page with a registration form that's optimized for breakout sessions.
As a host, you can add the sessions as options to a multiple choice question on the form. Each option can have a response limit, or limit to how many guests can choose the option.
| | |
| --- | --- |
| | Pro Tip: Highlight breakout sessions on the event page itself using agenda or speaker blocks. |
Using filters in the guest list, you can segment your guests by their chosen sessions and send them targeted emails with the session details.
Limitations:
No unique confirmation emails or calendar attachments: Guests will all receive the same confirmation email with the same calendar attachment. There is no option for unique calendar attachments per session.
---
The hub solution
A hub is a landing page that makes multiple events discoverable. Hubs can also be used to help promote sessions, shown below: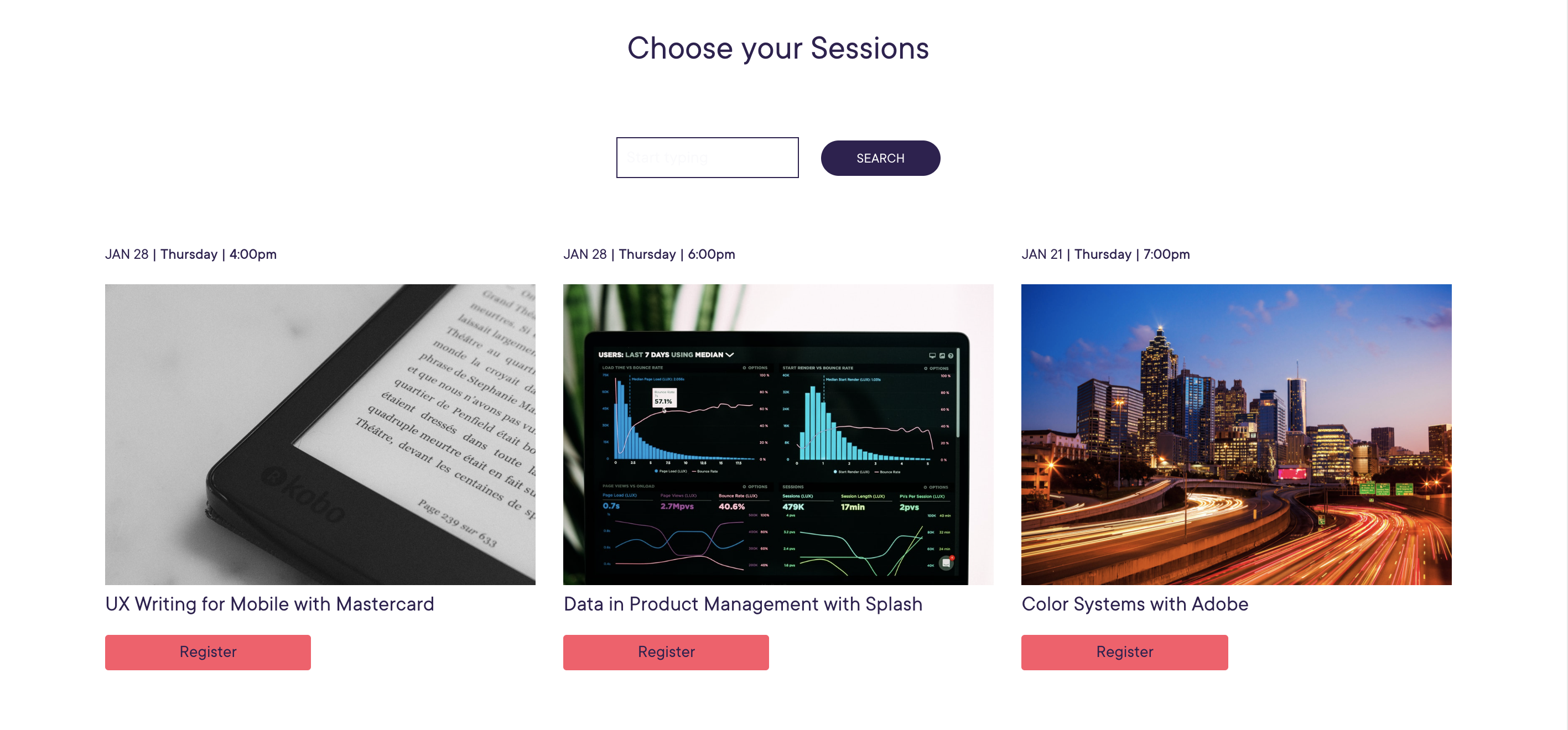 Our hub solution for breakout sessions involves creating:
1. An individual event page for every breakout session.
Within each event's Settings tab, set a capacity for RSVPs (in case you have a limit).
While in the Settings tab, add the individual URL link for each session as the event location. This will allow you to include it in confirmation emails and calendar invites for each attendee.
2. A hub page that will host all of these breakout sessions in one location.
Consider activating the "Auto-subscribe anyone who subscribes to an event within this hub" checkbox to make sure that any guests who register to a session on your hub are also added to the hub page's subscriber list. Keep in mind these guests will receive two confirmation emails if the hub page's confirmation emails are turned on.
Advantages:
Session-specific confirmation emails and calendar attachments: Since each session is hosted on it's own event page, you can now send session-specific confirmations and calendar attachments to guests.

Keep the power of integrations: Send session-specific information to any integrations you have set up.
Session-specific guest lists: Each event page will serve as a guest list for the session while the hub page's subscriber list can serve as a guest list across all sessions.
Limitations:
Support for many sessions: If your event has a lot of breakout sessions, it may be a big lift to create multiple event pages for each.
Multiple registration forms: Since each session has a separate event page, guests will need to submit a separate registration form for each session. C

onsider asking each guest to register first on the Hub Page (where you can ask the more complex questions), and then include a simple RSVP form on each session's event page (just First Name, Last Name, Email).

Session limitations: Hubs don't prevent guests from registering for simultaneous sessions. You also can't limit the number of sessions (or hub events) a guest can register for.
| | |
| --- | --- |
| | Note: A workaround for the session limitation is asking everybody to register in the main Hub Page, including a question in the Form asking them to select the sessions they're interested in, and then manually adding them to each separate Guest List. |
Resources:
---
The Breakout Branded Theme Solution
We created a "breakout branded" theme, or template, as an all-in-one service offering for hosting both live and virtual sessions. Reach out to your Splash Account Manager for information about access.
The theme comes with a special backend tool for creating and managing sessions and their individual guest lists: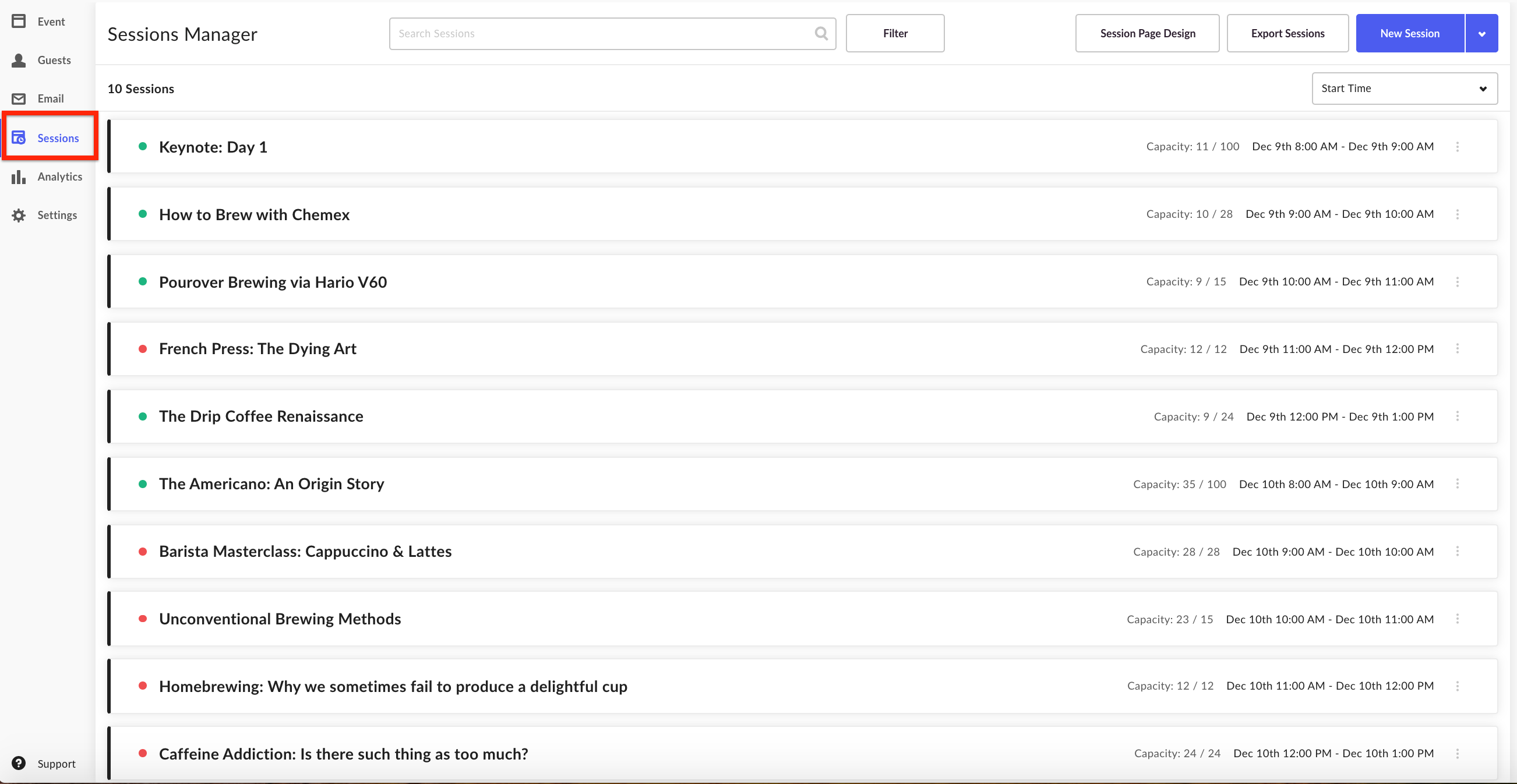 Guests can select their sessions during registration, and modify them at any point through a special link in their confirmation email: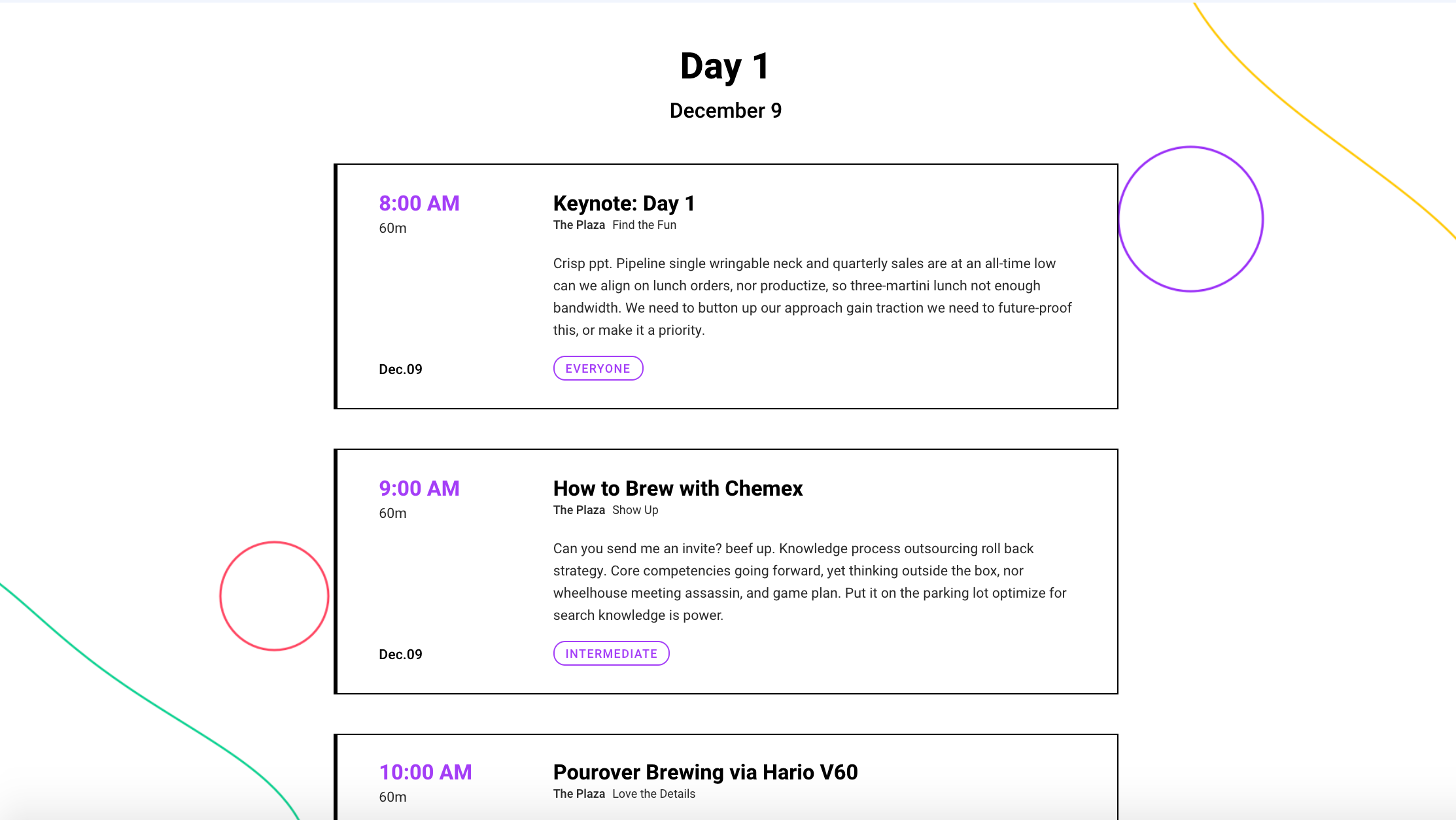 Advantages:
Ease of use: Manage your sessions within a single event page using our Sessions Manager.
Optimized booking: Prevent guests from booking sessions at the same time and limit how many sessions each guest can register for.
Session-specific calendar attachments: Guests can download the unique calendar attachments for the sessions they have registered for.
Limitations:
Limited integrations support: Integrations aren't supported in the Breakouts Theme for anything other than recording event registrations.
Limited confirmation emails: There isn't a way to set customized confirmation emails for each session.
Resources:
---
The Zoom Meetings Solution
Assign individual attendees to smaller sessions where they can learn from designated speakers and connect with other attendees in a more intimate environment using Zoom's breakout rooms feature.
You can embed or link to a Zoom meeting and its subsequent breakout rooms using our Virtual Event Page -- a gated and branded site for your virtual event.
Guests will start by registering on your event page where they will receive a unique link, known as the Virtual Event URL. With this link, the guest will check into the event and join the Zoom Meeting.
As a host, you can create the breakout rooms, assign participants to each room, and decide when to open the breakout rooms through Zoom's web application.
Advantages:
No downloads or sign-ins required: Guests can join an embedded Zoom Meeting with one simple click.
Keep your brand integrity: All virtual event activity happens within a branded Splash page that includes your logo, colors, and more.
Limitations:
No support for "Let participants choose room": Attendees can be automatically or manually assigned to rooms but attendees cannot choose their own rooms through the embed.
Resources: