Can I host a virtual event with breakout sessions on Splash? Follow
Short answer: YES, you can!
That said, events with virtual sessions mean completely different things to different people, and they can take up many forms and shapes. You may want to consider different solutions depending on your specific needs - luckily, Splash is flexible!
There are a few ways to make breakouts happen:
1. Hosting the event on a single event page
2. Using a hub to organize your sessions
2.1 Benefits of a hub
2.2 Limitation of a hub
3. Using the breakouts branded theme
3.1 Benefits of the breakouts theme
3.2 Limitation of the breakouts theme
Note: For the moment, the Breakout Rooms features for Zoom and BlueJeans do not integrate with Splash.
Hosting the event on a single Event Page
If you're already familiar with how Splash works, you know you can just have multiple breakout URLs and distribute them via email and/or show them on the Event Page. It is really that simple!
Using Hubs to organize your sessions
If you've ever used a Hub in Splash, you're already aware that they allow you to list and link out to as many different Event Pages as you'd like.
Using Hubs, you can drive people to one place where they can find each session's own event page that has the embedded live stream. Leveraging a hub and individual events allows the host to include the dedicated URL for each session in the events touchpoints, emails, confirmations and calendar invites, and gives you a huge amount of freedom and flexibility regarding customization and data collecting for each session.
In summary, you'll need to:
Create a separate Event Page for each Session or Breakout.
Create a Hub Page to host all of your Sessions in one place.
And you'll want to determine if you'd like guests to auto-subscribe to your hub. If you auto-subscribe guests, they will receive two emails: one to your hub and one to the event.
To activate this setting, head to Settings tab, activate the "Auto-subscribe anyone who subscribes to an event within this hub" checkbox. This will allow you to have every guest's data into your Hub Page as soon as they register for a single session, so you can manage all data from a single guest list (of course, guest lists for individual sessions will still be available from each separate Event Page).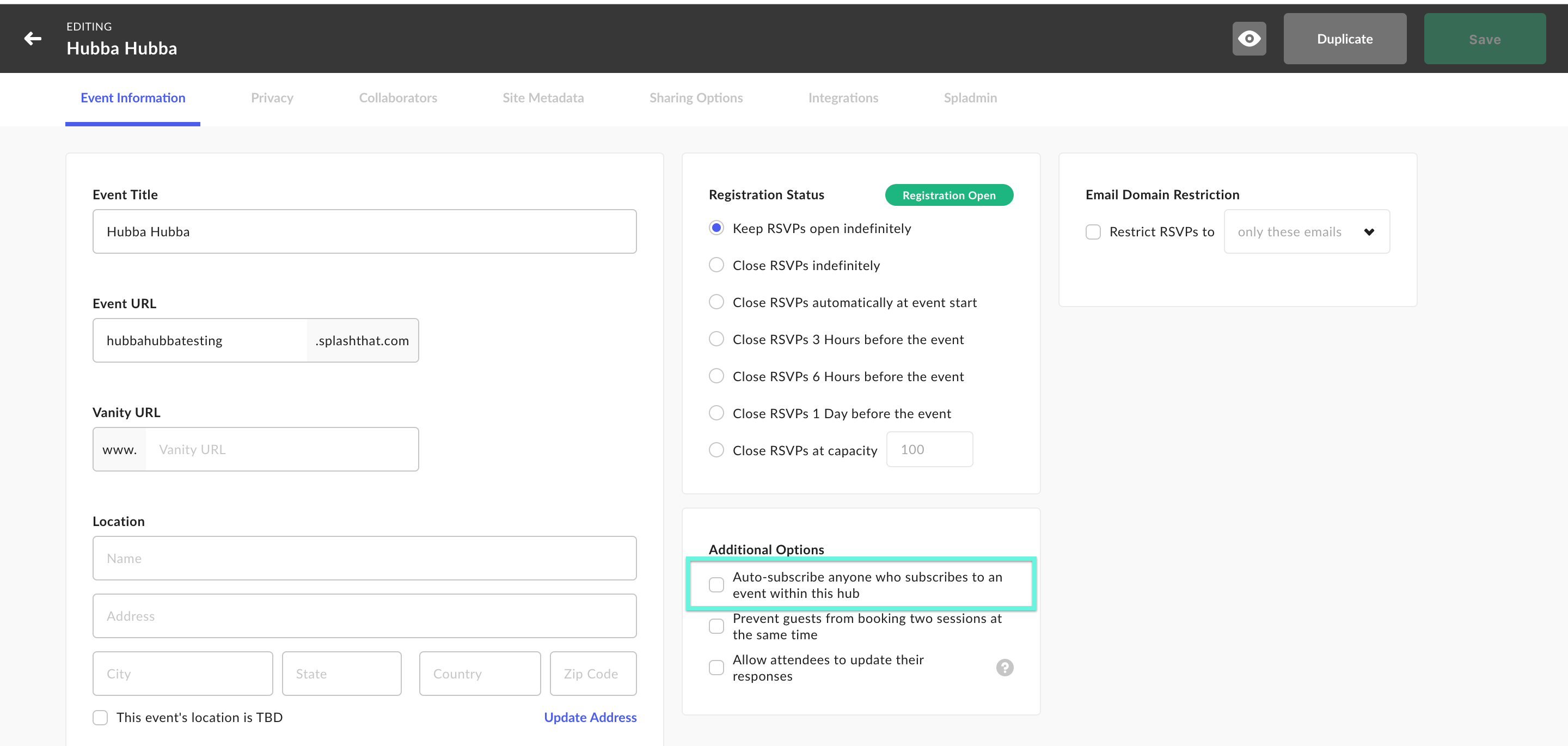 If you choose not to activate this setting, head to the Confirmation touchpoint to turn off the Email confirmation. Then, your guests will only receive a Confirmation email for the sessions they register to.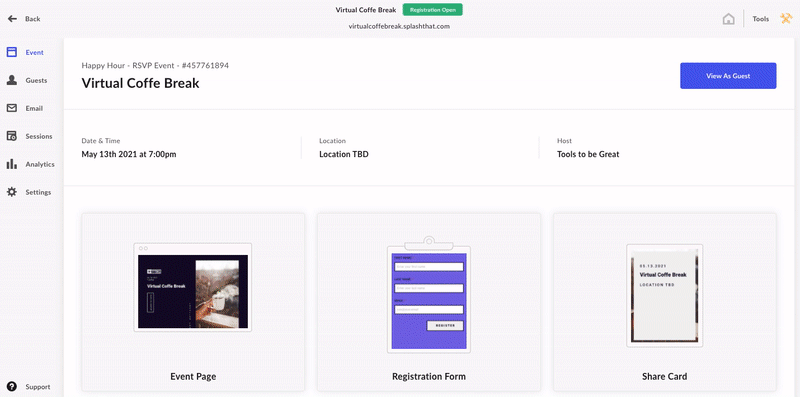 Within each session's Event Page Settings, set a capacity for RSVPs (in case you have a limit).
Adding the individual URL link for each session as the Location in Event Settings will allow you to include it in Confirmation Emails and Calendar Invites for each attendee, or you can just send it out in an Email Campaign.
What Hubs are great for:
Get the best out of your integrations! As each session is hosted on a separate Event Page, your integrations will be able to do everything they can do for any other regular event.


Keep a complete guest list with every attendee, plus separate guest lists for each session.


Manage specific confirmation emails and calendar attachments for each session from their individual Event Pages, allowing you to send the individual URLs for each session only to guests that have registered for it.


Hubs' limitations:
Hubs do not prevent guests from registering for simultaneous sessions, nor can you limit the number of sessions a guest can register for.
| | |
| --- | --- |
| | Note: A workaround for this is asking everybody to register in the main Hub Page, including a question in the Form asking them to select the sessions they're interested in, and then manually adding them to each separate Guest List. |
Since each session has a separate Event Page, guests will need to submit a separate registration form for each session. If you have a complex form or your event has many different sessions,

consider asking each guest to register first on the Hub Page (where you'll collect all the data), and then include a simple RSVP form for each session (just First Name, Last Name, Email).
If your event has a high amount of different sessions, it may require a big effort to create a separate Event Page for each session.
Our Breakouts Branded Theme
This is our specific solution designed to host events with breakout sessions, and you can use it for Virtual Events more or less the same way you'd use it for a live one. You can find out the ins and outs of this Theme in our comprehensive Help Center guide.
What our Breakouts Branded Theme is great for:
Host a complete event in just a single Event Page by using our Sessions Manager (go over our full guide here!).


Preventing guests from booking sessions at the same time and limiting how many overall sessions they can register for.


If you just want to register attendance to the overall event with your integrations.


If your different sessions are all taking place on the same virtual or webinar URL. Since your single virtual URL will be the venue, it will show in every guest's calendar invites and confirmation emails.


If you have an individual link for each session, you can add them in each session's room, and hide or show that depending on how much privacy you require for those links. If you hide it, you can include a Download Calendar Attachment for that session in the "Post-Session Registration" state, so attendees will be able to have the link in their calendars for each session only after they register.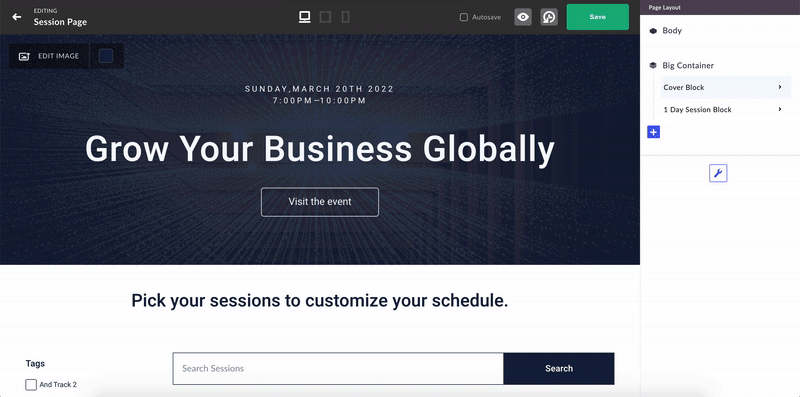 Branded Breakouts Theme's limitations:
As highlighted above, integrations aren't supported in the Breakouts Theme for anything other than recording registrations.


There isn't currently a way to set customized confirmation emails for each session.