How can I make a page element dynamic? Follow
On your event page, you have the option to set a specific element to be a Page Element Property.
Back up! What's a Page Element Property?
Well, a Page Element Property allows you to dictate a connection between elements. It gives you the ease of adding details dynamically without having to do extra work!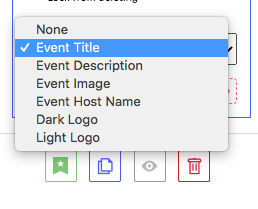 This can be done for the Event Description, Event Image, Event Title, Event Host Name, and Logos.
What's great about it? After you've imported your Event Image once, all you have to do is change the Page Element property to Event Image, and any new images will automatically update.
Say you want your Event Title three places on the page. Instead of having to type it out, all you have to do is add a new Headline element and set the Page Element Property to Event Title. Check this out in action for the Event Description:
To update your Event Description, check out the steps below:
From the My Event Overview, select Event Page

Locate where you want your Event Description to live on the page

Add a text element by selecting the circular blue plus sign on-page, where you want the Event Description to be

In the pop-up window, select the first folder: Elements

Select Text and add to page

Click into your newly added Text element, either in your layout tree or directly on page

Select Properties

Select the dropdown under Page Element

Choose Event Description

Check out how the text changes in the text box! Now that you have linked this element to the Event Description, you can make changes to it in once place and it will update throughout the page, wherever the property is applied

Don't forget to save!
You can also use these steps to update your Event Description when sharing your event page.