Virtual Event Page Troubleshooting & FAQs Follow
You've worked hard to create your Virtual Event Page, but have you encountered some trouble along the way? Check out our FAQ below, designed to provide you with top-notch troubleshooting tools to ensure that your virtual event will be a success.
For more information on how to set up and use the Virtual Event Page, check out: Hosting events using the Virtual Event Page.
On this page:
My guest cannot access the content
If some of your guests are unable to access your virtual content, there are a few questions to ask to ensure they can get through the (virtual) door:
Does your guest have a Virtual Event URL?
1. Check to ensure your guest is on your Guest List.

2. Confirm the guest has access to their unique check-in link.
Unique links are sent to guests via the [virtual_event_url] tag, available in on-page and email confirmations, email campaigns, and calendar attachments.
Below are the options for resending a link to a guest:
Insert the [virtual_event_url] tag in an email campaign, then send the email to the guest. If the email has "Attach calendar invite" included, then the guest will also have access to the link in their calendar invite.

Add the Virtual Event URL column to your Guest List. Then copy and paste the guest's URL and send it through any communication tool of your choice.
My guest did not receive the confirmation email
The Splash platform uses a rigorous, multi-faceted protocol to ensure optimal email deliverability to businesses and personal inboxes.
It's important to note, however, that 100% email deliverability should never be the expectation. Learn more about how Splash handles email deliverability to make sure that all of your emails reach their destination.
| | |
| --- | --- |
| | Pro Tip: You can leverage the Virtual Event URL column in your Splash Guest List to copy and paste the link to your guest. Make sure to also include the [virtual_event_url] in the Calendar Attachment Description. |
My event doesn't have a Virtual Event Page
First, make sure that you are logging into Splash with an account associated with a paid Splash plan. If you are still unable to see the button to add the Virtual Event Page touchpoint on your Event Overview, make sure to reach out internally to gain access.
My event ended but my guests aren't marked as Checked Out
As a quick refresher, when guests click to check in on the Virtual Event Page, their status updates to "Checked In" in your event's Guest List. When the guest exits the page -- either by navigating to a different domain or closing the tab or window -- their status updates to Checked Out.
There are a few known cases that can cause a guest to not be marked as Checked Out when exiting the page:
If a guest is using Internet Explorer 11 to access the event
If a guest is using any browser on an iOS or Android mobile device
If a guest loses internet connection or their device crashes
As a best practice, we always recommend encouraging guests to join using Chrome on desktop in the communications leading up to the event.
I changed my event URL and guests are unable to access my event
If you have modified the event URL after sending out the invites, your guests will not be able to join. Make sure that you re-send the confirmation email, as the dynamic/personalization tag cannot retroactively update for email campaigns that have already been sent out. To resend the confirmation email to your guests, check out:
How do I send a Confirmation Email to an individual attendee?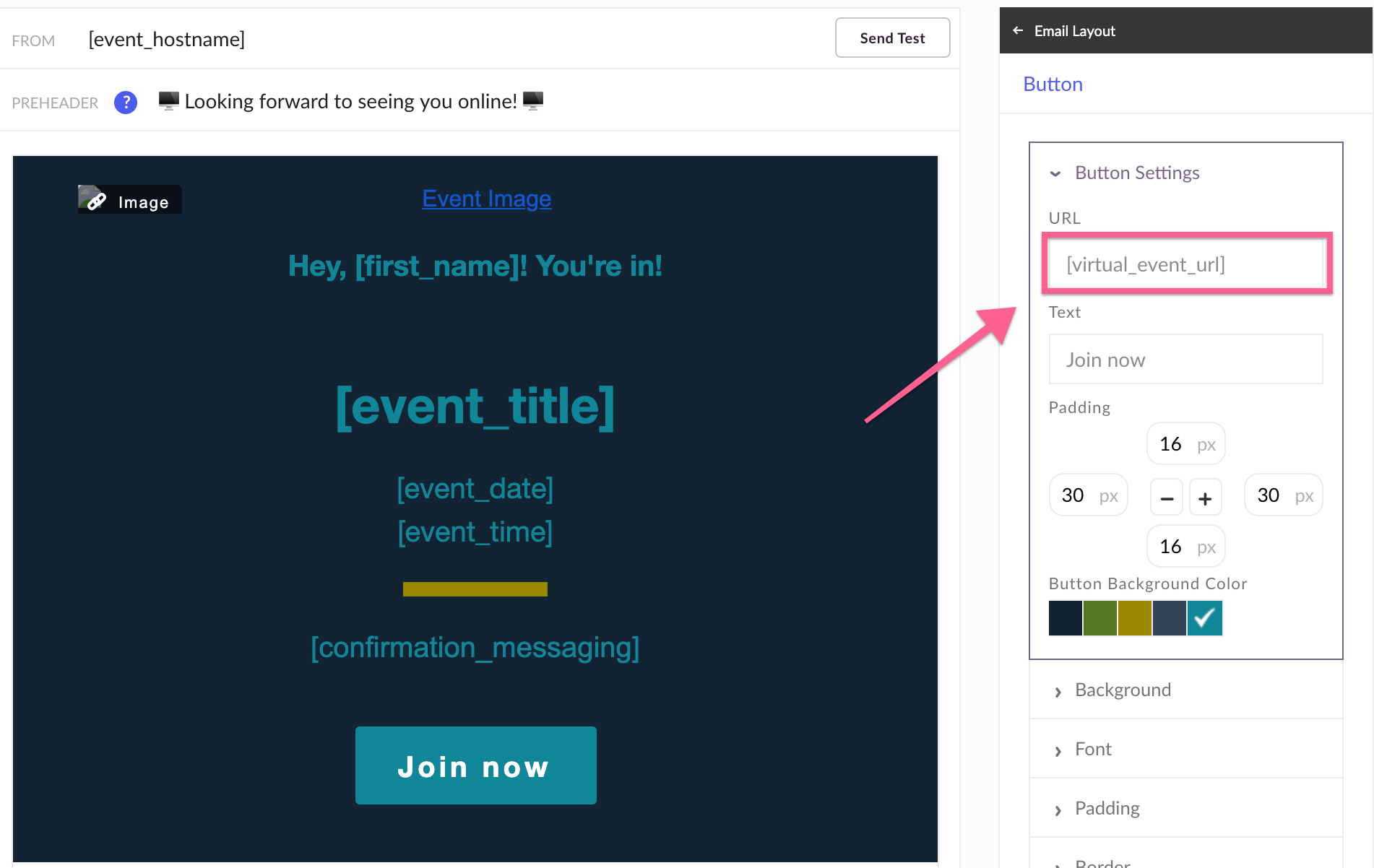 I don't have advanced design permissions
No worries! Advanced design permissions are not required to access the Virtual Event Page touchpoint.
I'm unable to edit or design a certain element on my Page States
Throughout your Page States, you will be able to edit the following elements:
Background color & image, logo upload and width, font size and color, link and button color. Our team is working on allowing more advanced design capabilities. In short, you'll be able to edit fonts, colors and logos.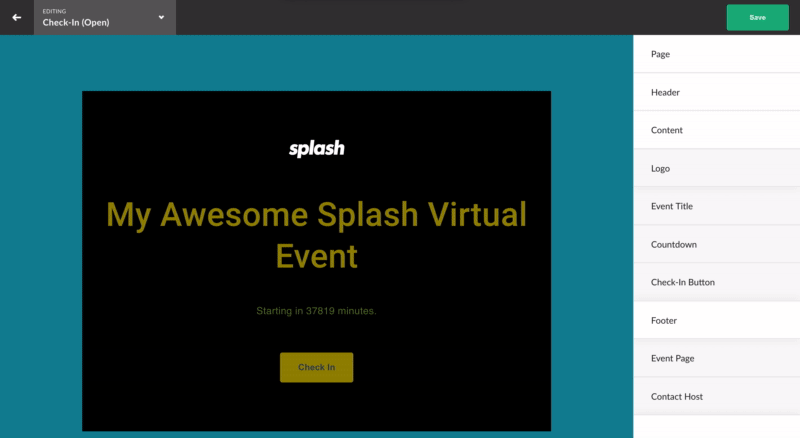 Note that edits on a Page State will not retroactively reflect on all states so you will have to manually edit each Page State to keep the design consistent.
I need to change my event time
No worries! The 30-minute check-in window will automatically update depending on your selected event time.
My iframe isn't embedding correctly
Some websites do not permit their websites to be iframed for security reasons or have restrictions in place to view the content. If your content is hosted using an internal tool on your company's website, reach out to your IT team for their current policy.
For more in-depth information, have a look at the following article:
What can I embed using an iframe in Splash?
If I remove a guest from my event, will the guest still be able to access the Virtual Event Page?
No. When you remove a guest with an Attending status, you prevent the guest from accessing the Virtual Event Page. Instead, their Virtual Event URL will lead to an empty screen: