How do I make my Featured Events stand out inside my Hub? Follow
Hub card states

The events listed on a Hub are called "Hub Cards."

Hub Cards can be given a dynamic design depending on the event's "state" — a term associated with either an event's date, registration status, or settings.

The 6 Hub Card states that can be designed are:
1. Default - An upcoming event open of registration
2. Featured - An event set as "Featured" by the event organizer
3. Past - An event that has already taken place
4. Private - An event with privacy settings activated
5. RSVPs closed - An event that is closed or at capacity
6. Waitlist - An event that's waitlist has been activated

Note: The card will always show the Default style unless you unlock the other states and style them.

To begin, mouse over the Hub section and click the Edit Card icon.

Once inside the workspace, you can decide which of the 6 possibles states you'd like to customize:

1. Default: This is the most basic hub card state usually reserved for upcoming events. Most often, this is used as the foundation for events that are neither Featured nor Past (see below).
2. Featured: These are events that you'd like to draw extra attention to. Events in your hub can be easily designated as Featured by:
Step 1: Hovering over the hub card
Step 2: Clicking the gear icon
Step 3: Checking off Featured and saving

Take a look at an example of a Featured hub card:

This hub state is utilizing the Static Label card element. In the example below, any event that is flagged as featured will have a SUMMER SERIES in its card design.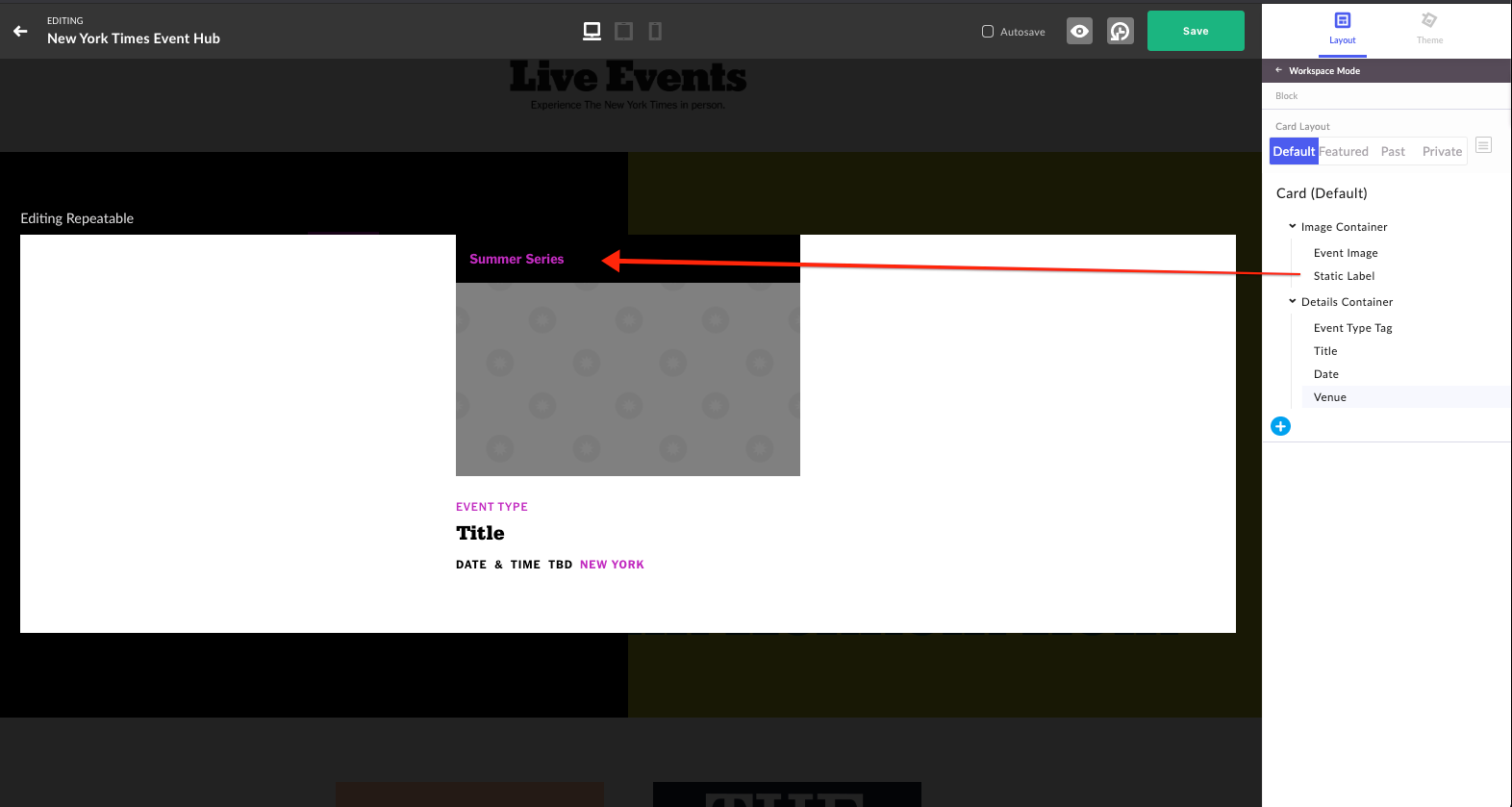 3. Past: As the name suggests, these are events that have already occurred (according to the Date & Time in your event's Settings). Quite often, we'll see clients gray their Past event cards and remove the RSVP button to make it obvious to visitors that these events are indeed over.
Take a look at an example:

There are also occasions where clients will transform their event page into a post-event content site. In that scenario, the Past event card would be made clickable, appear active, and perhaps even feature a call to action like "See Photos" or "See Recap."

4. Private: Any event for which you activate a privacy option (see below) can be given a distinct card style.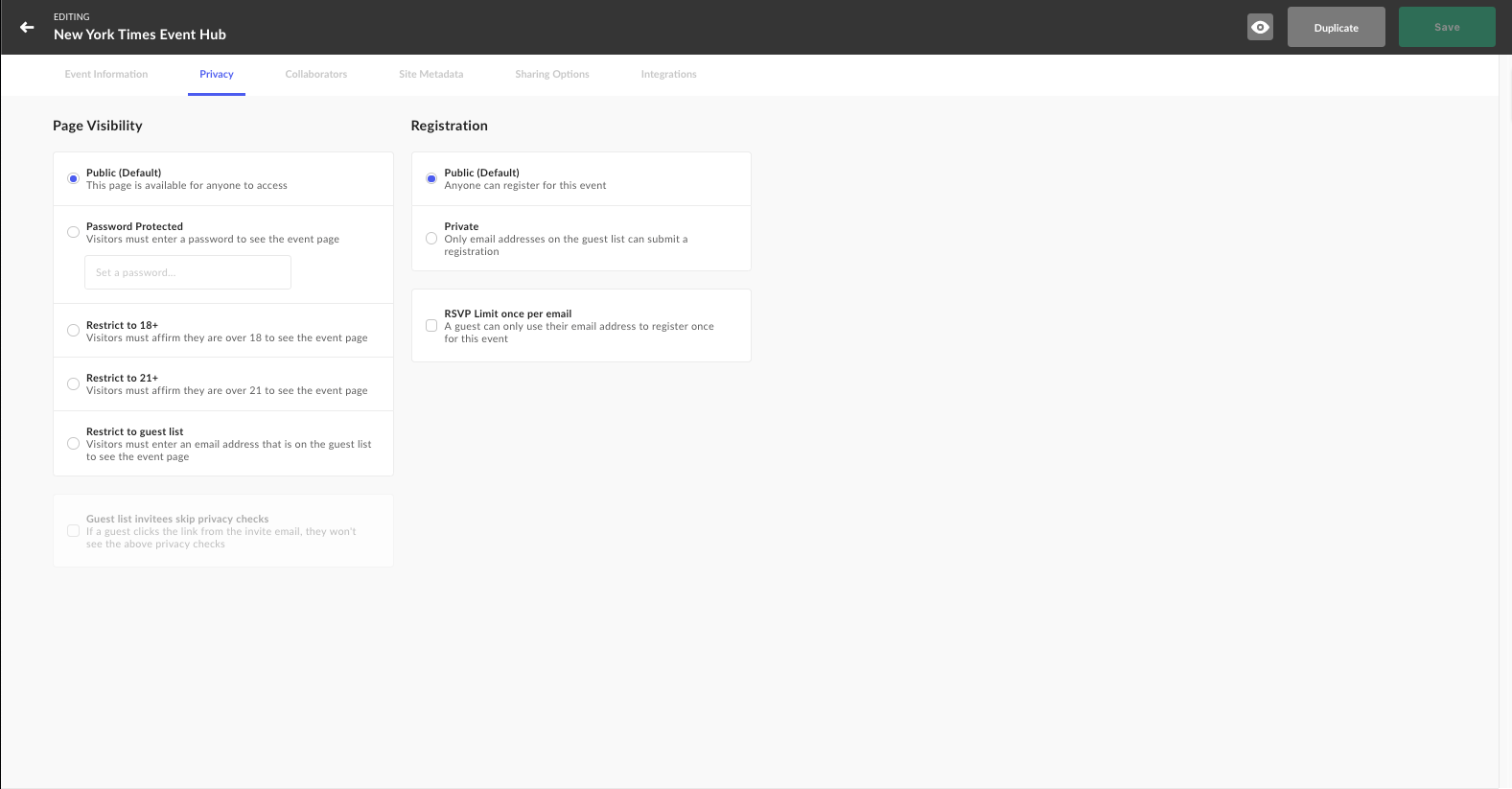 5. RSVPs Closed: Event pages that are no longer accepting RSVPs, such as ones that have closed after reaching capacity.
6. Waitlist: Event pages with our Waitlist functionality turned on.

The GIF below shows a Hub card that has been given custom designs for the Default, Featured, Past, and Private states.

Height Matching on hub cards
While you hold the key to unlock as many of the above card styles as you like, keep in mind that unlocking multiple hub card styles within a single hub element in any capacity will also "unlock" the Height Matching setting from being applied to all card styles.
If you plan to have multiple card designs and also want the card heights to always remain consistent, you'll need to add a separate hub for each card style (Featured, Past, Private, etc.). Then only edit the Default card for each hub while keeping all other card styles locked.