Virtual Event Page 101 Guide Follow
Imagine a virtual venue with the pop of a branded Splash page. Now say hello to the Virtual Event Page.
This guide will walk you through how to create one dynamic experience for your guests -- from event registration, to email reminders, to a virtual waiting room, to livestreams, and finally to post-event content.
On this page:
1. Introduction to the Virtual Event Page
Before you get started, watch the video below to see a guest's end-to-end journey with the Virtual Event Page.
Guests will start by registering on your event page: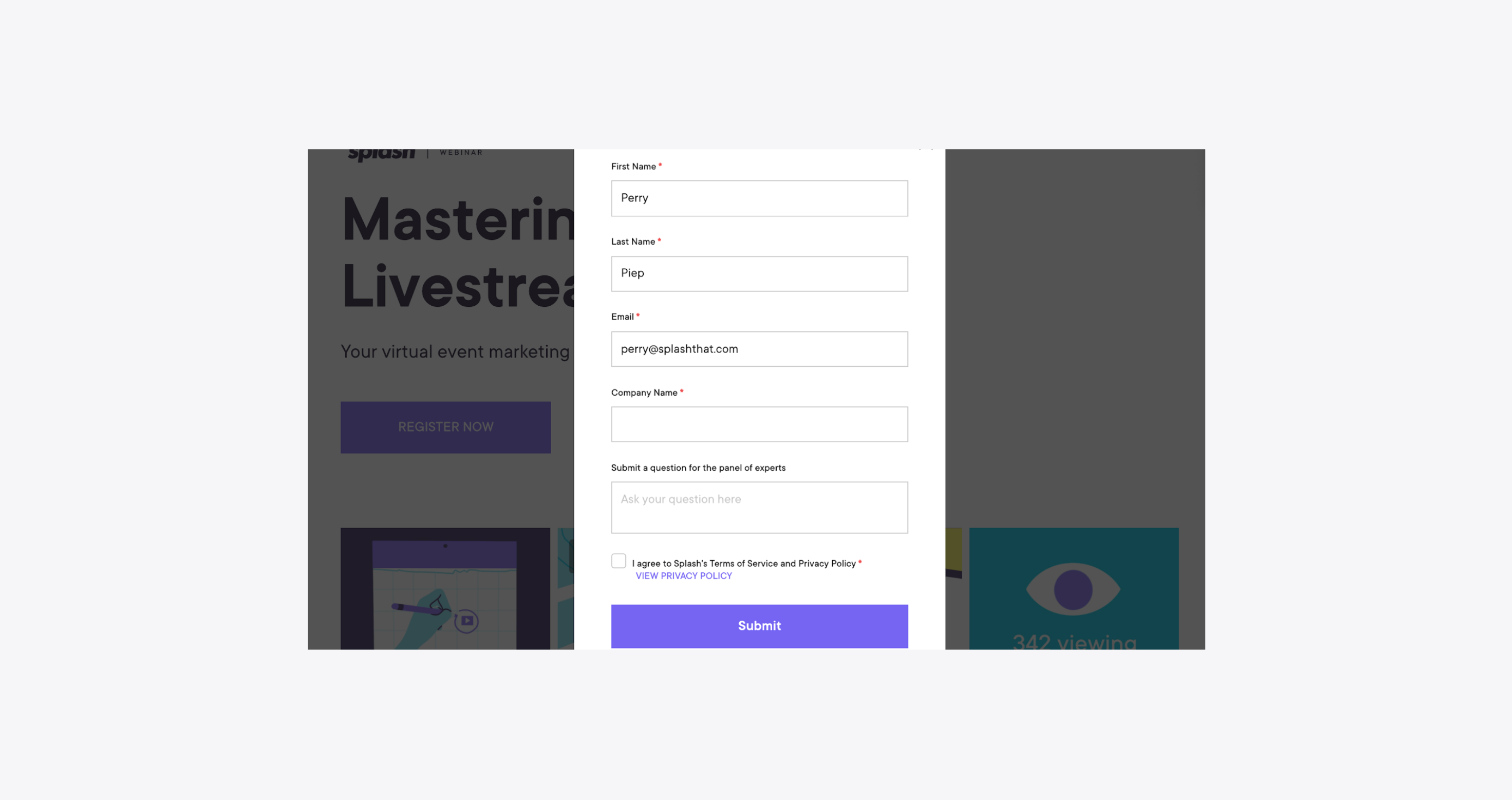 Guests will receive an exclusive check-in link in their email or on-page confirmation that only they can use: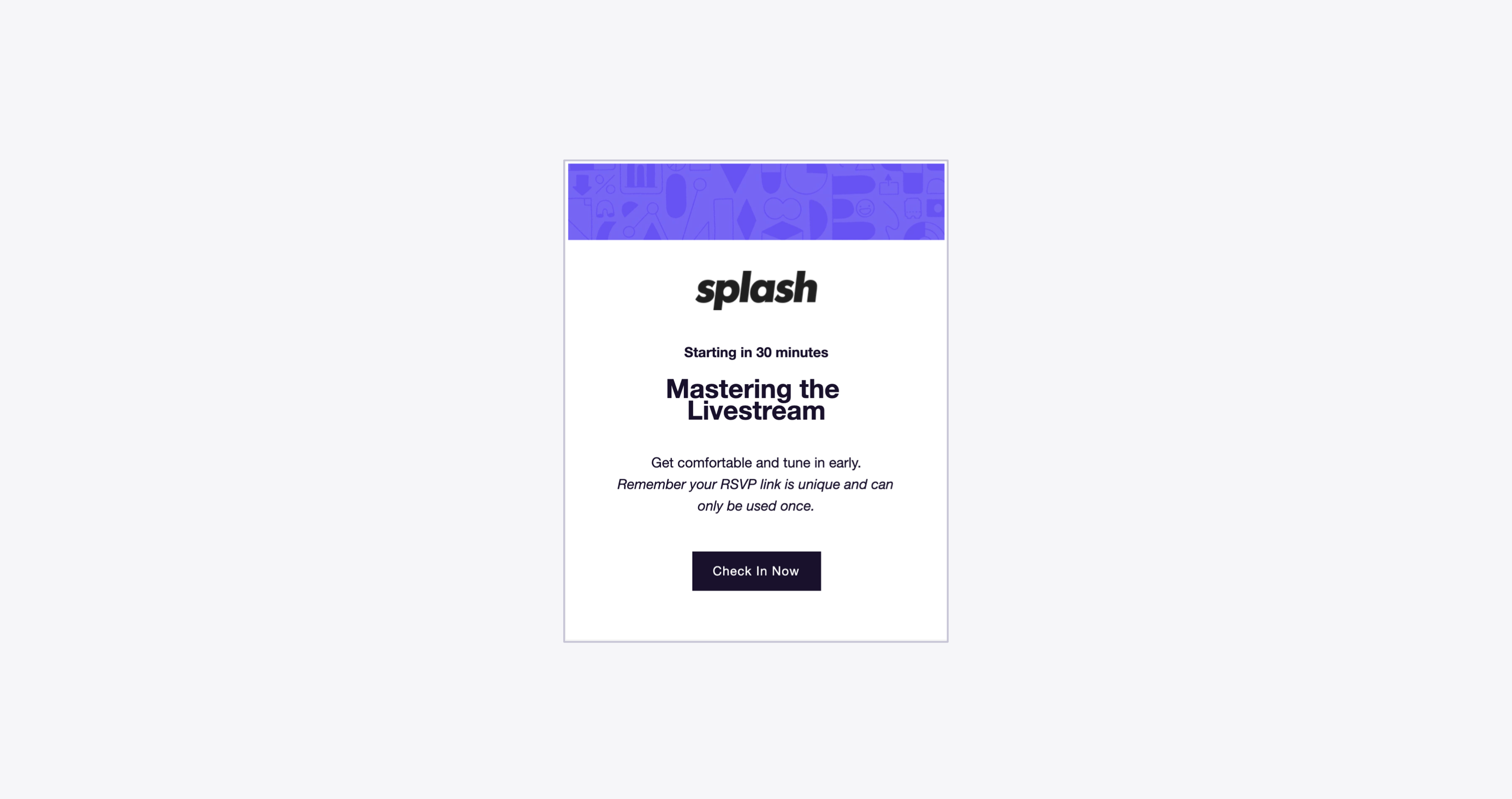 The link will allow the guest to check-in with one click: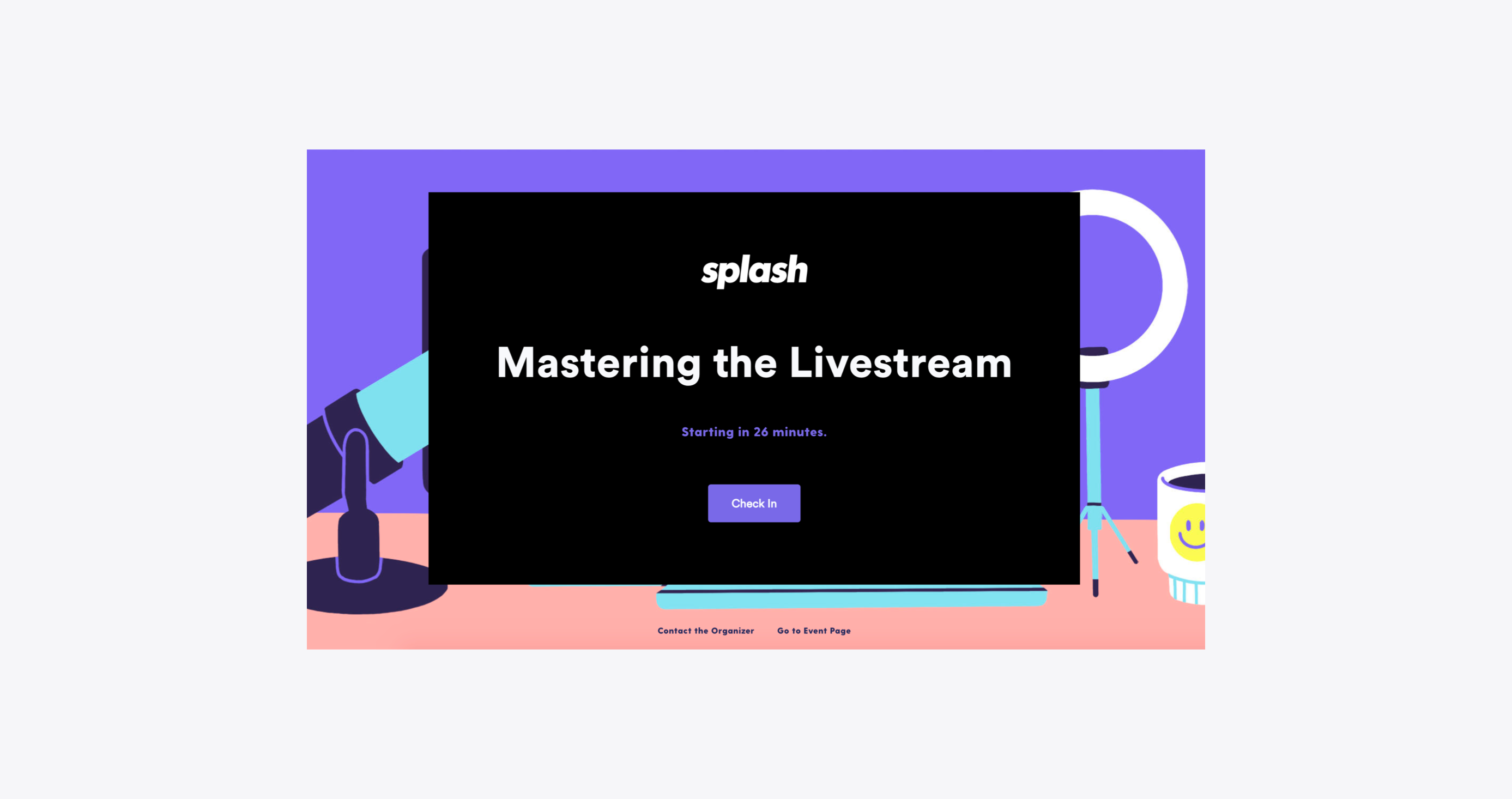 Once checked-in, the guest can view the live stream content: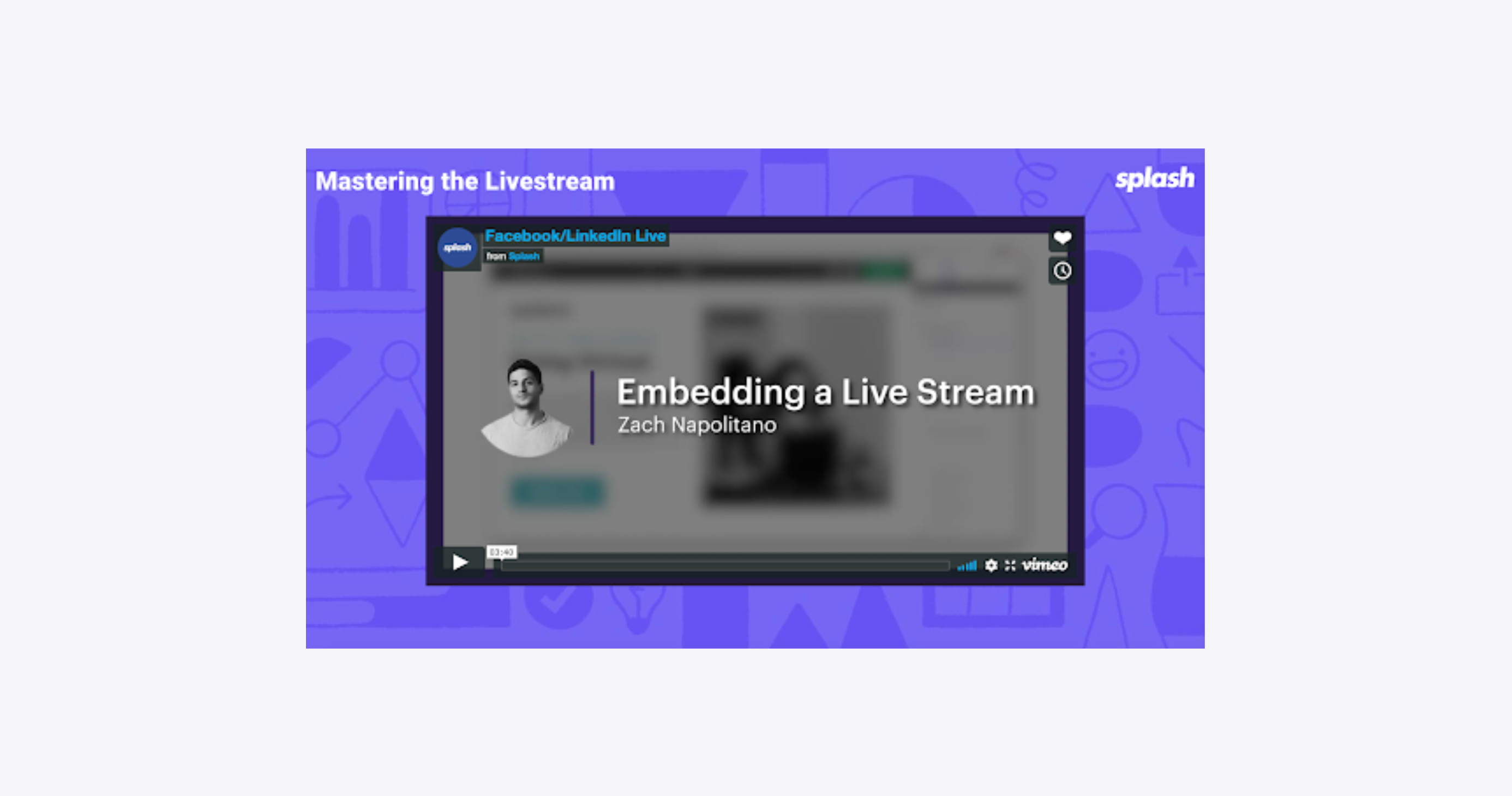 Visitors with a link who haven't registered will be prohibited from accessing the content and prompted to register for the event (space and privacy permitting):

---
2. Setting up the flow
The remainder of this guide will walk through the steps for designing the touchpoint, communicating with guests, testing the flow, and understanding the post-event experience.
We recommend watching the video below, along with the subsequent videos in the playlist, before launching your first event.
Watch a video
Keep reading to get started!
---
3. Designing the Virtual Event Page
The Virtual Event touchpoint is accessible in the Event Overview for both RSVP and ticketed events. To access the touchpoint, click on the Add a Touchpoint button.
Inside the touchpoint, you'll see a dropdown in the upper lefthand corner. This dropdown contains the four different virtual event states of the guest experience:
Check-In (Countdown)

Check-In (Open)

Check-In (Link Used)

Live Stream

By default, your event's fonts, colors, and logo are dynamically pulled into the Virtual Event Page touchpoint, making designing each virtual state easier than ever. On the right-hand side of each state is Splash's Layout Tree complete with all the tools to keep you on brand.
| | |
| --- | --- |
| | Pro Tip: Use the button element in the footer to link out to your next event, or any destination! |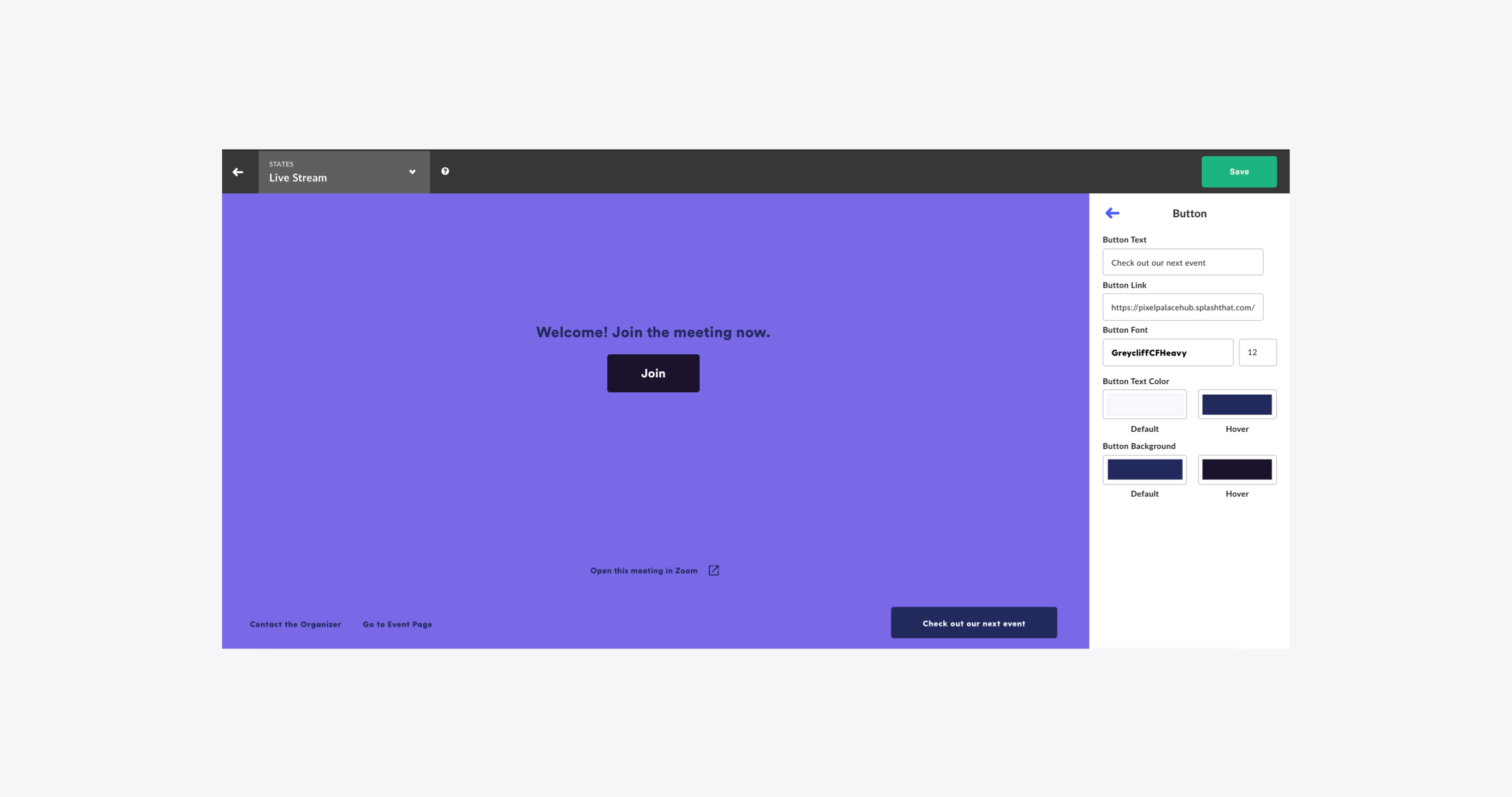 Note that adding elements is not available at this time. Additionally, not all elements can be hidden or deleted.

---
4. Finalizing each virtual state
Guests will see a different state depending on when they click their check-in link. Let's walk through each and ensure we're completely finalized before launch. We'll begin with the first state in the dropdown on the upper lefthand corner:
Check-In (Countdown)
A guest who clicks their check in link early will be notified that the event hasn't started yet. The Pre Event state will display up until 30 minutes before the event start time. This state is locked at 30 minutes prior to the event start time to allow enough time for check in and cannot be adjusted.
Check-In (Open)
Guests can check themselves into the event with one click starting 30 minutes before the event.
Default disclaimer text is included to let the guest know that their URL can only be used on one browser on one device. This is to prevent the guest from sharing their unique link, which will prompt the Check-In (Link Used) state described below.
Once a guest checks in, their status will transition to Checked In in your event's Guest List (for RSVP events only) and any subsequent CRMs based on the integrations set up within your organization. When they close the tab or browser, their status transitions to Checked Out.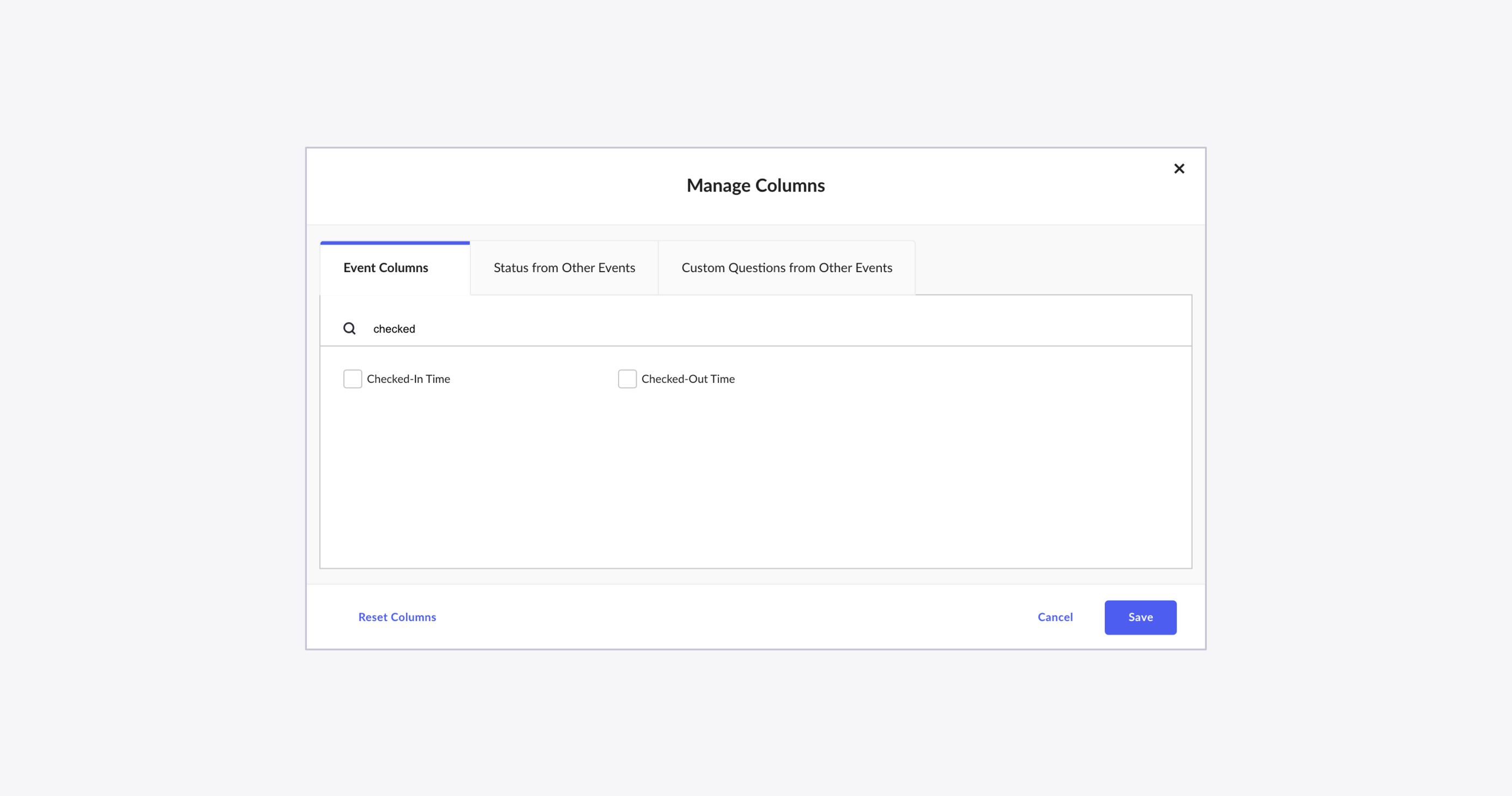 | | |
| --- | --- |
| | Note: We store the most up-to-date Checked In and Checked Out times in the Guest List. This means if a guest checks back in, we will update their Checked In time to the most recent value. To understand a guest's total duration, keep reading until section 6: Understanding the post-event experience. |
Check-In (Link Used)
Visitors who attempt to access a link that has already been used to check into the virtual event will be prompted to register for the event.
Your event page's registration status, capacity, or privacy settings will dictate whether or not the visitor can register to access the livestream.
Live Stream
Guests who successfully check into the event will be able to see your live stream content.
To embed a video, chat, or other type of virtual content:
Click the Embed element in the Layout Tree.
Click Embed Options.
Select one of our recommended video providers: Zoom or Vimeo, or select Custom Embed.
Click Add Embed to add a second embed.
Click theicon next to Virtual Content to adjust the layout of the embeds from our default Side by Side view to Sidebar or Stack.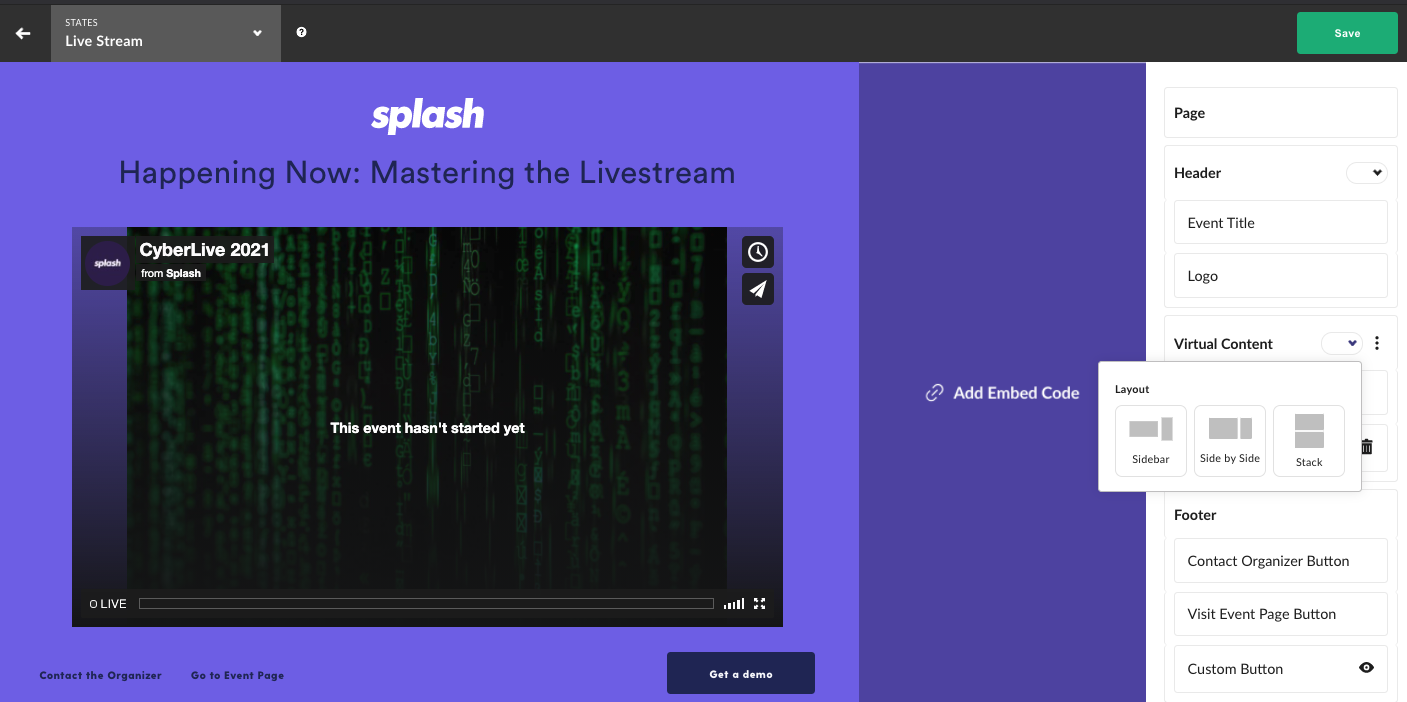 If instead you prefer to take guests to a separate location to view your content (or your video provider does not provide embed code):
Click the three dots next to Virtual Embed.
Select Link Out.
From inside Link Out, enter your URL in the Button Link field.
---
5. Communicating with guests
To ensure your virtual content stays secure, we have a special way of letting guests through the virtual door. Guests will only be able to access the Virtual Event Page using their unique check-in link, otherwise known as their Virtual Event URL. The format of each URL is yourdomain/virtual?gz=uniquenumber
| | |
| --- | --- |
| | Pro Tip: A seamless experience with the Virtual Event Page touchpoint is only possible if your guests get access to their Virtual Event URL. Be sure to use all of our recommendations for sending guests their Virtual Event URL. |
Watch a video

Here are the top things to know when it comes to the Virtual Event URL:
Once you add the Virtual Event Page touchpoint to your event, we will automatically populate the [virtual_event_url] tag, along with some default text, in your event's calendar attachment description.


The "Add to Calendar" prompt is available in the on-page and email confirmation.

There are other ways to send guests their Virtual Event URL, included below, and we recommend relying on all of them to ensure your guests get in the (virtual) door.

On-page confirmation message

Email confirmation and reminder email

Guest List

Email provider integrated through Splash

A Virtual Event URL can only be used for check-in on one browser and one device at a time.

Each guest's Virtual Event URL is stored in the Guest List, available for RSVP events only.
---
6. Testing the flow
To test the flow, we recommend duplicating your event page and running through the flow as an actual guest. This will ensure you haven't missed a beat.
Duplicate your event page and set the event start time to now.
Navigate to the Virtual Event Page touchpoint.
Replace the Zoom ID with a test Webinar/Meeting ID.
RSVP to the event as a guest.
Start the Zoom Webinar or Meeting.
Join via the Virtual Event URL in your calendar attachment or email to make sure the embed is working.
Heads up that you cannot generate a Virtual Event URL using the [virtual_event_url] tag in a test email. You must submit an actual registration!
---
7. Understanding the post-event experience
The virtual content element on your Live Stream State will look different once your event has ended depending on your video provider. Some video providers create a recording of the livestream while others will show a message that the event has ended.
| | |
| --- | --- |
| | Note: The Virtual Event Page will be active until you decide to unpublish your event. This means that new and existing guests can still use their Virtual Event URLs to check in and access the Live Stream State. |
We recommend using the Virtual Event Page to host on-demand content, or a recording of your event that guests can access at any point.
To understand the average duration of your guests' time in the virtual event your top-level Reporting tab. Make sure to switch to the Event Guest List Dashboard where you'll find the "Average Duration in Minutes" column in the Event Details table.
---
8. Resources