How do I add, remove, or edit a user on my team? Follow
As an Administrator in Splash, managing your team has never been easier. Use the Team tab to add, remove, or edit any user's account.
Please note, Team Manager is currently in limited release, so your organization may not yet have access.
Adding Users
Users can be added one-by-one or with a CSV import right into your Team in Splash.
When adding users one by one, the team Admin must first decide their role, then add the new user's email address and assign a group. If groups are not populating in the field, begin typing the group name and select from the dropdown.
When adding users in bulk via CSV, the file must include the user's email address, role, and at least one group. It is very important, when creating your CSV, to include role and group names that exist within your Splash team. If any user is listed in the CSV with an invalid email address, or with a role or group name that does not exist, that row will be skipped and the user will not be added to the team.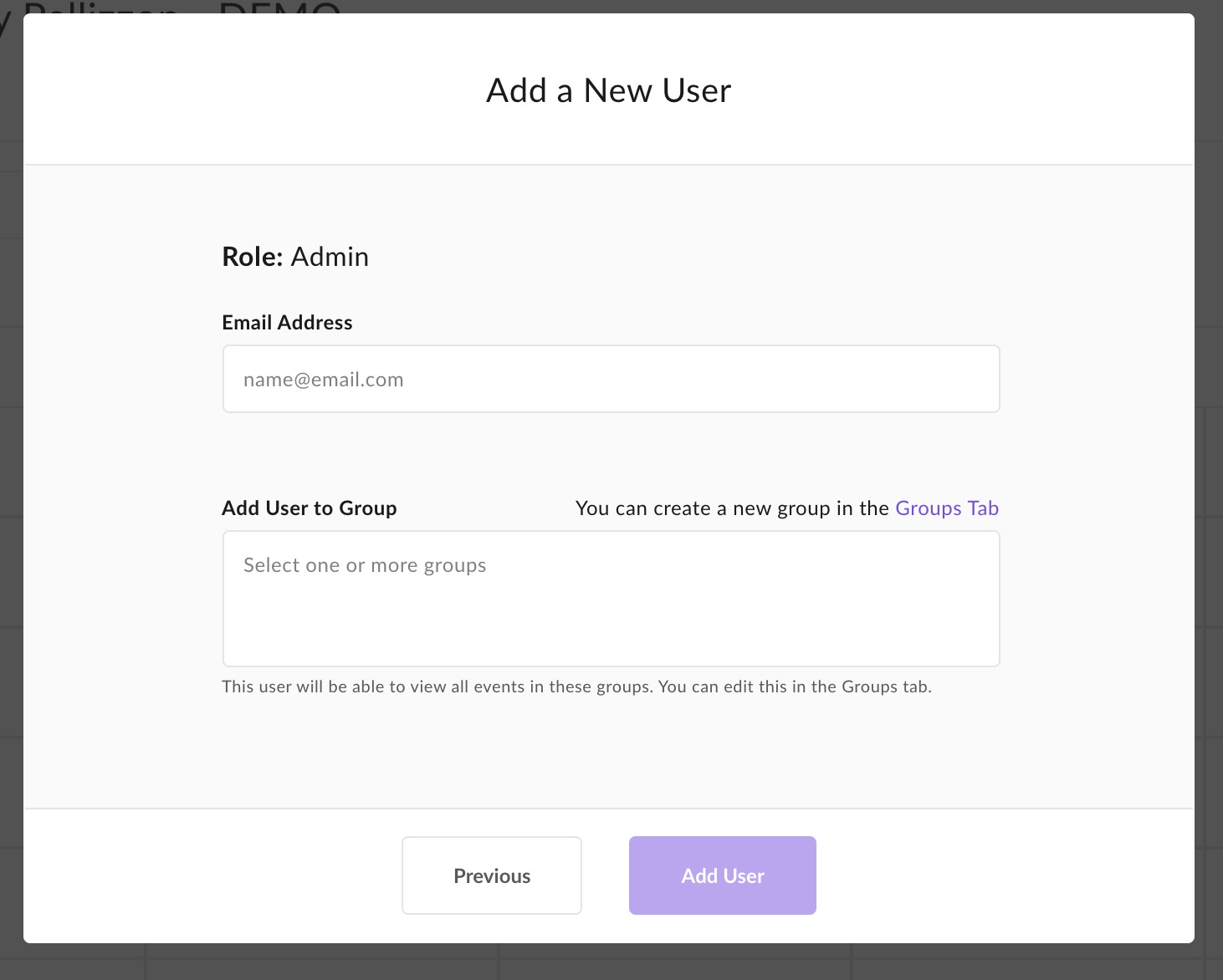 If your team is using Single Sign-On (SSO), we recommend adding users in Splash before adding them to your SSO account. This provides you the ability to assign the correct role to your team member.
| | |
| --- | --- |
| | Note: Adding a user directly through your SSO provider will automatically add them as Viewer (Read-only) role by default in Splash. Learn how to change a user's role in the next section. |
Once a user is added in Splash, a welcome email is sent to their email address to access their account.
To resend an invite to a user, click on their name from the Users tab and select Resend Team Invite.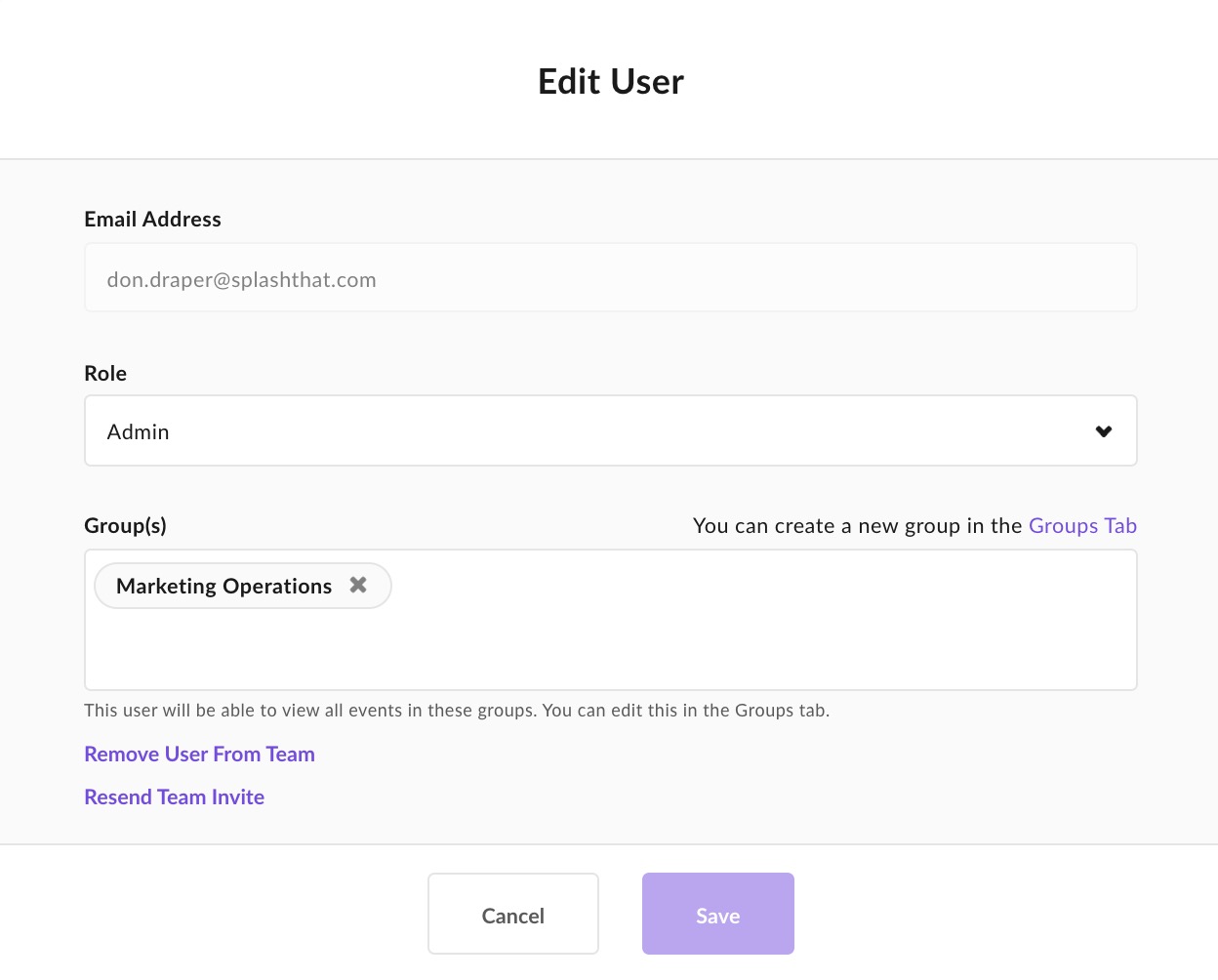 Editing Users
Admins can edit a user's role or group at any time by selecting the user in the Team Manager section. Use the Role dropdown to select a new role and the Groups section to select one or more groups. Remember, a user can be in multiple groups but can only have one role.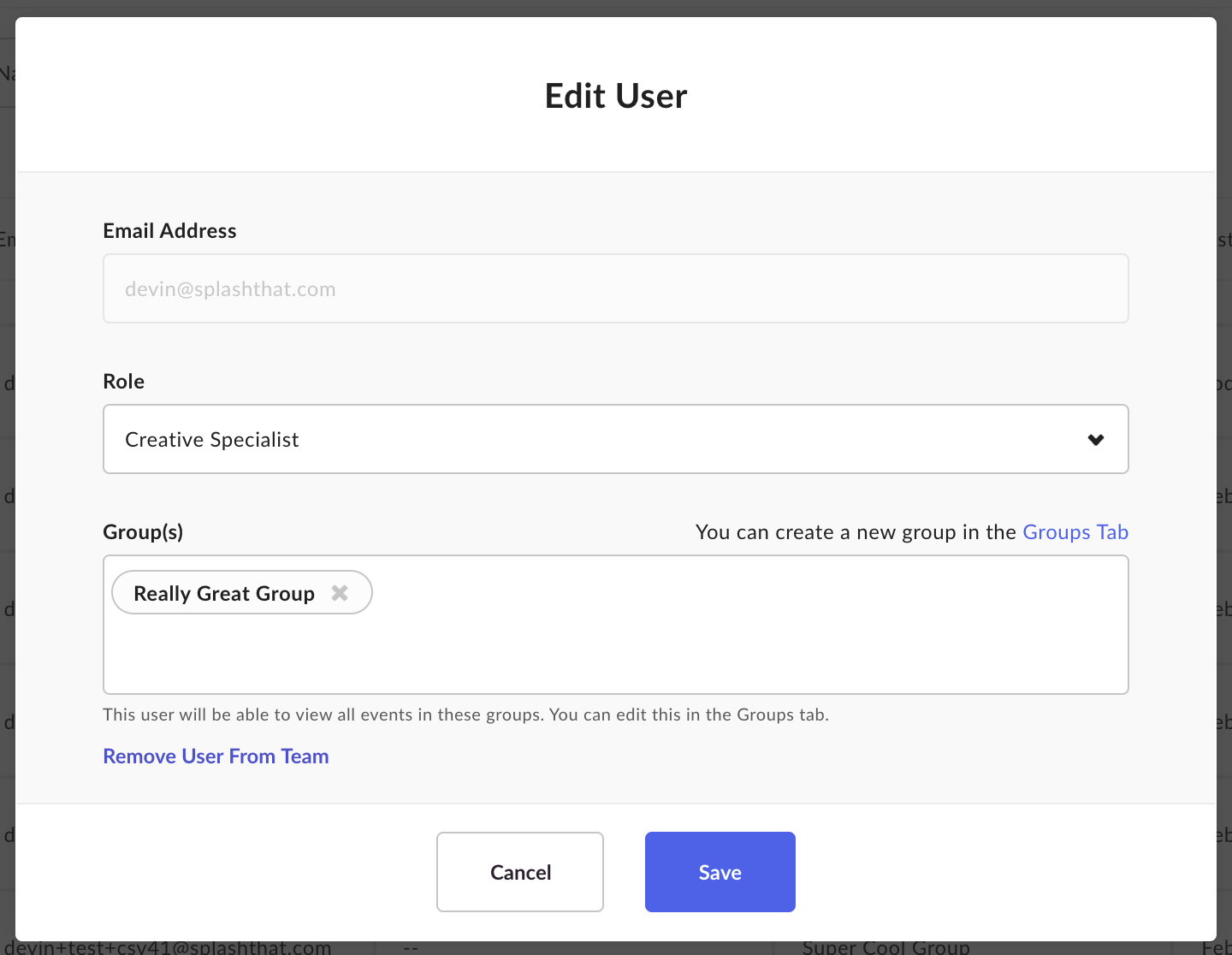 Removing Users
Any user can be removed from your Team by clicking on their email in the Users section. When removing a user, the team Admin must select another user on the team to transfer the events and data they previously owned. Be aware that the account to which you want to transfer the events needs to have been created and confirmed by the new user prior to removing the old account.
Note: Removing a user from a Team removes their access to all enterprise functionality as well as
previously created events, contacts, and custom themes.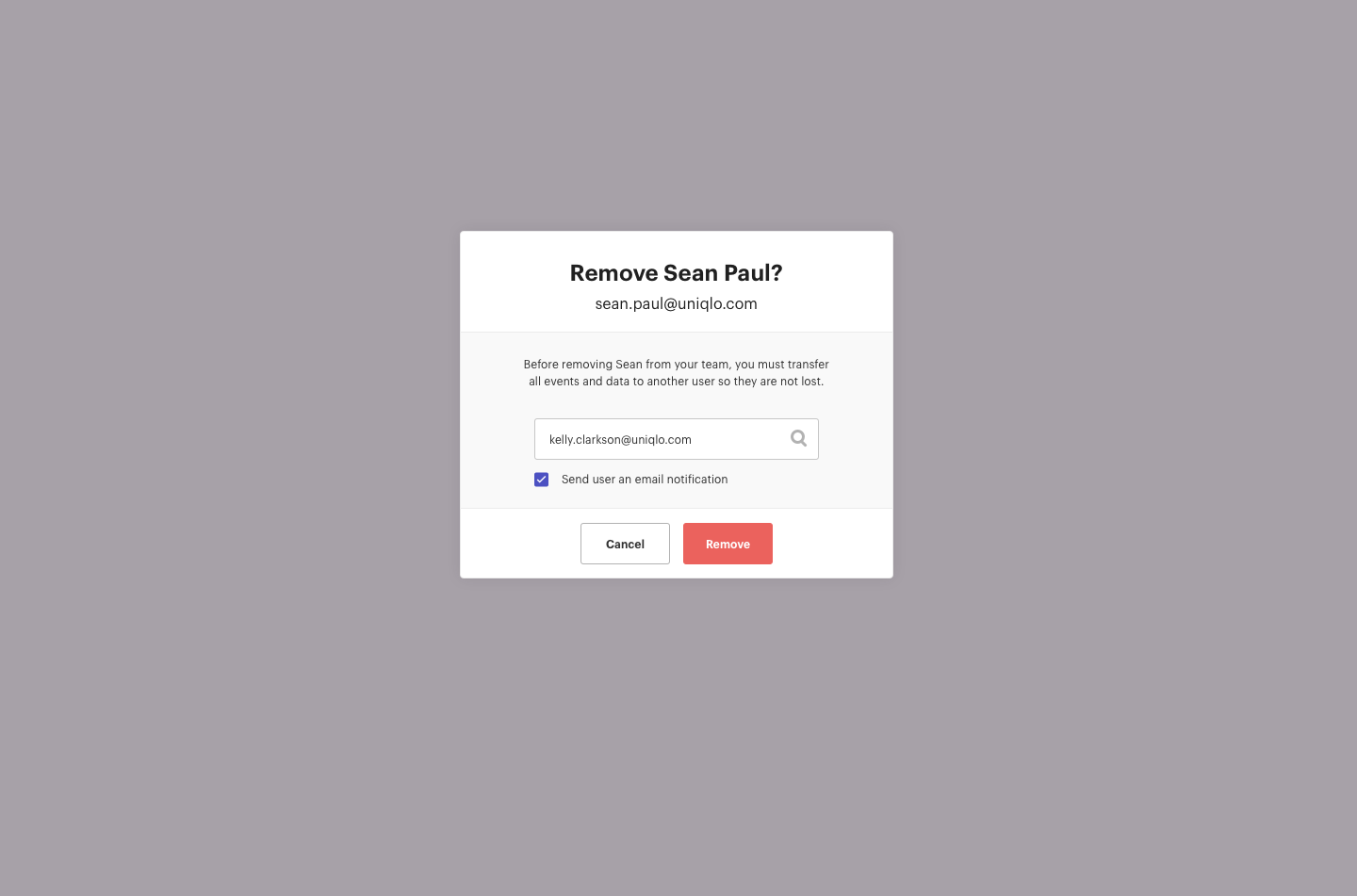 Pending Users
Any user who has been invited to your team, but has yet to accept the invitation is considered Pending. Once the user has accepted the invitation to your team, they'll no longer be marked as Pending.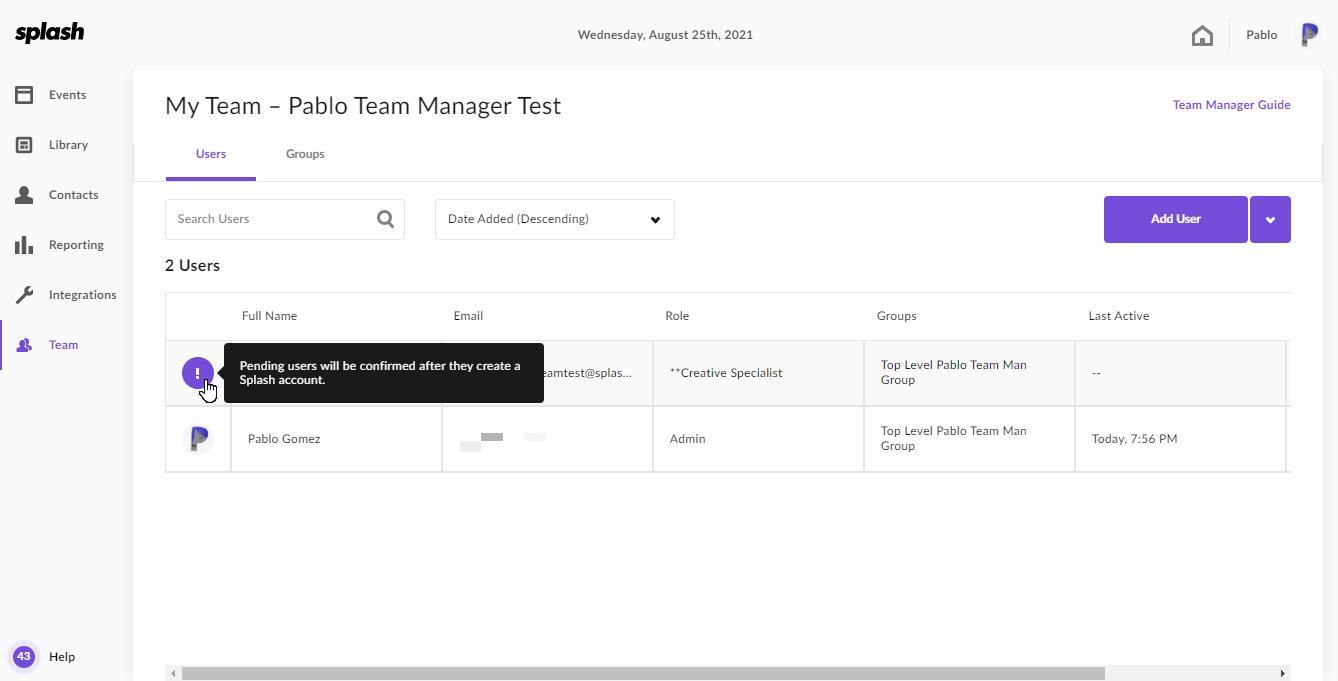 Accepting an invite
When a user accepts the team invite, they'll be directed to the Sign Up page to confirm their account information.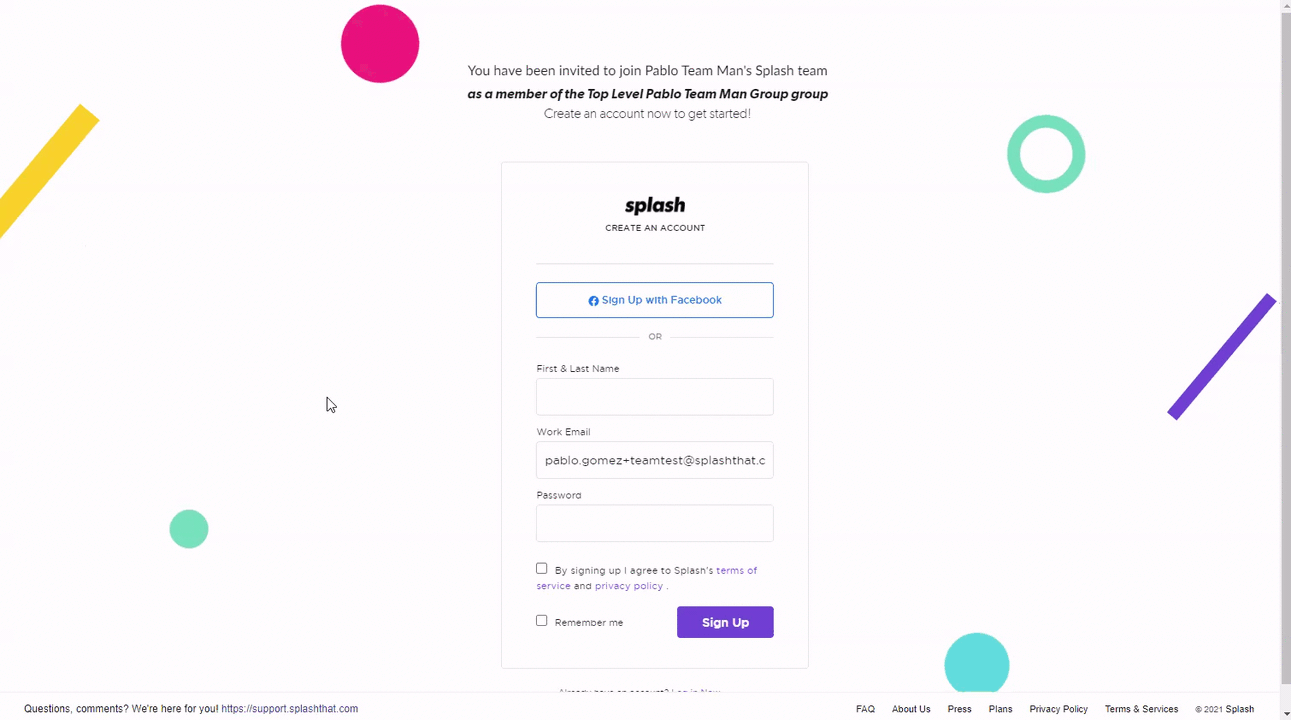 How long do users have to accept an invite?
Team invite links do not expire so users can accept their invite when they are ready to join your team.
Notifications
An email will be sent to the user when they've been added to a team, removed from a team, or their account has been updated. Currently these emails cannot be styled or customized.