Limited Release
Team Manager gives you full access and control to manage Splash users in your organization.

Adding, removing, and fully managing your team's accounts in Splash is available right at your fingertips. 
| | |
| --- | --- |
| | This feature is available to Basic, Pro, and Enterprise plans |
| | Roles available: Admin, Admin (Basic) |
| | This feature is in Limited Release |
On this page:
Check out this video for a quick overview or read more about each section below.
Accessing Team Manager
Team Manager is a paid Splash plan offering that uses a system of license types, users, roles, and groups, to designate each team member's Splash permissions. 
To get started with Team Manager, log in to Splash using your designated credentials or through SSO. Then, click the Team tab.
---
Understanding license types
License types determine which roles you can assign to team members.
There are three license types: Builder, Host, and Crew. And there are seven roles: Admin or Admin (Basic), Group Manager, Creative Specialist, Integrations Specialist, Event Organizer, On-site Specialist, Viewer (Read-only).
The license types and their corresponding roles are outlined below:
Builder License 


Admin 
Group Manager 
Creative Specialist  



Host License 


Integrations Specialist 
Event Organizer 
Crew License 


On-site Specialist 
Viewer (Read-only)
You can view how many licenses you've used for each license type in the Users section on the Team tab.

Click on a license type to see a summary of the access capabilities and the corresponding roles.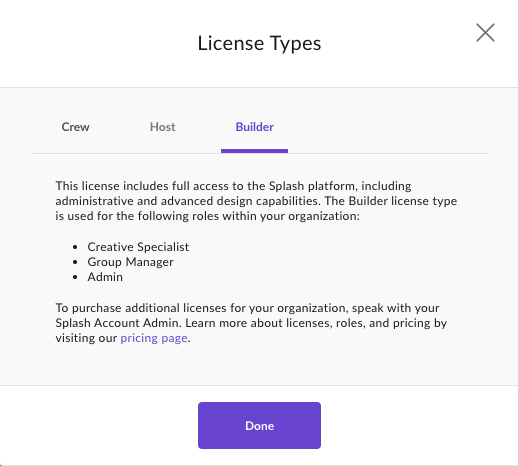 | | |
| --- | --- |
| | Note: Pending users aren't included in the license type usage. |
---
Assigning roles
The number of available roles is determined by license types and the Splash user agreement.
Admins can choose one of the following roles when adding or editing users on their team:
Admin/Admin (Basic):

Responsible for managing users and making sure all of Splash's top-level components — Library, Contacts, Reporting, Integrations, and Team Manager — are set up properly so that your team can be successful. 

Group Manager: Responsible for organizing team structure and providing team members access to the right events. 
Creative Specialist: Responsible for managing the team's brand assets and themes, or templates, for your event program. 
Integrations Specialist: Responsible for configuring your team's integrations to help automate workflows and keep your systems speaking to one another.
Event Organizer: Responsible for creating a seamless end-to-end guest experience on each event.
On-Site Specialist: Responsible for collecting check-in data and mastering the power of the Splash Host app.
Viewer (Read Only): Responsible for monitoring the Guest List for important data about their prospects or contacts.
Each role defines the permissions to features and functionalities for that user.  
The seven default roles are aligned with best practices for running successful, scaled event programs. In order to keep permissions organized and simple, only one role can be assigned per user.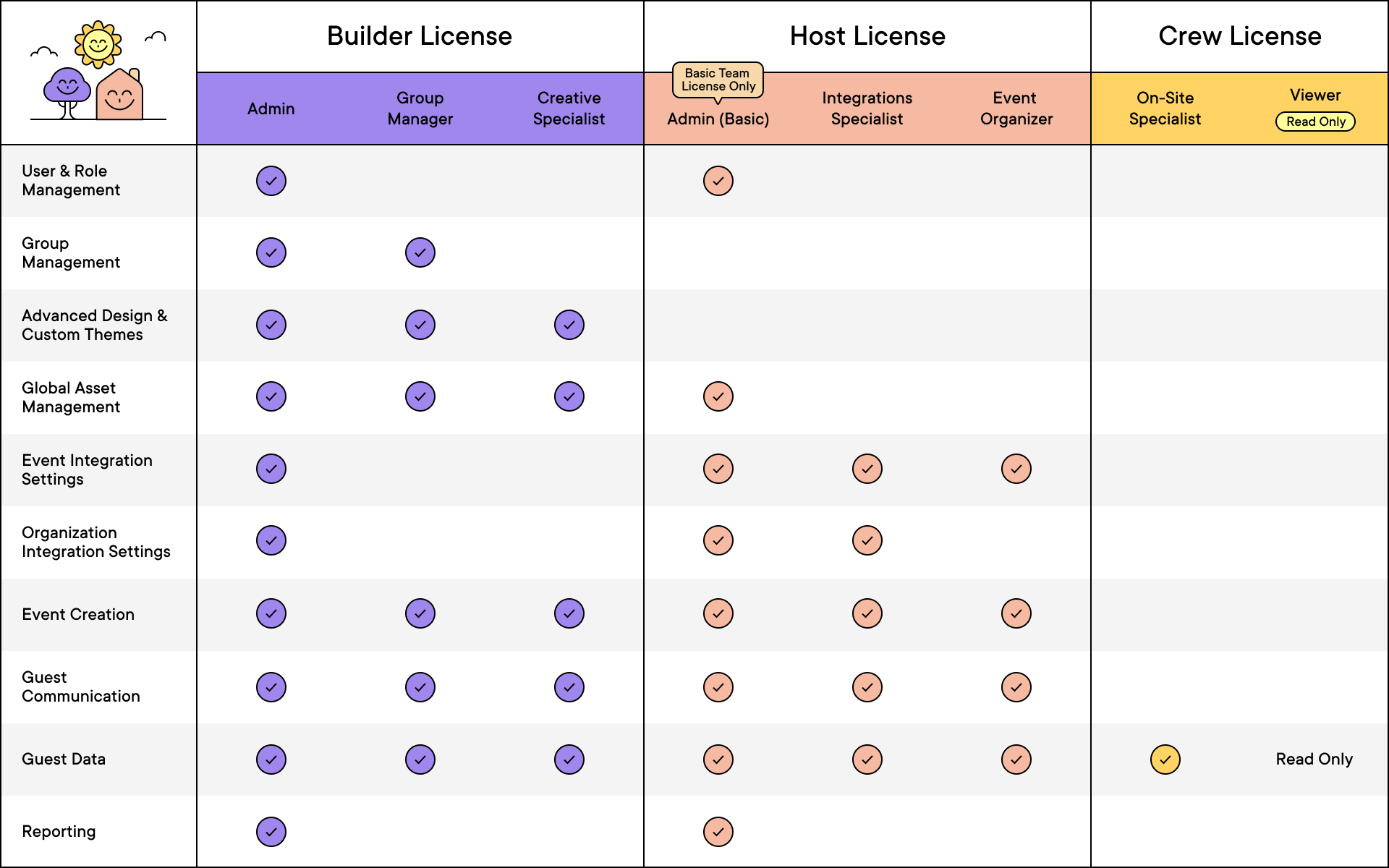 ---
Managing users
Team members can be added, removed, and edited in the Users section of the Team tab.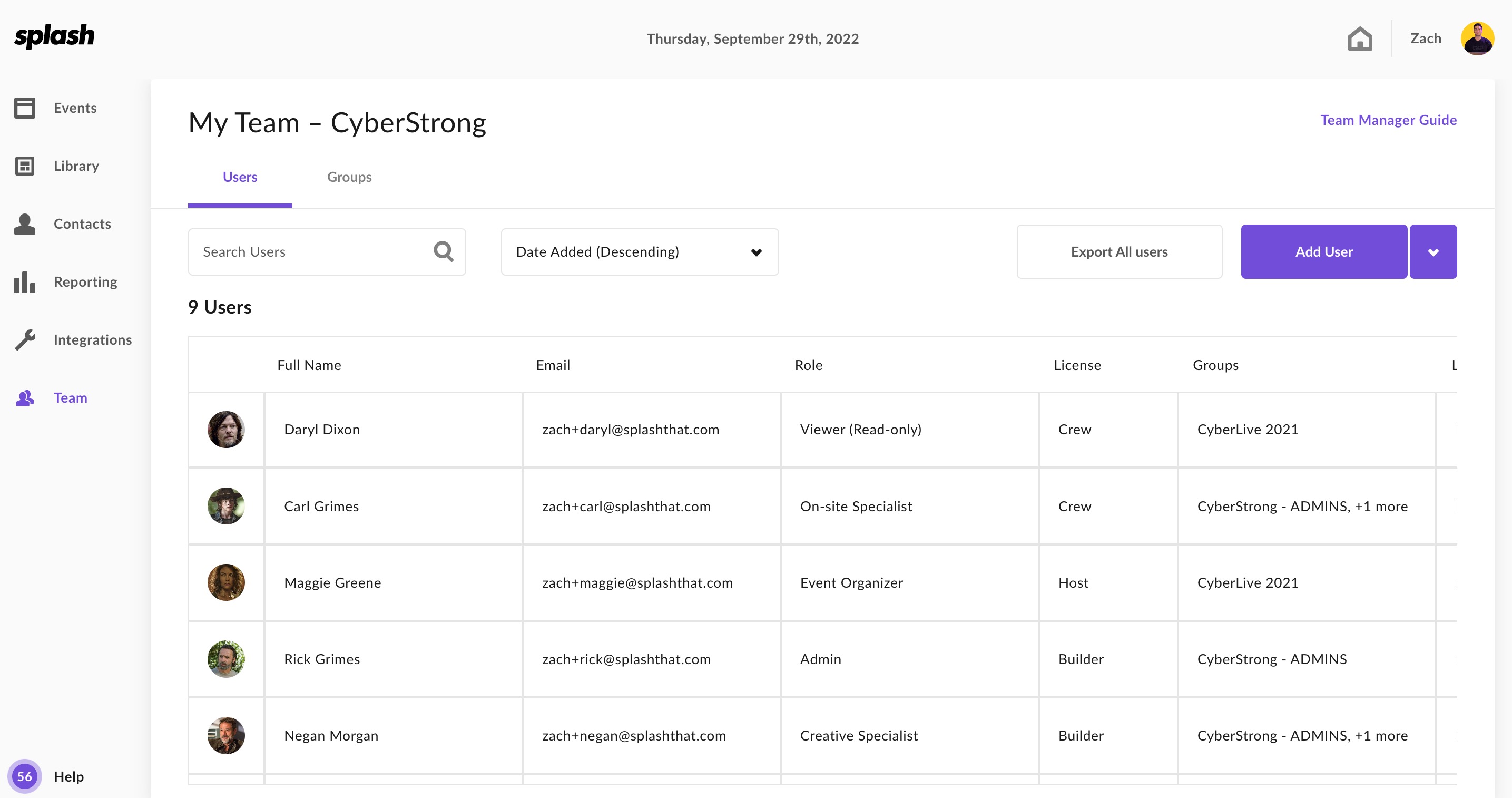 A role and at least one group must be selected when adding a new user. When removing a user, events must be transferred to another existing account. 
Users can be exported from Team Manager by clicking Export All Users. This will create a csv export to download with the confirmed users in the team. 
---
Creating groups
Groups define the structure of your team and determine which events users have access to. Unlike roles, users can be assigned to multiple groups to increase cross-event collaboration. Basic Splash plans don't include group management tools.