Splash makes hosting online events easy. However, it's important to remember that an online event still requires the same rigor and attention to detail that a live event does.
Here are our top two recommended methods for hosting a webinar on Splash:
Livestream using an iframe element or video block or element


Integrate with a virtual-friendly platform
The good news is that either option is easy to set up in Splash.
Live stream using an iframe element or video block or element
The iframe element and video block or element are powerful tools to use if you're looking to stream an event directly on your landing page. Blocks with video elements embed videos hosted on YouTube or Vimeo. The iframe element allows for a variety of streaming sites to be embedded, such as Facebook Live.
Using the live stream method, guest information will still be collected via the registration form. However, check-in data won't automatically be collected when just embedding a live-stream link.
If you're looking to collect multiple data points both pre- and post-registration, using one of our out-of-the-box integrations will be the route you'll want to take!
Integrate with a virtual-friendly platform



Integrating with a video conferencing tool allows for an automatic creation of a webinar link which means hosting your webinar can live in one place. Along with a central hosting location, integrations allow for pre and post registration statuses to be updated directly in Splash.
Below are our recommended integrations for hosting a webinar on Splash:
When an event is created in Splash, a webinar event is automatically created in BlueJeans. Once a guests RSVPs, their registration information is automatically synced to BlueJeans and a confirmation email is triggered from BlueJeans with the webinar URL.

When a guest joins the webinar, they're automatically marked as checked in within the Splash guest list.
With the Marketo and ON24 integration, the ON24 link is connected in Marketo itself. The bi-directional Marketo sync will trigger checked in guests from ON24 to automatically update to checked in status in Splash.
On24 also offers a number of conferencing enhancements such as widgets, polling, data and analytics, and more!
Once the Zapier integration is connected to Zoom, any new event created in Splash automatically creates a webinar or meeting link in Zoom. All Splash registration information will sync to the Zoom webinar registrant list.
A confirmation email is auto-triggered from Zoom to Splash with the webinar details. Important to note: Splash statuses will sync to Zoom, but not vice versa. The registrant list will need to be pulled from the Zoom webinar and manually updated in Splash.
Sharing Webinar links across various touchpoints
Once the event is ready to go, making sure attendees know where to attend the event and have any pertinent information is key to having a successful event. This information can live on multiple attendee-facing touchpoints. The most commonly used are on-page confirmations, reminder emails, and even the calendar description.
Pro Tip: We suggest inserting your public facing Webinar URL in the first field of the Location settings for your event. This will ensure that it is included in the calendar attachment for easy access for your guests.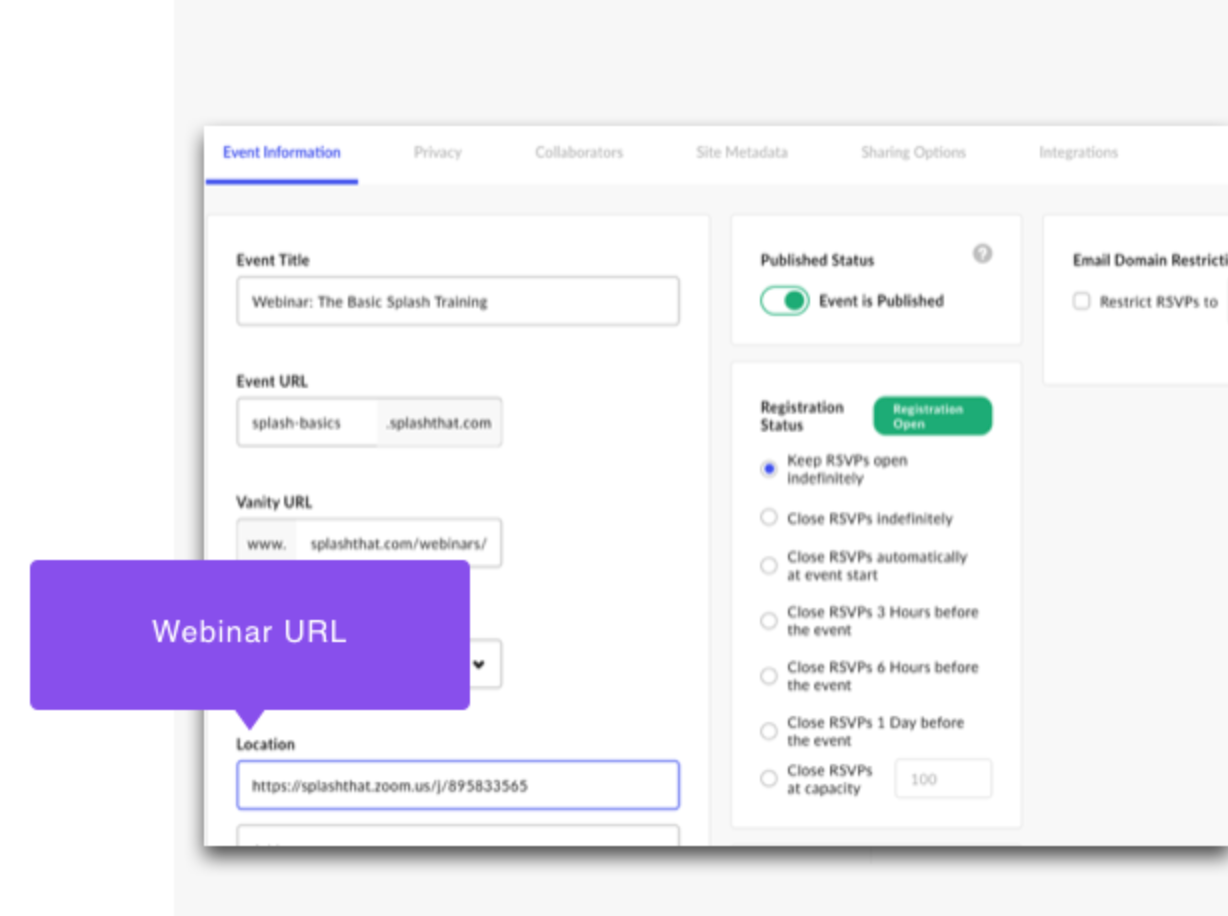 For bonus points, you can also enter in your meeting invitation / ID in the calendar description space. For more information on updating your calendar attachment, check out: Can I update my event's calendar attachment?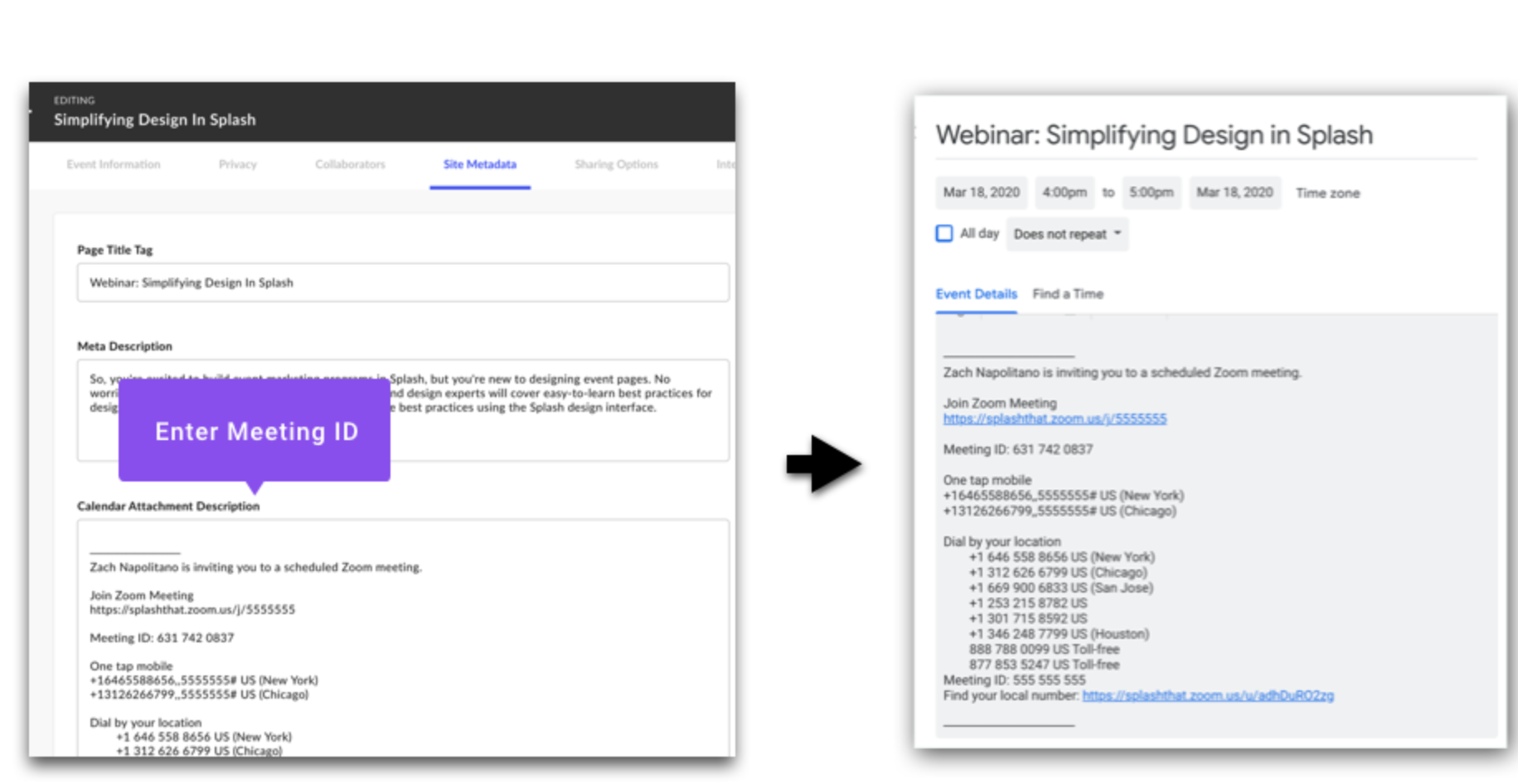 Check below to find out more on how to customize these touchpoints: