How do I export data using the Reporting Dashboard? Follow
Now that you've been added to your Company's Organization and gained access to Splash's Enterprise features, you may have noticed the Reporting tab has become available on left side of your Events Dashboard.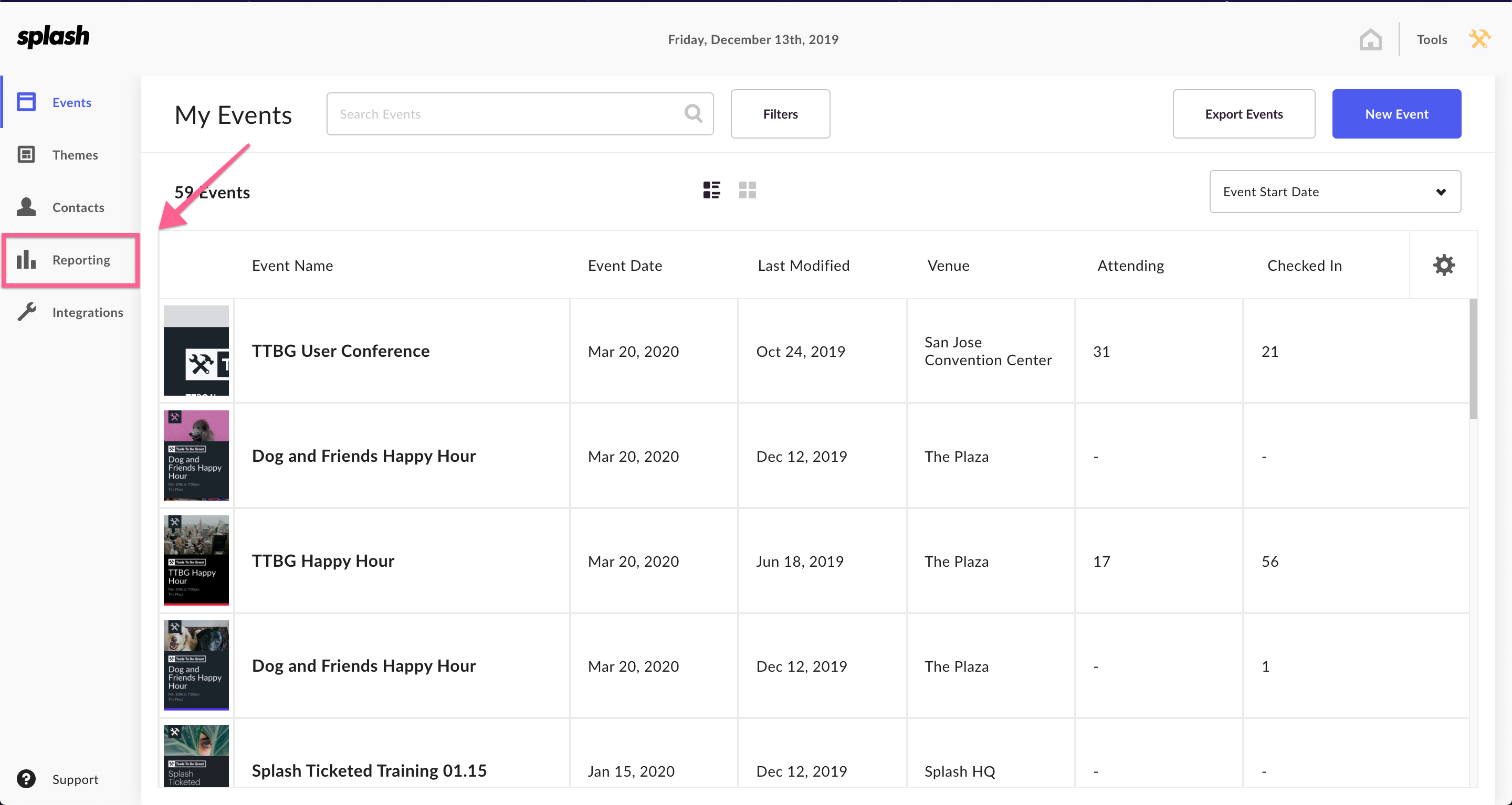 Click on this, and you'll be taken to the Reporting Dashboard, a powerful tool for measuring analytics across all of your events. Most common uses include:
Isolating several events using Filters.
Exporting data from multiple events simultaneously.
Capturing and organizing Post-event Survey data.
Viewing consolidated info from your integrations.
Once you've accessed the dashboard, you'll be met with a series of charts and data-sets, which are setup and managed via collaboration with your Organization leaders, and Splash Customer Success Manager. Let's get started isolating yours so you can begin exporting.
Choose the report you'll need access to -A list of the all reports your team has made available for you can be selected with the dropdown on the top right of the dashboard.
(Please note, selecting from this dropdown may only be necessary when custom reports have been created for your team)


Once selected, the dashboard will reload with the data for the chosen report, and display all associated event information deemed necessary by your Program Manager.


Isolate the events you're looking for with Filters - Select the Filters bar at the top of your dashboard and choose the options you'd like displayed.



Check all the criteria you'd like the reports to display from, and select Apply when you're satisfied.


Download the chart or data set you're looking at - Now that you've got your report set up with all the information you wanted, it's time to hover over the top of the desired chart, and select More Options to Download Data:


There you have it! Data from this dashboard will be formatted as a .CSV, showing attendee or event data. If you're not able to find the information you're looking for on the Reporting Dashboard, check out our in depth help center article or reach out to your Organization Leaders, to determine what your intended workflow should be.
Looking to set up a Custom Report? Give a shout out to your Customer Success Manager with the criteria you'd like displayed, and we'll help you get started!