Adding QR Codes to your RSVP Confirmation Emails Follow
What's better than providing your guests with a wonderful and easy attendee experience? When it's easy for you, the Event Organizer, to provide that experience.
Make your check-in process even more efficient by adding QR codes to your attendee's confirmation emails!
How it works:

Start by popping into the Confirmation dashboard:
1. When creating the email for your RSVP Yes confirmation, simply check the box for attaching a QR Code.
2. When guests RSVP to your event, they'll receive a confirmation email with a simple ticket attached in PDF form. This includes the scannable QR code.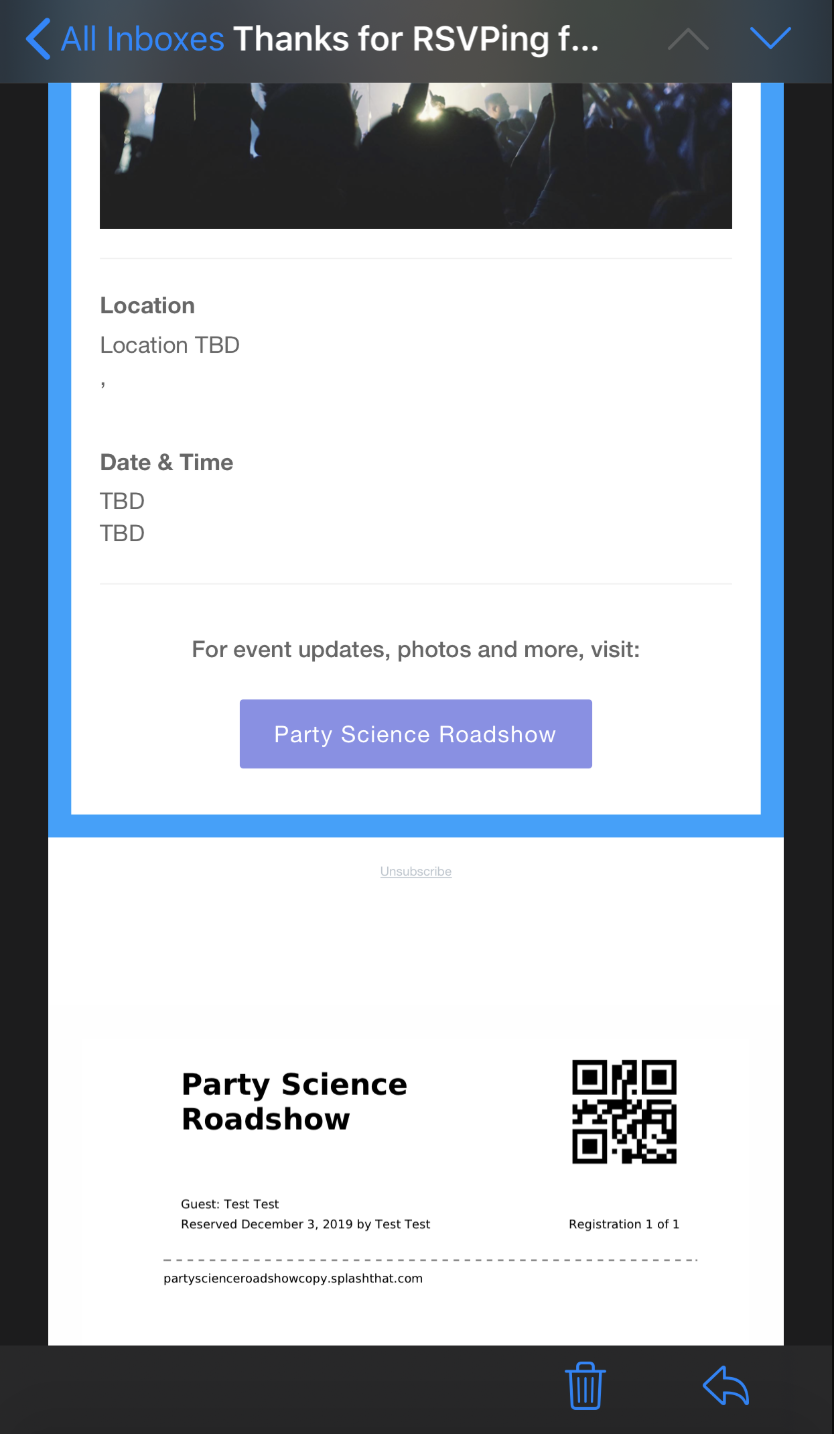 3. At the event, the code can be scanned — automatically checking the guest in — using either the Splash Host app for iOS or Android. The scanner is powered by the mobile device's back camera.





Re-sending QR Codes:
Now, you may say, "But wait, I forgot to select the QR option originally, and some guests have already RSVP'd! How can I make sure these guests still receive a QR code?"
Simple! Once you've checked off the QR code option in your Confirmations Dashboard, head to your Guest List and find your guest(s) that need the code.
1. Select the icon next to their names
2. Click the "More Actions" dropdown
3. Hit Send Confirmation Email
You're all set! Your guests will receive a confirmation email with the QR attached in a PDF.
What about +1s?
Wondering if +1s receive QR codes, too? By default, Splash will only send a confirmation email to the "primary guest," or the main attendee who RSVP'd through your beautiful event page.
Guests of your guests will NOT receive the email, but the Main Attendee will receive all QR codes for guests to be distributed by the main attendee.
If you would like the +1 to receive the QR code, they will need to be added to your event page separately. Check out How do I add guests to my event? for more info.
Sending the QR Codes to a different email
Are you hosting an event for a board of executives and would like to send their QR codes to an assistant, to print on their behalf? Just follow the steps below to accomplish it!
Make a copy
Edit the emails outside of Splash to reflect the intended ones
Re-upload the new file

and send out the confirmation email following the steps above in this article
After that, upload the original Guest List again to keep your event data intact
You can also have a custom question added to the Registration Form to collect an additional email if you don't already have it available.