What are Option Labels and Option Values? Follow
We offer the option to have a different Option Label (also known as the Question Label) in your form than Option Value. Wondering why to make this change? This gives your team the flexibility to obtain slightly different internal responses from the information your guests enter.
Let's say, for example, that you want your guests to be able to input the abbreviation for a state, but you need the full state name for your integration. You can show AZ or NY to your guests (Option Label) but collect Arizona and New York as the full names (Option Value).
This setup is completed through the Registration Form Touchpoint:


1. First, click to add a new question to the form, and select either a dropdown, multi-checkbox or radio (single selection) question:


2. Once you've added your question, click into the Advanced Settings for the question and uncheck "Response options values are the same as label:"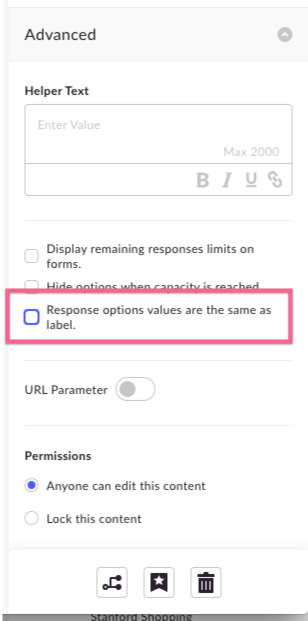 3. Start adding response options! Add your first response by inputting the Option Label in the option field.

4. After hitting the blue + sign to add the response option, you can return to the original response (Arizona in this case) to expand more options. Add the desired Option Value here: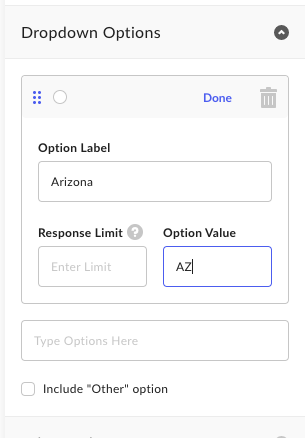 5. The Option Value will now pull through to your Guest List and integrations.
Looking to remove the option label? All form fields are required to have an option label (also known as a question label). Now, we require question labels to be used. Why is this? After some research, we discovered that this update is aligned with industry best practices. Using placeholder text in lieu of the question label decreases usability – having both and having the label as a constant helps users to understand what they're looking at and to help them scan through questions easily!