How can I sync information bi-directionally with Salesforce? Follow
One of the great perks of the Splash Enterprise License is the ability to integrate with your team's CRMs. This is a powerful and easy way to make sure that your guest data is updated and visible to other teams within your organization.
One of the most popular integrations we offer is the configuration between Splash and Salesforce.
With the correct permissions, you'll see a button within your Guest List labeled, "Sync with Salesforce".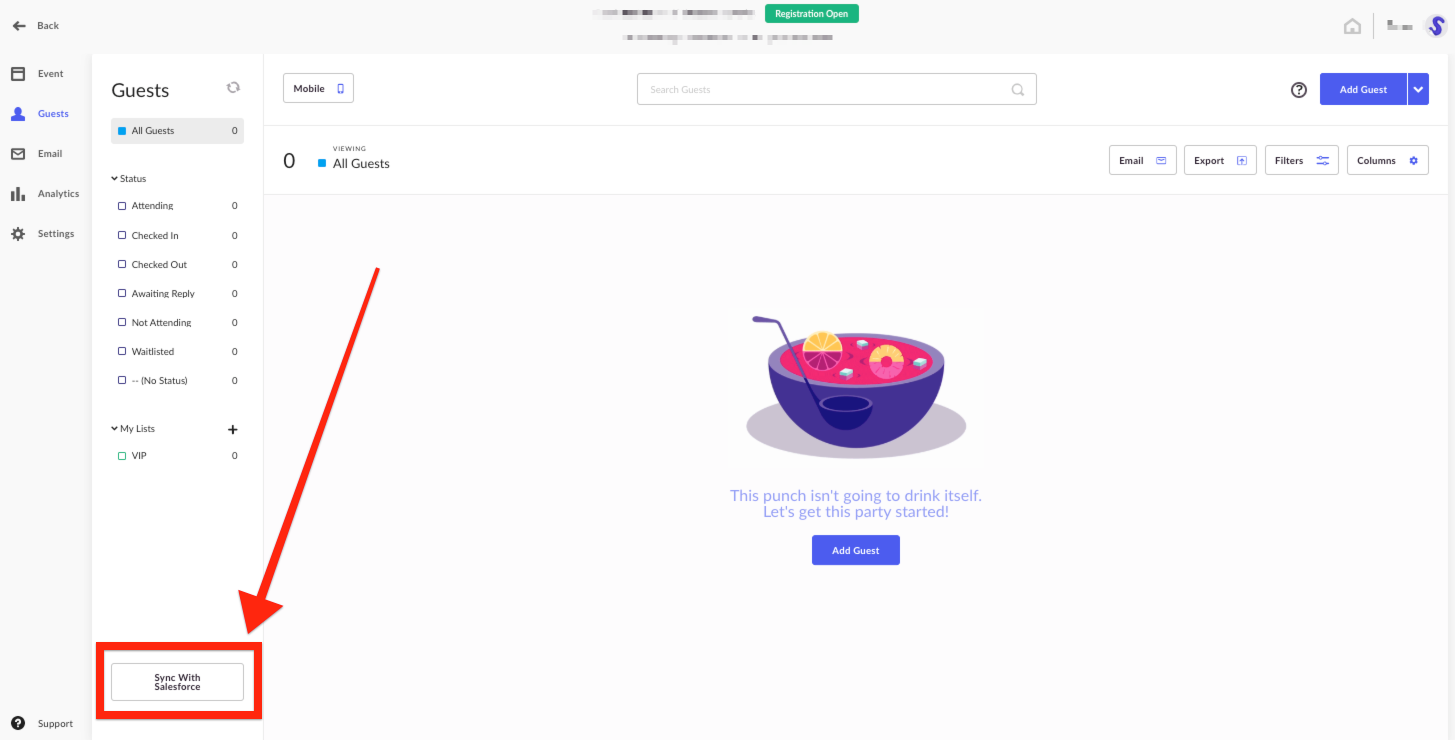 Note: If you need this turned on for your account, reach out to your internal Program Manager, or your team's Customer Success Manager for more information
How do we sync data from Salesforce to Splash?
By clicking "Sync With Salesforce", Splash will pull any existing Salesforce Campaign members into the Guest List.
Note: Confirmation emails won't be automatically sent to any campaign members synced to Splash.
How do we sync data from Splash to Salesforce?
Remember - Splash will prompt a sync of information from Splash to Salesforce:
Each time a guest is added to a Splash guest list
Each time a guest's status is changed in Splash
Each time the Debugger tool is used to re-sync guest data. Check out more on our Debugger tool here: Performing a Re-sync with the Salesforce Debugger
Note: Clicking "Sync With Salesforce" will not necessarily send Splash data to Salesforce.
How does Splash handle discrepancies between the systems?
This bi-directional sync functionality compares a campaign member list in Salesforce Sales Cloud with an event Guest List in Splash.
If the same email exists in both lists, and the most up-to-date record lives in Salesforce, then this value will be updated in Splash. However, if the same email exists in both lists, and the most up-to-date record lives in Splash, then this value will not be updated in Salesforce. You'll want to use the Debugger tool, or simply toggle the guest's status to prompt a sync from Splash to Salesforce.
The data that will be updated includes guest status and custom fields mapped to the campaign member object in the integration settings.
If a guest is removed from a Splash list, the Sync with Salesforce button will not remove that campaign member from your Salesforce campaign. However, if a Campaign member is removed from the Salesforce side, that guest will be removed from your Splash guest list.
Have any questions? Send us a note!