How do I enable the RSVP with LinkedIn feature on my form? Follow
The beauty of an RSVP form lives in its possibilities, which is exactly why we've provided event owners with the option of allowing guests to RSVP using LinkedIn. Use this feature to review work experience for networking events, connect post-event on LinkedIn, or just provide a smoother RSVP process for your guests!
You'll find this option listed under the Social RSVP question within the question bank when adding a new question to your registration form: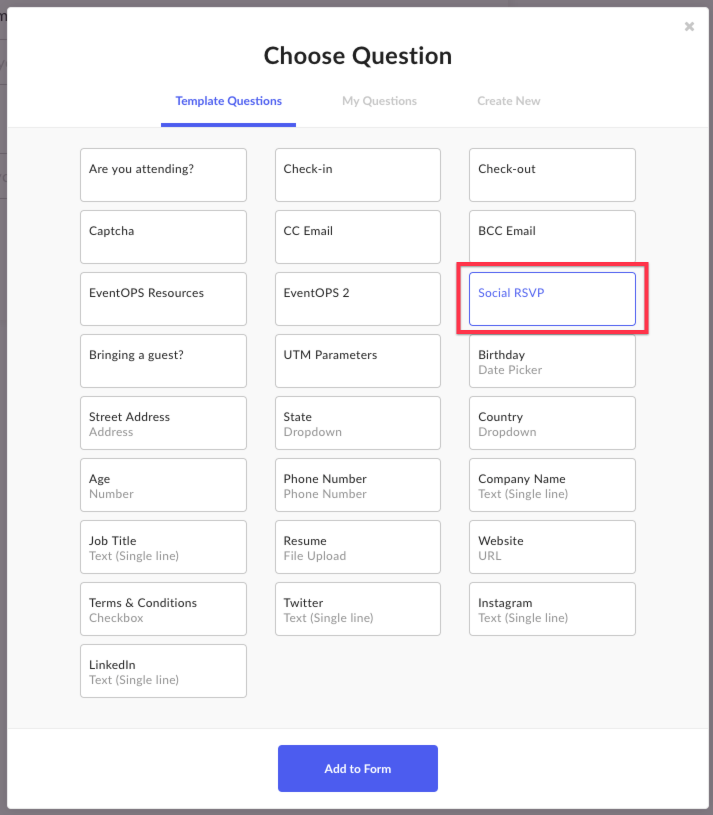 But wait! There's more!
Once the question is added, you'll be able to set it as required as well as map LinkedIn information for company, job title, profile URL, profile picture, and location to any custom questions listed on the form. *

Don't worry if you don't elect to map any of the LinkedIn data to existing form questions! Just leave the dropdown selection as "No question set" and the information collected while RSVPing with LinkedIn will still appear as a separate column within the guest list itself.

Not looking to have this LinkedIn information display at all in your Guest List? No problem! Click on the Columns button from the Guests tab and then deselect each of the LinkedIn options that you don't want to appear.

*As a heads up, job title, company, and location will remain blank in the guest list unless mapped to a custom question. We're working on updating this functionality for the future!