How do I restrict registration to specific email domains? Follow
As an Event Host, there are special occasions when reserving or blocking certain email domains from registering for events is needed. This is possible with our Domain Restriction tool, which you can find in your Event Settings. This tool enables you to whitelist or blacklist domains as needed, keeping your Guest List strictly business.


| | |
| --- | --- |
| | Note: Domains must be added in one at a time, we currently do not support copying and pasting multiple domains in bulk. Domain restriction can manage up to 1900 emails on average and can only be used for RSVP events, not ticketed. |


To apply this feature for your RSVP page:

1. In your event, click into the Settings tab: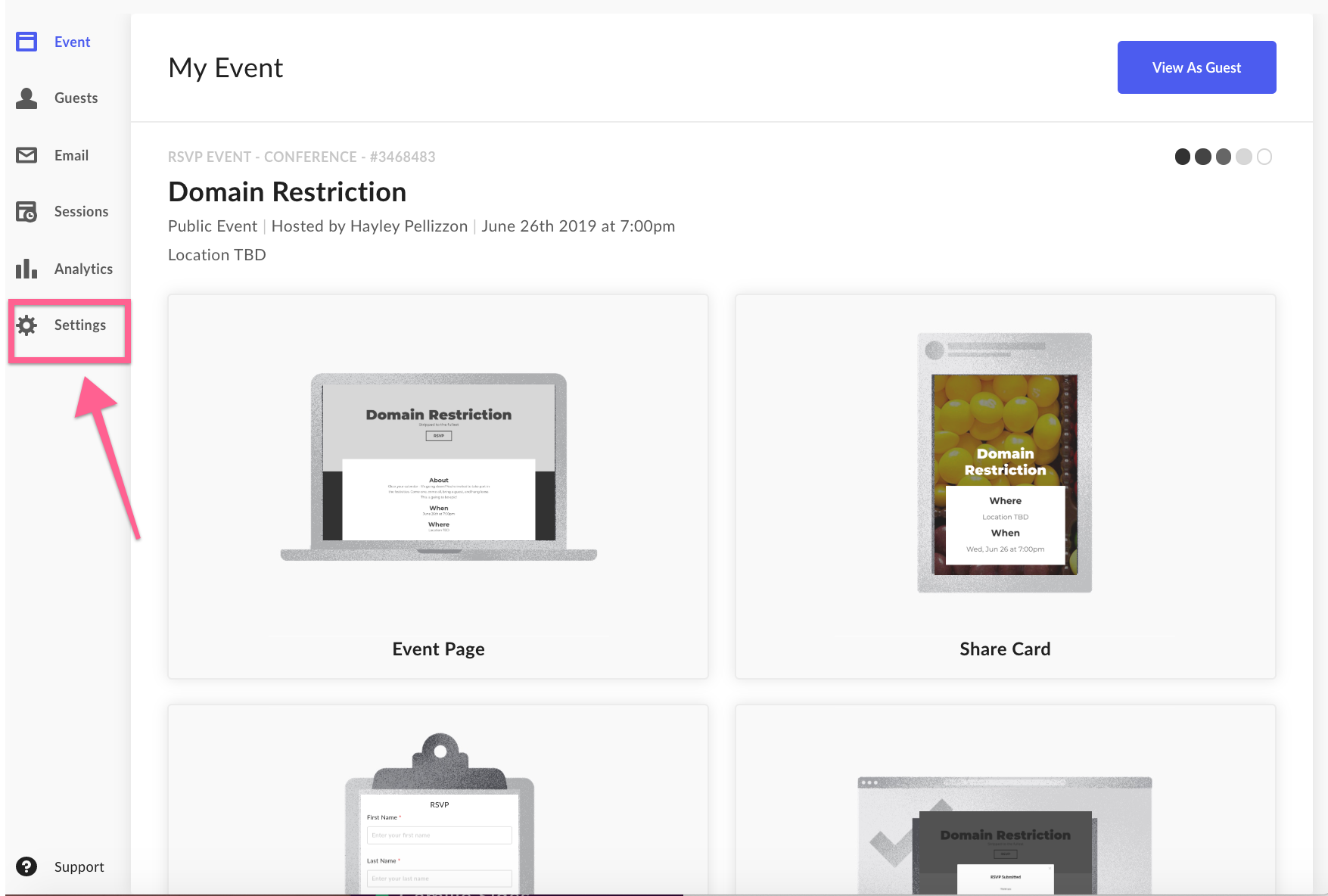 2. Under Event Information, you'll see the Email Domain Restriction settings on the right side: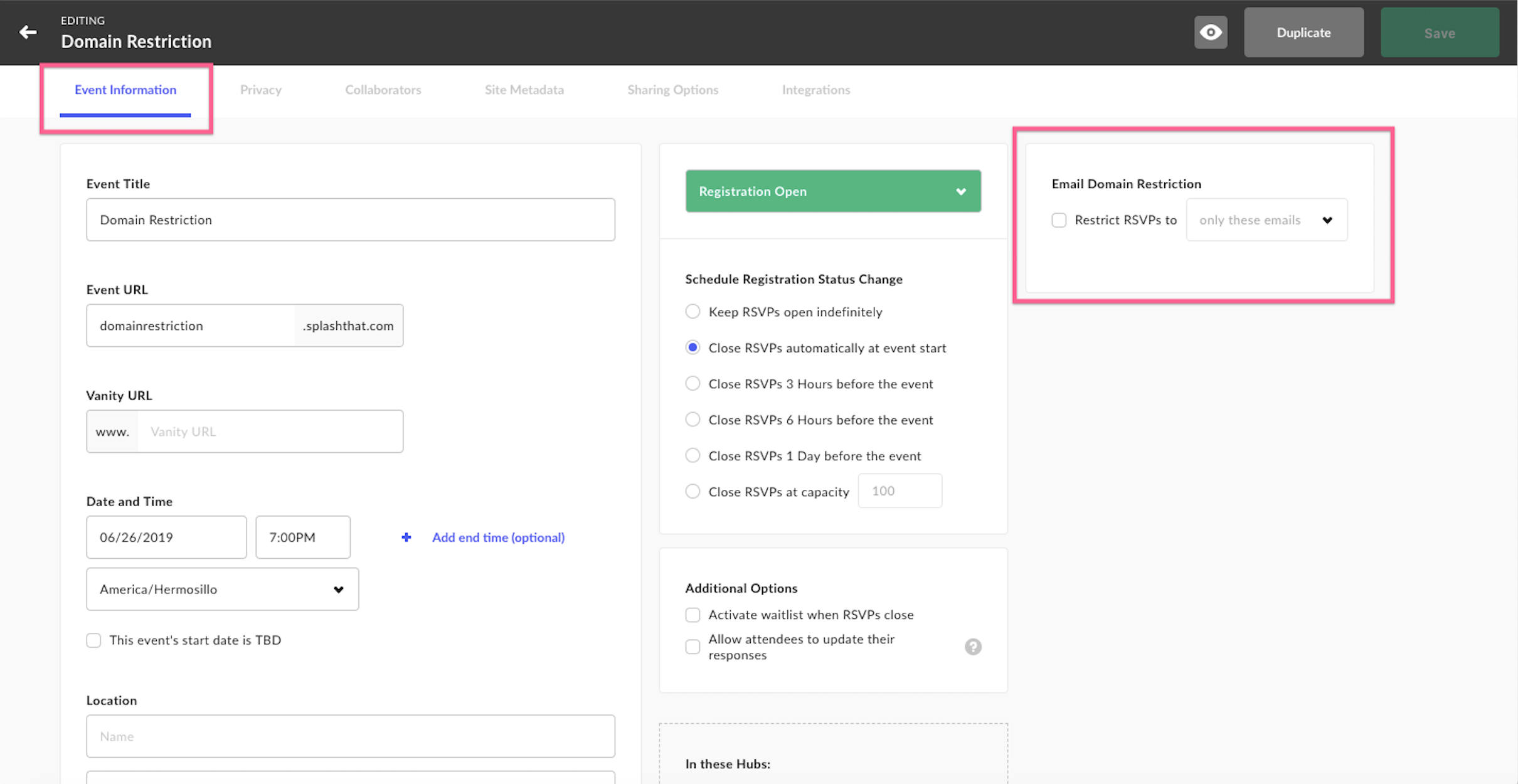 3. Check the box next to "Restrict RSVPs to" and select your desired settings.
What are the options and what exactly do they do?
Restrict RSVPs to only these emails

The email domains entered in the text box will be the only domains guests can RSVP under

Use case: a private company event where only those at the company can attend

Restrict RSVPs to all emails expect

The email domains entered in the text box will not be allowed to RSVP

Use case: a professional event collecting business email addresses for future work-related communication

| | |
| --- | --- |
| | Pro Tip: Apply the email domain restrictions on the theme level to carry down onto event pages. |
| | |
| --- | --- |
| | Note: Domains using more than one period can't be added at this time. For example, @domain.test.com |
To edit the error message guests see:
When a guest RSVPs with a restricted email address, they will receive this error by default: "Sorry, you cannot RSVP to this event with this email." This messaging can be customized in the Edit Error Messages modal for "Email Domain Restriction":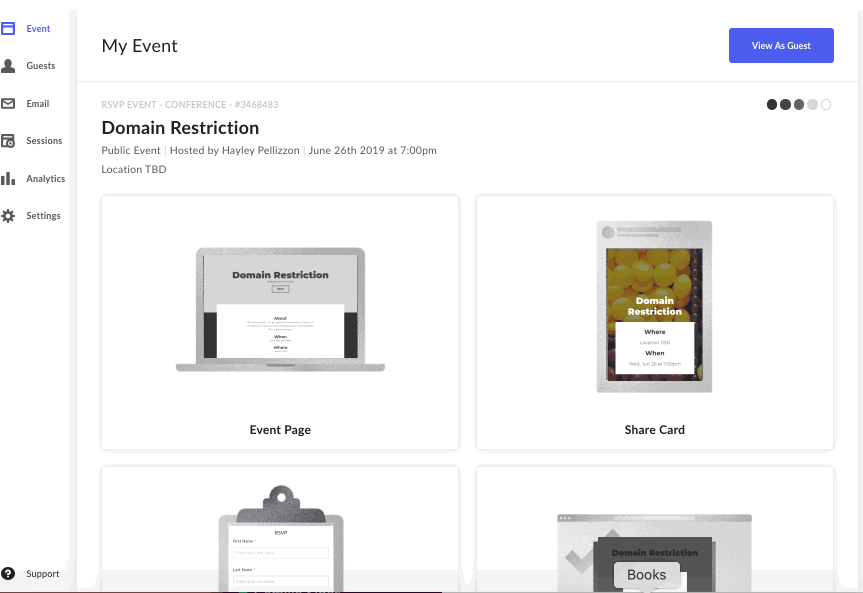 Note: For whitelisting, guests must use the exact domain name to be able to RSVP to the event (capital letters do not matter if the domain matches).