3. Configuring Marketo (v2) integration triggers Follow
After you authenticate your account, you'll move on to the integration settings. In this section, you'll name the integration and define when the integration will trigger.
Start off by typing a descriptive name into the Integration Name field.

Below the Integration Name is where you'll set your triggers. This is divided into the actions that the integration will perform and the triggers that will elicit those actions.
Integration Triggers
Action: Clone Program
The first action handles cloning Marketo programs when you create new Splash events or update an existing Marketo Program. To enable this option, select Create or Update from the Trigger dropdown. We recommend selecting Update as this trigger also fires when an event is created.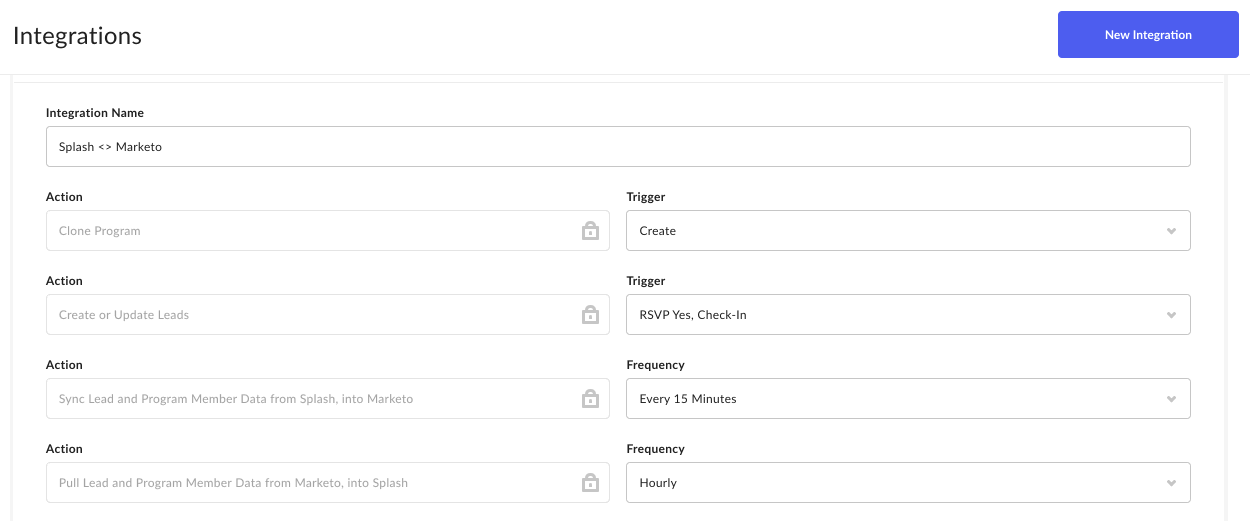 Action: Create or Update Leads
The second action focuses on when to create and update Marketo leads to match your Splash guests. This is controlled by attendee status changes. In the dropdown, choose the attendee statuses you want to result in synchronizations with Marketo. You can also leave it blank to never fire.

Action: Sync Lead and Program Member Data from Splash into Marketo
This setting established the frequency in which Splash information is synced with Marketo. Information can be synced hourly or in 15 or 30-minute intervals.

Action: Pull Lead and Program Member Data from Marketo into Splash
This setting activates the integration's bi-directional capabilities. This means that any lead or program member changes made in Marketo will be reflected in Splash as well. For instance, a member added to a Marketo program is also added as a guest in Splash and vice versa.
Additionally, this setting looks for matching emails in Splash and Marketo to prevent duplication. If a Marketo lead or program member doesn't exist in the connected Splash event, a new guest is created. If the email address already exists, then the existing guest information is updated.
Trigger Conditions
You can set trigger limitations under Trigger Conditions. These conditions limit the integration to trigger based on certain event types or groups. if no specific event types or groups are selected, then the integration is triggered for every event and user.
| | |
| --- | --- |
| | Note: This setting links together program templates with event types, creating different automation rulesets for different kinds of events. |
Next, you'll need to select a Marketo Program template for Splash to copy.