How do I CC or BCC an additional recipient on a Splash email? Follow
Any event marketer who's ever sent an invite to a list of VIPs (celebs, CEOs, titans of industry, etc.) knows that they're probably not going to garner many RSVPs unless they CC some assistants.
By importing the additional recipient's email address as a custom field associated with the main recipient, you can choose to add the address to CC or BCC on emails sent from Splash.
This way, you copy your VIP's assistant on the invitation to seal the deal for a confirmed RSVP.
Note: this feature is currently available with a paid Splash plan, and exclusively for RSVP events.
There are two ways to do to set this up:
Import the CC/BCC email address to the guest list before sending emails
Have guests add the CC/BCC email address right on the form
Let's review the import method first!

1. Create the .CSV file as you normally would, but this time includes columns for each contact's additional email recipient.

2. In your event Registration Form, add a new custom question for both the CC and BCC columns.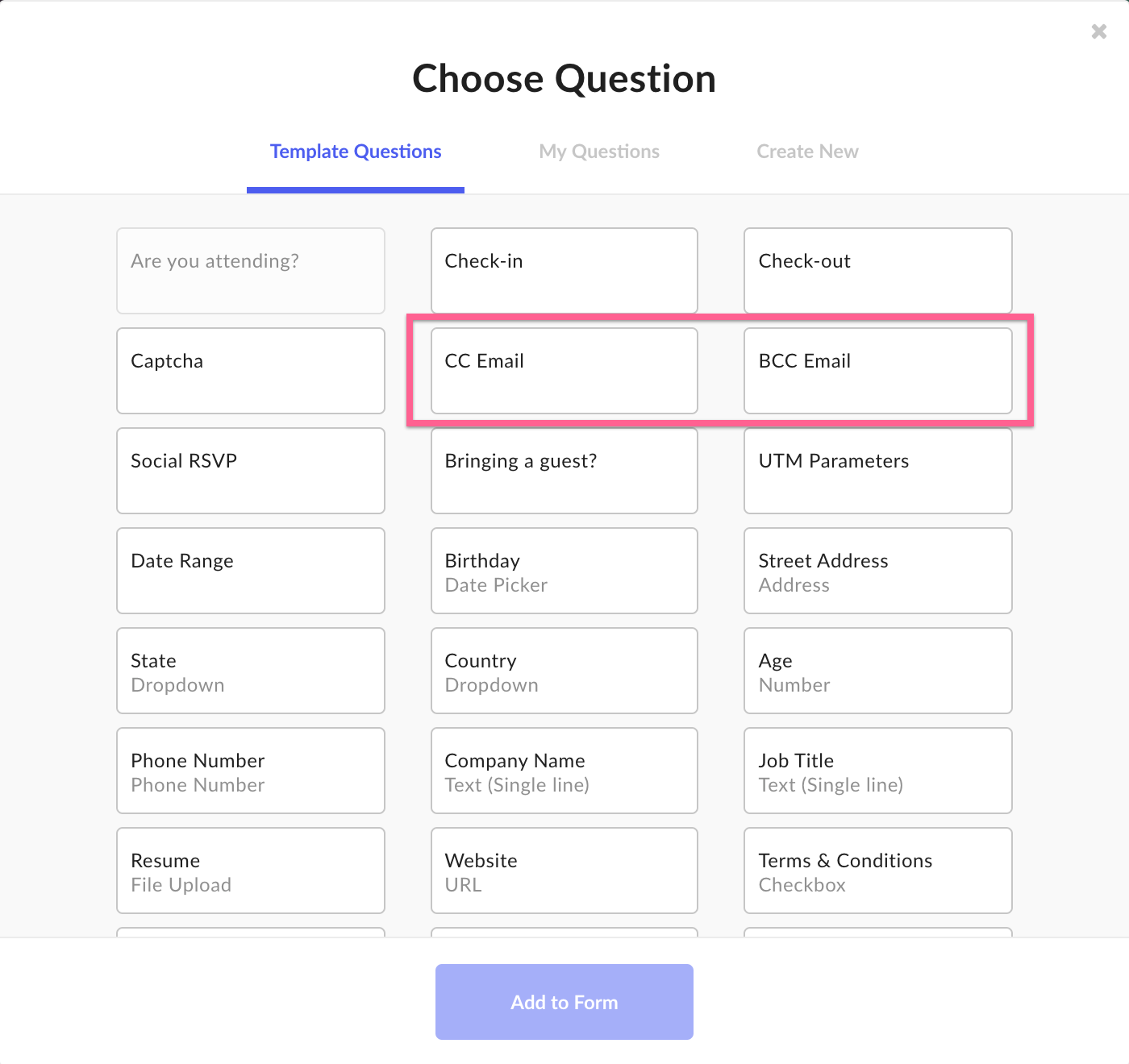 3. Then set each question's type to a Hidden Question so it does not appear on the guest-facing RSVP form.
4. Refresh the Guest List before importing your guest list, and then map the CC and BCC columns to the newly created hidden questions.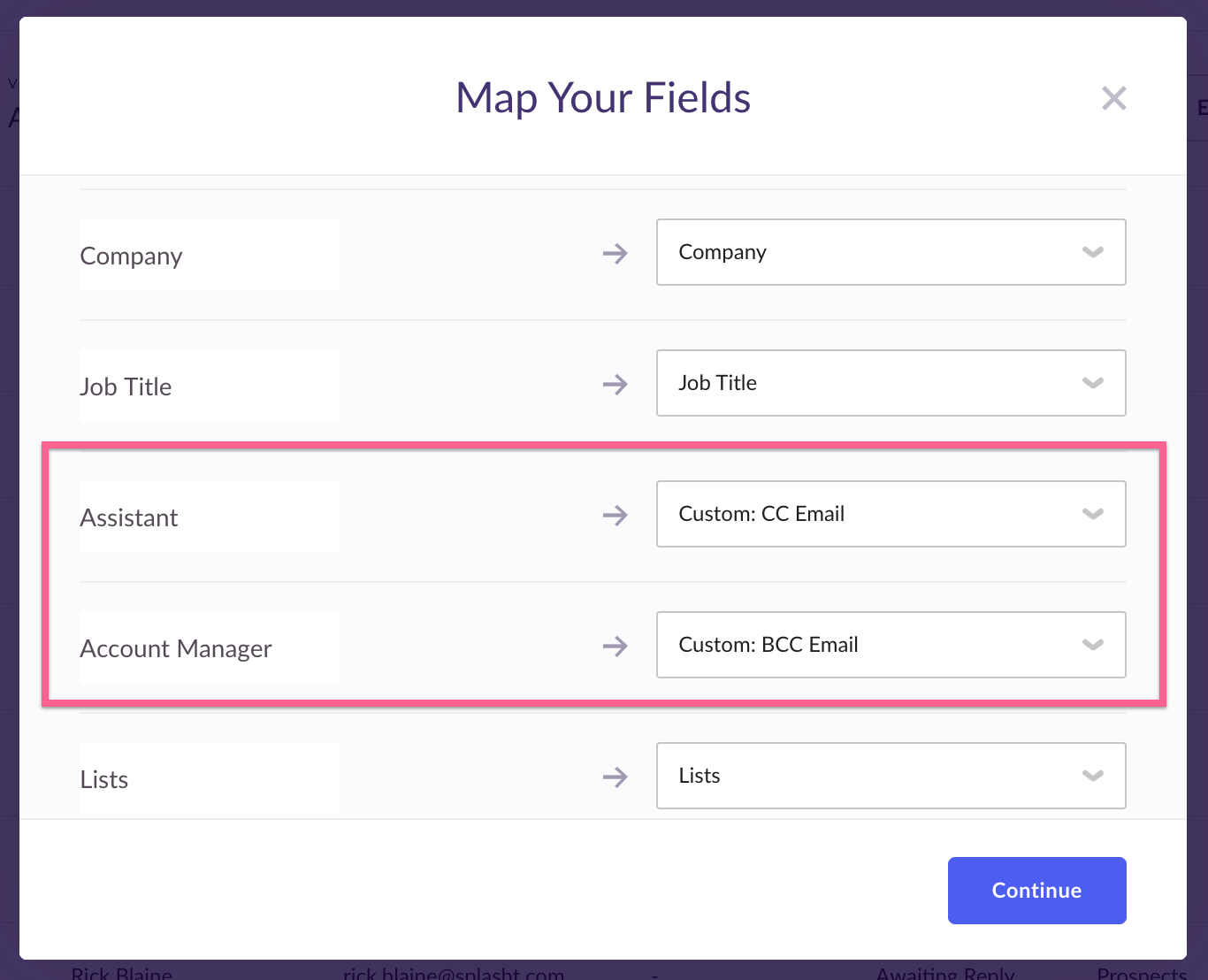 Here's how you can have guests add their CC/BCC address on the form:
1. In the Registration Form, add the CC and BCC questions from the Template Questions section.
2. Set the question type to Email so guests are able to add in their assistant's email address.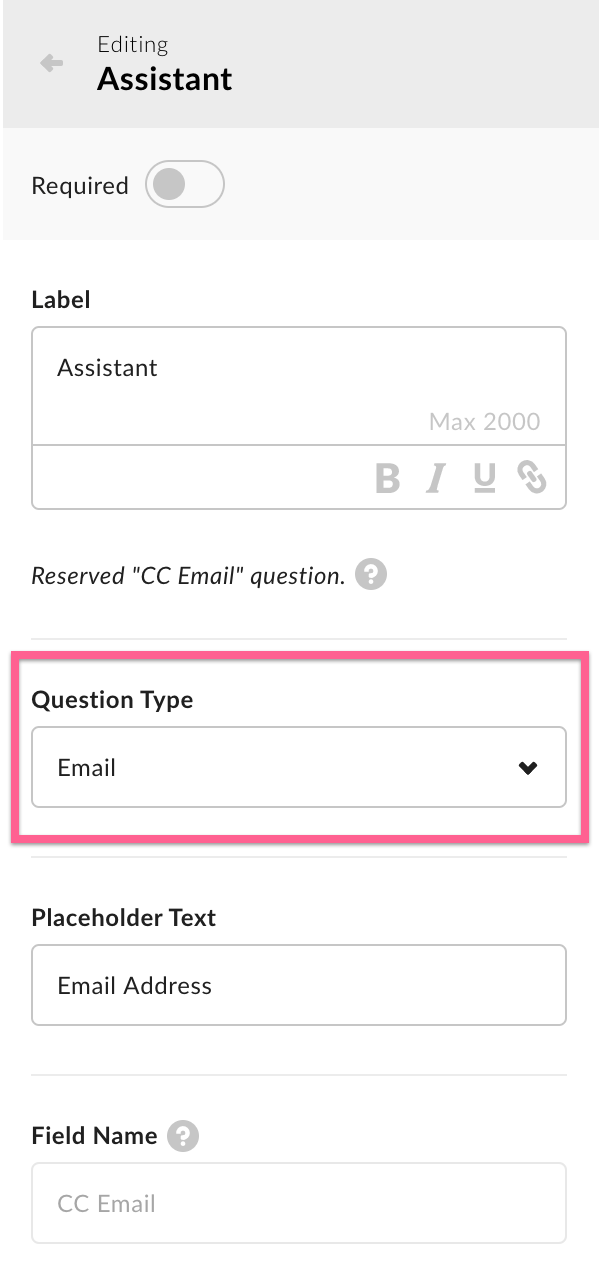 3. You can edit the Field Name or leave it as CC Email, and click Save.
And that's it!
Now, when you send any email in Splash to your main guests or those guests RSVP via the registration form, the CC/BCC email addresses will also receive the invitation.
Pro tips:
Only 1 email can be set as CC and BCC. If two questions have the "Set as CC'd Email Address," only one of those entered email addresses will receive the email.
The same email address can be used for the CC or BCC field for multiple guests.
When using a dynamic tag for the main contact's name, i.e. [first_name], the main recipient's name will appear in the email invite.
When the assistant clicks through the invitation, the Splash form will also auto-fill with the main recipient's name and email.
Your email analytics will still show if the email has been opened or clicked, but it will not display which recipient took the action.