How do I allow guests to modify their registrations and form responses? Follow
For those on a paid Splash plan, hosts may allow guests to update their own registrations after they've submitted an RSVP. This includes updating the attending status and answers to any form questions for primary guests and their plus ones. This feature is currently available for RSVP events only.
In this article, we'll cover:
Need access? If you have an Enterprise license with Splash but don't see the options below, request access.
Activating the Setting
1. Head to your Event Settings tab and the Event Information section.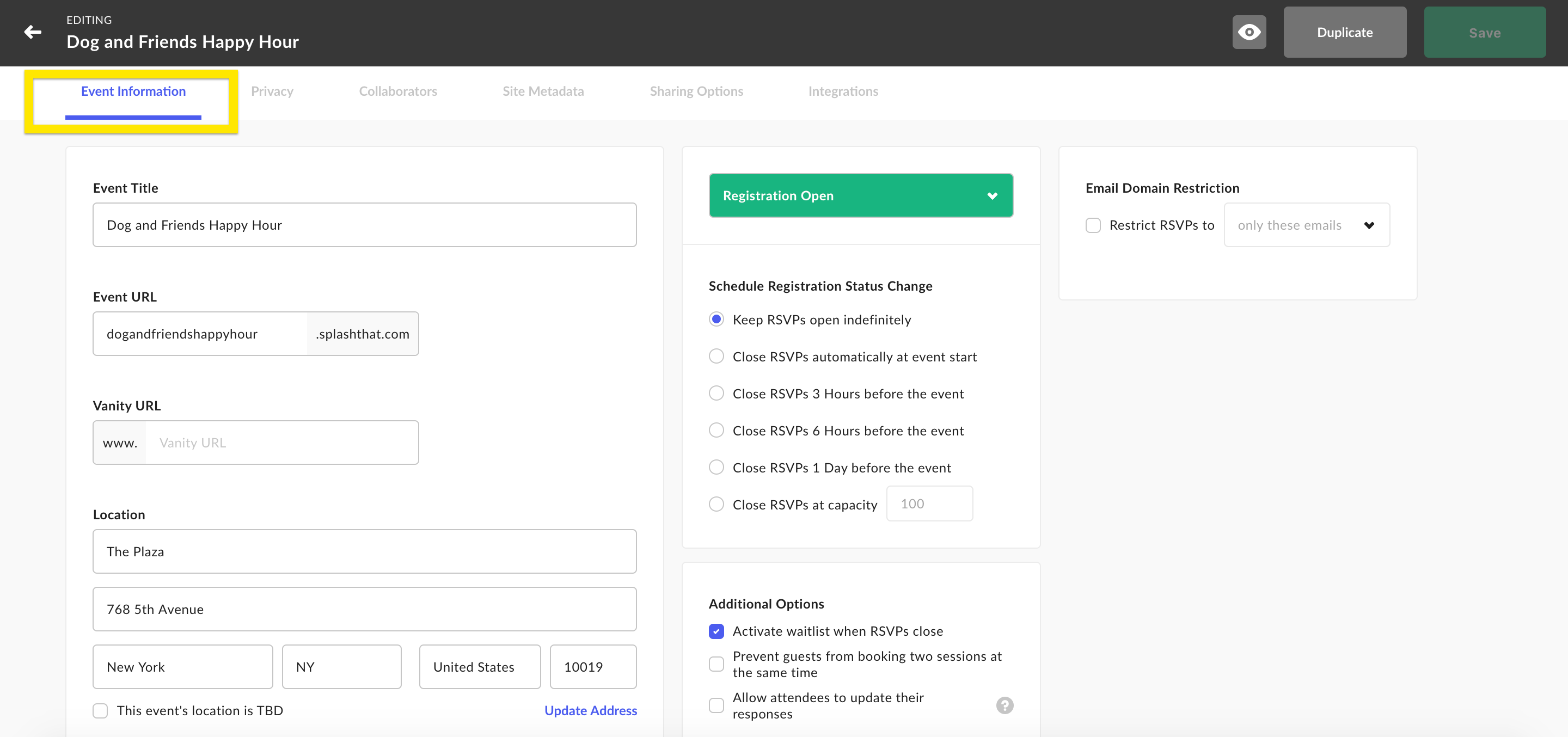 2. Check the "Allow attendees to update their responses" option.
| | |
| --- | --- |
| | Note: If you would like to allow your attendees to update their RSVP responses you cannot have a form from the library used on the event. |
3. You may choose to allow guests to update their responses the day of the event, three hours before the event, six hours before the event or one day before the event.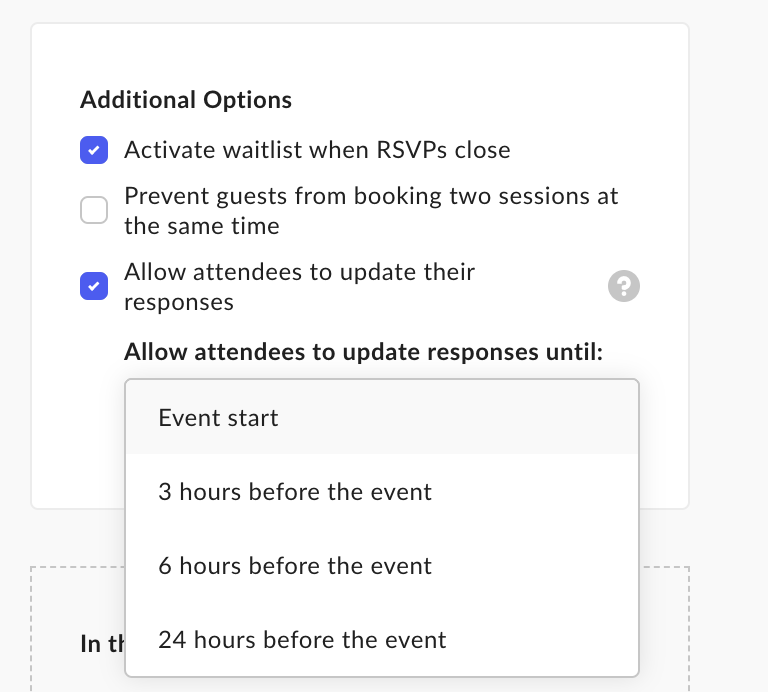 4. Be sure to hit Save in the upper right corner after you've set the update timeline.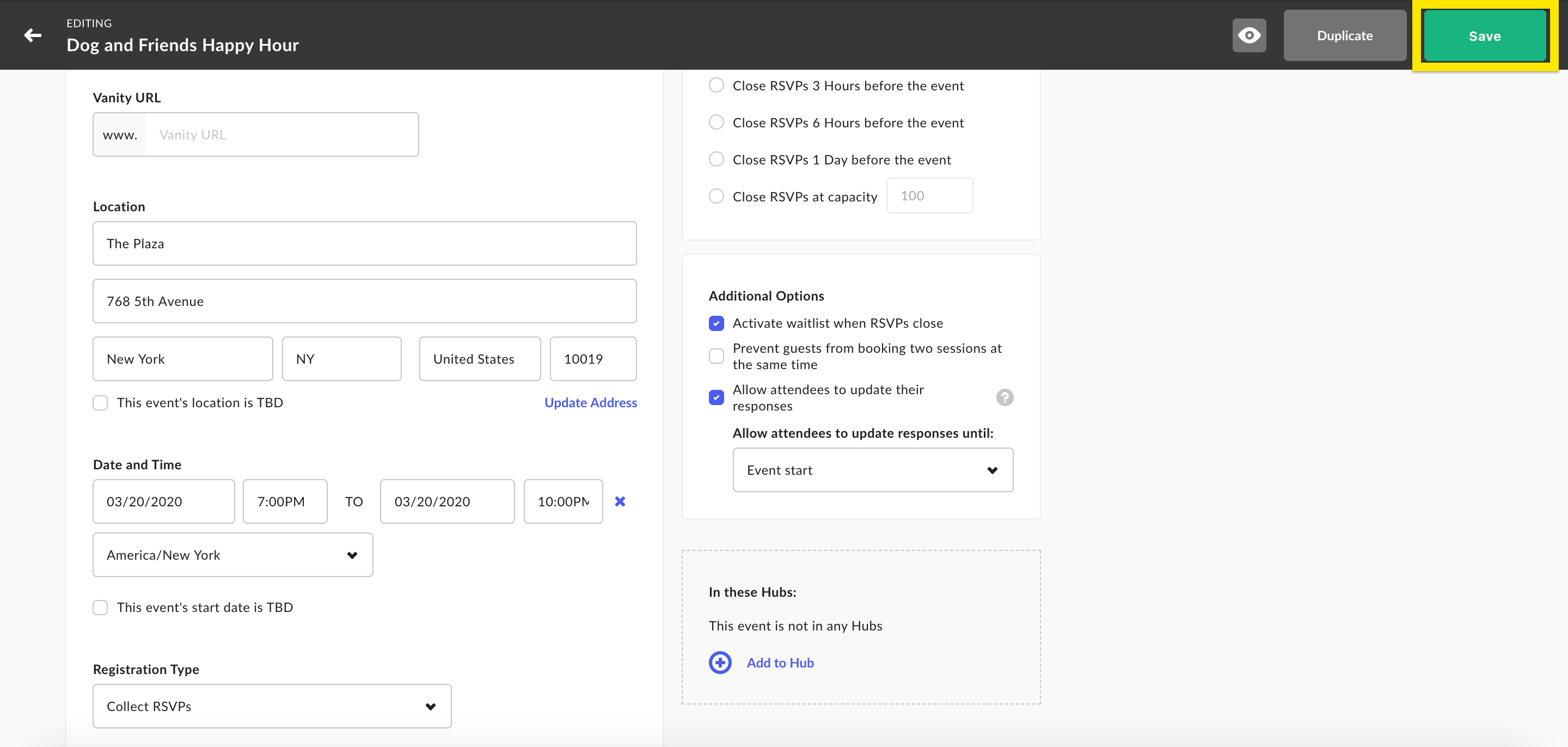 5. Next, you'll need to create a link for an attendee to update their response. You can make this link available in both the on-page and email confirmations, as well as any emails sent from Splash's Email Sender.
Prompting Guests to Modify Registration: On-Page Confirmation
Want to give your guests the option to update their RSVP information right on the page, immediately after submitting it?
1. Head to the Confirmations touchpoint from your event overview.
2. In the On-Page section, click the Design button to open the design editor.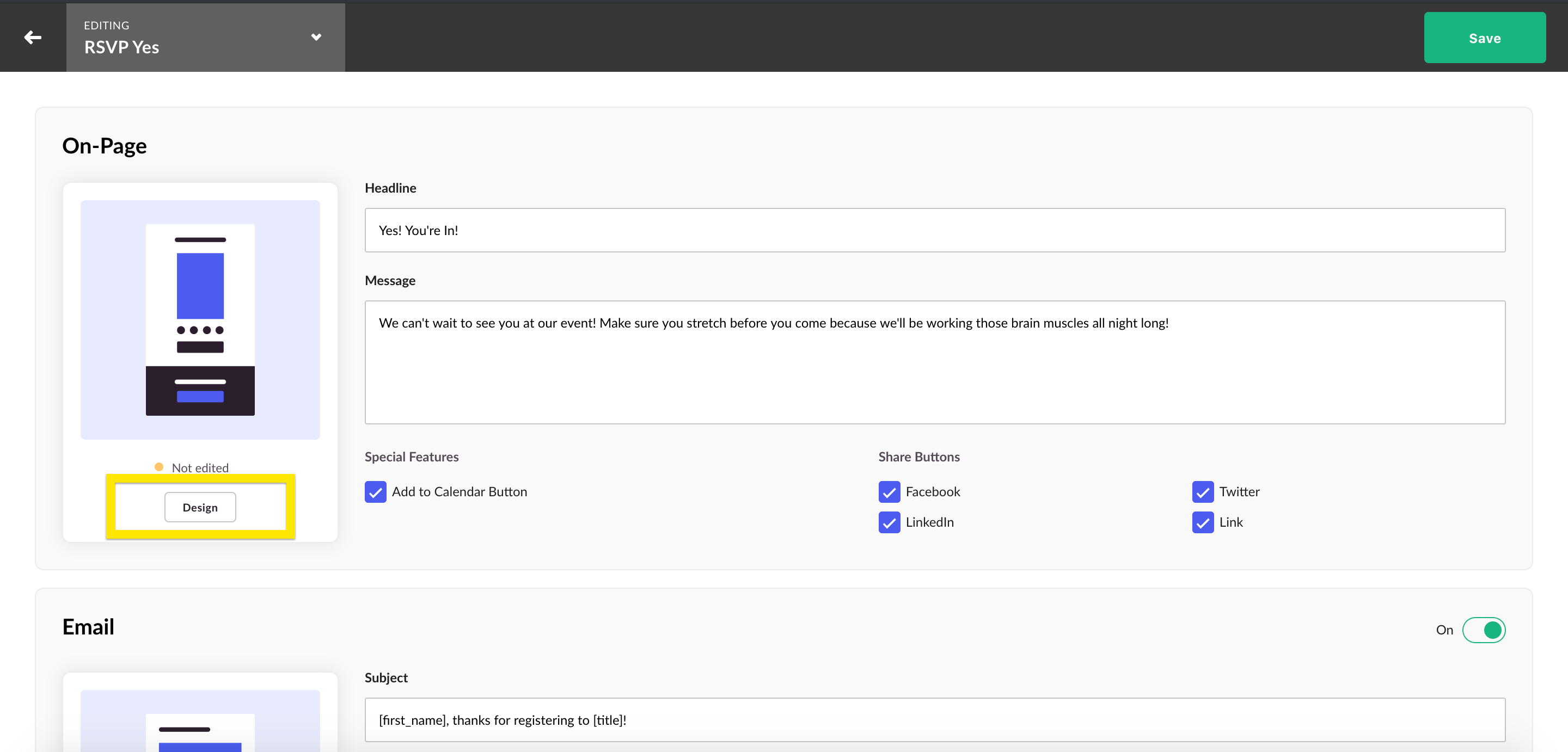 7. From the layout tab that opens, click the blue "+" sign to add a button element.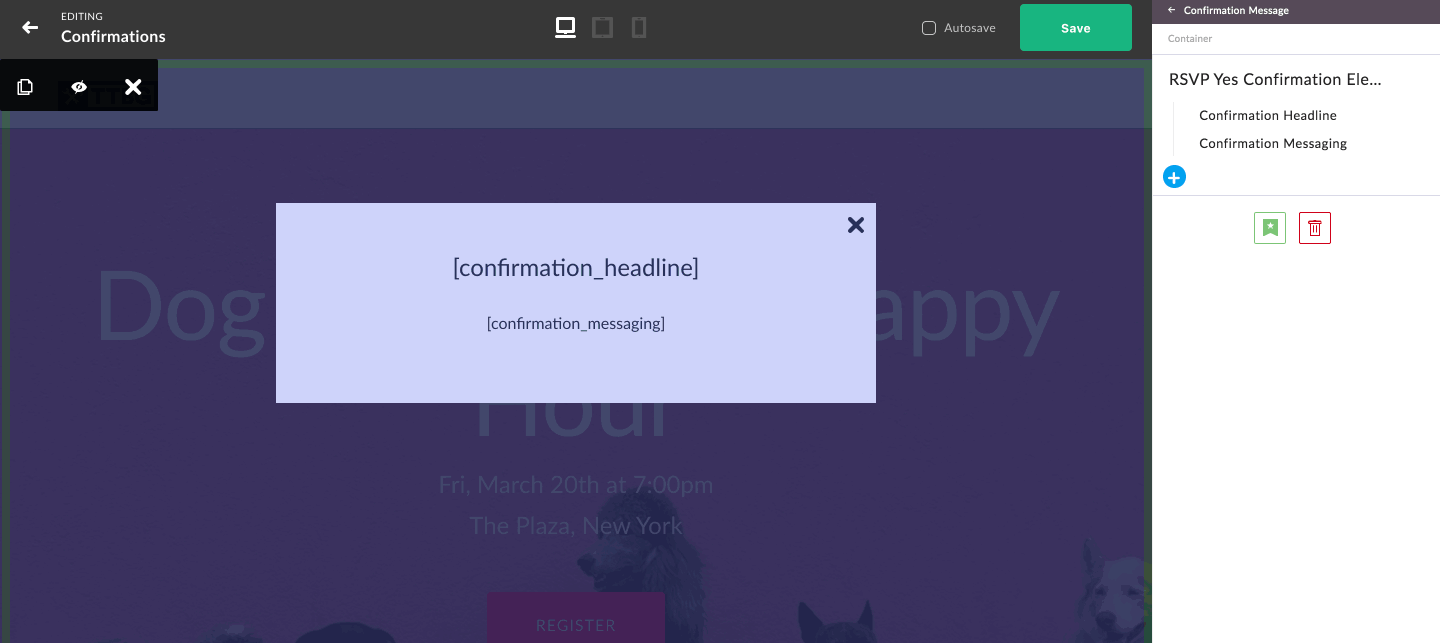 8. Hover over the button on page, and select to chainlink option to edit the button's hyperlink.
9. Change the Link To dropdown for this button to "Modify RSVP" and edit the current display name to your liking.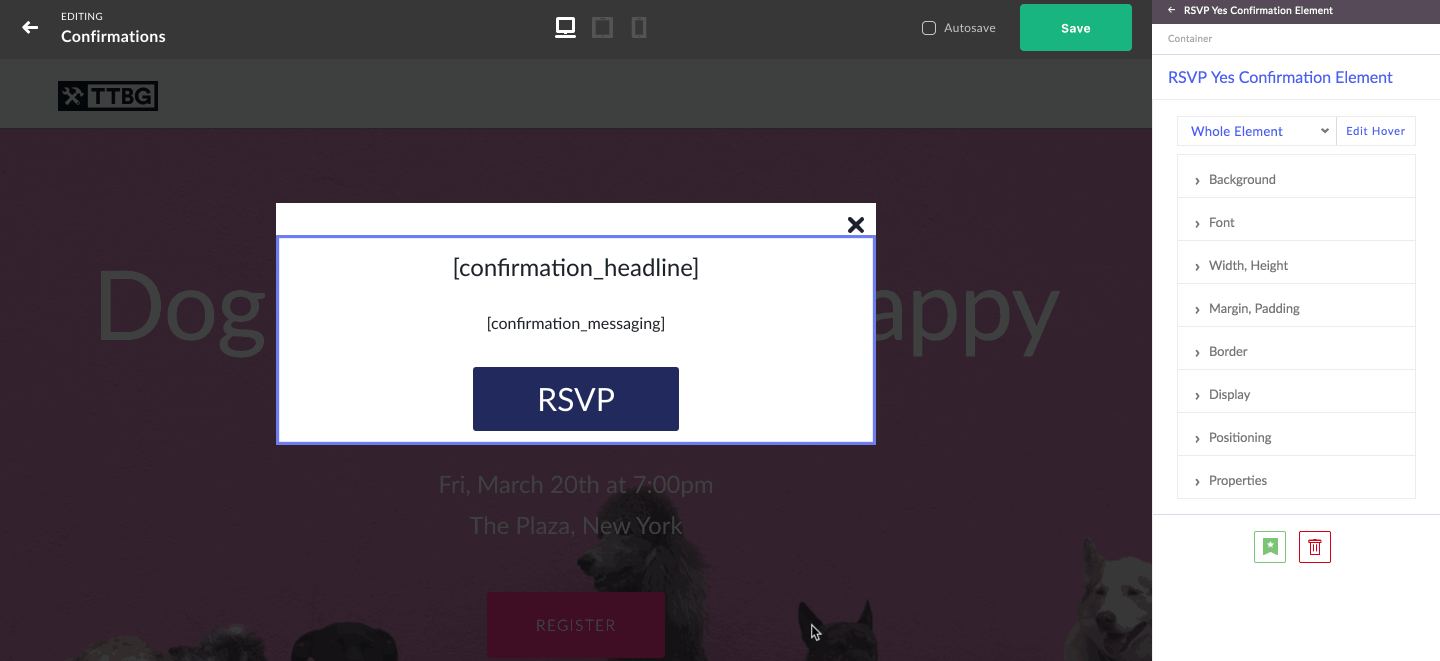 A guest will see this button after they submit their RSVP and may click it if they want to make a quick change to their original answers.
Prompting Guests to Modify Registration: Confirmation Email
To give guests the option to update their registration form the confirmation email:
1. Head to the Confirmations touchpoint from your event overview.
2. In the Email section, click the Design button to open the design editor for the confirmation email.
3. Click the "+" to add the "Modify RSVP element" to your confirmation email.
4. Save within the Email Sender, whether you're working on a template or a single email.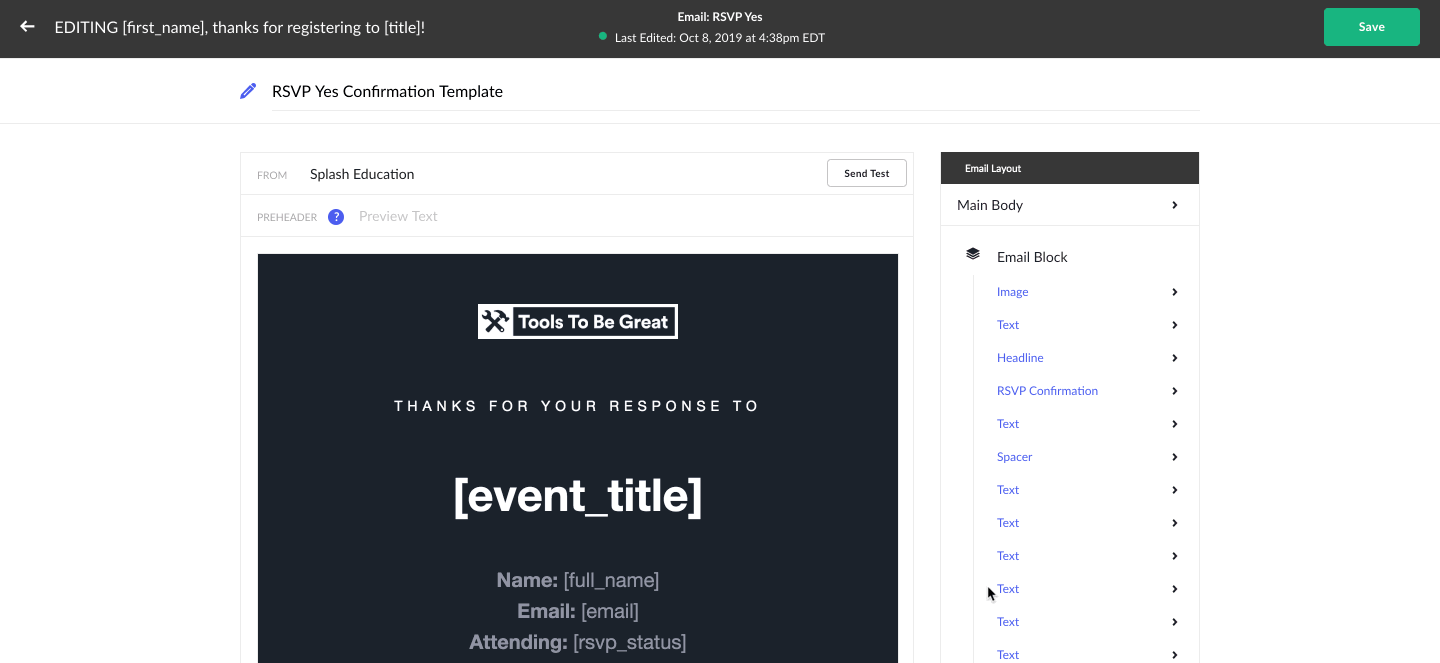 Customizing Confirmations for Updated RSVPs
Once you allow guests to update their registrations, you'll want to confirm the updated RSVP was submitted successfully. If you head back to the Confirmations touchpoint, you'll have a new confirmation type for this: RSVP Update.
1. From the top of the page, change RSVP Yes to RSVP Update.
2. Use the On-Page and Email options below to customize the confirmation that appears after a guest updates their original registration.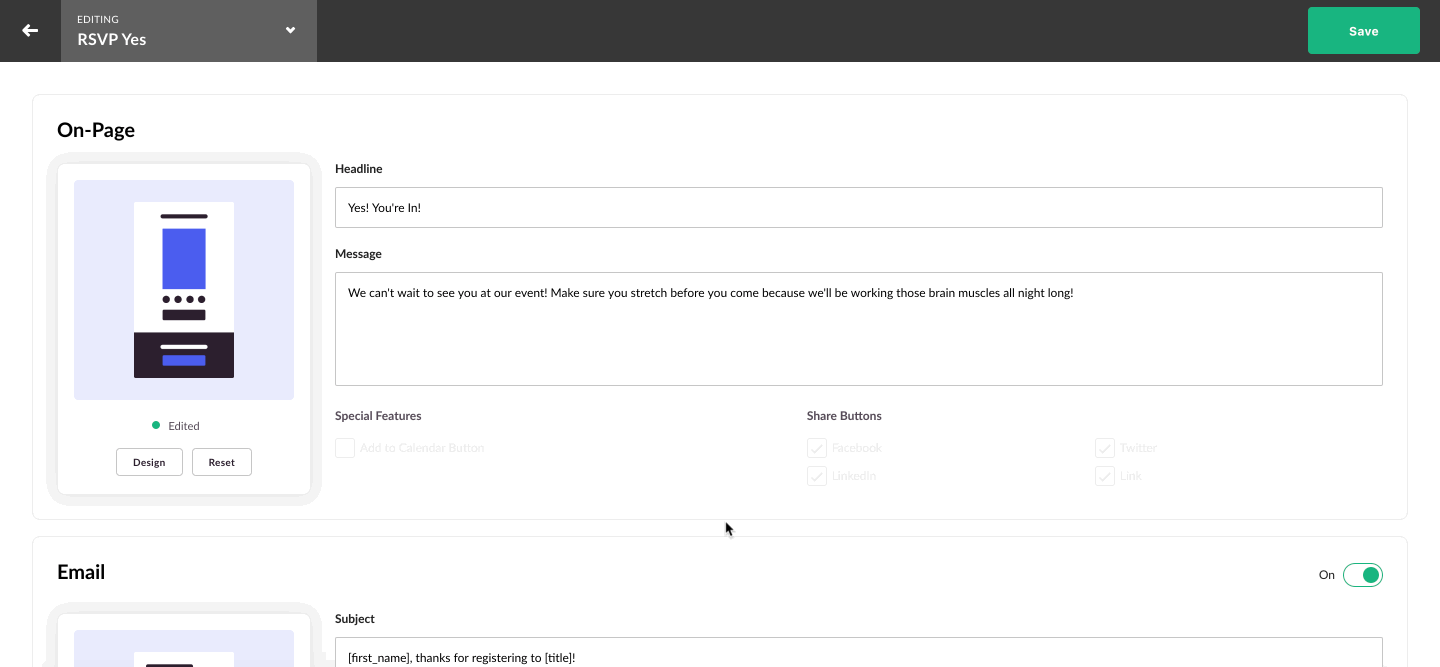 Note: Modifying an RSVP is only possible after a successful RSVP has been submitted. Sending yourself a test confirmation email will not properly display modified information unless you originally submitted an RSVP.
What info can be edited for plus ones?
Guests can edit the first name, last name, email address, and responses for any plus one they initially added to their RSVP. Guests can also add new plus ones or remove any existing plus ones under their RSVP.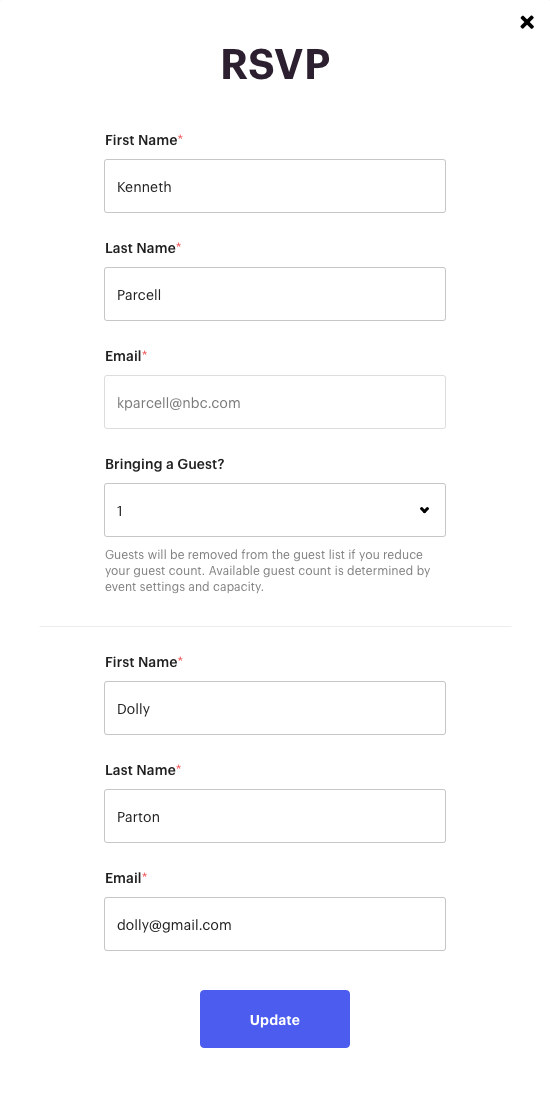 What info cannot be modified by the attendee?

The email address of the original guest cannot be modified after the original RSVP submission. Event organizers can still edit this info manually via the Guest List if needed.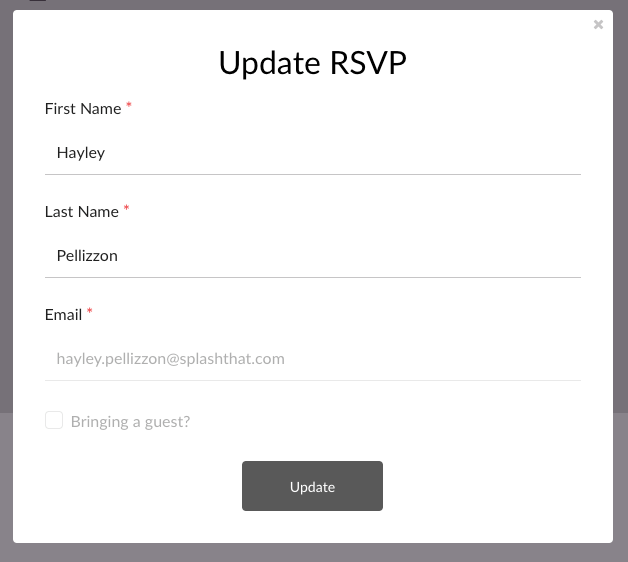 Prompting Guests to Modify Registration: Email Sender
Best practice alert! We recommend using this tag in your Confirmation Emails upfront. Why? To ensure that the only guests attempting to modify their RSVPs are those who already submitted RSVPs.
Having said this, we know you may need to add in this option for an event already in progress, so Splash gives you the flexibility to add the [modify_rsvp] tag via the Email Sender, too.
Feel free to throw it into your Reminder email or any other email sent from our platform. Just keep in mind that it will only work for guests who have already RSVPd, so you won't want to send it to anyone with a status of Awaiting Reply or No Status.
Note: You will not be notified when a guest makes a change to their registration. Just head to the Guest List to view the latest updates!