How do I build a Form?
Disclaimer: This is the guide to our latest forms technology, which is currently in the development phase and has not yet been fully released.
Splash allows you to easily build out each aspect of your RSVP form and watch the changes appear as you go.
It's all done from this Form tab located in the editing toolbar to the right of your Splash page:
Let's get started!
The Standard Form Setup
Any form you create has the required First Name, Last Name, and Email fields already plugged in. These cannot be removed.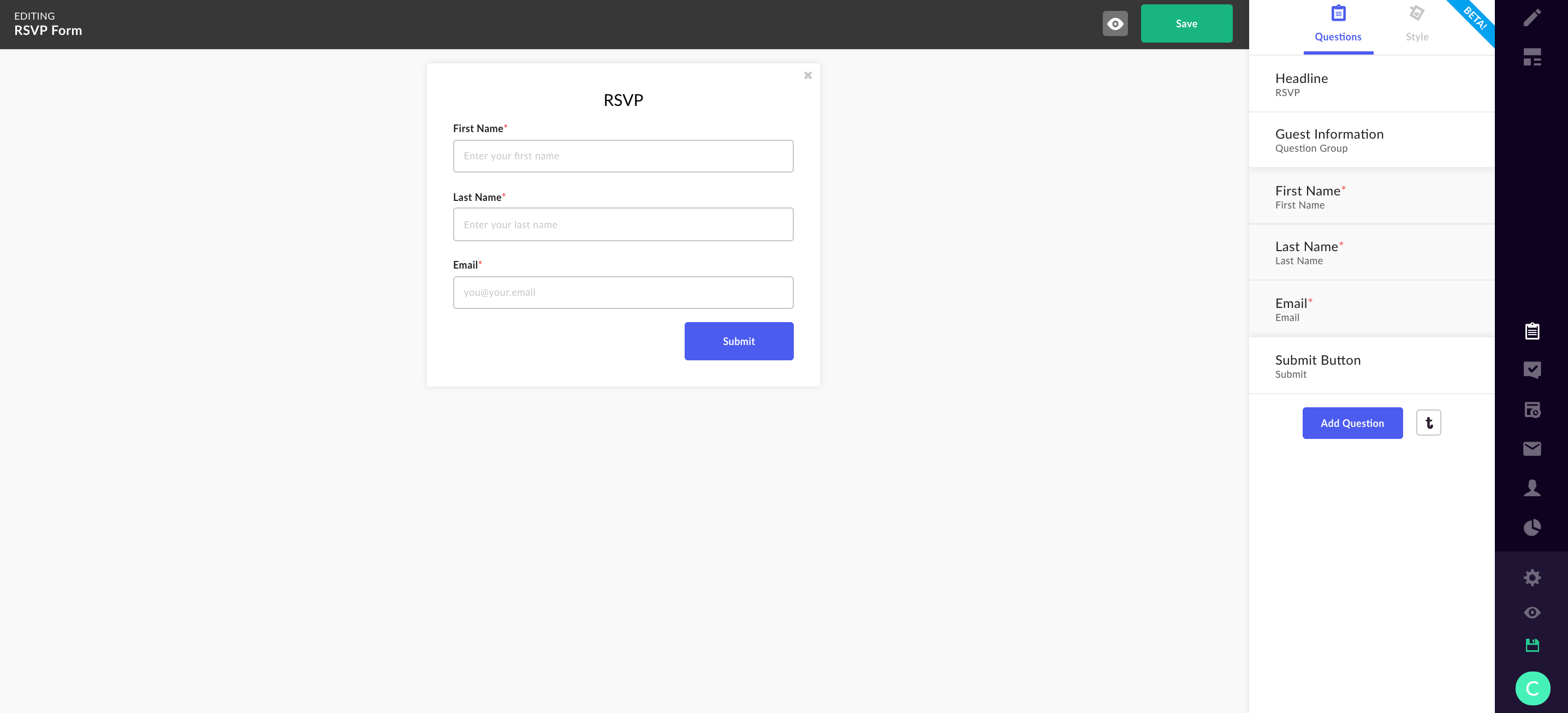 To add any additional fields you'd like your guests to fill out, just click the Add Question button, as shown here: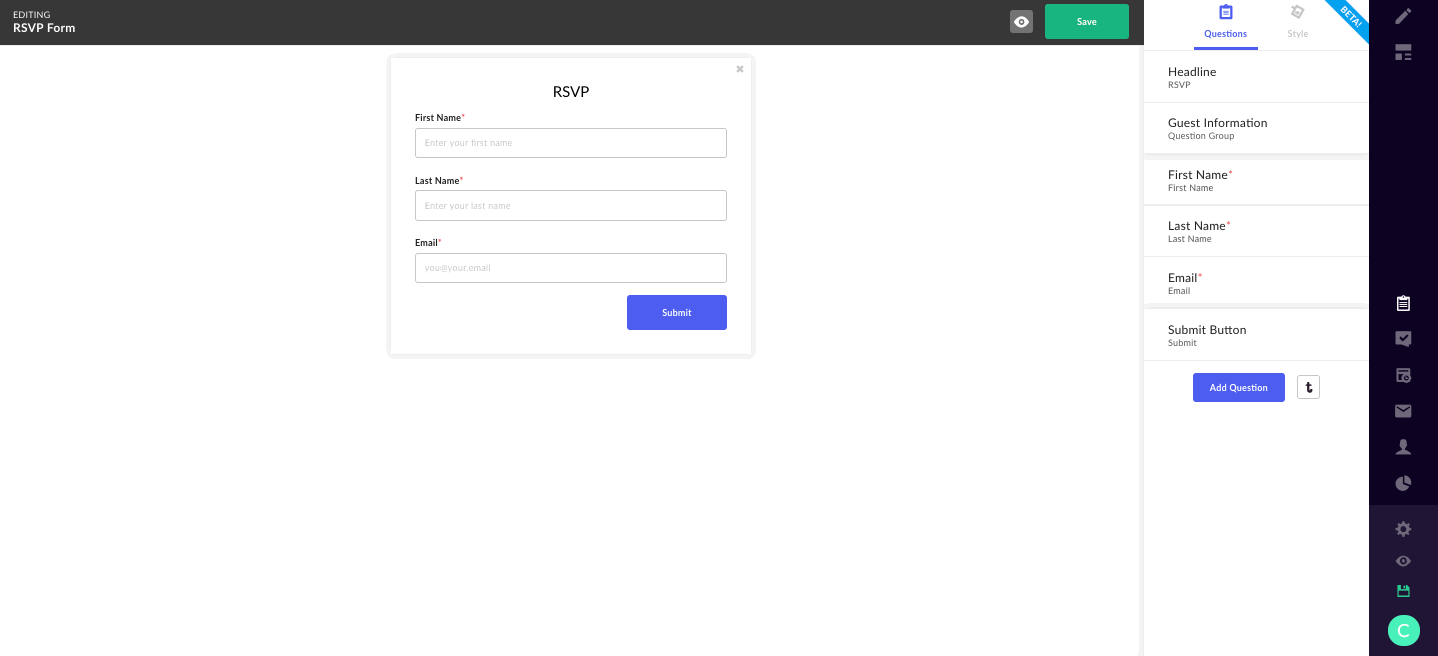 Standard Questions
The Add Question pop-up feature contains a list of 22 pre-made questions that you can easily select and add to your RSVP form. These are broken down into Registration Questions and Suggested Questions.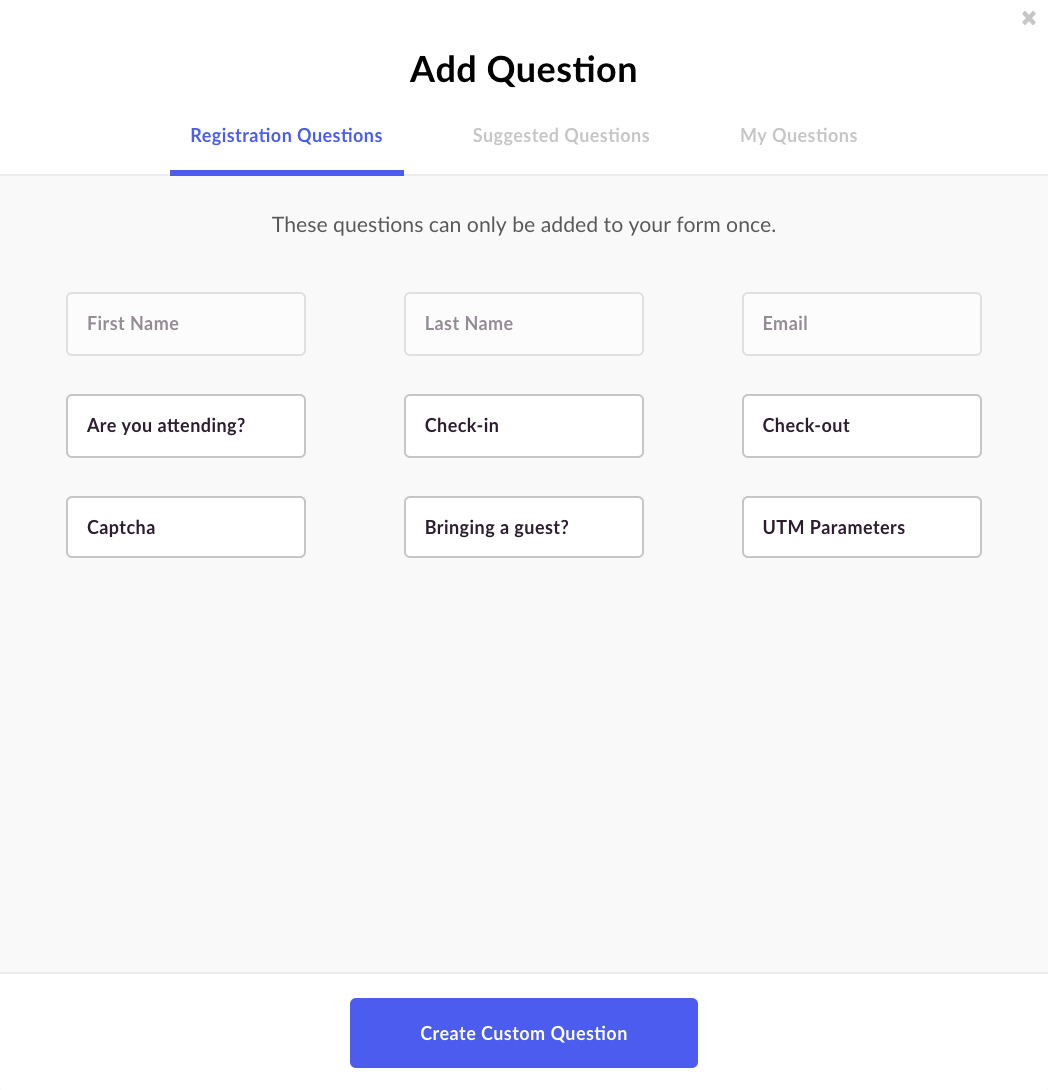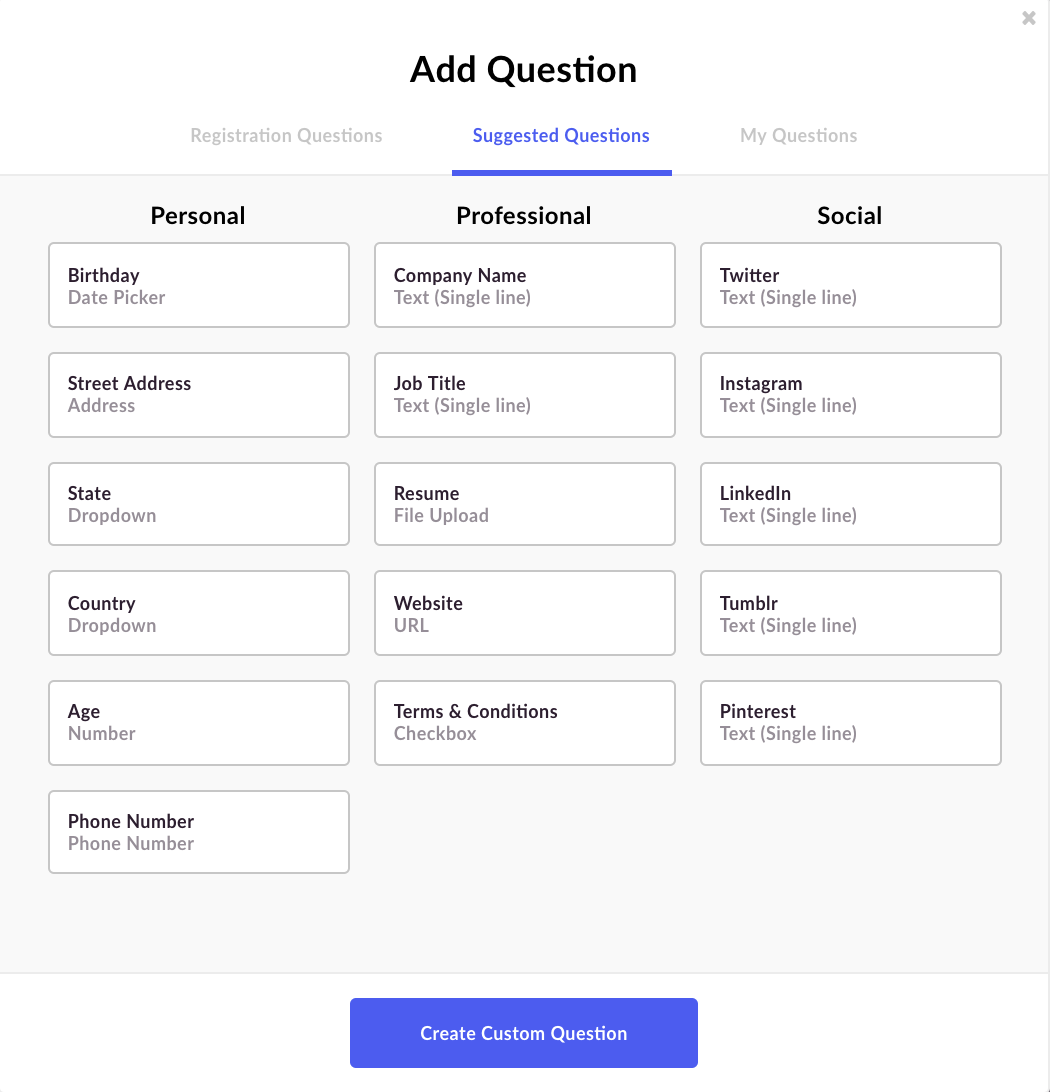 Feel free to use whatever you'd like!
How to allow guests to RSVP No
Adding the pre-made "Are you attending?" question allows someone to RSVP "No."
When this question is answered or updated, the guest's status will be recorded as "Not Attending" in your Guest List.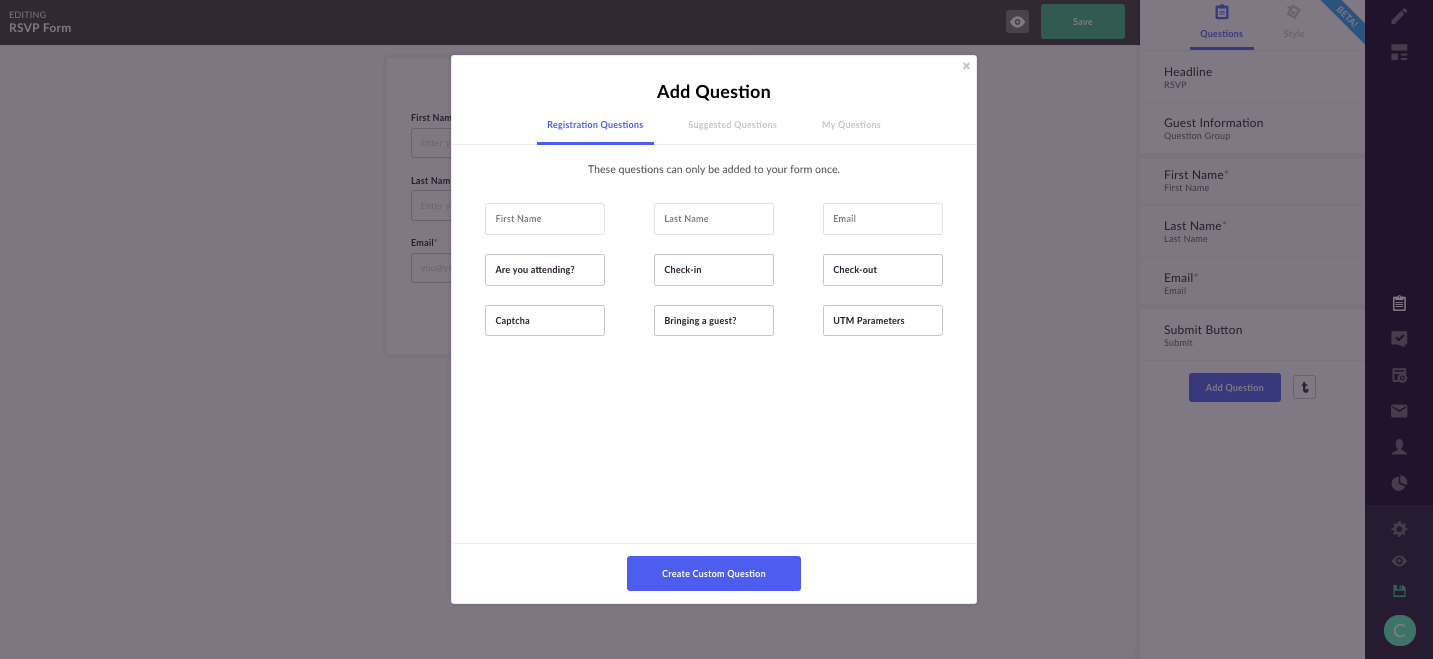 Note: If you create your own "Are you attending?" question as a Custom Question, the guest's status will still come through as RSVP Yes and will not automatically update. So be sure to use the one already created for you in Standard Questions!
How to allow guests to bring +1s
The "Bringing a guest?" question allows a guest to RSVP with a (+ 1) and add that (+1)'s information.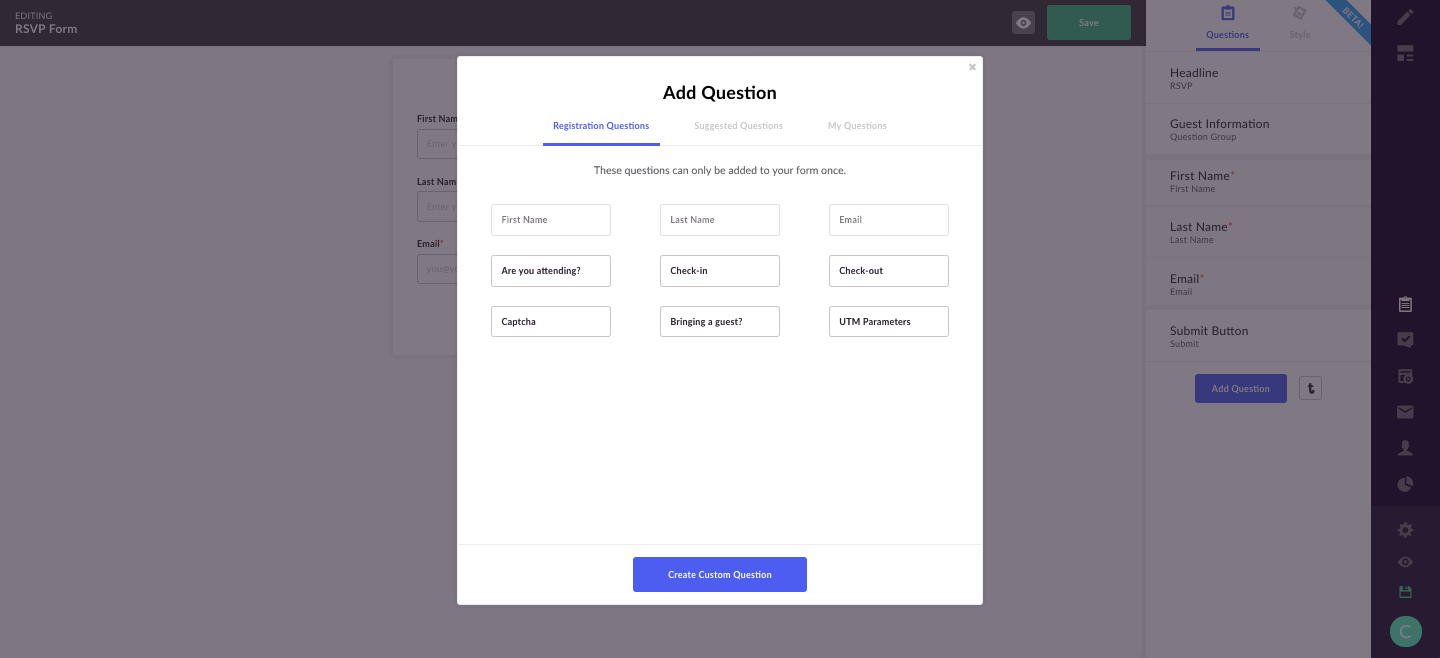 Once someone has selected the checkbox labeled "Bringing a guest?" they will be prompted to answer the guest's information.
As the event organizer, you can choose to allow your guests to bring up to nine (+ 1s). The more the merrier!
Editing Questions
To edit the fields of information you would like to collect, start from the main Form layout page.
If you'd like to make an information field required:
1. Click on the question name.
2. Click the Required switch to toggle whether the question must be answered in order to submit the RSVP.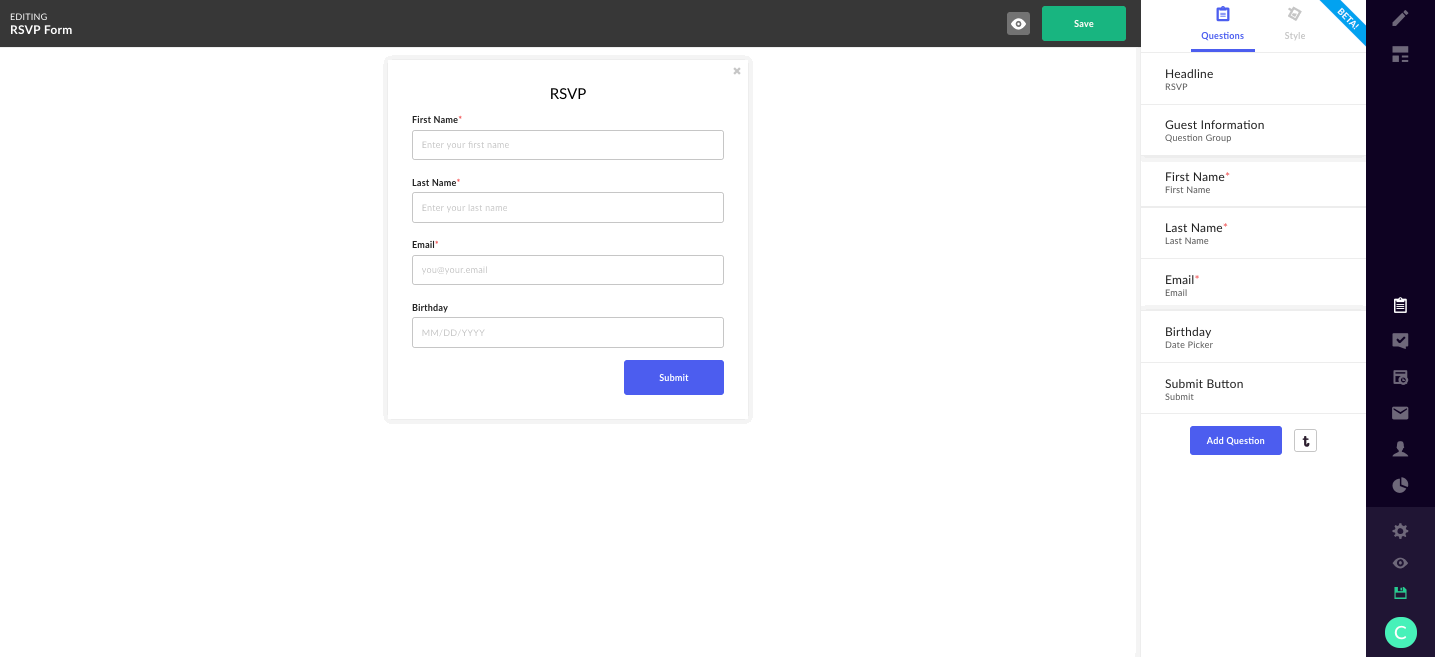 Required questions will be marked with a red asterisk in the form.
If you'd like to delete a field:
1. Hover over the question name.
2. Click the trashcan icon that appears on the right.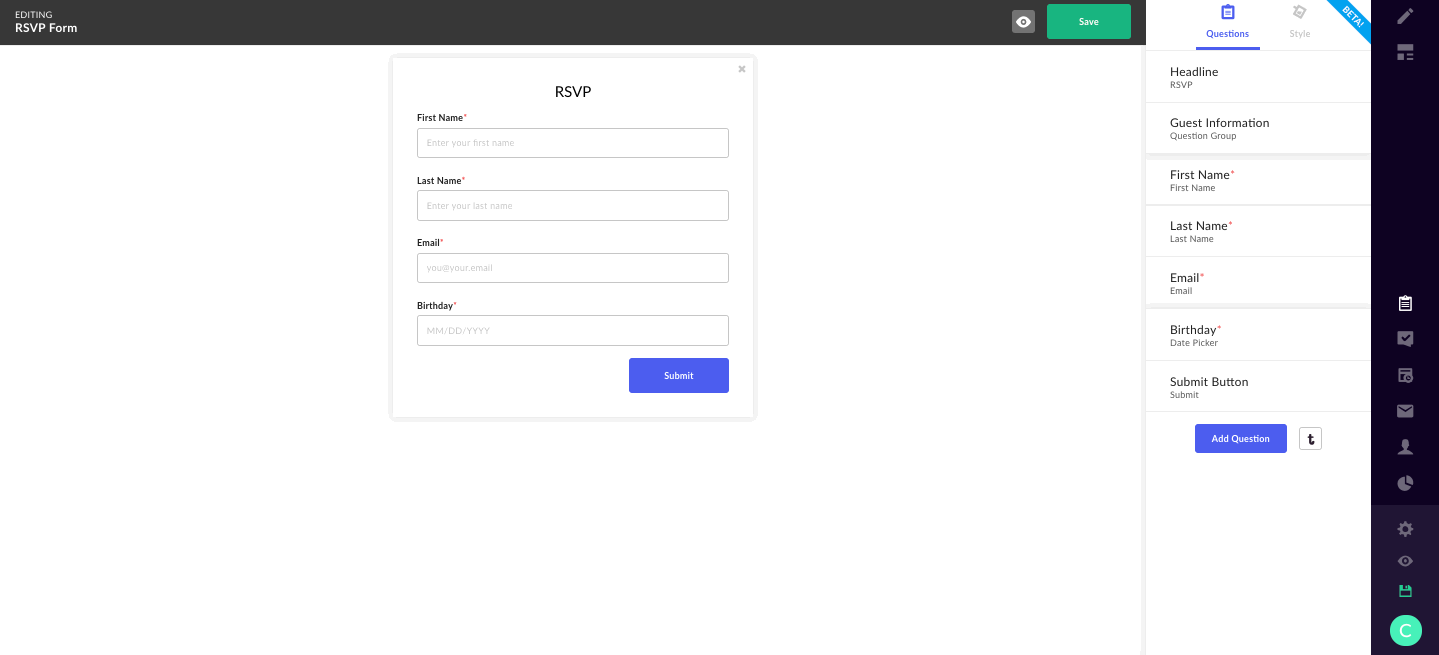 To re-order your questions, just hover to the left of the question's name in your layout tree. Click and drag the question to the desired place: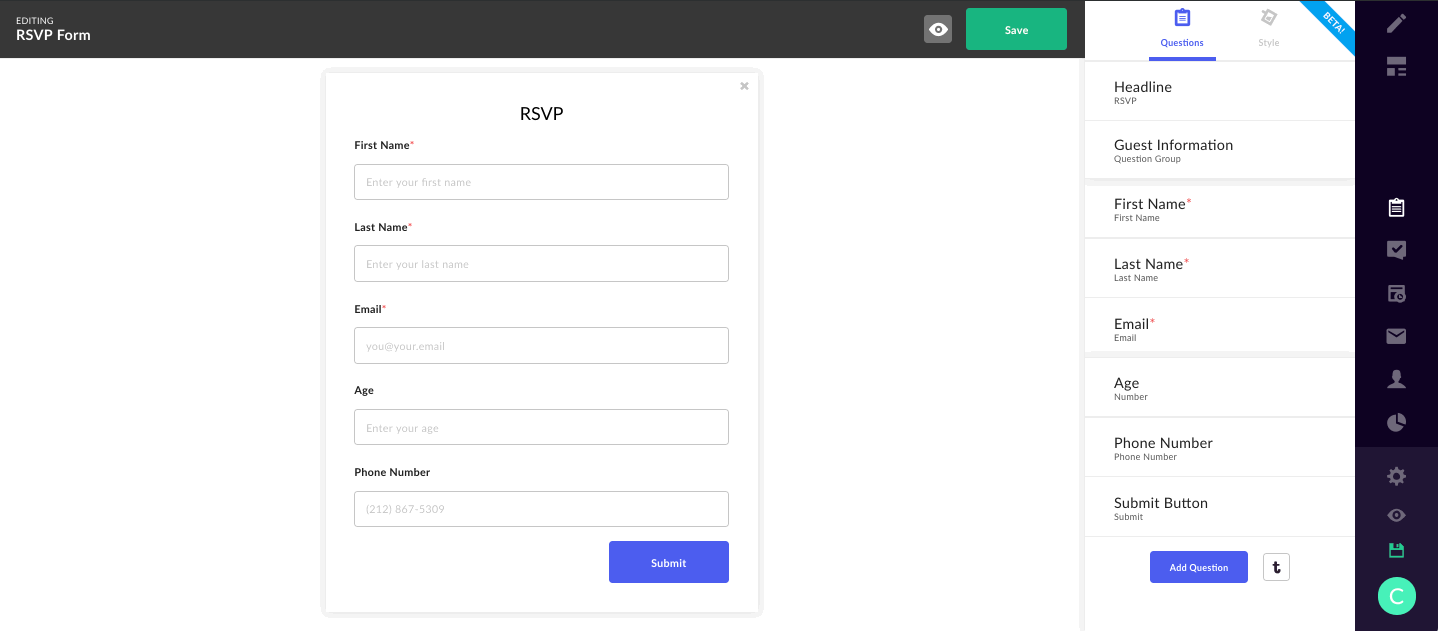 Saving Questions Enterprise only
Tired of asking the same things, over and over? Save your question for later to make it an easy-add! Just click the "Add to Form Template Library" button for the question, and you'll be able to access it in the "My Questions" section when clicking to add a new one: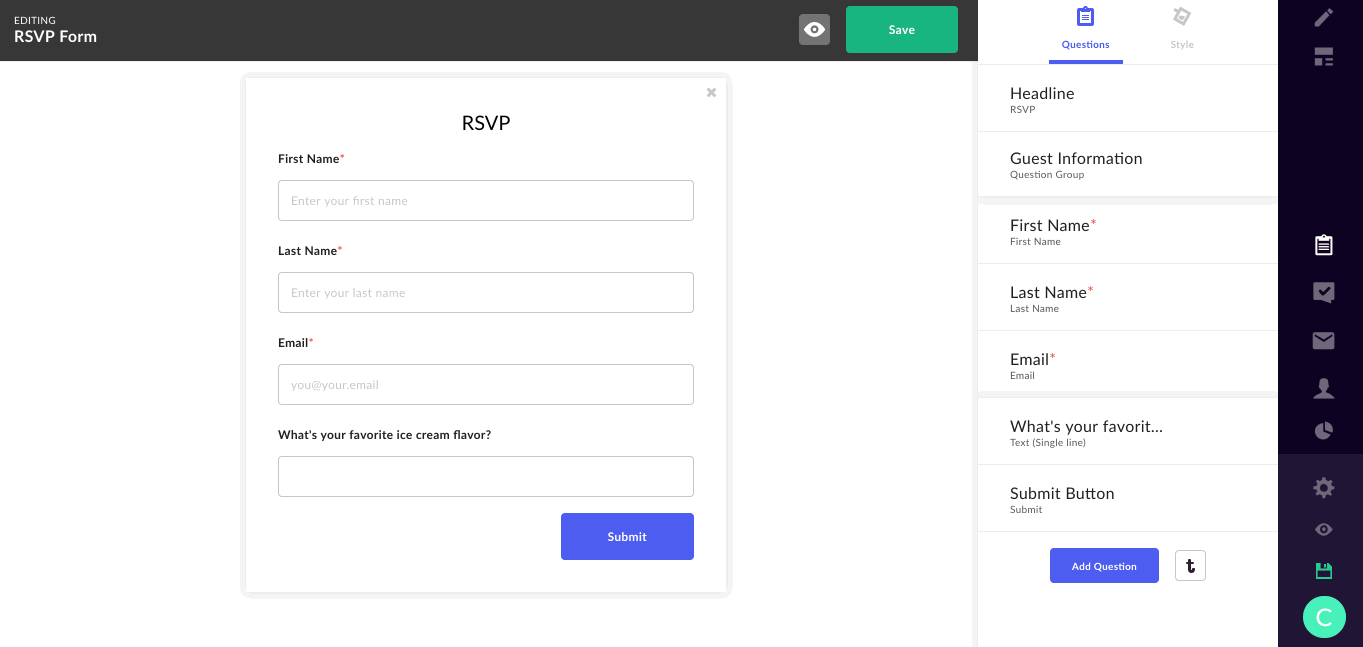 Adding Text
Got some explaining to do? You have a few options for adding additional text to your form.
Placeholder text: Give your guests a few suggestions right in the box they'll be typing in.
Helper text: Use this feature to attach an explanation to a specific question.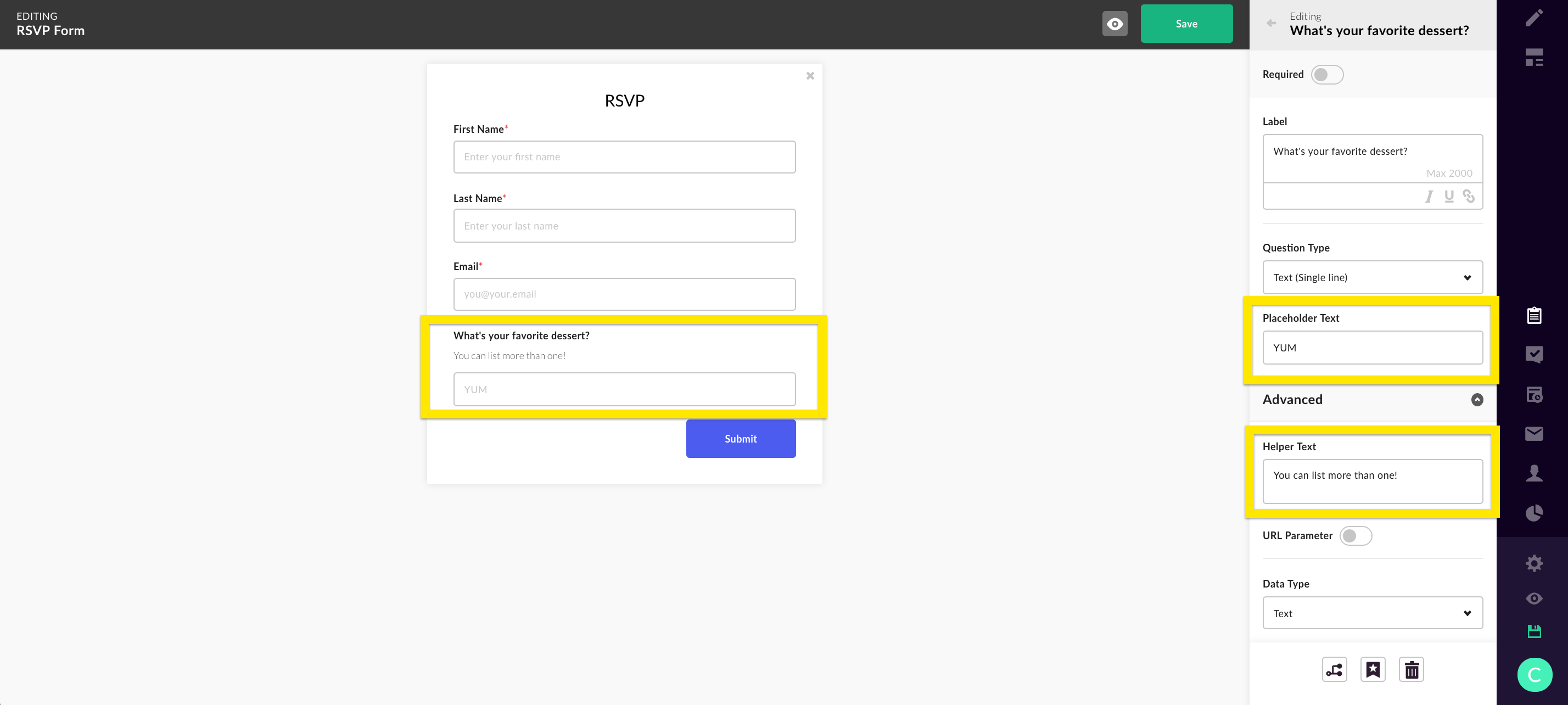 Text element: Click the "t" icon at the bottom of your form to add a closing line.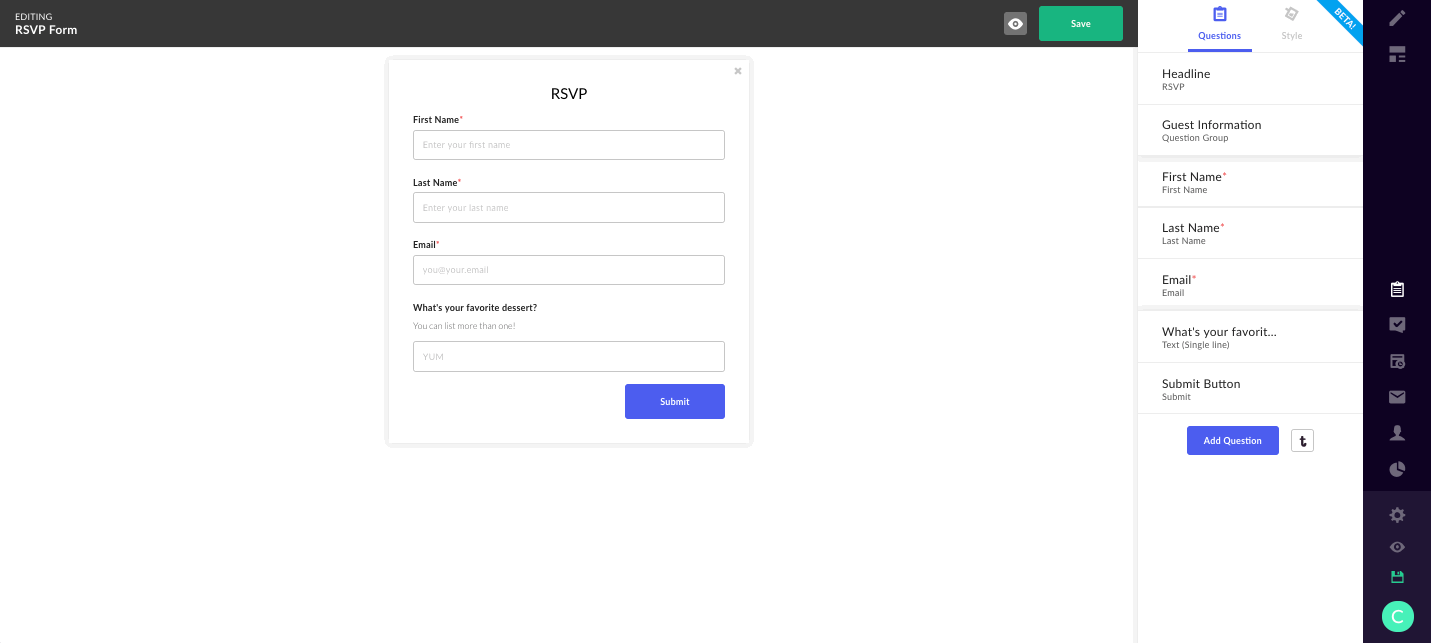 To edit any text styles, use the RTE toolbar located below each individual question. Highlight text to italicize, bold, underline, and hyperlink.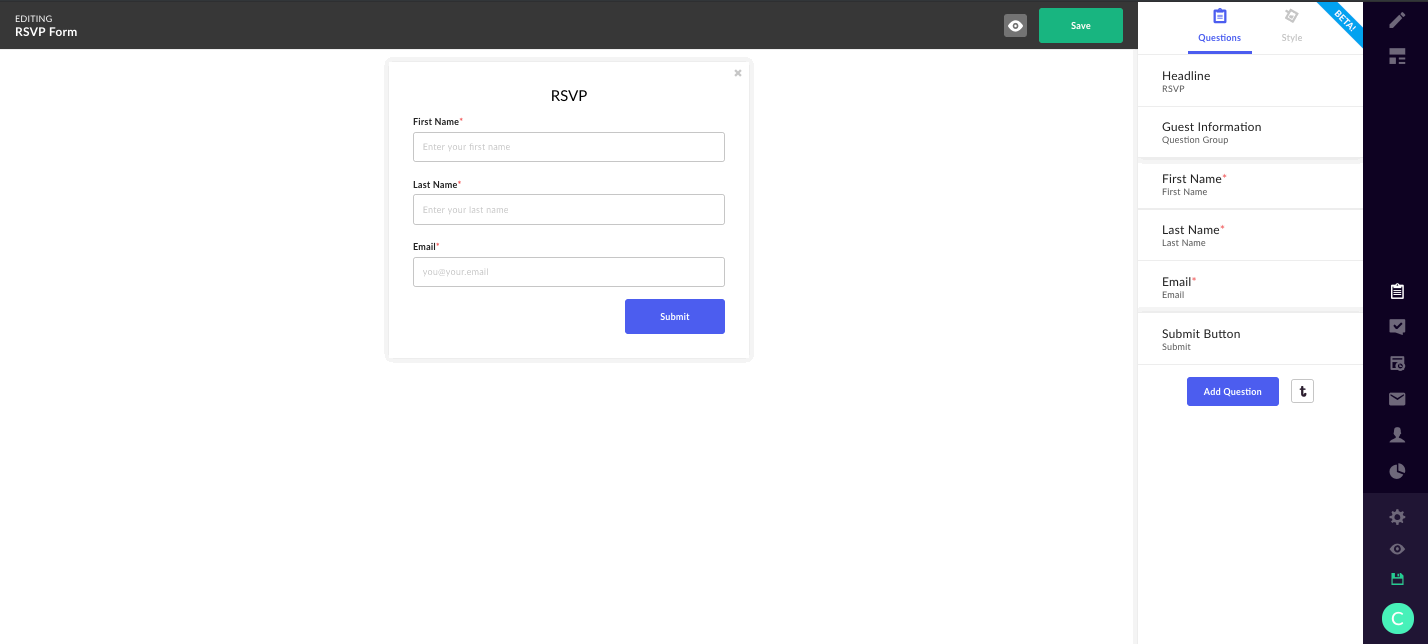 Form Headline
To edit the headline of your form:
1. Click on the Headline section at top of the form layout.
2. Hit Save at the top.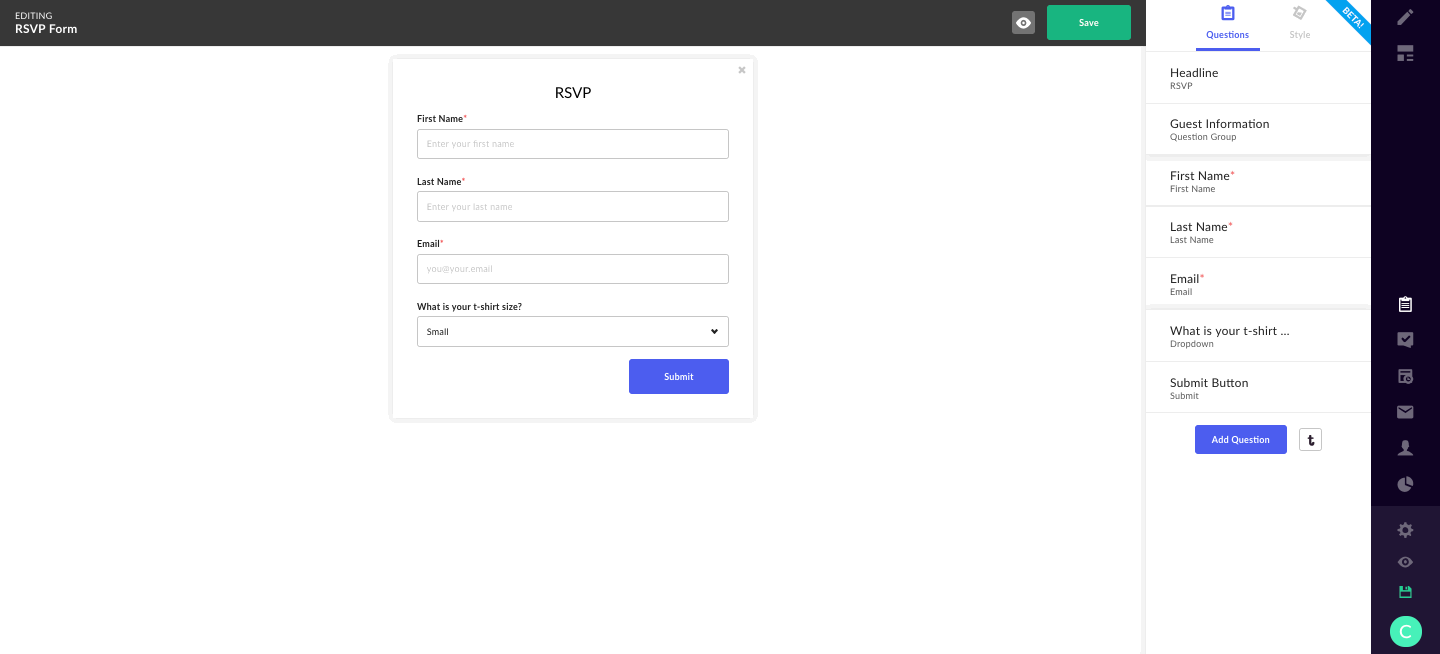 Response Limits Enterprise Only
Hosts can set limits on questions with the Dropdown, Multi-checkbox, and Radio (Multiple choice, single-answer) response types. A response limit limits the number of times a guests can choose an answer, which comes in handy if you've got limited resources, such as t-shirts in specific sizes.
Here's how to set a limit:
1. Select the question you want to set the limit for, and make sure you choose either the Dropdown, Multi-checkbox, or Radio (Multiple choice, single-answer) response type.
2. Enter the displayed answer options in the Options section. 
In this case, the response type is Dropdown, and we're entering 3 choices: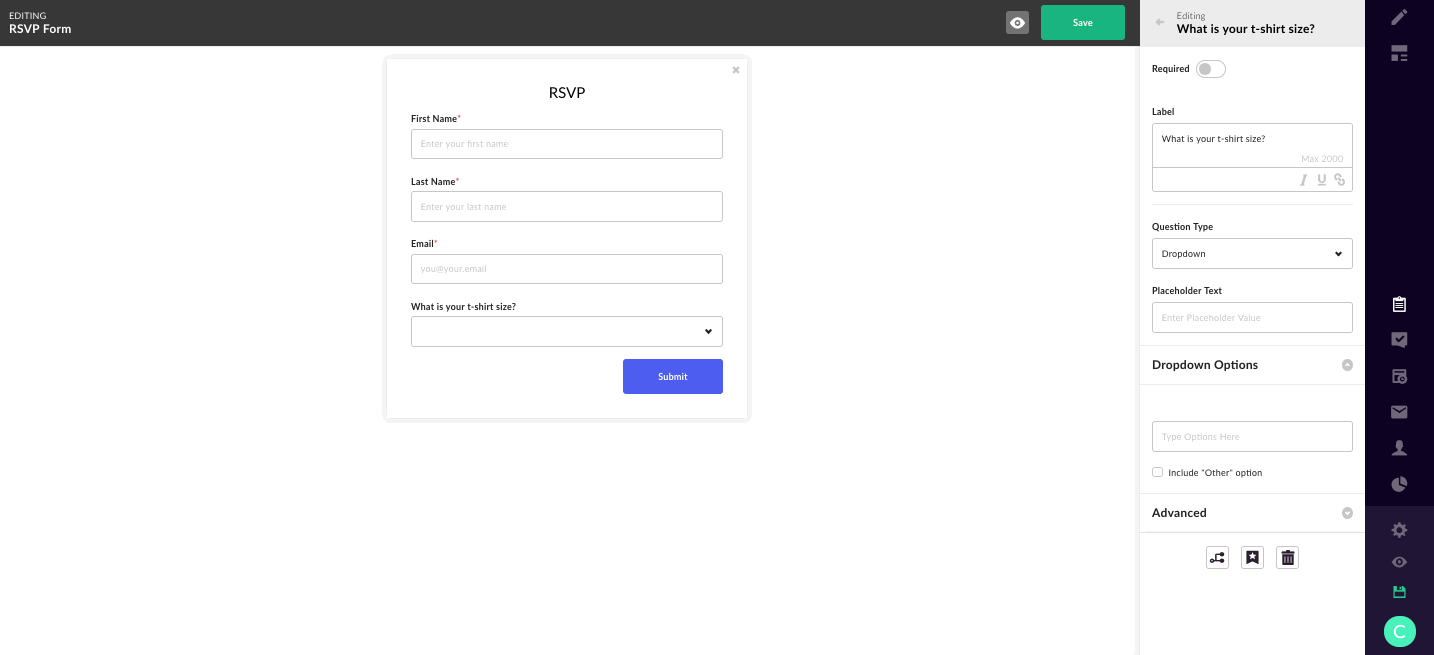 3. Click on the option and in the Response Limit input, enter a limit.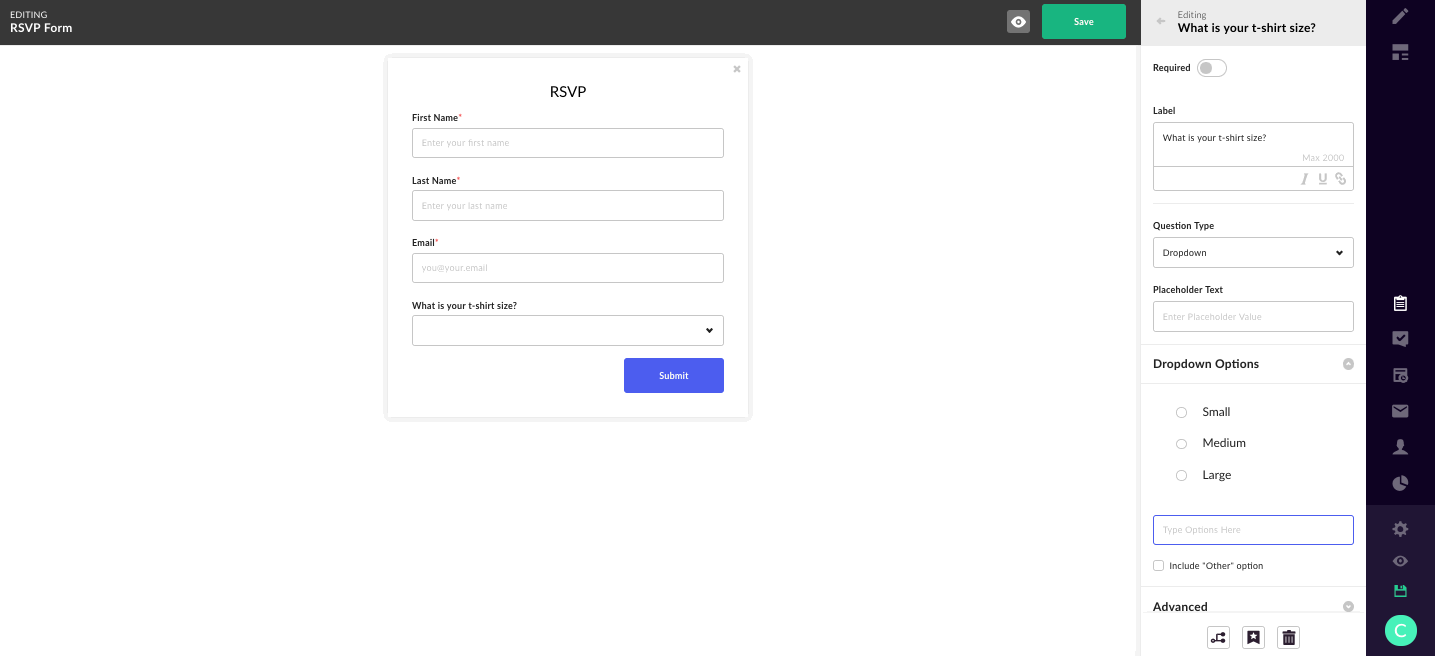 4. Once you've entered all your response limits, don't forget to save it at the top right corner!
In the Advanced section for a question with response limits, you have the option to display remaining capacities for guests or hide options once limits are reached: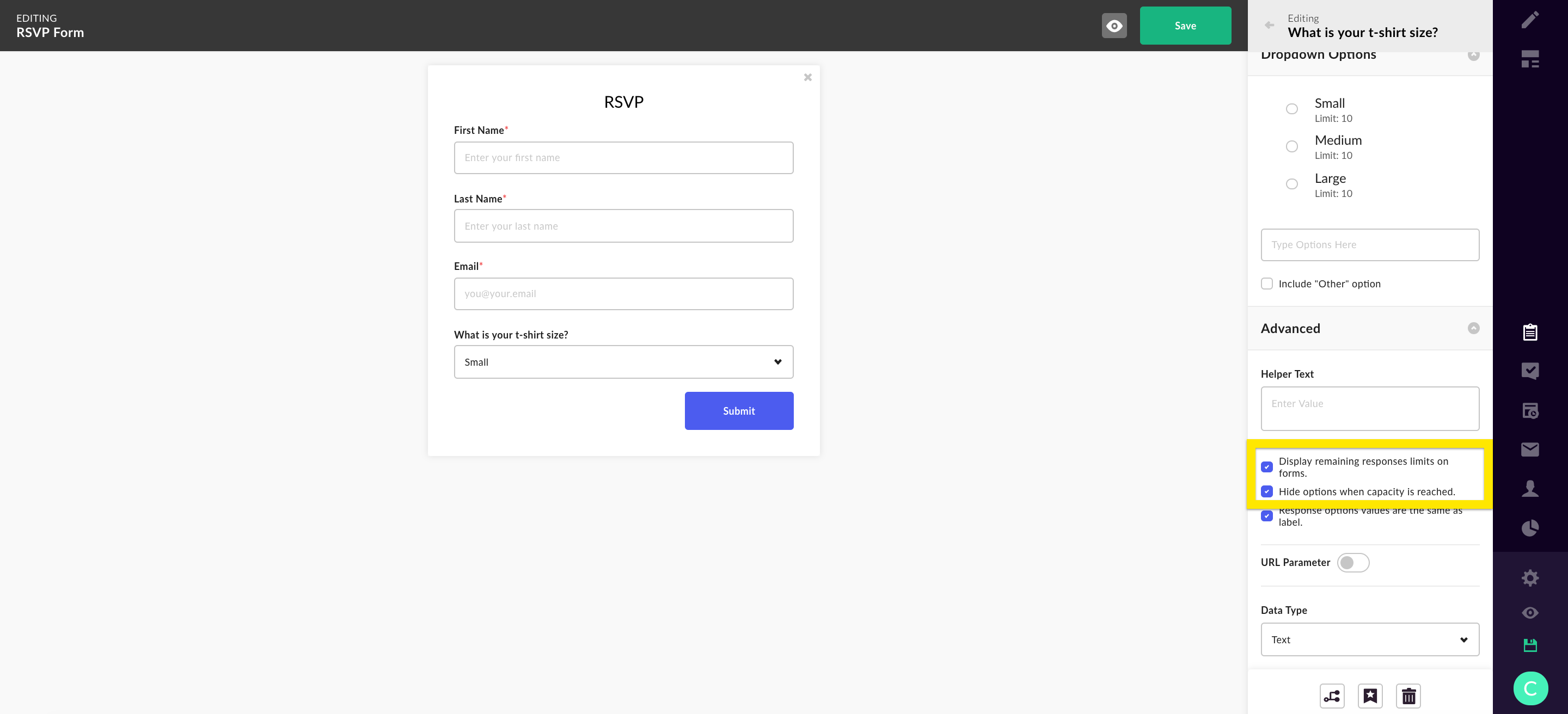 When guests fill out a question with remaining responses displayed, they'll be able to see how many of their desired selection are still available. When a response hits its limit, it is disabled and the guest can no longer choose it: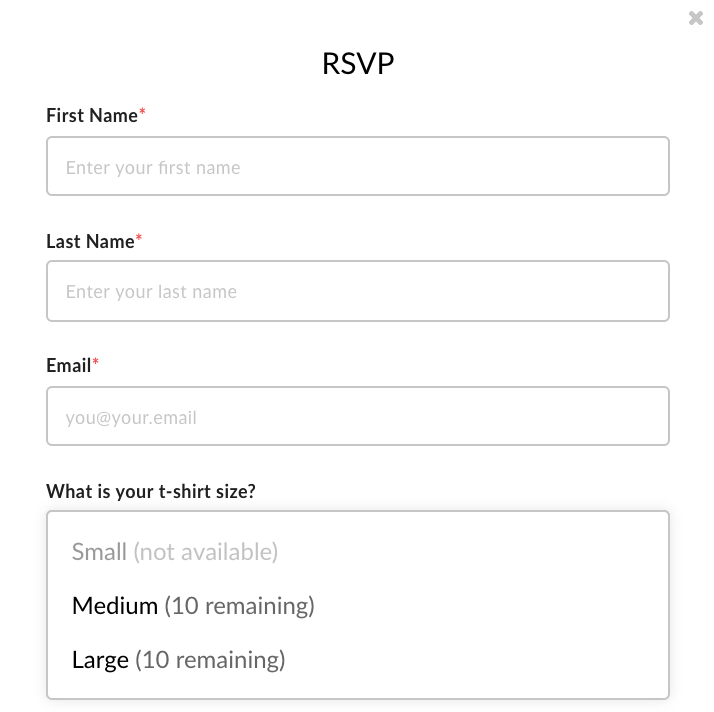 Looking to add style? With our Enterprise license, you have the ability to customize the look of your form. Just head to the Style Tab: