How do I add confirmed attendees to a ticketed event? Follow
Anyone who has organized a ticketed event knows there are always people — or groups of people — who need tickets but don't actually have to pay for them. #VIPLIFE
Splash makes it easy for you to comp tickets, either for individual guests or full guest lists.
To hook up a single person with a free ticket:

1. Open your ticketed event's RSVP tab.
2. Click the Add New Attendee button.

3. Enter the attendee's name, email address, and the quantity of each ticket you'd like to send.
4. Hitting the Add to List button completes the process; check the appropriately named box to email the guest the ticket(s) and confirmation email.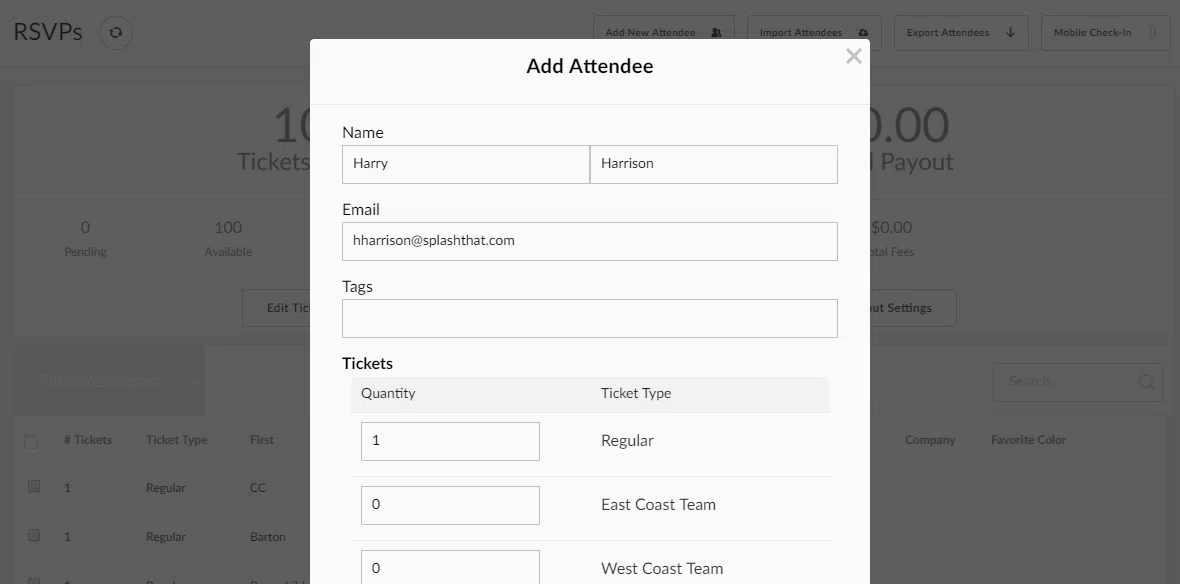 Note: Before providing tickets to individual or groups of attendees, it's always a good idea to head into your Tickets tab to make sure there is an adequate number of tickets available. 
Importing Confirmed Guests 
Before you get started, please note:
All ticket settings on your event apply to imports. You cannot add guests to Deleted or Sold Out ticket types. Make sure to set the ticket to on sale and increase the quantity before importing!
You can only run an attendee import for one ticket type at a time. So, if you need to comp tickets across multiple ticket types, you'll have to prepare separate sheets.
Duplicate email addresses will be removed and only added once. Looking to grant multiple tickets? Make sure you fill out the Quantity column.
If you have Limit One Order per Email turned on, new tickets will not be added for existing emails.
To hook up multiple people with free tickets: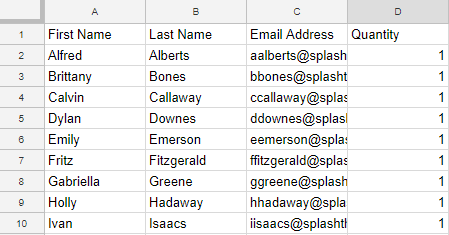 1. Prepare a spreadsheet (in CSV format) of guests you'd like to send tickets to, making sure to label the columns First Name, Last Name, Email, and Quantity.
2. Head to the event's RSVPs tab.
3. Click the Import Attendees button.

4. Select the ticket type you'd like to comp the tickets for.


5. Upload your CSV and map your spreadsheet fields to the Splash columns.

6. After clicking the Import Rows button, check the appropriately named box to email the guests their ticket(s) and confirmation emails. Then, click the Yes button to complete the import.