How to Use the Theme Library Follow
In the world of Splash, themes are a holy grail feature that allow you to scale your event program. Think of a theme like a template for your program, complete with a page design, registration form, and collection of email templates that get your team up and running faster.
Themes can be created, updated, shared, and managed from your top-level Library. Just select the Themes tab or you can head straight to https://app.splashthat.com/library/themes.
All of the Themes you have created or you have access to can be found here - that is any event you've set as a theme or has been shared with you.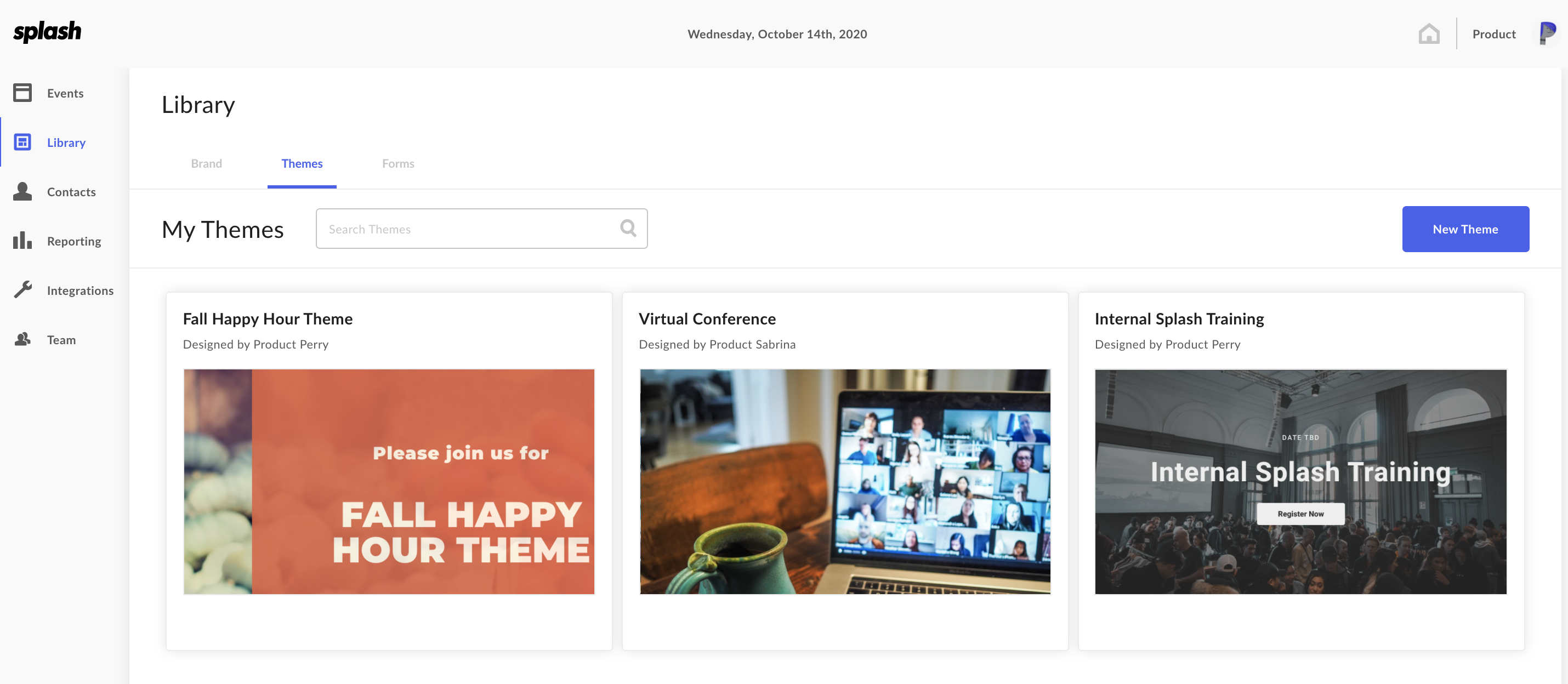 Creating Themes
Note: Theme creation is available with a paid Splash plan.
The Theme Library wouldn't be complete without being able to create a theme straight from here! Use the New Theme button to begin. This process is the same as creating an event page but instead sets the design as a theme upon creation.
If you need a list of the direct URLs for your team's custom themes or want to incorporate the Theme Library into your account, please reach out to your Customer Success Manager.
Managing the Theme Library
We have many options and tools to help you organize and utilize each of your templates. Hover over your theme to access Theme Options which includes:
Edit Theme
Create Event From Theme
Share Theme
Preview
Unset As Theme
Edit Theme
Make changes to your template using the Edit Theme option. When you've finished making your edits, be sure to follow the instructions here for updating your theme.
Create Event From Theme
Once you've put the final bow on your theme, this is a quick way of immediately creating an event page that harnesses all the powers of your theme!
Share Theme
Want to make sure your team is able to create events using a theme? Select Share Theme to bring up a list of your Sharing options. This can include individuals, groups, or the whole organization. Themes can help you determine which teams are working on which projects, and share accordingly!
Want to make sure the right people have the right access? Select Shared With and you'll get the complete list of anyone that has access to this Theme.
Read about the difference between sharing a theme and giving team members access to edit a theme here.
Preview
Take a quick look at your theme and make sure it's good to go!
Unset as Theme
Change your mind and want to revert a theme page back into an event page? You can turn the theme back into a normal event page, and use it to invite guests again, by unsetting it as a theme. This page will now transfer out of your Theme Library and into your Events Dashboard.