How do I find themes in my Events Dashboard?
To locate all of your Splash pages that are custom themes, you'll need to use event page tags. 
1. Head to the Splash page that you've created as a theme. If you need a list of the URLs for your team's starter themes, please reach out to your Customer Success Manager.
2. Open the Settings tab on your toolbar.
3. Add tag that identifies the theme page.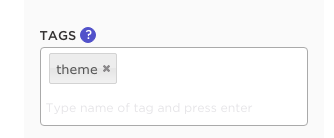 4. From your Events Dashboard, click on the Tags filter to sort by your event page tags - and now, your themes.