How do I view all guests with a specific status (e.g. awaiting reply, attending, checked in)? Follow
Guests statuses can be filtered within the event guest list.
Here's how:
1. Head to the Guests tab on your event page's editing toolbar.
2. Check out the Status column to the left of your Guests tab. Status options include attending, checked in, awaiting reply, not attending, waitlist, and no status. Each guest can only have one status at any given time.
3. Click on the option that you'd like to view, and your guest list will filter to show only guests with the selected status.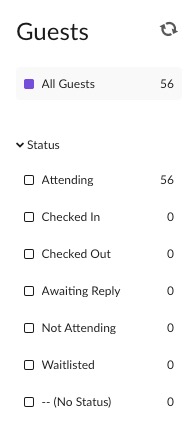 4. Click on another status option to expand your guest results to include multiple statuses.
5. To view all of your guests, select the All Guests button above the Status column.