How do I change the location on my map block? Follow
Need to show a meeting point before or after the event? Want to include locations for pit stops throughout the night? Just noticing that the location displayed within the map on your landing page is incorrect? This is the article for you!
First, check out our 1-minute walkthrough to map troubleshooting:
With the "Use Event Venue" option, the Mapbox element on page will be perfectly linked to your events venue.
For best practice, make sure you're doing these things:
An event must have a location that is generated from the Update Address option



Our maps block is connected directly to information stored in Google Maps, so as a best practice, we recommend typing the exact address into the maps field (as opposed to the location's title, e.g. "San Jose Convention Center") and then selecting an option that populates in that field.

An address must be in the Location Address line if "Use Event Venue" is selected



See it in action here:

What if I want to display multiple maps on my page?
Adding multiple map blocks can help your guests know where to go when, but you'll want to unlink those additional locations from the Settings tab. If you want the map and Location to be separate, there should be no address in the Address line in the Settings, and "Use Event Venue" is not selected
1. Hover over the block with the Map.
2. Click the Mapbox option that appears.
3. Click into the current location listed under Map Address.
4. Start typing in your new address, select one of the results, and click Save.
The new location will be shown on the map but will not update the dynamic location settings for your event.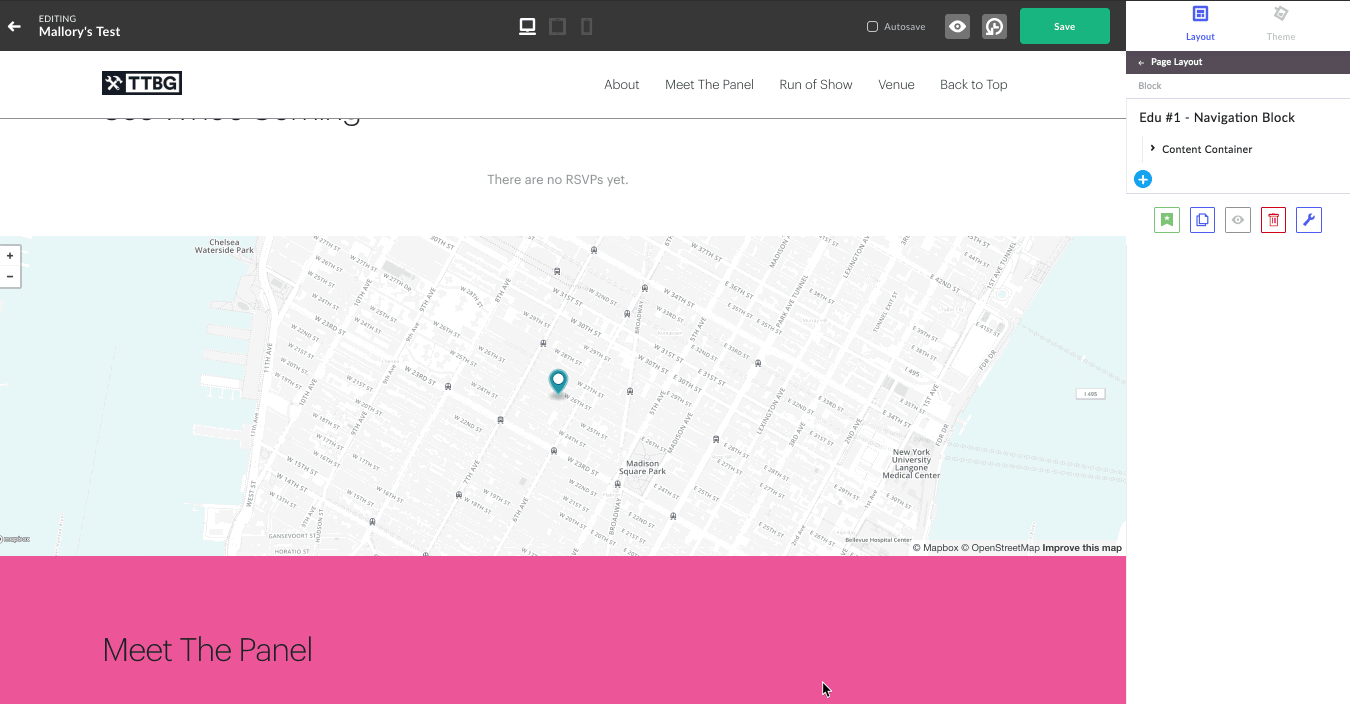 If you've used the Update Address option and find the Map Block is still unlinked from your Settings, we recommend adding a new Mapbox element in its place. Reach out to our team and we can check to be sure your custom themes are updated, too!