Do you want to add a personal touch to your emails? Every email can start out with your guest's name and pull all of your event information dynamically from your event settings. 
Why use these tags? Make it easy on yourself! Design your email so that it can be used again and again, with minimal changes.
Within the body of your email, in any email's text element, or the subject line of your email, you can add any of the following dynamic tags in this format: [tag]. Remember, tags are case sensitive! Make sure that all letters are lower case and be sure to include the brackets.
* This feature is currently available in emails you create and send, but not automated emails from Splash (i.e. confirmation emails).
Guest Information Tags:
[email] = e.g. max@splashthat.com
[first_name] = e.g. Max
[last_name]= e.g. The Dog
[full_name] = e.g. Max the Dog
[guest_company] = e.g. Splash
[guest_title]= e.g. Chief of Hospitality, Entertainment, and Wellness
Event Information Tags:
[domain] = Event Domain
[title] = Title of Event
[event_url] = Event URL
[event_year] = 2015
[event_date] = Day of Week, Month Day, e.g. Saturday, February 20
[event_time] = e.g. 10:00 - 2:00 PM EST
[event_date_short] = e.g. Feb 19
[event_time_short] = e.g. 10AM to 2PM
[event_venue] = Venue and Address
[event_venue_name] = Location Name
[event_address] = Address
[event_city] = City
[event_state] = State
[event_zipcode] = ZIP
[event_country] = United States
For advanced date formatting, follow:
[event_start_time/YM, d g:i a] = e.g. 2018Feb, 20 7:00 pm
[event_end_time/YM, d g:i a] = e.g. 2018Feb, 20 10:00 pm
[event_start_time/M] = e.g. Feb
[event_end_time/M] = e.g. Feb
[event_start_time/Y] = e.g. 2018
[event_end_time/Y] = e.g.
[event_start_time/y/m] = e.g. 18/02
Note: If your event is TBD or you use an event end date or time tag without an event end date, the text will appear as invalid. Fallback values added for advanced date formats do not populate in test emails at this time.
RSVP Information Tags (Confirmation Emails ONLY):
*Note: The below tags will not pull in for emails that have been created and sent from the Email tab. These tags are only compatible with confirmation emails sent upon RSVP or re-sent through the Guests tab. 
[rsvp_status] = Guest Status. e.g. Yes
[guest_names] = Names of all Guests submitted with RSVP, e.g. Jon Snow, Dany Targ
[guest_emails] = Emails of all Guests submitted with RSVP, e.g. jon.snow@westgmail.com, dany@dragonsrock.com
[number_of_guests] = Number of all Guests submitted with RSVP, e.g. 2
[custom_field_#] = Guest answers to custom questions from the form (If this tag is used in an Reminder email, it will not populate and will appear as blank.)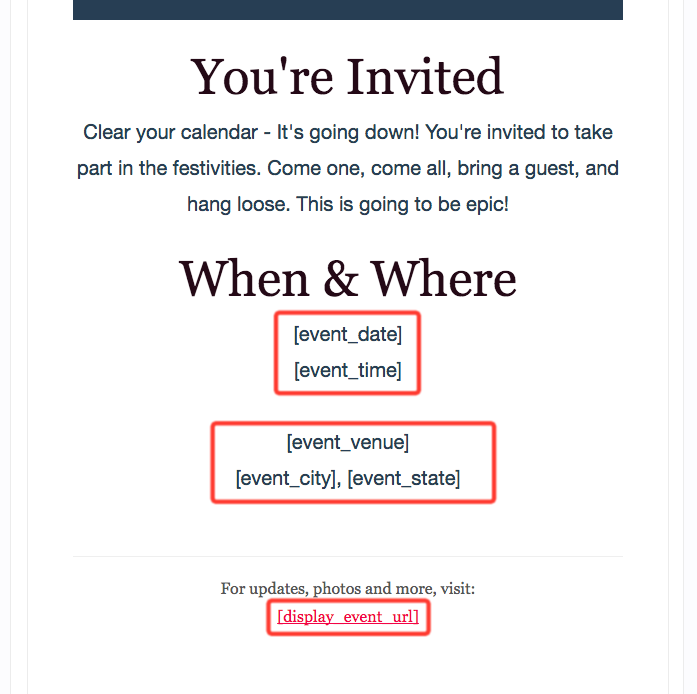 You can also view these personalization tags within the email sender. Just click on View Personalization Tags in the Advanced Options box. 
Don't have names or information for all your guests? If you want to still use a dynamic tag in an email, you can create what's called a fallback value.
Instead, format your tags as follows: [first_name|Insert fall back text here]
Example: [first_name|Hey there!] = Max OR Hey there!
As a heads-up for any dynamic tags that can be partially full, the information available will be shown. If every value is empty, it will display the fallback value.