How do I duplicate an event page?
We definitely allow you to design a killer event page and use it again.
But first, know when to duplicate!
Duplicating is awesome for one-time use. Why? So you can take advantage of our most up-to-date design technology including our newest themes, blocks, and elements. 
Heads up - we only allow duplicating a page that was originally created after April 1, 2015. We've made some major updates to Splash since then, and to use that sweet, sleek, new tech, you'll need a brand new page.
If you're operating with Splash for Business, we recommend saving the page as a theme instead so you can create unlimited pages from this design. Themes are incredibly powerful as custom RSVP forms, ticket types, and email templates on your theme page will carry over to new pages created from it. Plus all event details will be dynamically applied throughout the new page. Talk about cutting down building time!
Pro tip: Before you save an active event page as a new theme (a template), we recommend duplicating it first THEN saving the copy as the theme. This prevents a live event page from doubling as a template.
How to duplicate a Splash page:
Check out the steps to duplicate your page below:
1. Head straight to the event page you'd like to duplicate.
2. Click on the Event Settings tab from the event page toolbar.
3. In the top right, click the Duplicate Page button.


4. Enter the title and domain for the new event page.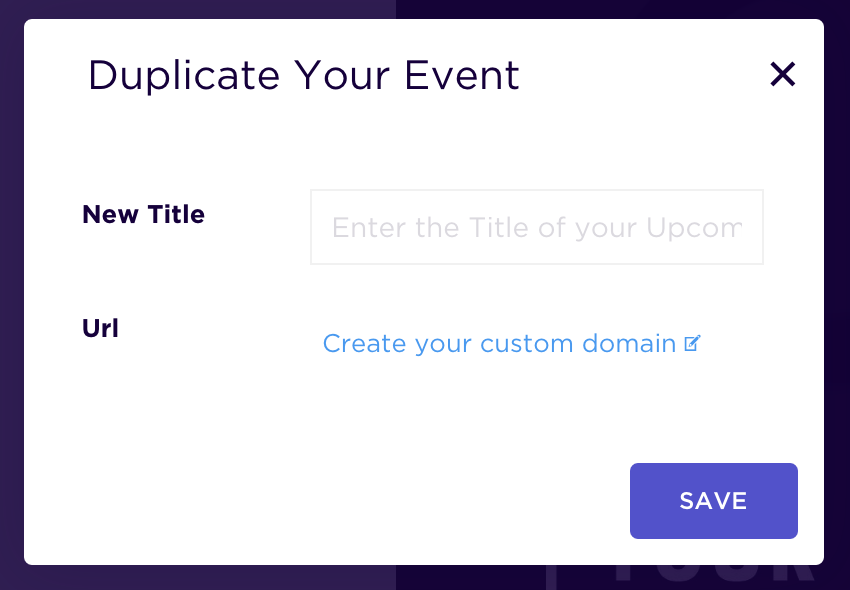 5. Save and your new page will be created.
Looking to use the same domain name? Check out the steps here.
Important to keep in mind when duplicating:
Event details do not update dynamically and you must customize or update every piece of our tool with your new event information!
This includes:
Your Settings Tab - including Date and Time, Venue, Metadata, Share Buttons Messaging, etc.
Any custom ticket start and end times
Custom confirmation messaging
Also keep in mind that if you or the Splash Professional Service team added custom CSS, that CSS will carry over from both your event page and your theme (instead of just your theme).
And lastly, if custom JavaScript was added to your original page, say you set up a Facebook tracking pixel (or if Splash hooked you up with some custom functionality), that Javascript does not carry over to your duplicated page.