8/29/17 - A sleek new way to style dynamic date and venue elements Follow
Here at Splash we pride ourselves off our living, breathing event pages. 
And one of the most crucial components of these pages? Our dynamic elements - two of the most popular being our date and venue elements. These elements dynamically (key word here!) pull information from the Date, Time, and Venue inputs in your Settings tab.
This week, we're introducing a brand new way of styling these dynamic elements, making it easy to achieve the formatting you need.
Because sometimes the default formatting on a Splash theme not match the dream vision you have for your event page! Let's take a dive into the brand new editor:
Accessing the editor: Within the Layout tab, click on the element to access its Format Date and Time or Format Venue button.
Change the format of each component: You'll notice each piece of your date and time (or venue) is separated into its own segment. Clicking into each segment will display a dropdown where you're free to change the format!
Alter the interstitial text: You can also click into any pre-existing text to change the language:
Add additional detail: To add a new component, simply click the blue "+" sign at the end of your line
Easily switch around the order of your details: Simply click and drag each component for quick re-ordering!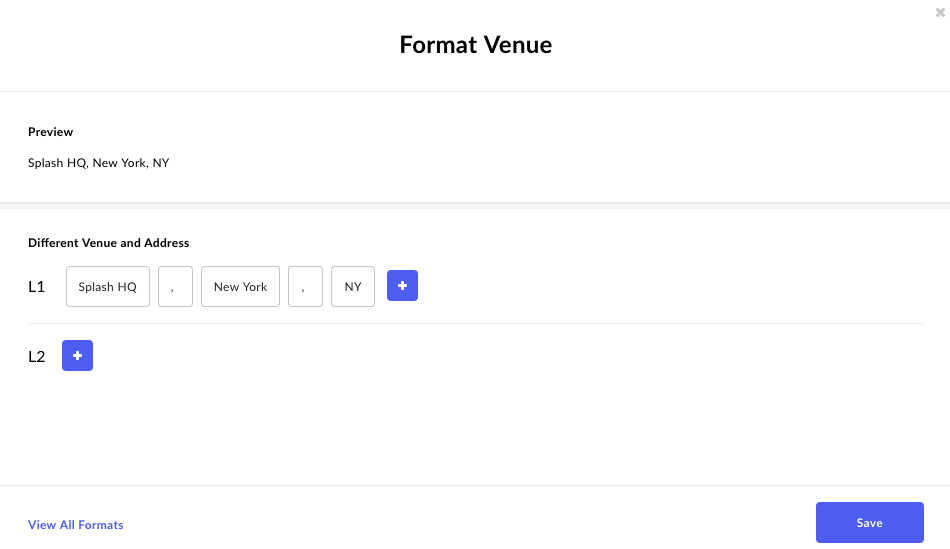 Separate your content: Feel like your line is getting a bit long? Pop into L2 to add components to a separate line.
Discard unnecessary details: Drag a component to the bottom of the editor window where a (nifty!) trashcan will appear and send your unwanted details into a faraway abyss
View All Formats 
At the bottom of your editor window, you'll notice a View All Formats prompt. For Date, you can style out how your dynamic element will appear in any given date format: single day, multi-day, and TBD.
Same thing for venue: You can program the formatting for when your events have a different venue and address, same venue and address, only city (with no venue or address), or if the location is completely TBD.
This becomes incredibly useful when creating themes in Splash - event page templates that can be used by you and your team again and again. In short: you're setting your future event pages up for maximum style success no matter what the date, time, or location is.