3. Navigating your list with Columns, Statuses, and Filters Follow
Guests will find their way onto your Guest List in (4) ways:
They register for your event
You add guests directly to your list
You send out an invitation or event email
They sync through one of your active integrations
The more information you collect or upload, the more sophisticated your list will become for the purposes of reporting and sending targeted email communication.
Achieving that sophistication is accomplished by using a particular set of simple tools: columns, statuses, and filters!

Columns
Columns hold the information associated with each guest on your list - either added by you or submitted by a guest during the registration process.
There are three quick actions you'll want to be aware of:
1. You can drag and drop columns into the order you want to view them
2. Clicking on the column header will sort the whole list ascending or descending
3. Just click the Columns button to select columns you'd like to view and hide



When you're in your Columns Manager, just use the checkboxes to hide or show columns in your guest list.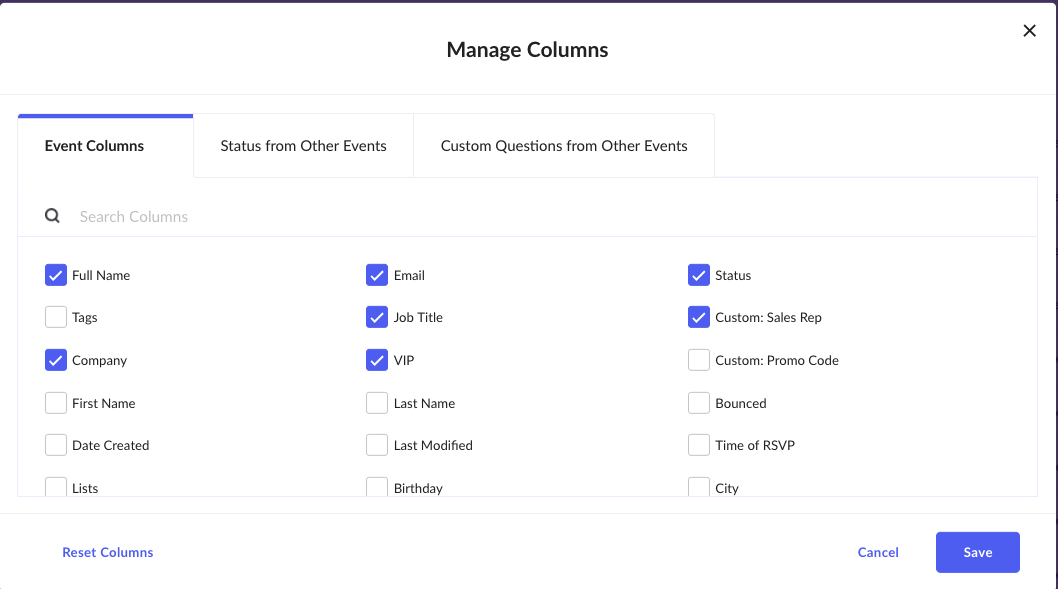 The Statuses from Other Events tab in the Columns Manager allows you to show what your guest's status was (i.e. Attending, Checked In, etc.) for any event you have previously managed.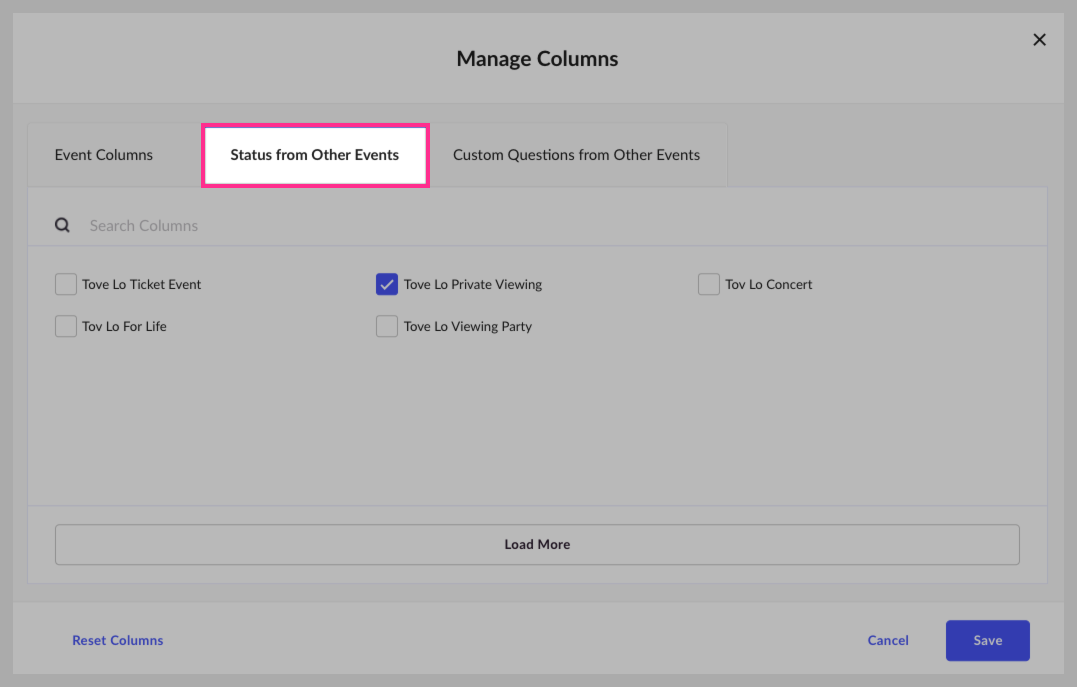 Check out the results below!
The Custom Questions from Other Events option allows you to reveal how your guests have responded to registration questions in the past.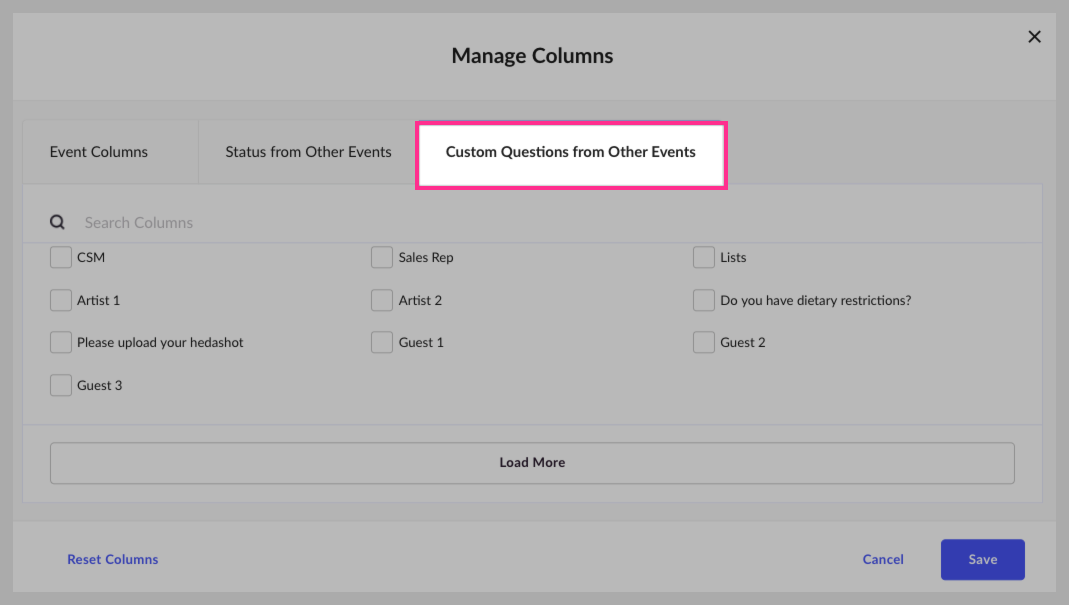 From your Guest List tab, you can either export all visible columns — the default setting — or export all columns from the event, including ones currently hidden.
Pretty simple, right? Columns are what you use to hide or show all your various bit of information about your guest list.
Statuses
Statuses represent where the guest is in the event's life cycle, ranging from "Added" to the list all the way through "Attending" and "Checked In."
Your statuses are the lifeblood of your guest list. Filtering by them is an essential process both for reporting purposes — "who's attending? from Company X" — and targeted email sending — "let's send a reminder to all VIPs who we haven't heard from yet."
Status filters are found to the left of your guest list - each status will show the number of guests with that status at any given time.

Statuses can also be revealed as a guest list column, making it available for exports.

When you filter by a status, you'll only see those guests in your list; the "viewing" count will also update.

You can also apply multiple status filters at once. In the example below, we can see there are 15 people with a status of either Attending or Waitlisted.


After you filter by a status, you can select that batch of people and launch right into the email sending process.

This makes it extremely easy to message the right segment of people whenever you'd like.
Side note: So, what's the difference between emailing guests by status from your Guest List versus emailing status "Quick Lists" in the Email Sender?
Guest List: The lists you select & email from your Guest List are static. If you schedule an email to 8 Attending guests for a week later, that email will only send to those 8 recipients.


Quick Lists: Your Quick Lists are

dynamic

. If you schedule an email to your Attending Quick List, it will send to the number of people who are attending at the time of send.
Filters
The application of filters is among the most powerful actions an event marketer can take in Splash.

Filters allow for:
Fast, sophisticated reporting
Precise, personalized email communication
Orderly processes during on-site check-in
Using a combination of attendee statuses, attendee information, and attendee history, Splash allows you to look at ultra precise guest list segments — in seconds.

To access Filters, just click the eponymous button in your Guest List tab: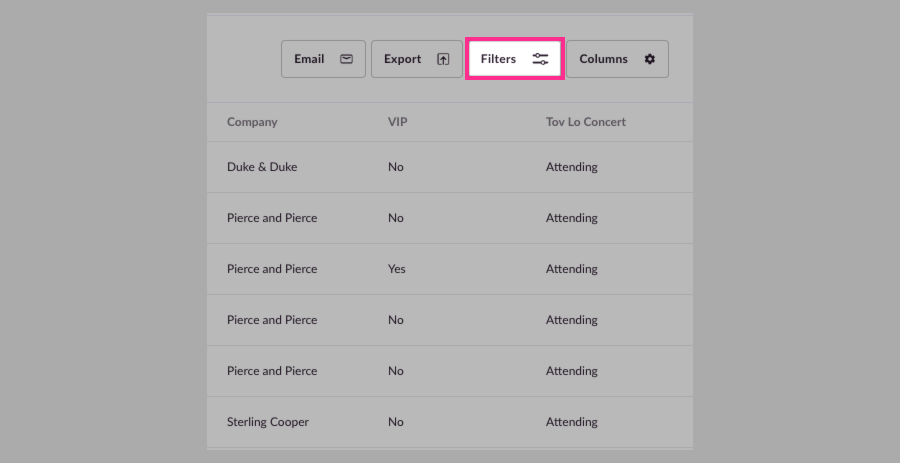 Behold a treasure trove of filtration options!
Below, we'll talk through what each of these options and when you might want to apply 'em.
The By Event Status option allows you to filter your guest list by how attendees engaged with any of your other events.

Hey, I wonder if anyone who checked into my Memorial Day event has RSVP'd for my Labor Day party?

This filter allows you to answer those questions!
The By Email Campaign option allows you to filter your guest list by ways in which guests engaged with the emails associated with your event.
Hey, I'd love to send a follow-up email to all guests who opened my invitation but haven't yet RSVP'd!

By filtering by Email Campaign → Invitation → Opened and then applying a secondary filter of Status → Awaiting Reply, you'd be able to quickly find and email this segment of your guest list!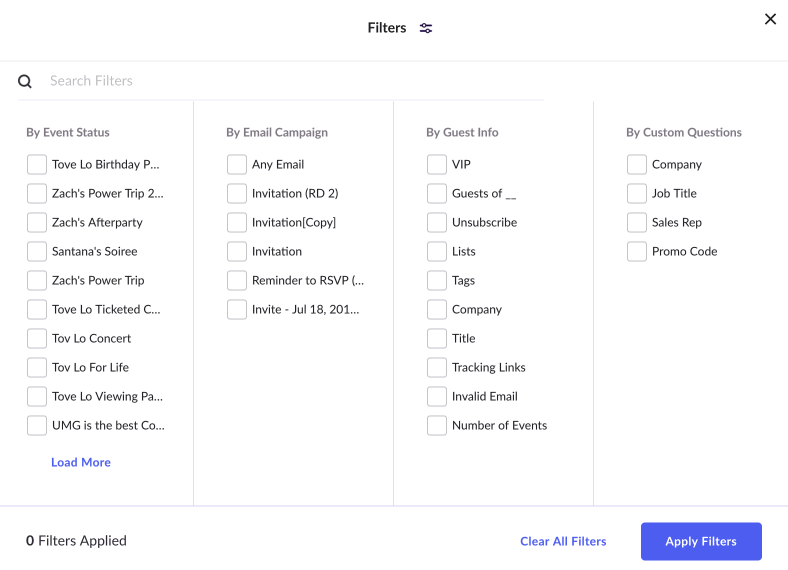 Filtering by Guest Info or Custom Question Responses are the two options that probably come to mind when one thinks about guest list filtering.
Notably, these options allow you to filter your list by:
1. Any bit of info submitted during the RSVP process (i.e. People who answered "chicken" to your menu question)

2. Any bit of information imported via a spreadsheet, including contact info (i.e. company, job title, etc) or custom fields (i.e. Sales Rep)

3. Lists, tags, tracking links, and statuses.

4. +1 information (main registrants or just guests of guests)
Here's a classic example of how filter your list by guests who have RSVP'd "yes" (if you look, you can see the Status filter is applied in the left sidebar) from the company Sterling Cooper.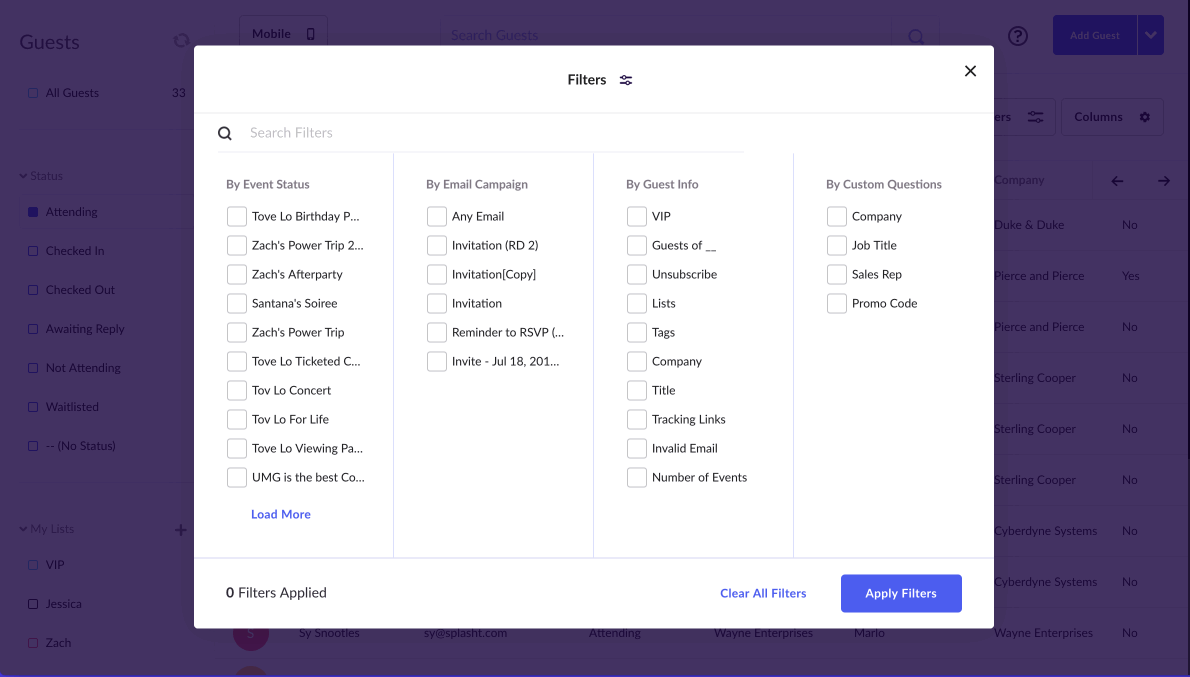 Here's a fun one: filtering by a custom field uploaded for "Sales Rep" - you can review how to upload custom fields in our Guest List Power Moves chapter.
The Guest Of option allows you to just look at primary RSVPs or +1s separately from each other.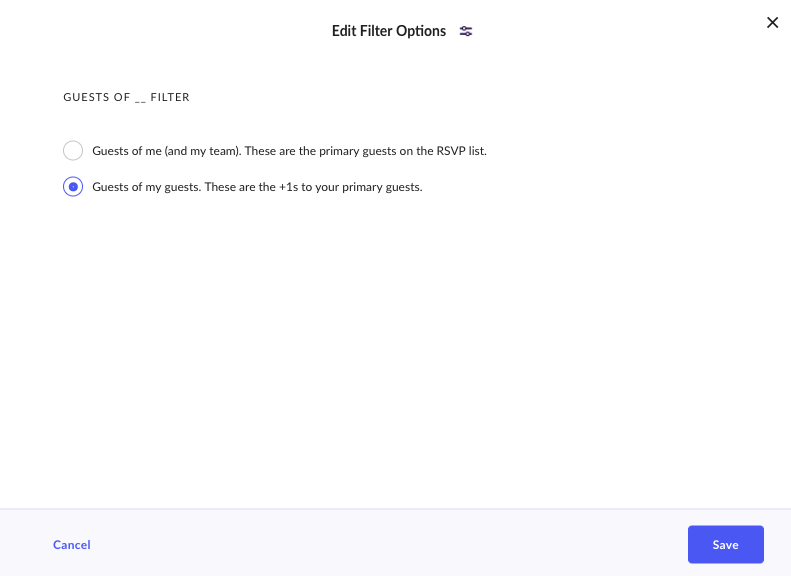 And finally, the Number of Events option allows you to view your guest list by how many times guests have engaged with your prior events.

Let's see how many people on my list have RSVP'd to 2+ more of my events.
--
Alright! We've uploaded some great guest info. And now you have a very particular set of skills — skills acquired through an incredibly informative article — that make you superior to almost every list manager you'll cross paths with.

Let's continue on and explore our tools for editing and further organizing attendees.