If you've designed an event in Splash before, odds are you have used or encountered one of our Navigation Blocks, which give your guests an easy way to jump to different sections of your page, easily view event information, and quickly RSVP or buy tickets.

When it comes to allowing users to easily navigate events on a hub, or Splash events calendar, we offer a hub-specific navigation.
Adding hub navigation
From inside your hub block, click to open up our element adder.
Click the Hubs folder.
Select Hub Nav.
Customizing the hub navigation
Mousing over your Hub Nav element will display a few options. We'll focus on Edit and Layout.
Clicking Edit will open up the Navigation Element window where you can customize the display names, arrangement, and behavior.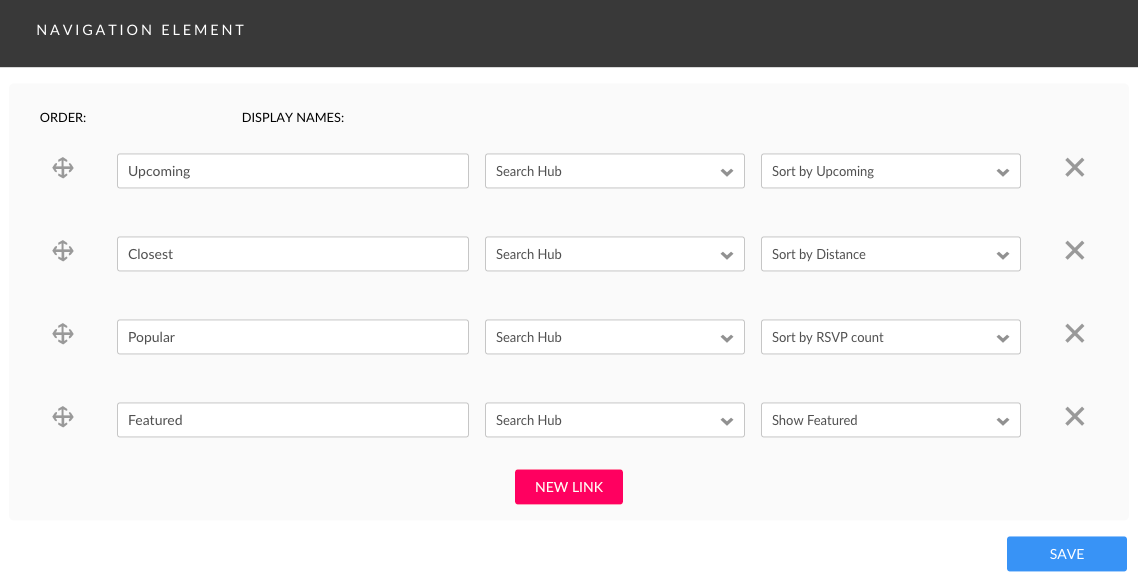 Your available actions include:
Sort by Upcoming: Sorts your hub by all upcoming events first.
Sort by Distance: Sorts your hub by all events within the closest proximity to your visitor's IP address first.

Heads up: Search by Distance will NOT work for external events or events that do not have an IP address that was added using a suggestion from Google Maps.

Sort by RSVP count: Sorts your hub by events with the highest amount of RSVPs first.
Show Featured: Displays only events marked as Featured.
Search Keywords: Displays only events with titles or descriptions that match the keyword you choose to enter:

Search Tags: Displays only events with the tag you specify: