Filtering and Sorting Hub Events Follow

Looking to create a calendar of specific types of events like those part of a program like SXSW? Or perhaps you just want a simple calendar of all upcoming events in a specific location to promote to your community. A hub, or Splash events calendar, that uses filters is your answer.
On this page
Locating filter and sort options
Hub events can be filtered, sorted, added, and removed from the Hub Management window.
There are two ways to get there:
Hover over your Hub element.
Click the Manage icon.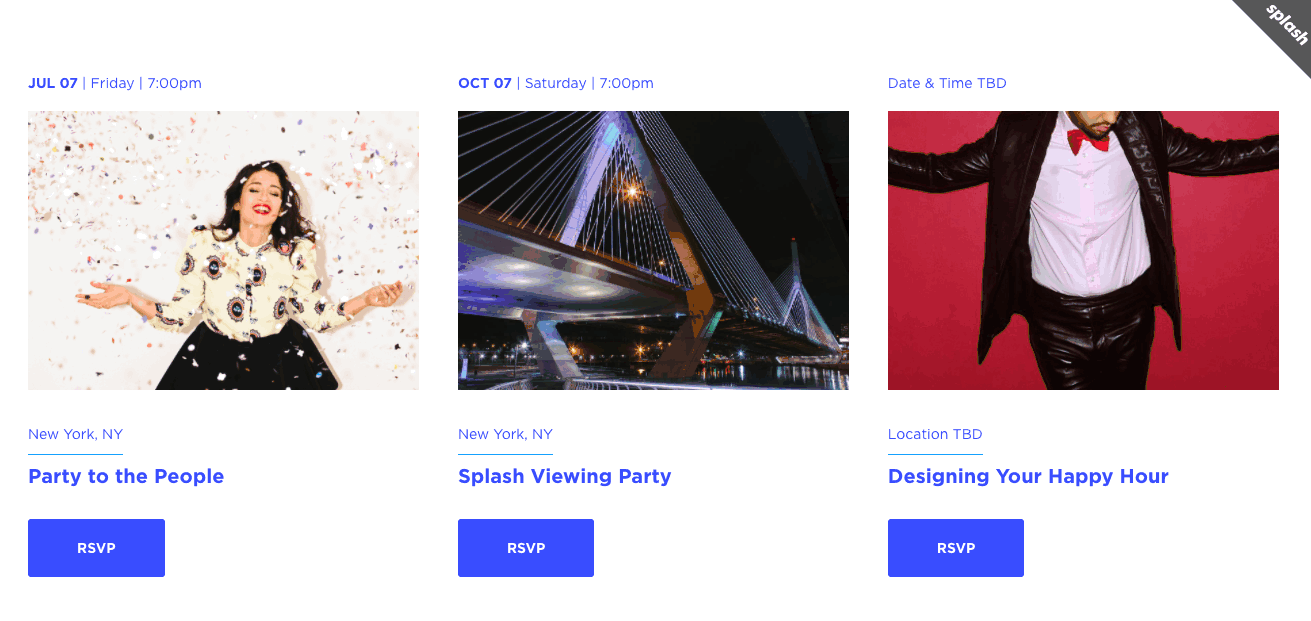 Or:
Navigate to the layout tree on the righthand corner.
Click into your Hub Block.
Click the Hub element.
Click Event Hub and select Manage Events.
Creating hub filters
Filters are a way to create criteria for what types of events should appear on your hub.

For example, let's say a hub's filter is set for Upcoming events only. The moment an event you listed on the hub is over, it will automatically be removed from the hub. No further management required!

You're able to filter the events in your hub by the following:
Date
Choose to display any combination of Upcoming, Ongoing, TBD, or Past events.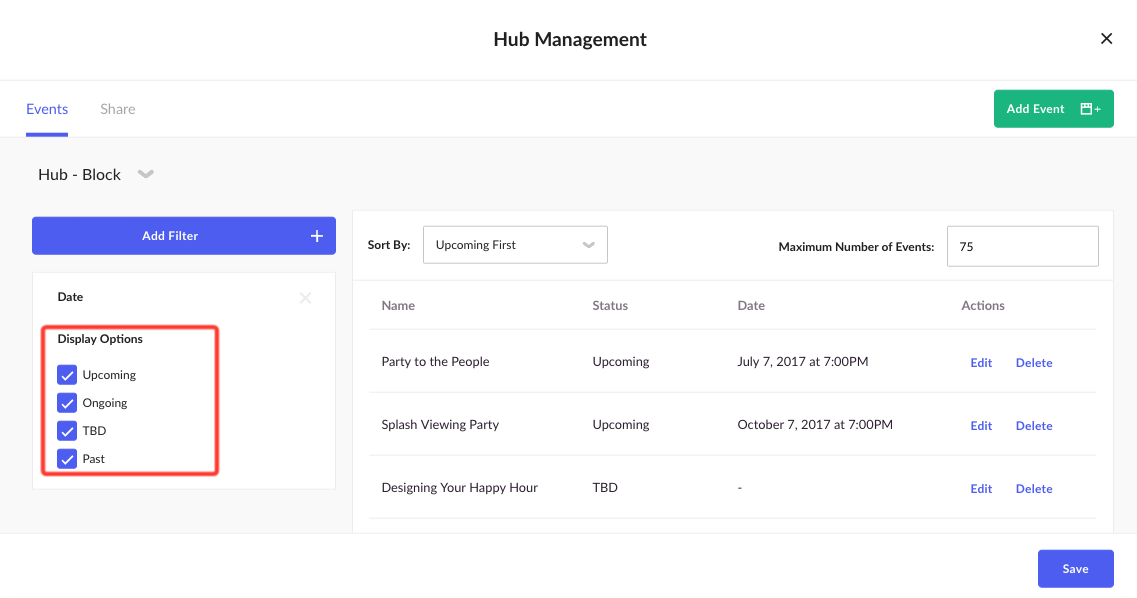 Featured
Choose to display only Featured events, Non-Featured Events, or all events regardless of Featured status.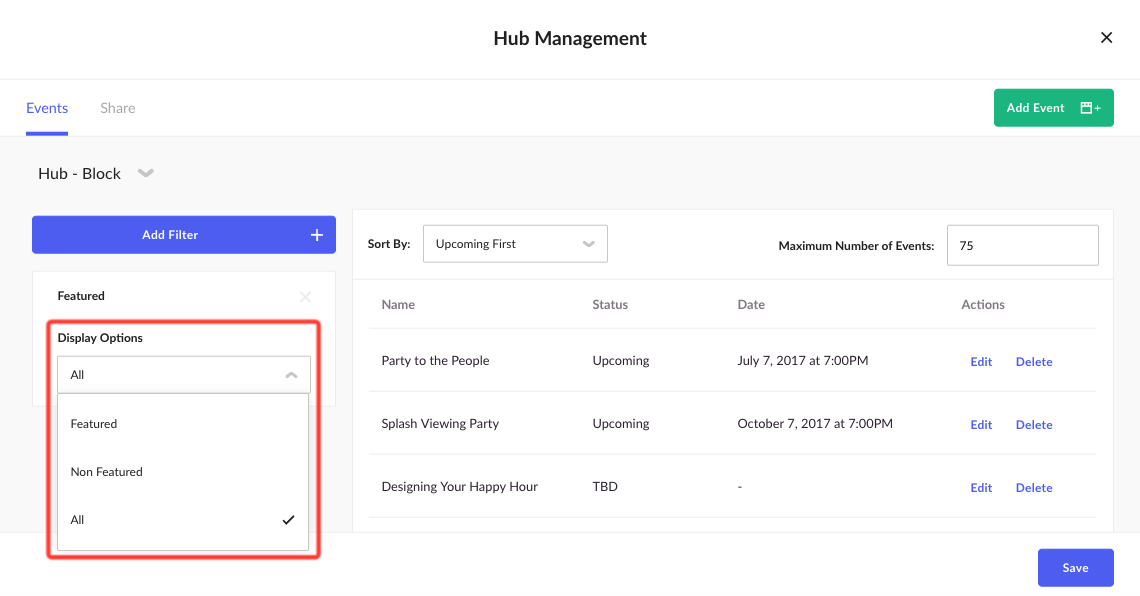 Distance
Choose to only display events within a specific mile range of a visitor's IP address. Talk about relevant!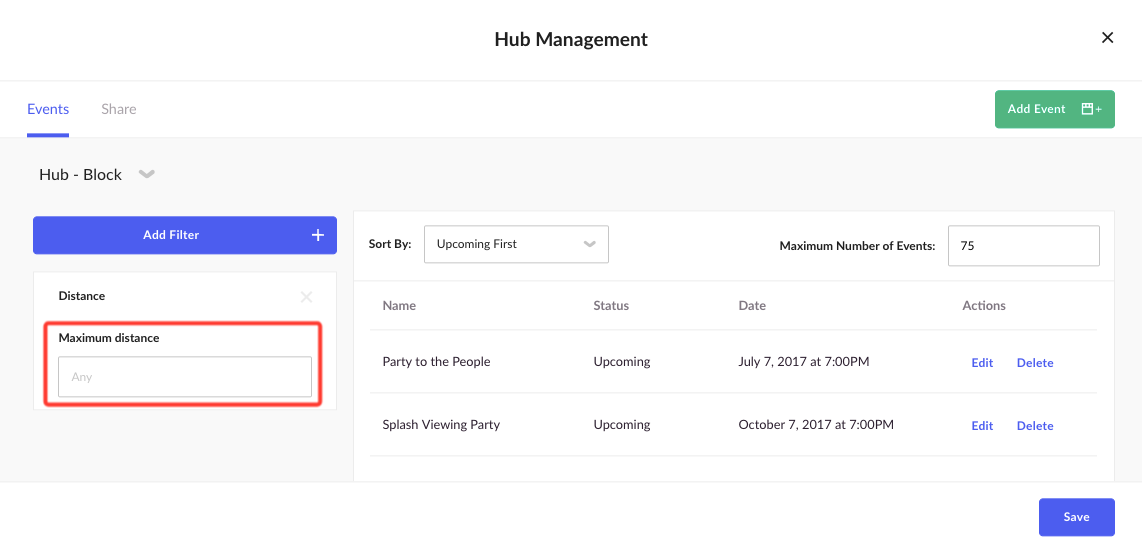 Heads up: Filter by Distance will NOT work for external events or events that do not have an IP address that was added using a suggestion from Google Maps.
Page Type
The Page Type filter allows you to display Only Event Pages or Only Hub pages.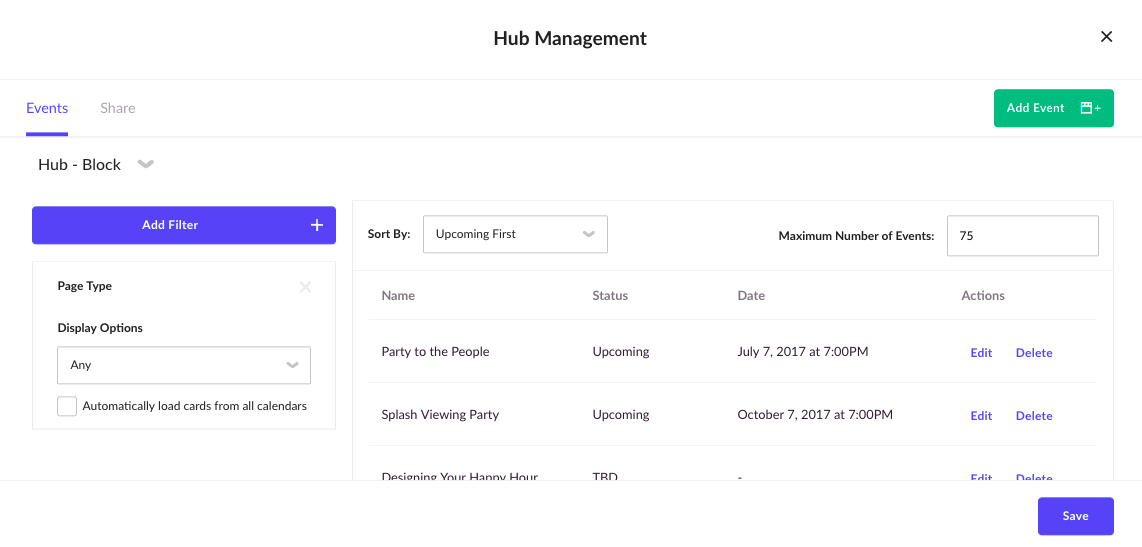 When would you use the Hub Pages Only filter?
A common use case would be a User Groups program where the the program's home page has a main Hub section with various cities (i.e. NYC, Philly, Boston, and DC) listed on it. Each city on the home page Hub clicks out to its own Hub page with events from the city listed on it.

Tags
Quick Splash refresher! Tags can be added to event pages in the Settings tab to keep your events organized and indexed in your events dashboard.
Within your hub filters, you can also choose to display events according to their tag: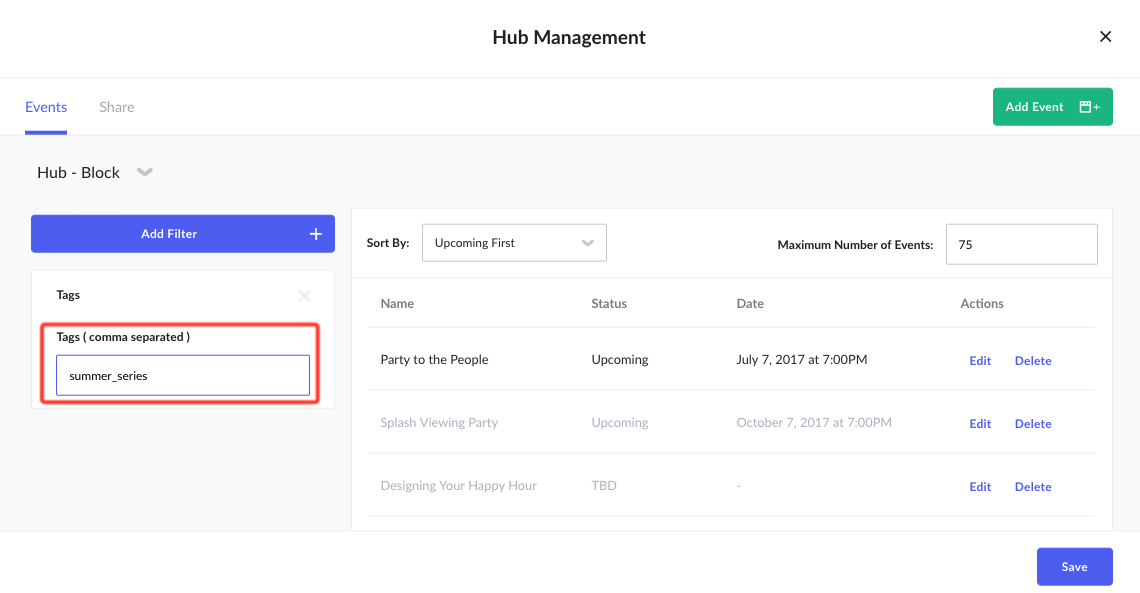 Note that you're able to use any of these filters in conjunction with one another. There's no limit on the level of specificity when it comes to organizing your Hubs.
Sorting hub events
In addition to filtering your Hub, you can also sort the events within your Hub by Upcoming First, Closest First, Popular First, Alphabetical, and Date Created.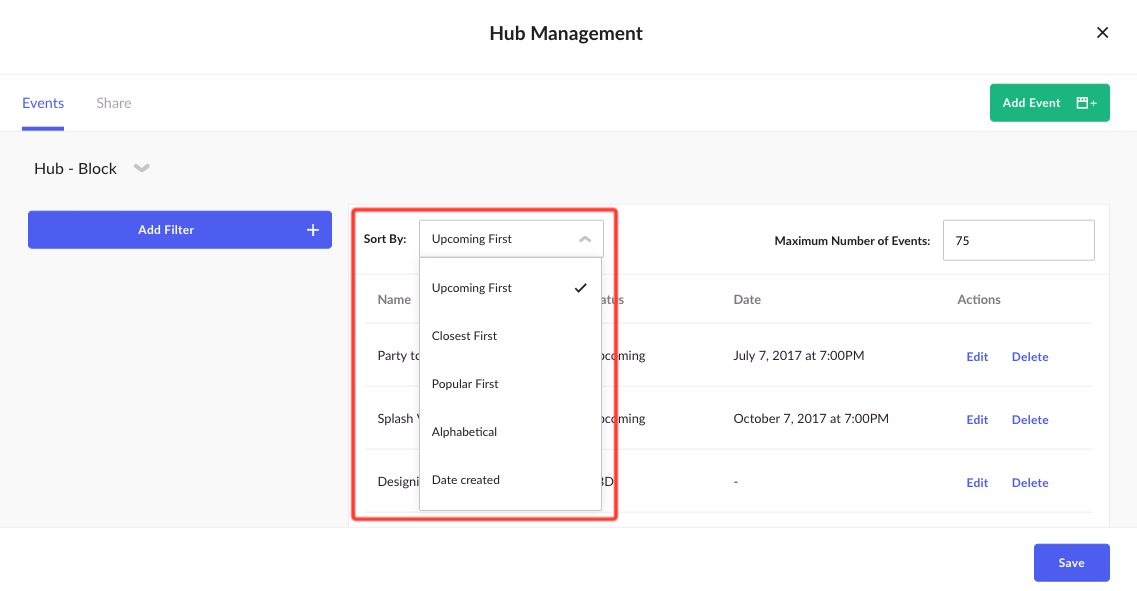 Setting a maximum number of events

To avoid the Hub's list of events becoming too long, you're able to limit the number of events you'd like to display. This feature can be paired with the "Show More Button" card element, which allows for paginated loading of events.


Learning from hub examples
Check out an example of a Hub landing page using Page Type and distance to display various regions, each with their own Hub page.

In this example, the person visiting the page is being recommended various User Group pages — Hubs organized by topic — based on their proximity to the hosting cities.

You can see filters and sorting being utilized within their Hub Management center:

Page Type: Only Hub Pages
Tags: !city
Sort By: Closest First
Maximum Number of Events: 6