This article walks through advanced design tactics for customizing your Splash calendar of events, known as a hub.
| | |
| --- | --- |
| | Pro Tip: Get familiar with how to set up a hub before diving into design! |
On this page:
Predesigned hub blocks
Here at Splash, we're all about taking as much initial heavy lifting off your plate as possible, while still giving you a playground to get creative.
Before diving into some advanced design tactics, we recommend sifting through our predesigned hub blocks. Our internal team of designers have created and optimized these blocks to look incredible across all screen sizes.
To access our hub blocks:
Click on page or in the layout tree to add a new block.
Select the Hub Block Category.
Browse through our predesigned hub blocks.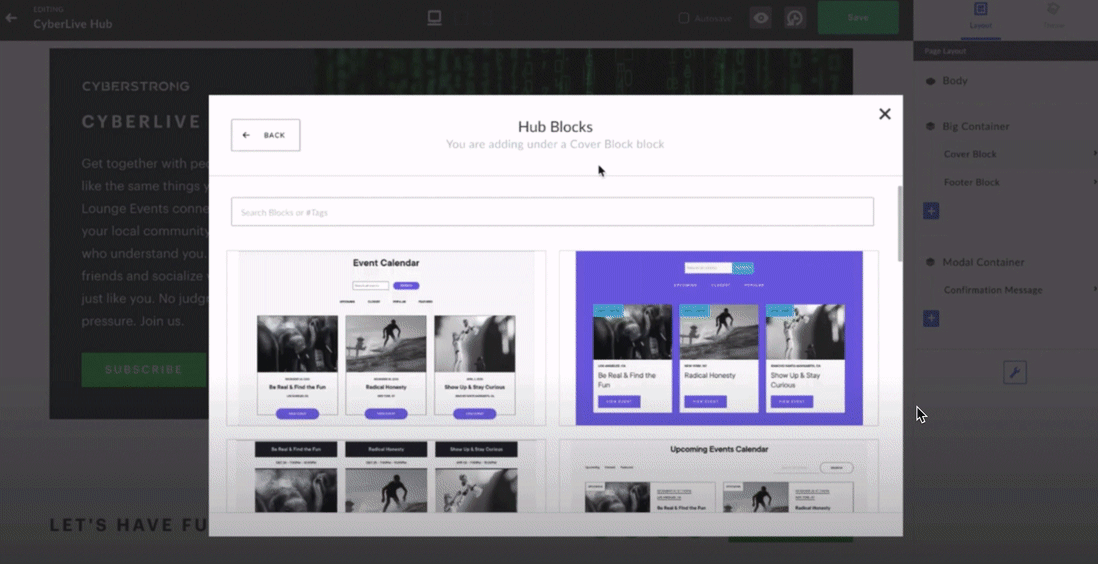 Hub card states
There are six different states within a hub that come predesigned in our hub blocks but can be further customized using our advanced design tools. Hub states are most helpful for differentiating past events from upcoming events, featured events from sold out ones, and beyond.
Access hub card states by:
Navigate to the hub block housing your hub element.
Click into the Hub element.
Click Event Hub then select Edit Card Layout.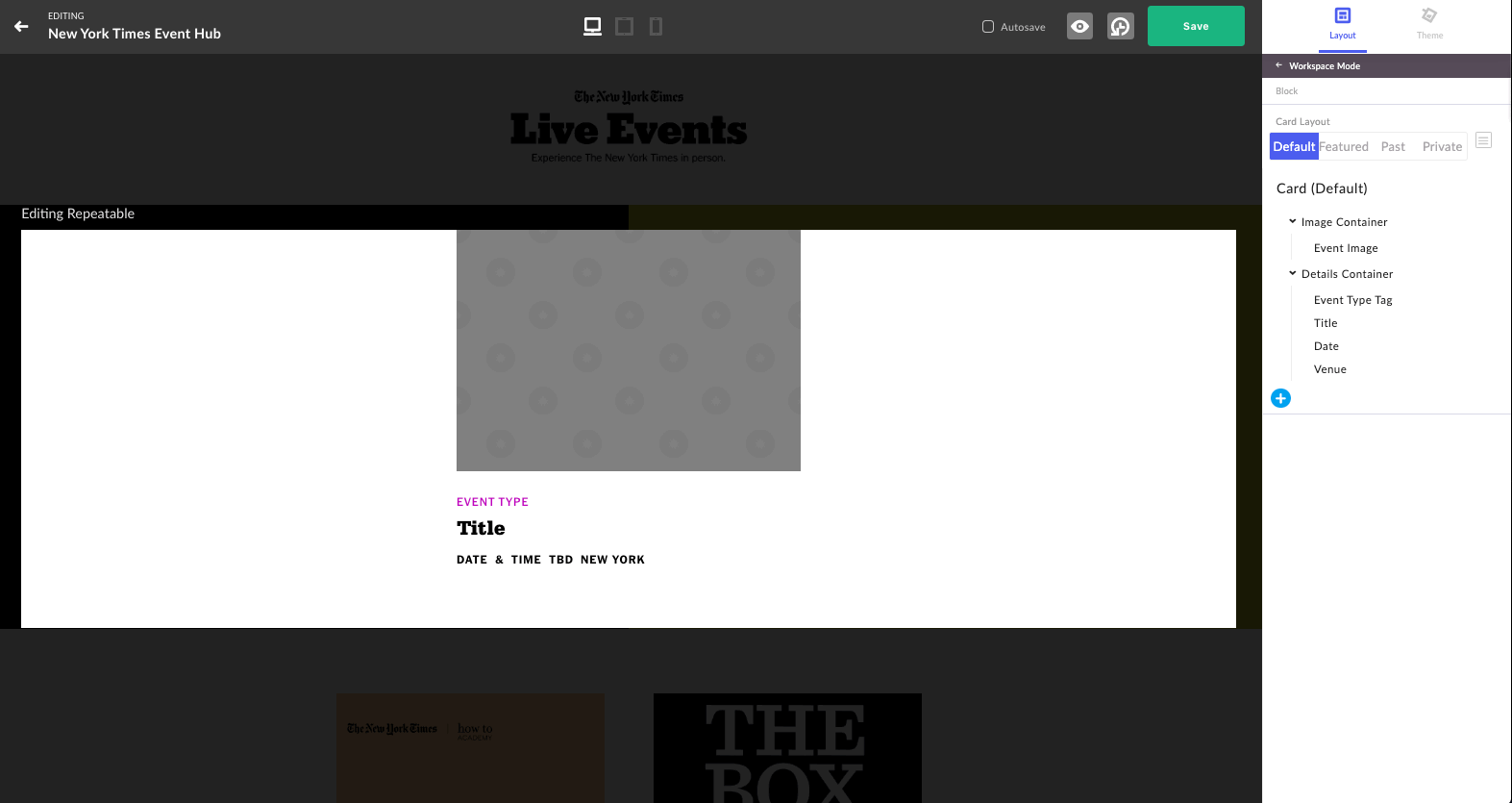 Let's walk through each state and how you might want to differentiate each through design when building a hub from scratch.
Default
This is the most basic hub card state usually reserved for upcoming events. Most often this is used as the foundation for events that are neither Featured nor Past (see below).
Featured
These are events that you want to stand out or you'd like to draw extra attention to. Events in your hub can be easily designated as Featured using the below steps:
Hover over the hub card.
Click the gear icon.
Select Featured.
Click Save.
Past
As the name suggests, these are events that have already occurred (according to the Date & Time in your event's Settings tab). Typically customers use design tactics to make it obvious to visitors that these events are in the past including:
Set the fonts to grayscale
Remove the RSVP button.
Take a look at an example:

There are also occasions where you may want to transform your event page into a post-event content site. In that scenario, the Past event card could be made clickable, appear active, and even feature a call to action like "See Photos" or "See Recap."
Private
Any event for which you activate a privacy option can be given a distinct card style.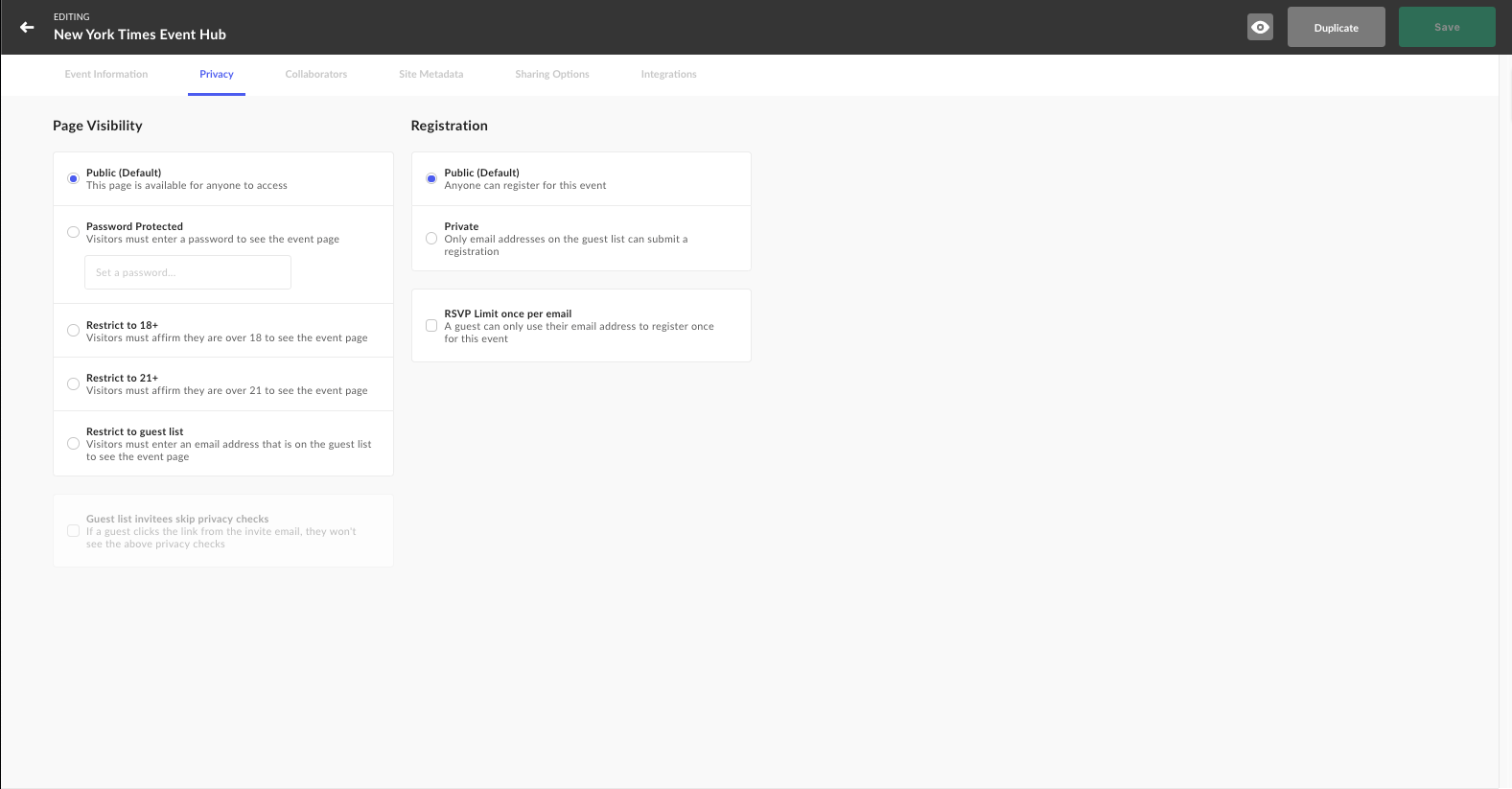 RSVPs Closed
Event pages that are no longer accepting RSVPs, such as ones that have closed after reaching capacity.
Waitlist
Event pages with our Waitlist functionality turned on.
---
Hub card height considerations
While you hold the keys to design as many of the above card styles as you like, keep in mind that doing so within a single hub element in any capacity can also disturb the card heights.
If you plan to have multiple card designs and also want the card heights to always remain consistent, you'll need to add a separate hub for each card style (Featured, Past, Private, etc.). Then only edit the Default card for each hub while keeping all other card styles locked.


---
Hub card elements
Within each hub state, you have the ability to add a variety of card elements including labels, buttons, capacity, and more.
To add a card element:
Navigate to the hub block housing your hub element.
Click into the Hub element.
Click Event Hub then select Edit Card Layout.
Click to add an element
Select Card Elements.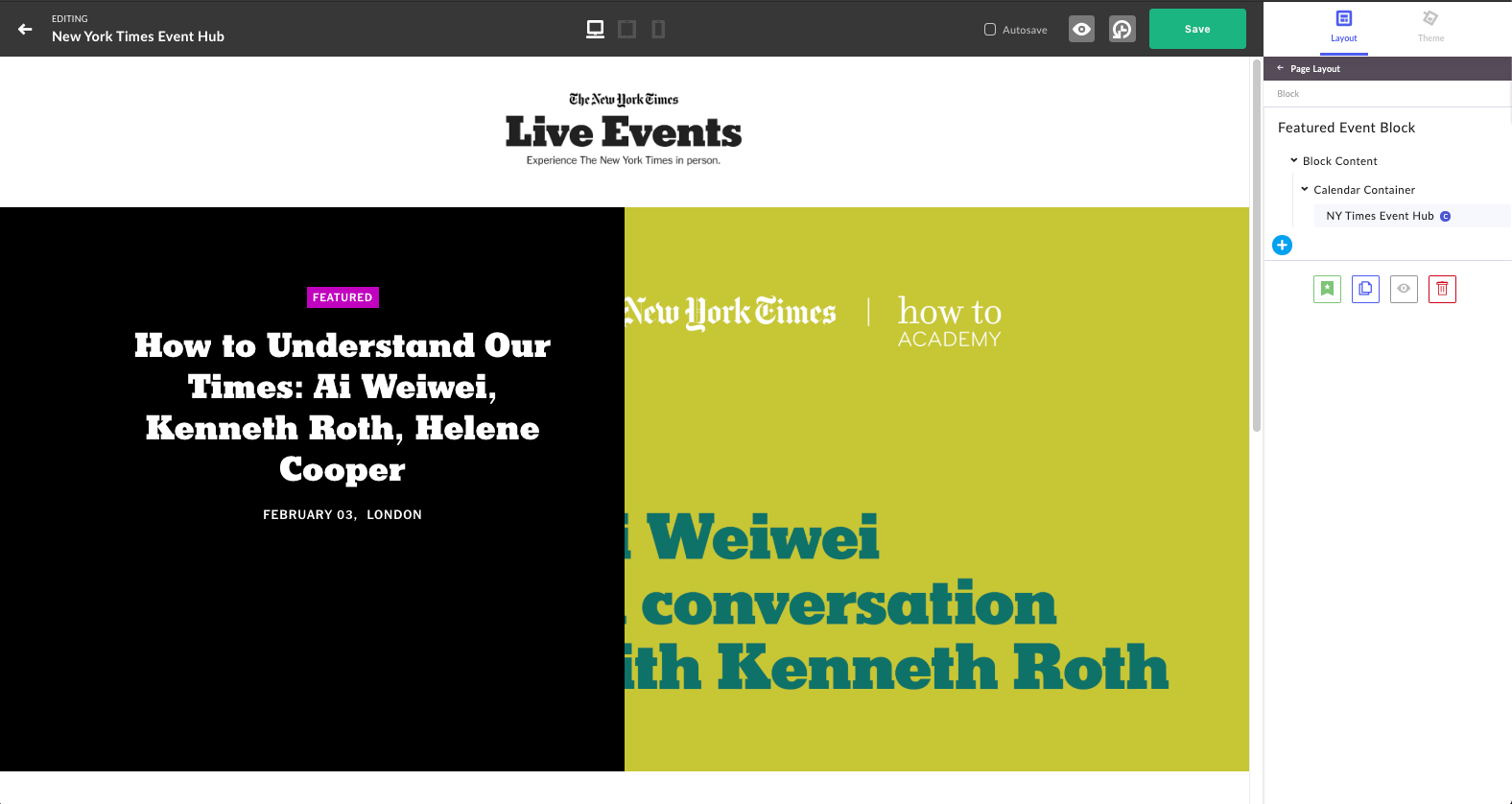 As you can expect, each of these individual elements — and all aspects of the card — can be customized using the design tools in the Layout tab.
Now, you might be wondering what elements are available to use. Check it out:
We broken down each element below:
| | |
| --- | --- |
| Event Title | Displays the Event Title from the Settings tab of the event. |
| Event Description | Displays the Event Description which can be updated on each event page. |
| Static Label | Adds copy to every event card. So, if you wanted each card to show the same syntax, we suggest using this element! |
| Event Image | Displays the Event Image from your event pages which can be updated on each event page. |
| Share Card | Displays the Share Card design that can be edited from your event's Share Card touchpoint. |
| Button | Adds a button for your guests to click on to get taken to the event page. |
| Date | Displays the Date from your event's Settings tab. |
| Venue | Displays the venue information entered in your event's Settings tab. |
| Tag List | Displays any event level tags, found inside an event's Settings tab, that are added to the event under Event Settings. |
| RSVP Capacity | If there are any limits on RSVP capacity, this is your element. It displays the remaining spots of an RSVP event. |
| Color Mask | Add an overlaying color to your hub card layout. |
| Square | Gives you the opportunity to add an image to your hub card layout. |