4. Designing hub cards
Quick refresher: A hub card is your event's visual representation. The contents of the card are dynamic with infinite possibilities for size, shape, orientation, and layout. Plus, you're able to embed hub cards anywhere!
Take a look at the default hub card layout that will appear when you publish your first event onto your hub: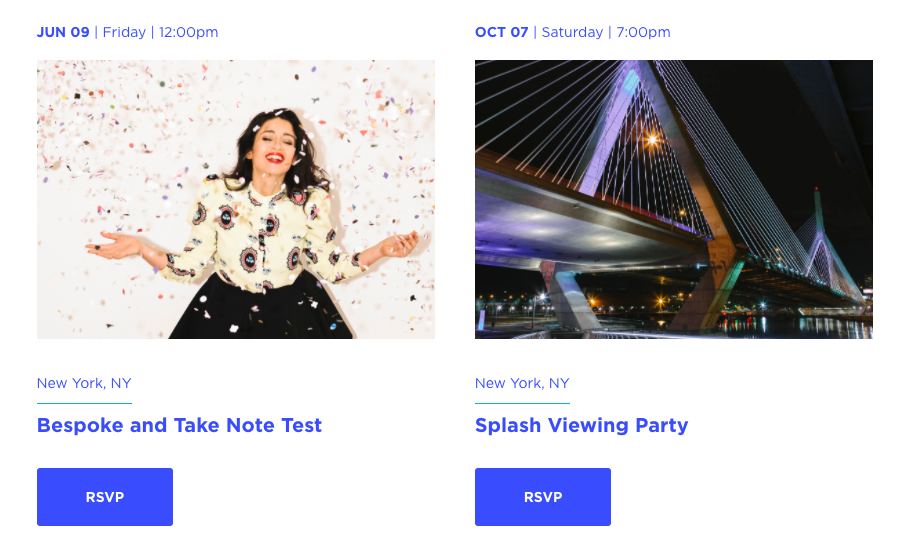 Customizing your hub card
1. Navigate into the block housing your hub element
2. Click into your hub element
3. Pop into Event Hub → Edit Card Layout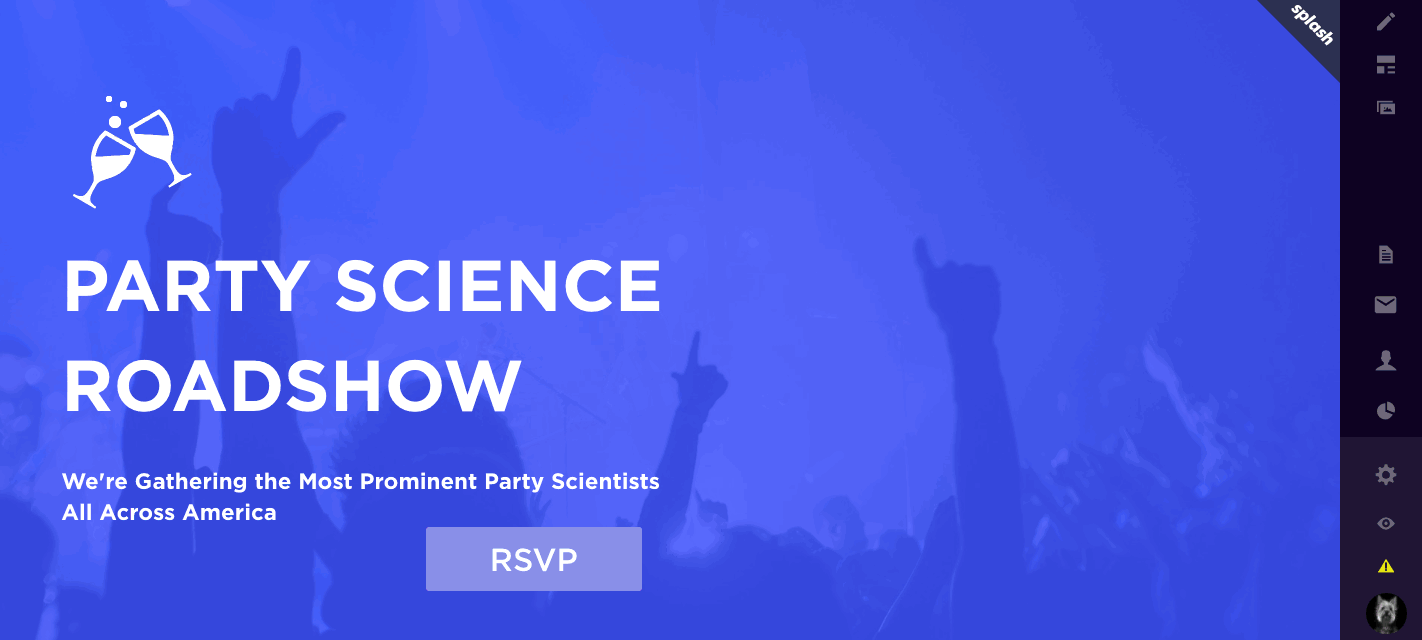 Once inside the Edit Card Layout workspace, you can decide if you want to update just the default card's design, or all 6 possible "states" of an event.
Hub card states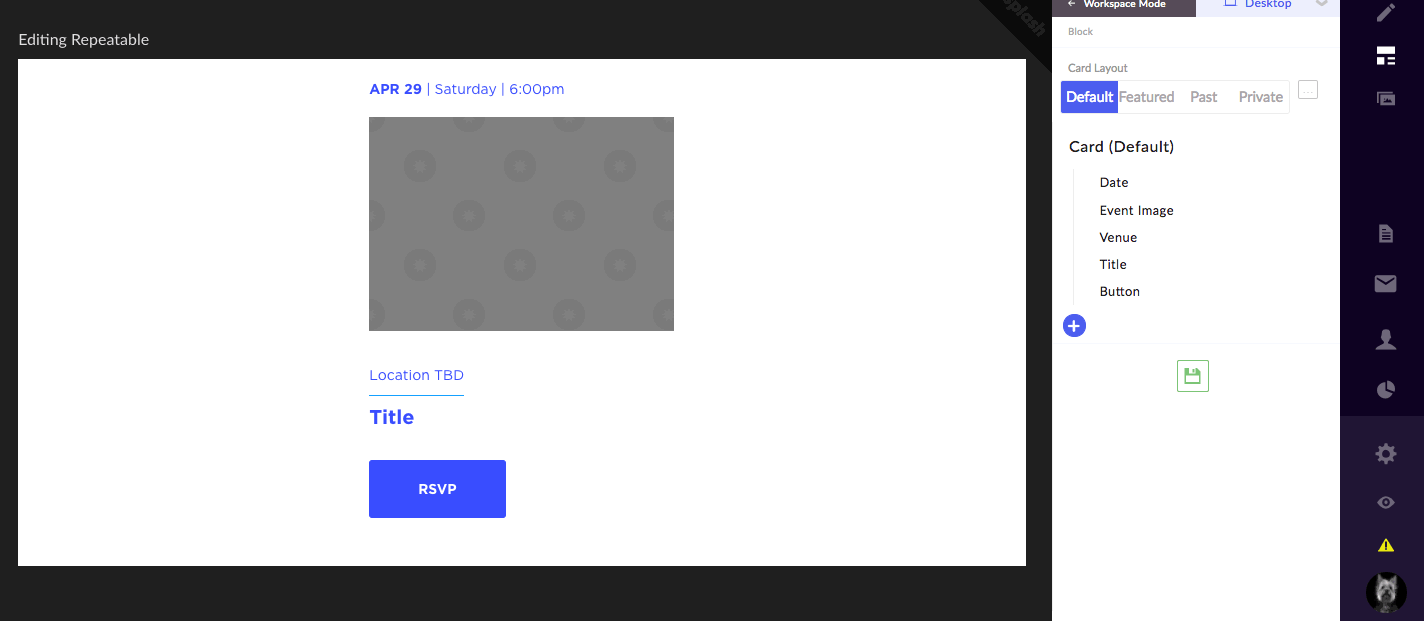 1. Default: This is the most basic hub card state usually reserved for upcoming events. Most often this is used as the foundation for events that are neither Featured nor Past (see below).
2. Featured: These are events that you want to stand out or you'd like to draw extra attention to. Events in your hub can be easily designated as Featured by:
Step 1: Hovering over the hub card
Step 2: Clicking the gear icon 
Step 3: Checking off Featured and saving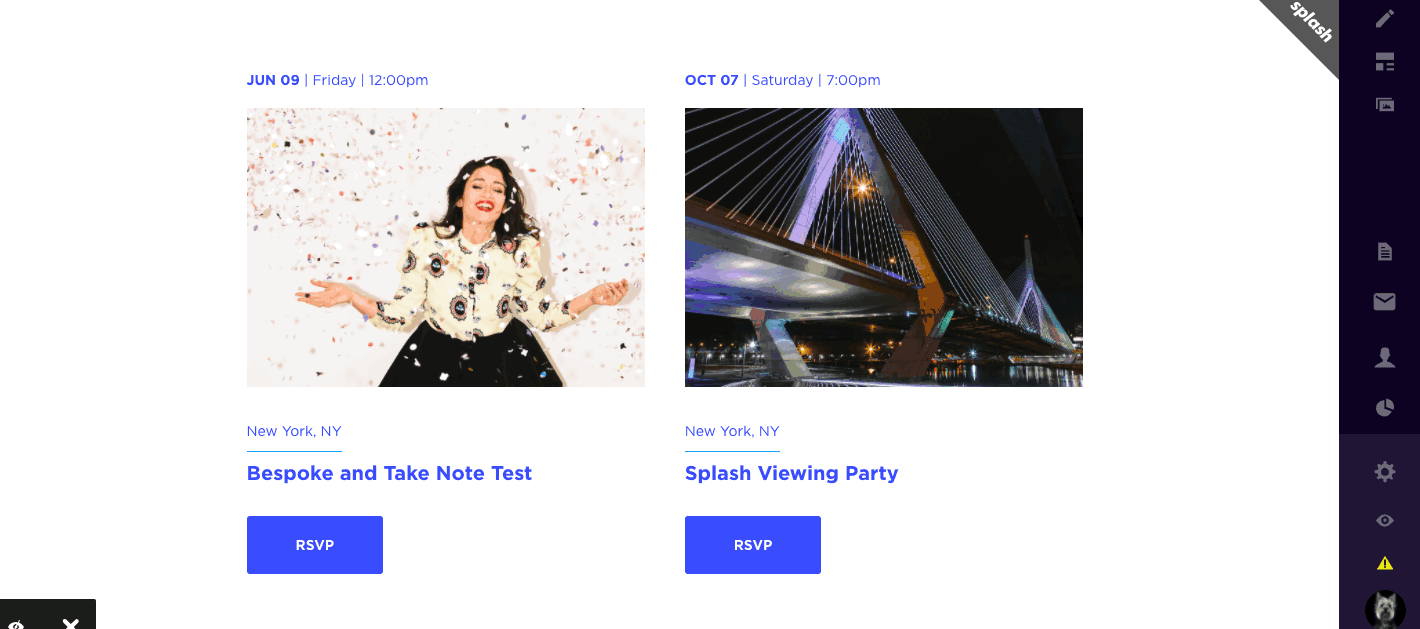 Take a look at an example of a Featured hub card:

This hub state is utilizing the Static Label card element. In the example below, any event that is flagged as featured will have a SUMMER SERIES in its card design.

More on card elements below.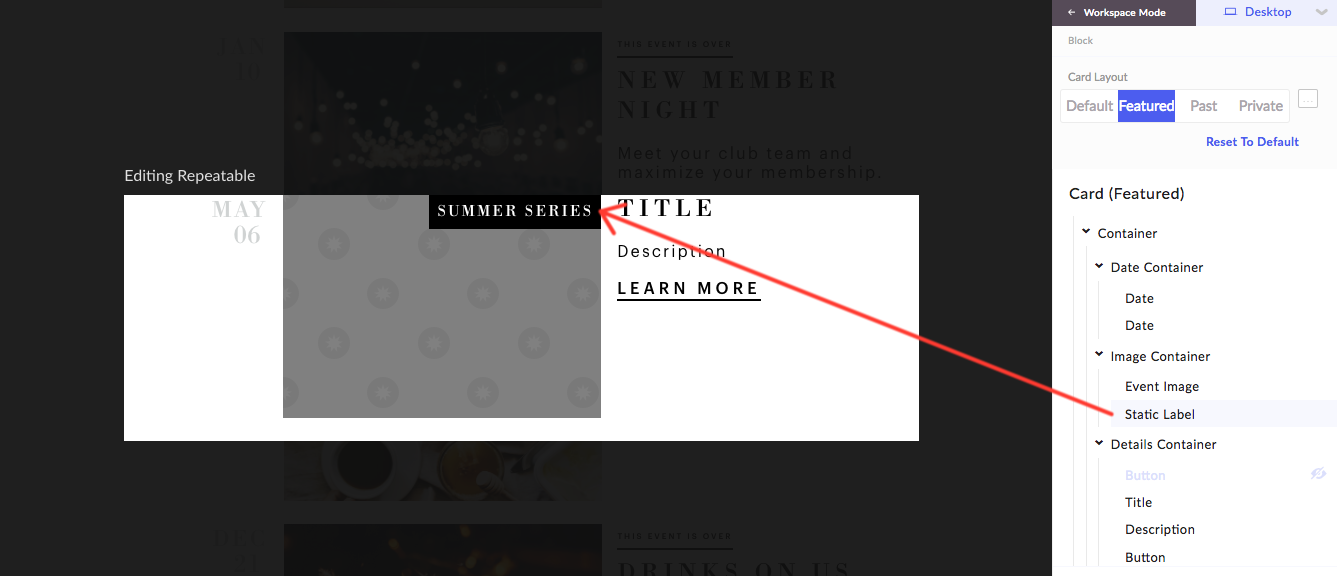 3. Past: As the name suggests, these are events that have already occurred (according to the Date & Time in your event's Settings). Quite often, we'll see clients gray their Past event cards and remove the RSVP button to make it obvious to visitors that these events are indeed over.
Take a look at an example:

There are also occasions where clients will transform their event page into a post-event content site. In that scenario, the Past event card would be made clickable, appear active, and perhaps even feature a call to action like "See Photos" or "See Recap."

4. Private: Any event for which you activate a privacy option (see below) can be given a distinct card style.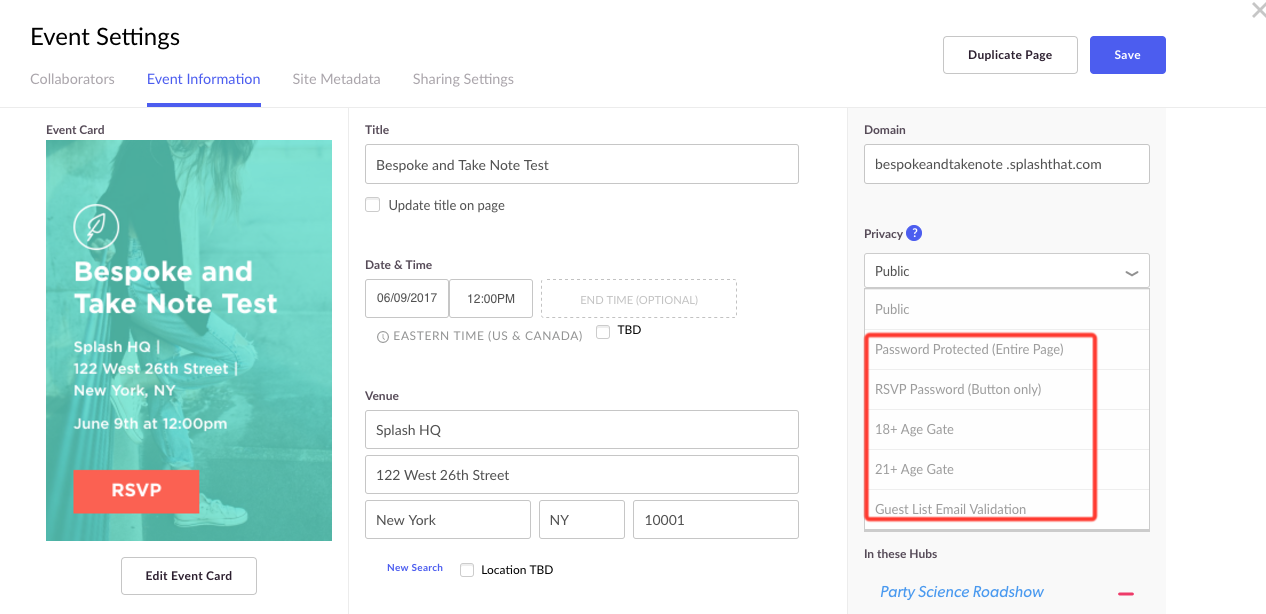 5. RSVPs Closed: Event pages that are no longer accepting RSVPs, such as ones that have closed after reaching capacity.
6. Waitlist: Event pages with our Waitlist functionality turned on.

Within each hub state, you have the ability to add an array of card elements to your Card Layout by clicking the blue "+" sign in the lower left hand corner (in typical Splash design fashion!)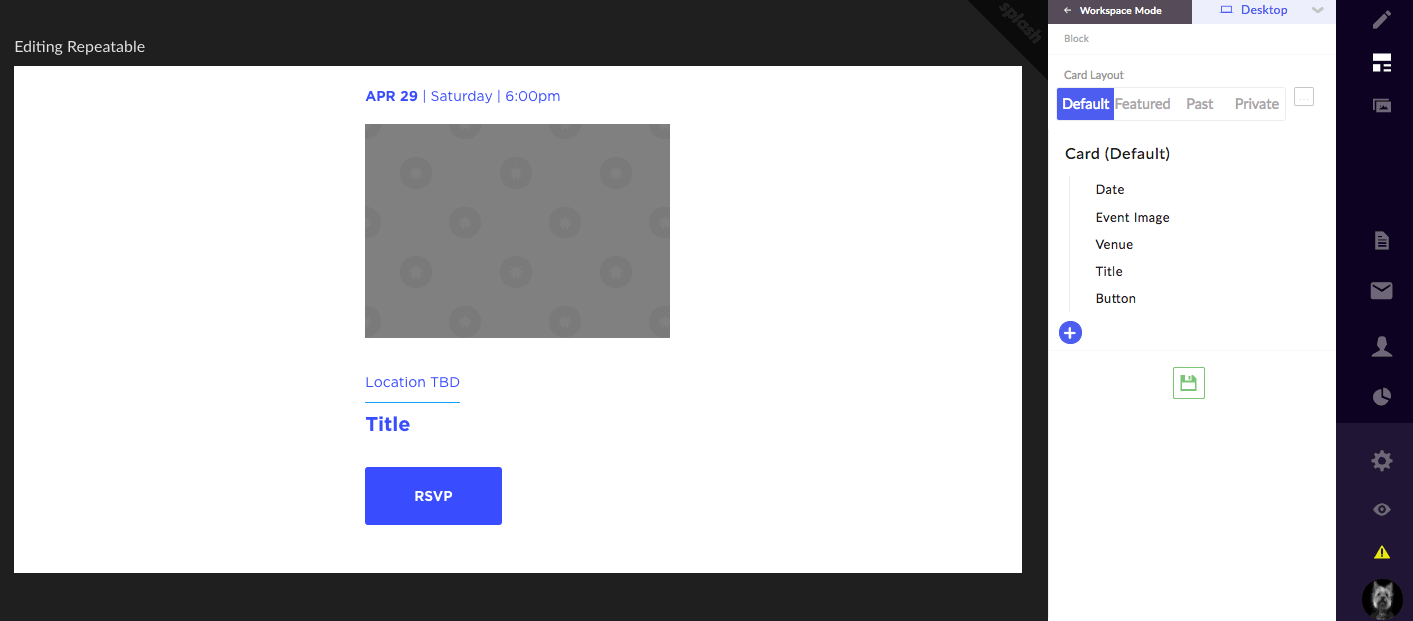 Some special hub elements you can add include: Distance to Viewer, Event Card, Color Mask, Button, labels, and more.
As you can expect, each of these individual elements — and all aspects of the card — can be fully stylized in terms of fonts, colors, imagery, background, borders, hover-states, action (on click), width/height, and more.