Hub Set Up Instructions Follow
In Splash, a hub is a landing page that makes multiple events discoverable. This guide will walk you through the the steps to create a hub page that can host your events and collect subscribers.

On this page:
1. Creating the hub page
If you've created an event page in Splash before, the steps for creating a hub will look nearly identical.
To create a hub page from one of our pre-designed themes (event templates):
Click New Event from your Events Dashboard.
Select RSVP Event.
From the list of event types, select Hub.
Choose one of our Hub Branded Themes for a streamlined experience.
Or, if you'd like to build a hub page using a different theme:
Click New Event from your Events Dashboard.
Select RSVP Event.
Select your preferred event type
Choose from the themes available to you.
Continue to read the next section on how to add a hub block.
---
2. Selecting a hub block
Once you've set up your initial page, now comes the crucial step of adding a hub block (if the theme you're using doesn't already have one). This is what turns your event page into a hub page.
Click into the Event Page Touchpoint.
From on-page or the layout tree, click to add a new block.
From the Block Adder, select the Hub Block Category.
Browse our gallery of hub blocks and choose your desired block.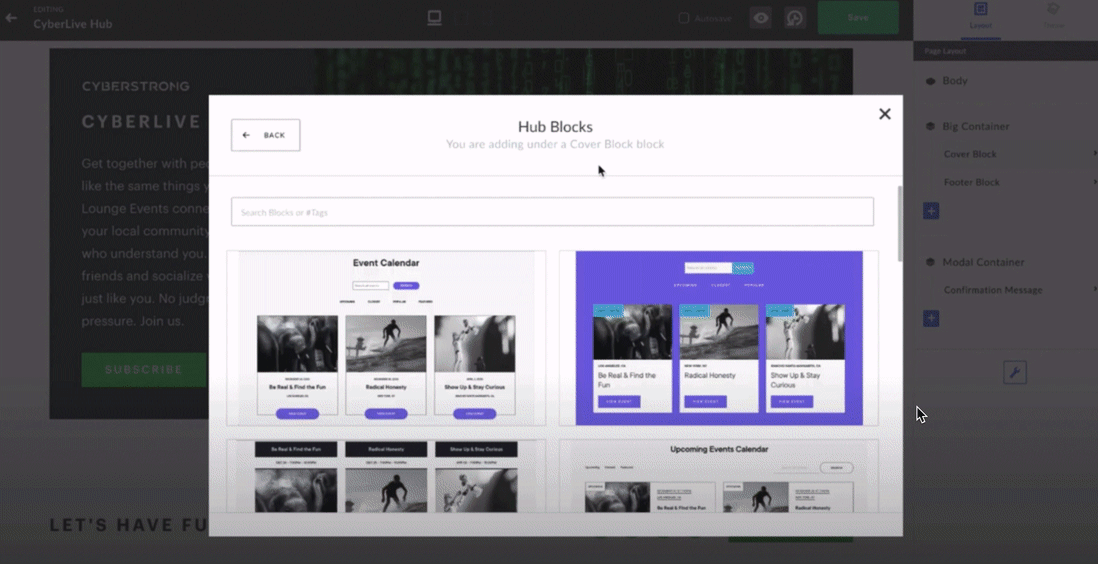 If you prefer to build your hub block from scratch (choose wisely, grasshopper!) follow the steps below:
From on-page or the layout tree, click to add a new block.
From the Building Blocks folder, select an Empty Block.
Inside this block, click add an element.
Select the Hubs folder, then select a Hub element.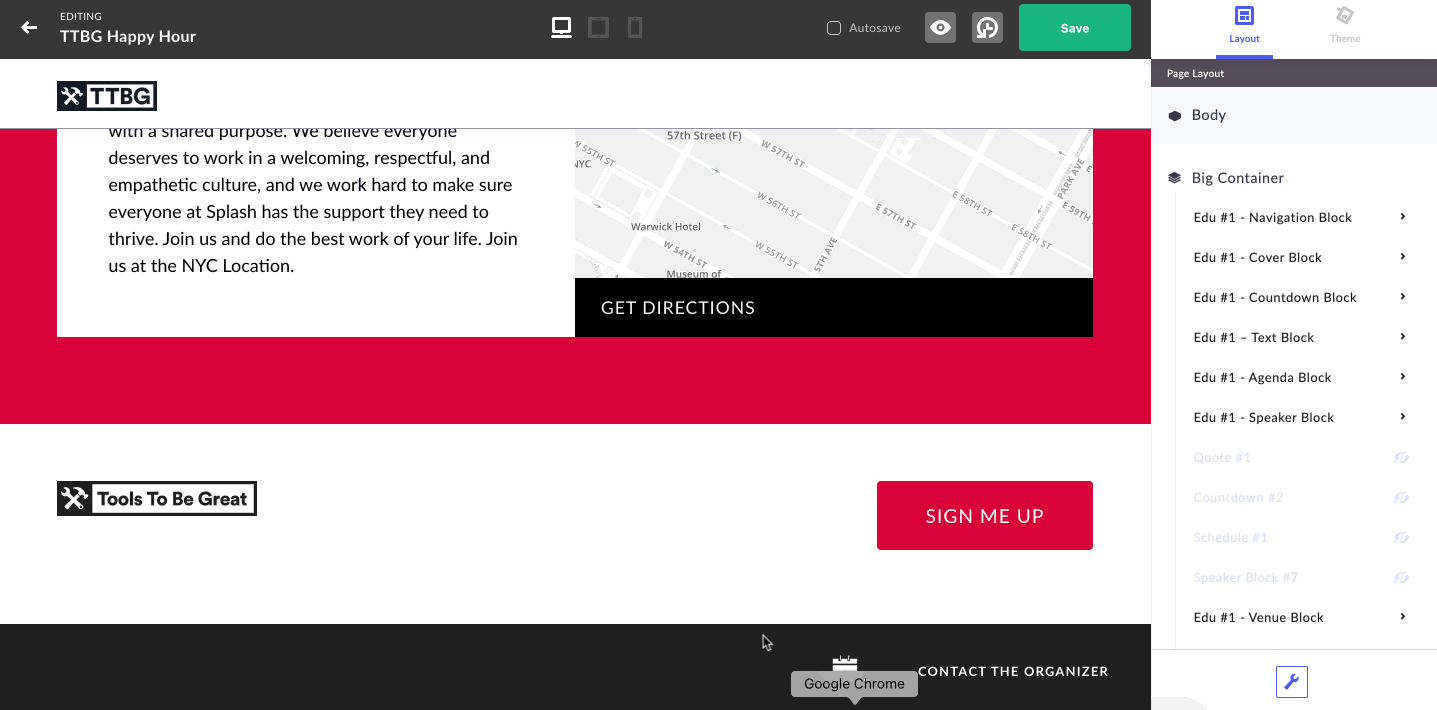 ---
3. Adding events to the hub
To begin adding events to your hub:
Hover over the hub element and click the green Add Event button.
Select one or many of the events you have access to.
Once you add your events, you'll notice that your event details are dynamically pulled into a simple, elegant hub card.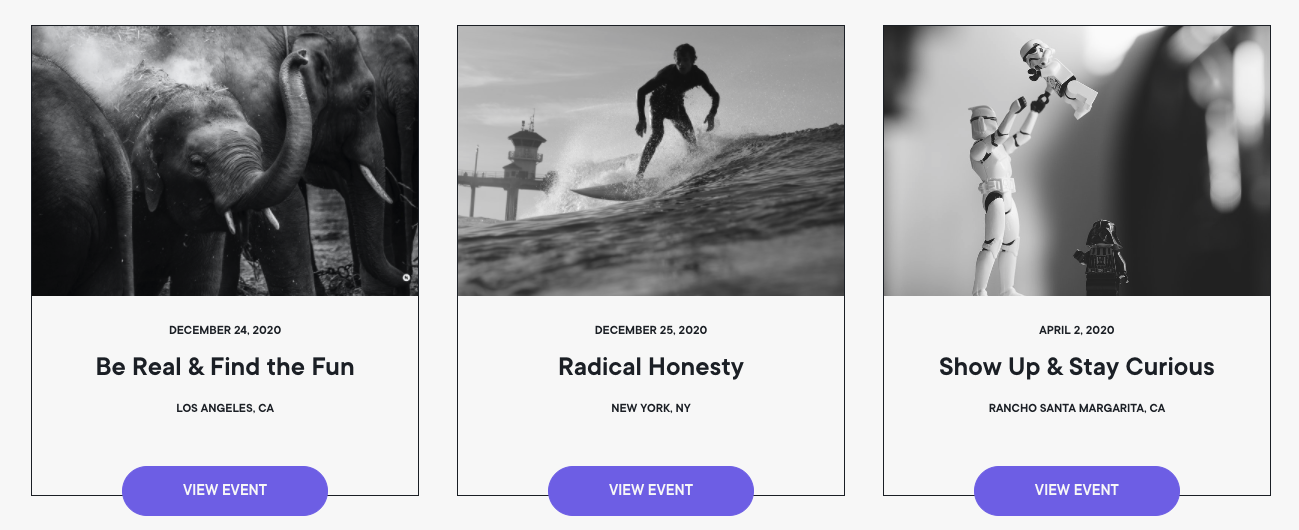 | | |
| --- | --- |
| | Link: Learn how to customize the hub card design according to the type of event. |
Hovering over your hub card and clicking the gear icon will open up your event details. Making any changes within this Edit Event window will also update the details on its Splash page. In other words, your event page and its hub card are dynamically linked.
You can also add external events, or events not hosted on Splash, to your hub. To do so:
Hover over the hub element and click Add Event.
In the bottom lefthand corner, click Add External Event.
Plug in all the event details and add an event image.
Click Save External Event.
| | |
| --- | --- |
| | Pro Tip: Use hub filters to only display events of a certain criteria including date, distance, tags, and more. |
4. Customizing hub empty states
Not ready to add events to your hub just yet? No sweat. We allow you to customize the text that appears for visitors when they visit an empty hub or encounter an error when searching for an event in the hub.
Access the hub empty state messaging by:
Clicking on the Hub element on-page or via the layout tree.
Selecting the Whole Element dropdown.
From here you'll notice three states: Generic Error, Search Results, and Empty. Click into each to craft your own text and customize the style.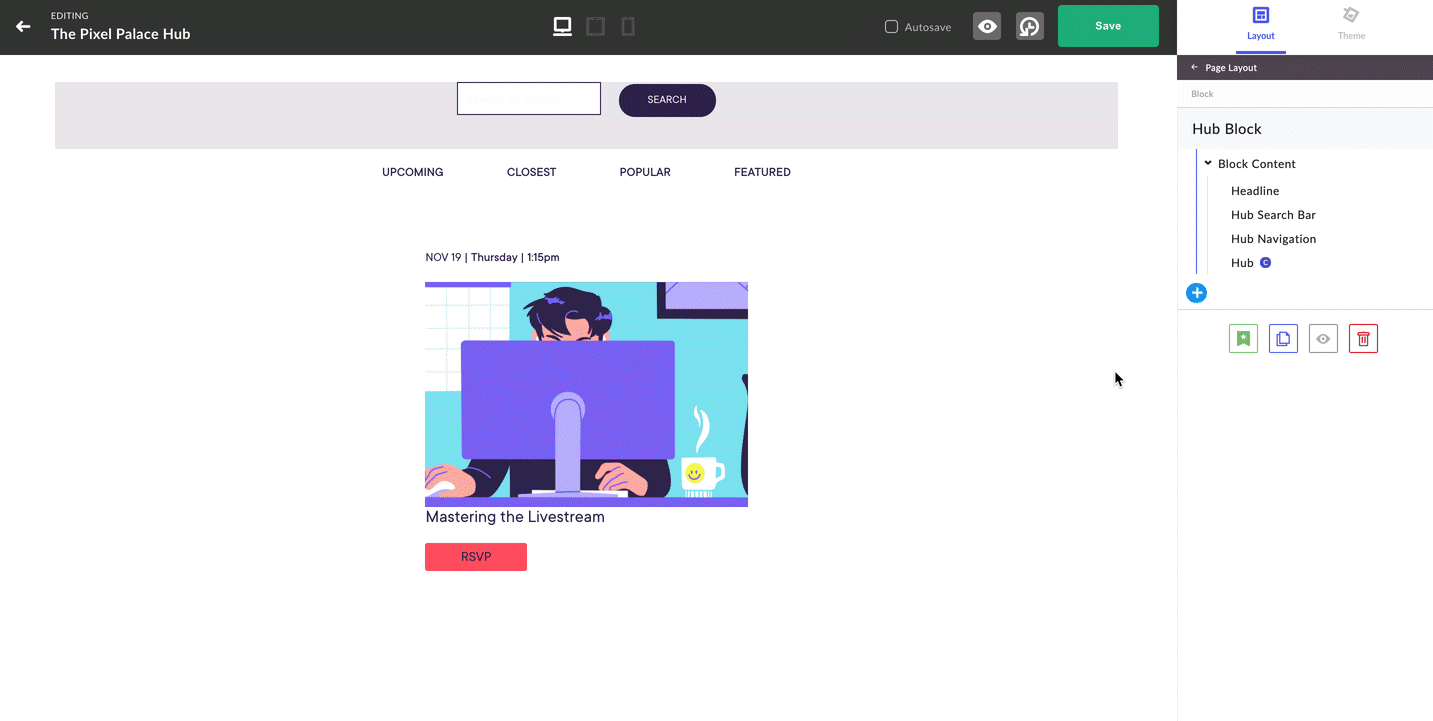 ---
5. Collecting subscribers
After adding a hub to your page, you'll notice a few key changes that mark the page with its hub status and allow you to start collecting subscribers.
1. My Hub: Instead of My Event, your Event Overview will say My Hub.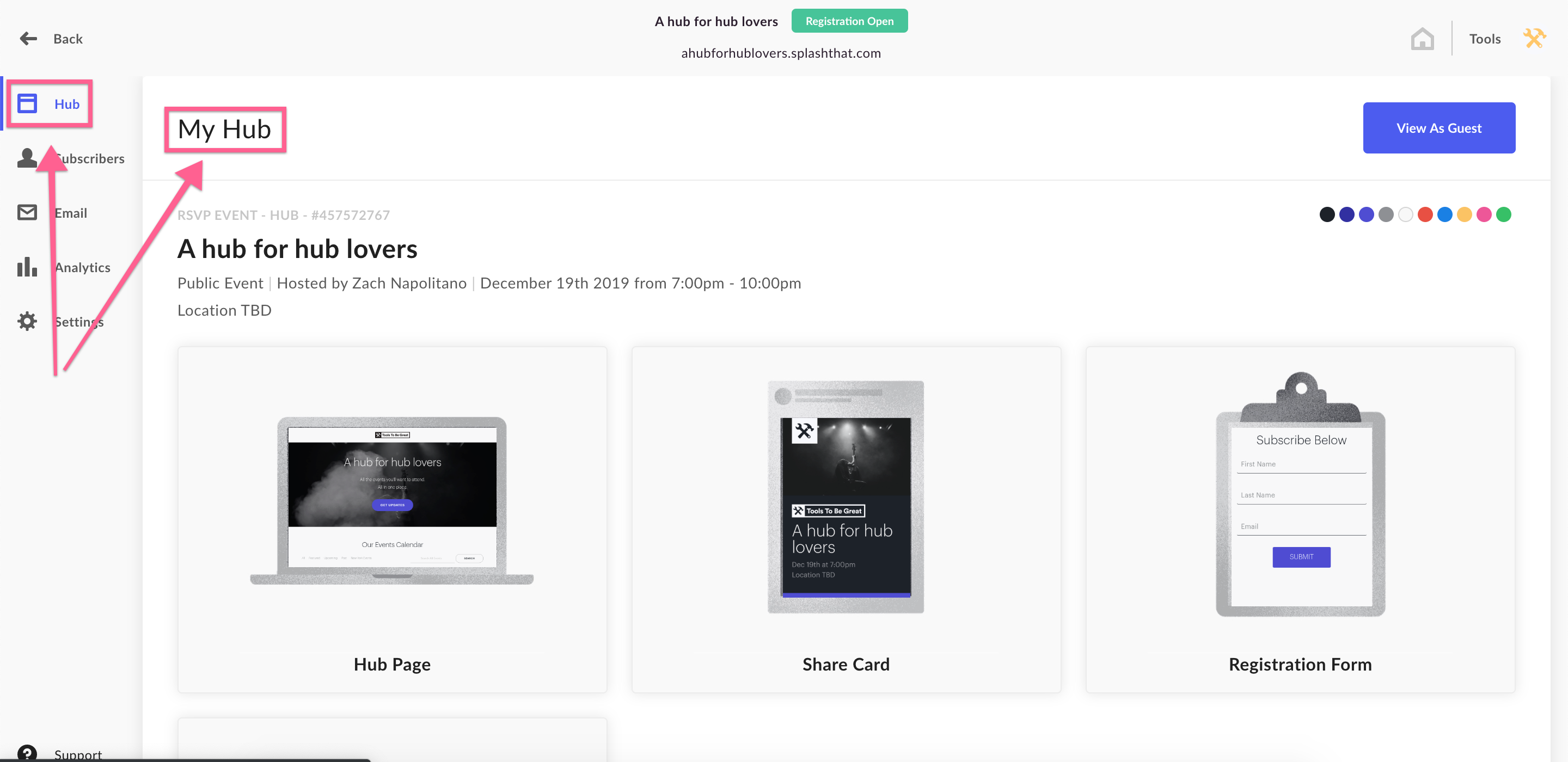 2. Subscribers: Any guests who register on your hub page will now be noted as Subscribers in the Guest List tab, which is renamed accordingly.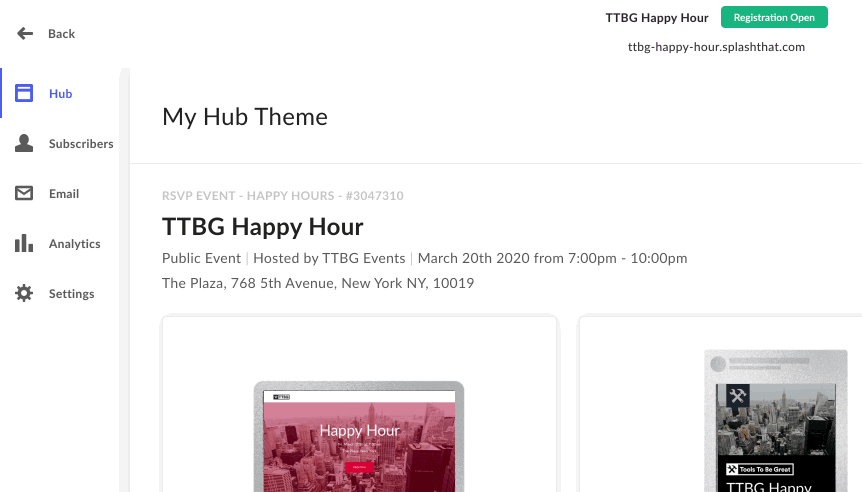 3. Auto-subscribe Setting. You also have access to a new feature located in your Event Settings tab in the Additional Options section called "Auto-subscribe anyone who subscribes to an event within this hub."
Enabling this setting will ensure that once a guest registers to any event on the hub they will be added as a subscriber on the hub page itself.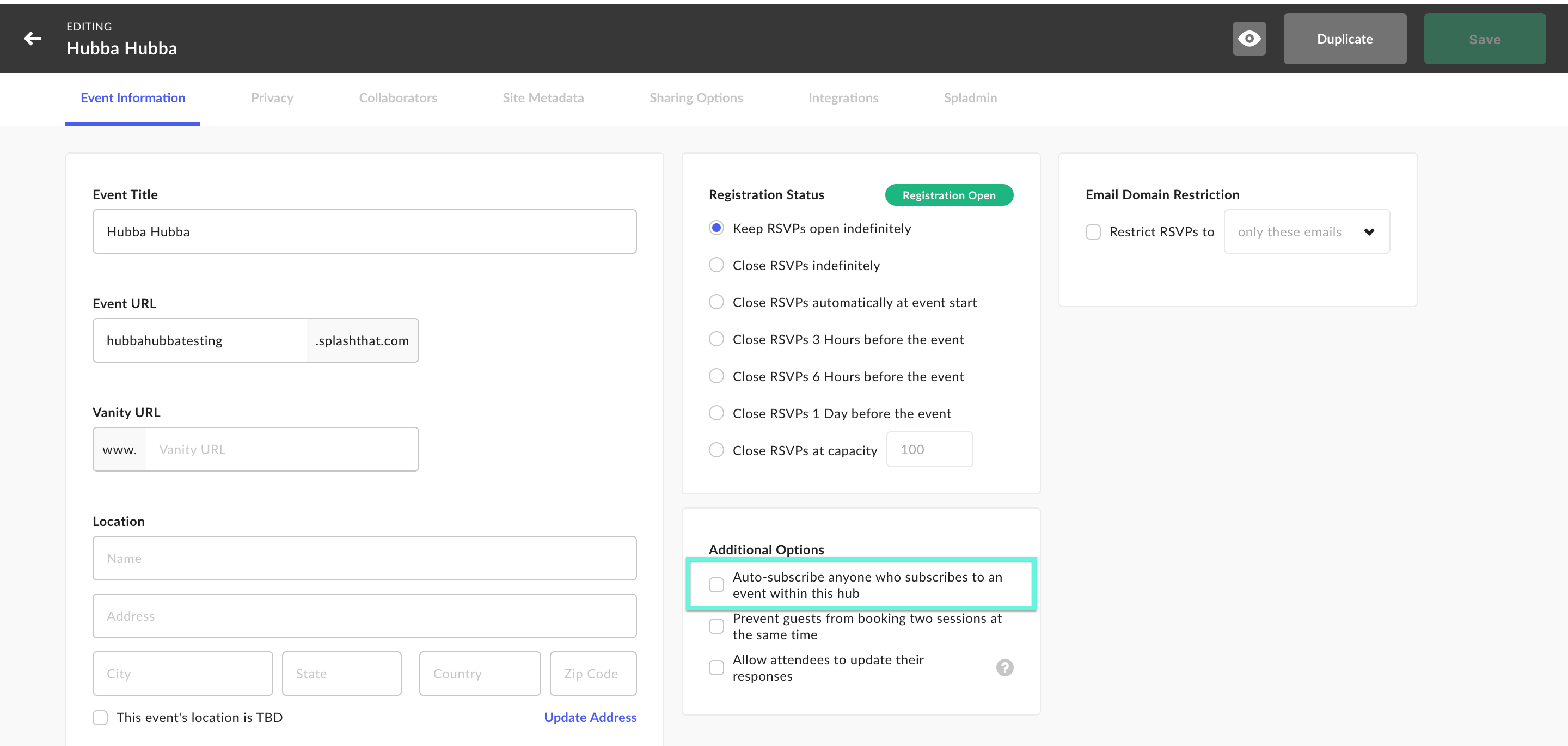 From the Subscribers tab on the hub page, you can use filters and columns to organize guests by which hub event they registered for.