Can I add or import guests without email addresses? Follow
In Splash, an email is a guest's unique identifier and is a requirement when adding or importing to your Guest List as well as when creating your registration form.
If a contact's email address is missing from your spreadsheet or inputted incorrectly, then that contact will be skipped over entirely.
After your import is complete, you'll receive a confirmation email, which will notify you of the number of contacts that were skipped over.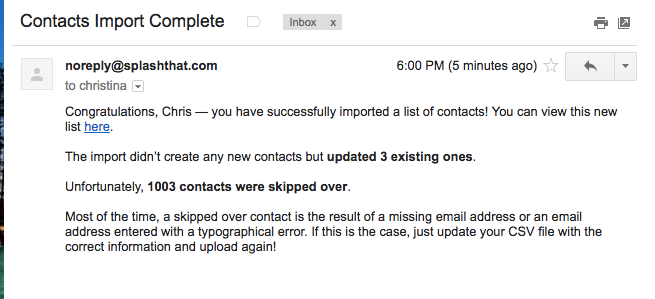 Note: Accidents happen! If you enter one of the below typos, we'll make the correction on your behalf and allow you to proceed with adding or importing:

1) .con -> .com

2) gmaik -> gmail
If you need to import or add guests for whom you do not have emails, the workaround is to use a unique, dummy email, per contact.